In this post, read about a simple contact form generator that makes form creation enjoyable. Learn to create your own contact form and add it to any website builder for free.
Setting Up Your Contact Form With Elfsight Generator
For website owners looking for a simple tool to quickly generate contact forms and add them to their web pages, developers offer a perfect code-free solution. This online contact form generator makes it easy to create contact forms with just a few clicks. The process is free and straightforward – all you need to do is select the fields you want to be included on your form and customize the design with your branding. Once complete, you can add the form seamlessly to your website's HTML code. Using Elfsight's Contact Form Generator, website owners are guaranteed an attractive and easy-to-use form that will help capture leads and convert visitors into customers. Read on to find out more about this handy contact tool, what benefits it has, and how it can help improve your website performance.
Creating custom forms with Elfsight is a breeze
Using Elfsight's Contact Form Generator is a straightforward way to start collecting customer inquiries quickly. To begin creating your contact form, follow these steps:
Sign up to the Elfsight website and select the "Create Contact Form" button.
Enter the title of your form and customize the design by changing colors, fonts, fields, and more.
Connect to your service provider (for example Mailchimp, or Zapier) to manage customer contact inquiries online in one place.
Embed the contact form's HTML code on your web page by copying it from Elfsight's dashboard.
Finally, launch the contact form on your website and start collecting customer messages quickly!
Didn't that code-free process feel effortless? In just a short time, you'll find your free contact form fully operational on your website!
Benefits of Online Contact Form Generator
By utilizing the online Contact Form Generator by Elfsight, website owners can quickly create customized forms for their sites without HTML code knowledge. From simple contact forms to complex forms with multiple fields, Elfsight offers a wide range of free options to help website owners meet their needs.
Some of the benefits of using an online contact form generator include:
| | |
| --- | --- |
| Generator's flexibility | Elfsight's Contact Form Generator is highly customizable and allows website owners to create forms that are exactly suited to their needs. They can choose from various form styles, customize the design and layout, and add multiple fields. |
| Generator's simplicity | Creating a contact form through Elfsight is easy and straightforward – users don't need any HTML code knowledge to make a customized form. They simply choose the type of field they want to appear on a web page, enter the text they want in each field, and then click "Create". |
| Generator's integration | Once the form is created, it can be seamlessly integrated into any web page by simply copying and pasting an HTML code provided by Elfsight. This makes it simple for webmasters to add contact forms to their sites without any technical knowledge or expertise. |
Full Guide to Create and Add Contact Form to Website
A well-designed contact form is an essential tool for fostering seamless communication between you and your web page visitors. In this comprehensive guide, you can go through the entire code-free process of creating and adding it to your website. You will see that doing so with Contact Form Generator by Elfsight is fast and easy.
Crafting and embedding a contact form on your website has never been easier, even if you're not well-versed in HTML code:
After you create and insert the form, it will function seamlessly on your website, without requiring any extra work.
What's more, you can make any tweaks to the form using the Elfsight contact form creator, bypassing the need to edit your platform's HTML code.
The cherry on top is that Elfsight's online creator lets you configure the design and functionality of your contact form completely free of charge.
For step-by-step visual instructions on crafting and integrating a contact form on your website, be sure to check out the accompanying video tutorial:
Also, follow this comprehensive text guide to start your contact form creation:
Sign up for a free Elfsight account
Visit the Elfsight website.
Click on the 'Sign Up Free' button to create a new account or log in to the web page if you already have one.
Create and customize your contact form
Once logged in to Elfsight's web page, click on the 'Create widget' button.
Select 'Contact Form' from the list of available widgets.
You will be redirected to the contact form customization page.
Use the customization options provided to tailor the appearance, layout, and fields of your contact form.
In Elfsight's online generator, adjust colors, fonts, and field placements to match your website's design.
Add any additional contact fields your web page may require, such as phone number, file uploads, or drop-down menus.
Configure the form settings, including email notifications, 'Thank you' messages, and CAPTCHA settings for spam protection.
Save your contact form and copy the generated HTML code
When you are satisfied with your custom contact form, click the 'Save' button.
Your form will be added to your Elfsight dashboard, where you can manage your widgets and access the generated HTML code.
In your Elfsight dashboard, locate the contact form you just created and click on the 'Get the Code' button.
Copy the provided generator's HTML code for your website.
Add the contact form to your website
Log in to your website's content management system (CMS) and navigate to the page where you want to add your contact form.
Paste the copied generator's code into the 'HTML' tab or an HTML block in your website.
Customize the form's appearance and settings (optional)
If you need to make further adjustments to your contact form, return to the Elfsight dashboard and edit the form settings.
Save any changes, and the form on your website will be automatically updated.
Publish your contact form
Once you have added the form to your website's HTML and are satisfied with its appearance, publish the changes in your CMS.
Test the contact form on your live website to ensure it's functioning correctly and sending email notifications as expected.
That's it! You have now successfully created and added a custom contact form to your website using the Elfsight Generator. Enjoy improved engagement and communication with your website visitors – all of that for free.
Choosing the Right Contact Template for Your Website
Elfsight Contact Form Generator provides website business owners with a wide range of ready-made templates to choose from. All of the templates have unique designs and various customizable options, allowing you to create contact forms that perfectly fit the style and design of your website.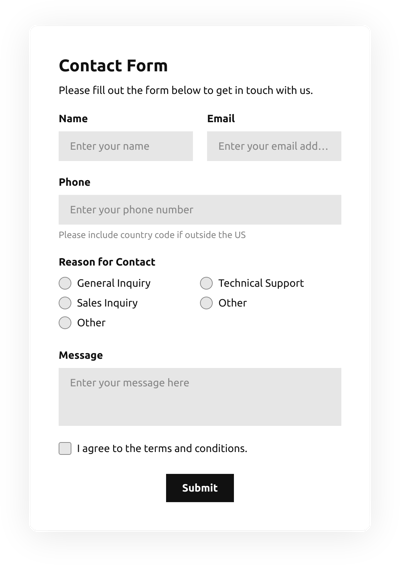 Each template has its own set of features to help you create effective contact forms for any CMS. Here is an overview of each of the free contact templates:
| | |
| --- | --- |
| Simple contact form | The simple form is stylish and easy to customize, allowing you to quickly add a fully responsive contact form to your website. Its design elements can easily be adjusted for color, fonts, paddings, and other details through Elfsight's online generator. |
| Extended contact form | The extended form consists of two sections – one for contact details and another one with additional information. This allows users to receive instant feedback from customers directly on their website. The design elements here can also be easily customized in Elfsight's online generator according to your web page's needs. |
| Floating contact form | The floating form template is a pre-designed, easily customizable contact form that remains visible and accessible as users scroll through your website, promoting convenient communication and improved user engagement. |
Five Essential Customization Tips for Your Elfsight Contact Form
A well-crafted contact form is an invaluable asset for any website, enabling efficient communication between you and your visitors. Elfsight's Contact Form Generator allows for effortless HTML customization to meet your specific needs. Have a look at five essential tips to help you create a polished, user-friendly, and effective contact form that aligns with your brand identity.
Match your web page branding: Ensure a cohesive user experience by personalizing your contact form's colors and fonts to match your brand's visual identity.
Adapt the layout and fields: Customize the contact form layout and include relevant fields to capture the most valuable information from your audience.
Enhance web page's user experience: Make your contact form intuitive by editing field labels, placeholder text, and incorporating conditional logic based on user input.
Secure your contact form: In Elfsight's online generator, integrate CAPTCHA to prevent spam submissions and protect your inbox from unwanted messages.
Streamline workflows on your web page: Connect your contact form with popular third-party applications for seamless integration into your existing systems and processes.
By leveraging these five customization tips, you'll be well on your way to creating your unique contact form. Not just any, but the one that transforms your website into an interactive space that encourages open communication and engagement online.
Get More Help with Creating Contact Form
Elfsight's intuitive Contact Form Generator simplifies the process of creating forms for your website, eliminating the need for HTML code knowledge. If you need additional support beyond this blog post, a wealth of free resources is at your disposal, including:
This post offers you to take advantage of this versatile tool and enhance your website's user experience. Continue building connections, and enjoy your contact form-generating journey!