Responsive
Easy-to-use
Coding-free
WhatsApp Chat widget for website





















Why do I need Elfsight WhatsApp Chat?
Faster customer communication. Better conversion.
Be quick and simple to contact
Users can easily and immediately get in touch with you and receive answers
Improve customer service quality
Responding and resolving issues faster, leave more customers satisfied
Raise sales via consulting
Provide useful info about your offers and convince more people to purchase
Join 2,078,753 customers already using Elfsight Apps
You can start with creating your first Elfsight WhatsApp Chat widget for free.
What makes Elfsight WhatsApp Chat special?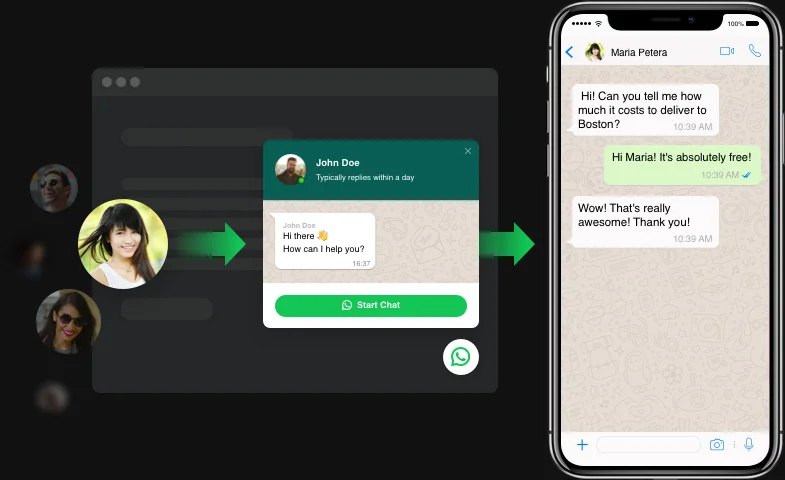 WhatsApp messenger on website
The easiest way for your visitors to get in touch with you
Elfsight WhatsApp widget is the most effortless and native way of communication for your visitors. It allows you to embed a well-used and popular messenger on your website and establish an easy communication tool for your clients. You will be able to stay in touch with your audience anytime and anywhere, answering from any device.
WhatsApp is one of the most-used messengers, and a lot of my clients use it to communicate on my website!
Position and appear time
Increase sales through live consultations
Elfsight WhatsApp Live Chat can be used strategically to increase sales on your website. Involve more users into chatting and convince people to buy through offering, consulting and helping to choose between the offers. To attract more conversations, there are chat-open triggers to open chat window at exit intent or after certain time on page. We also offer three variants of position and an option to choose the category of visitors for which the chat will appear.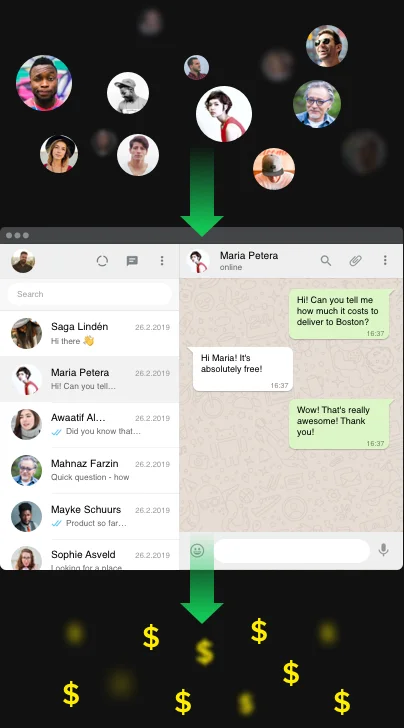 Messenger elements
Change the interface. Get the chat you need
Whatever context your client communication may take: consultations about your products, help in order placing, booking, technical support - it all can be communicated through a chat window. Just change the interface features: choose your icon, add caption, state reply time, create a welcome message, and more. A simple transformation will make it suit your business perfectly!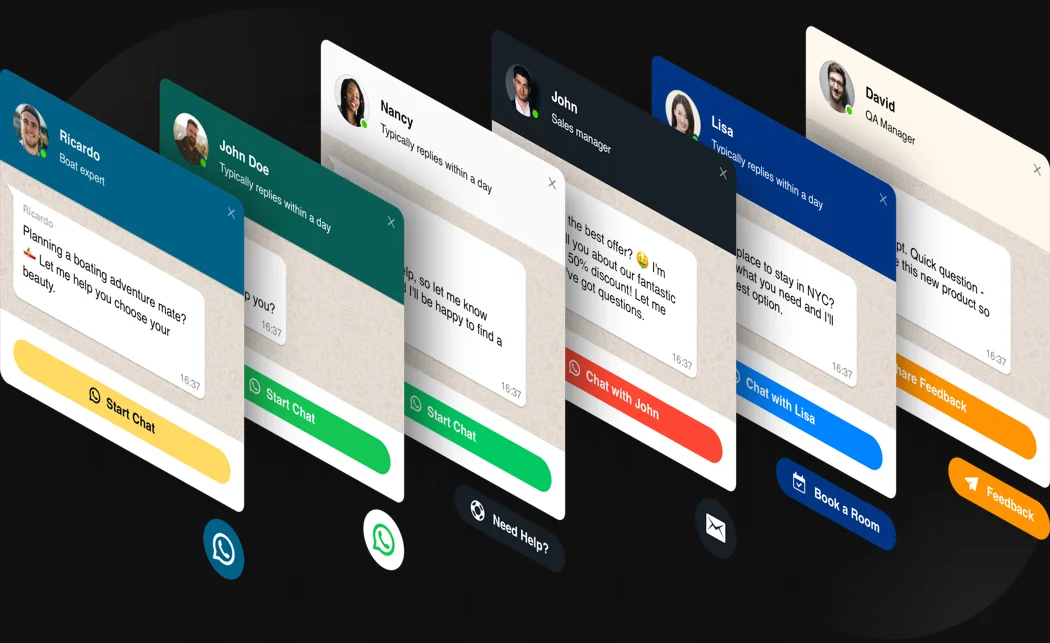 Usage examples
See a selection of real examples to explore the full potential of WhatsApp Chat for your website.
See in action
Live demo
Try all the features of WhatsApp Chat in live demo now. No fees. No registration. No coding.
Try now
Frequently Asked Questions
How to add Live Chat to your website?
In order to embed the widget, complete the steps from the brief guide below:
Launch our editor and start forming your custom-made widget.
Customize the widget specifications and apply the improvements.
Receive your unique code shown in the window.
Place your unique code on your homepage and save it.
You've implemented the widget on your website.
Came across any troubles during the setup? Contact our customer support group and they will be happy to assist.
How can I embed the WhatsApp chat window into the content zone?
Yes, we offer three variants and one of them allows embedding a chat window on a page. Choose Embed Chat Window, and you can add it to any area of a page.
How to change my WhatsApp number in the widget?
You can change your WhatsApp number anytime you need it. Just go to your admin panel, open the widget configurator and insert the new number in the WhatsApp phone number field. Press "Save". Then, check the changes on the website.
Can I make the chat bubble move along with the scroll?
To create a Whatsapp messenger bubble that follows the scroll, utilizing the Floating bubble template. You can also choose the alignment variant: left, right, or center.
How do I add WhatsApp live chat to my platform?
Elfsight free configurator allows you to visually create a WhatsApp Chat widget visually without even registration. You can easily embed the created widget, and it's also going to be free for you:
Get a custom embed code.
Go to the admin panel and move on to a website template
Paste the to HTML section in your website builder.
That's it! Your widget is going to work as soon as this. However, you can find a more detailed guide for your particular platform: HTML, iFrame, Magento, Squarespace, Wix, Joomla, OpenCart, Drupal. In case of coming across any inquiries or facing problems, don't be afraid to reach out to our support team. They will help you with all the questions you may have with the plugin.
Join 2,078,753 customers already using Elfsight Apps
Get the taste of 80+ powerful apps by Elfsight. No credit card. Joining is free!