Why do I need Elfsight TikTok Feed?
Higher visitor engagement. Higher conversion rates.
Increase website engagement
Attract visitors to your website with dynamic TikTok videos and spark their interest to keep them involved.
Get new TikTok followers from the website
Attract new subscribers from your website to the TikTok account and stay closer to your target audience.
Develop and strengthen your personal brand
Your TikTok activity and strong social endorsement increases brand credibility and improves reputation with potential customers.
Join 305,165 customers already using Elfsight Apps
You can start with creating your first Elfsight TikTok Feed widget for free.
What makes Elfsight TikTok Feed special?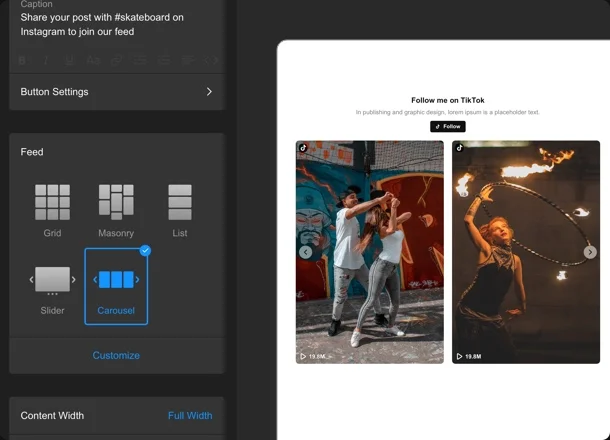 LAYOUTS
Flexible widget design for any device
It's extremely easy to create a TikTok feed that will meet your needs and overall website design with nothing special. Change the size and proportions of the widget to shape it to suit your space needs. The automatic layout adaptation will adjust the widget to any screen resolution and ensure it looks balanced on any device.
POPUP
Show off your content and make the right accents
Present your diverse content to website visitors in the most presentable manner. Flexible header settings allow you to show or hide any of its elements or turn off the header and move the focus to the content. The menu can also be switched to create a gallery or a news feed. Popup will help you take a closer look at your content with all the information and comments available locally.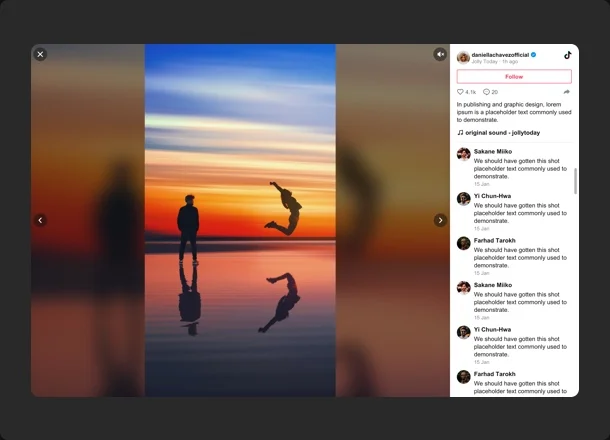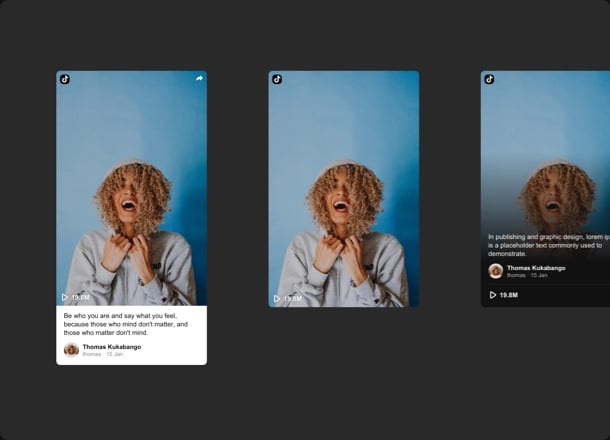 CARD
Several variations of cards in a single widget
The Elfsight TikTok widget will meet all your needs at once: you will be able to display just a video and no additional details; there may be some text at the bottom of the card on the dark background; finally, it will be possible to present a text under the card. You'll also have the option to add custom elements like a TikTok logo, number of views, and account name.
COMING SOON
Many more amazing styling and practical options upcoming soon
Elfsight incredible design and development teams are currently working on the widget functionality and structure. There will be a broad array of settings, there will be an opportunity to tailor your quiz the way it becomes an integral section of your website. You'll be able to create the application and examine all the settings in the near future, wait for it!
Why Elfsight widget of all others?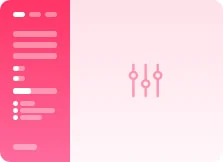 Interactive handy dashboard
No more urgency in looking for a competent developer or coding. Put to use our active editor which assures uncomplicated plugin integration.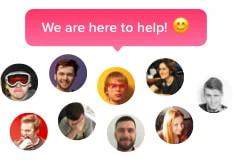 Experienced Elfsight team
Your painless experience is laid upon our competent people. We will be in nonstop contact to assist you add plugins on your web page.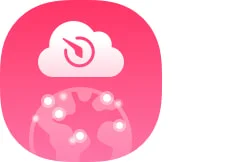 Marvelous Elfsight Apps service
You'll always receive the freshest stable version. Cloud solutions will provide instant bug fixes and immense loading speed.
What our customers say ❤️
I am amazed by the customer support staff, offered features and wide design customisation options allowing me to adjust all the widgets to match the site design. Thank you, for creating it!
I used Elfsight widgets to replace the existing ones on my website. Really easy to construct and less overpriced than the previous widgets I used. Recommended.
Super adjustable and customizable widgets that display elegantly. It doesn't derange or decelerate my page, which is absolutely great!
Been utilizing multiple apps for a number of months already. The team does an impressive job at supporting and updating. They are really uncomplicated and easy to work with.
These are incredible plugins which look charmingly on the site. You can buy them in a walk, and you won't get dissatisfied.
Great plugin with a fantastic feature set and elegant layout. Plus, the support team is always fabulously friendly and helpful.
Frequently Asked Questions
What content types will I be able to display in the feed?
Elfsight TikTok Feed allows you to display any types of TikTok content: plain videos and posts with both texts and videos.
Can I change the look of the header?
The header of the TikTok Feed widget is absolutely flexible and allows you to show or hide the cover and page image, as well as add Follow button and even show the number of likes. If you want to show the feed without a header at all, you can easily turn it off.
Will the TikTok be mobile friendly?
Sure thing! Your users are going to get a wonderful experience regardless of what kind of device they are employing - from PC to smartphone.
Can I apply the widget free of charge?
Yes, we suggest several rate plans one of which is free. If you want more options you can switch to another plan.
Is your app suitable for the theme my website is using?
Of course! The tool is absolutely qualified for themes and page builders that satisfy the standard WordPress requirements. And if it's not WordPress you're using, we will give you a helping hand.
What other widgets are coming to Elfsight soon?
We suggest you to wait a while till the following plugins come out:
Poll Form
,
Calculator Form
,
Job Board
.
And if you didn't get what you needed, then be sure to contact us straight or write us at the wishlist section!
Join 305,165 customers already using Elfsight Apps
Get the taste of 50+ powerful apps by Elfsight. No credit card. Joining is free!