Why do I need Elfsight Timeline?
Display progress in dynamics. Align content as you wish.
Choose any timeline alignment
You can present content in the form of a horizontal or vertical chronology line and place it in any content area.
Organize content in a linear way
Display upcoming and ongoing events, showcase projects, and create a product roadmap.
Style your timeline so it suits website look
Insert different types of content: dates, icons, descriptions and colorize them with ease to add more interactivity.
Join 1,078,753 customers already using Elfsight Apps
You can start with creating your first Elfsight Timeline widget for free.
What will make Elfsight Timeline special?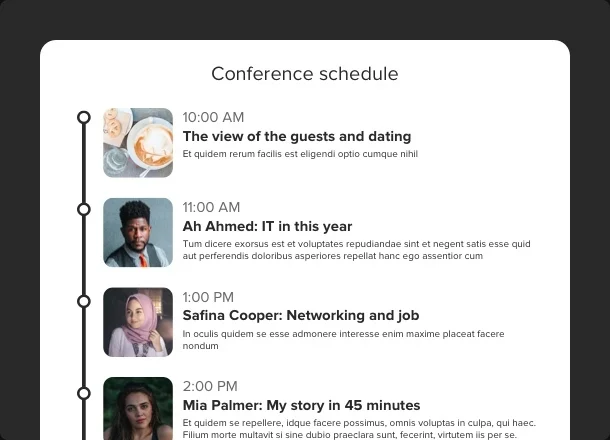 CHART
Present products and events in progress with ease
Elfsight Timeline widget will help you to organize information in the form of an interactive timeline that is easy to customize. You'll have an opportunity to arrange content vertically or horizontally, add dates, icons, and descriptions to make the timeline even more illustrative. In this widget, you'll find unlimited design options, it will be responsive on all kinds of screens.
Learn more
USABILITY
Structure content chronologically and present it in a neat way
Timeline will provide a visual representation of the extended history of your company, products, or your life. It will greatly engage users and help you organize content in the most structured way. You'll be able to show what stages are completed, which ones are in progress, and which are supposed to be accomplished in the future. It will guide users throughout long text content and considerably increase the average time spent on the page.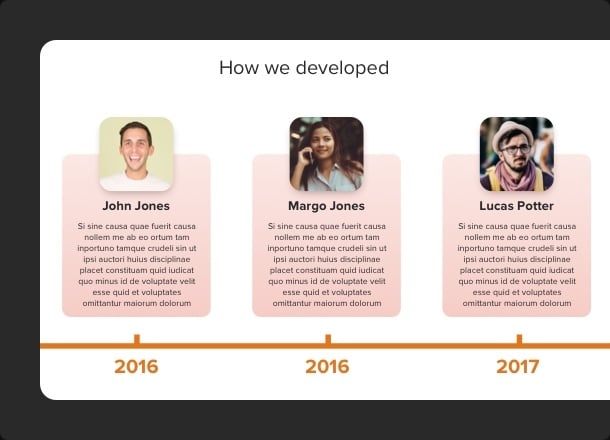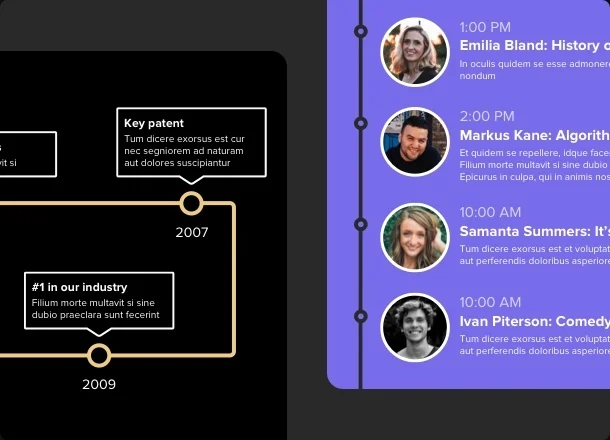 STYLE
Choose a ready-prepared color scheme or set up your own design
Our developers offer an exceptional instrument for non-professionals - a Color Scheme Generator that'll produce a design for your widget all by itself. Merely select brand color, either a Light or Dark mode, and permit the auto color designer set everything up for you. In addition, if you need a peculiar look of the widget, you can continue to modify all the elements individually: titles, background, icons, dates, and so on. See all modifications immediately in free configurator with no need to code.
STAY TUNED!
Many more amazing styling and functional settings upcoming soon!
Our incredible design and development teams are currently working up the plugin structure and functionality. There will be a large selection of settings, it'll be possible to modify your timeline so that it turns into an essential part of your website. We will tell you about how to add Timeline to website, nuances of setup as soon as the plugin is released. Wait for it!
What our customers say ❤️
All the Elfsight plugins are easy to embed and work exceptionally on any website! Had a problem and the support service reply was exceptionally quick and punctilious.
The widgets are exceptional and have an easy to understand interface. 100% personalized and integration is a breeze. Their customer support is always responsive and helpful.
Wonderful customer support - they response much more faster than any other support I've ever used. The plugins are a breeze easy to embed and have wide range of features.
Frequently Asked Questions
What is a Timeline widget?
It's a tool allowing you to tell the story of your company or present the product roadmap on your website.
How to embed Timeline widget to any website?
To embed our plugin, read the points from the clear instruction:
Use our editor and start creating your own widget.
Edit the app features and save the required corrections.
Get your individual code shown in the popup.
Enter the unique code on your web page and press "Save" button.
Congratulations! You've successfully implemented new app on the page.
Encountered any obstacles during the setup? Contact our support team and we'll be delighted to give you a hand.
Is it possible to alter the design of the widget?
Certainly! You can perform all the needed alterations in our live editor. Simply open the Style tab and submit all the needed changes. After you're done, save the changes.
Are your widgets adaptable for my website platform?
Yes, they are! Our widgets perform exceptionally on all well-known website platforms, for example, Shopify and on all platforms with custom HTML (Blogger, etc). Also, supposing that you face any obstacles you can always address our support staff.
What other widgets are coming to Elfsight in short order?
We offer you to watch for the following products be launched:
Wishlist
,
Yandex Maps
,
Content Locker
.
In case you didn't manage to get what you wanted, then hurry up to notify us directly or write us at the wishlist field!
Best way to use the Timeline widget on my website
Place the widget on the homepage of your website to make it as representative as possible.
Can I create a vertical timeline?
Of course! There's an option to create a timeline widget of any kind - vertical or horizontal. Feel free to use the online Configurator to form your tool. When you're ready, add your timeline chart to your website and remember that both vertical and horizontal versions will look impeccable!
Should I know css, html or javascript to timeline?
No, you don't have to learn CSS, js or HTML to form your timeline widget. The only thing you'll need is to use our handy configurator. As soon as you're finished, add the timeline tool to your website.
Can I embed the timeline widget on Wordpress?
Yes, and it's absolutely easy! To embed the Timeline plugin to WordPress site, start forming your tool and after copy its code to embed it to your site. The integration won't take long - your vertical or horizontal timeline plugin will soon be ready to use on your WordPress site!
Join 1,078,753 customers already using Elfsight Apps
Get the taste of 80+ powerful apps by Elfsight. No credit card. Joining is free!