Why do I need Elfsight Instagram Feed?
More enticing product images. More sales.
Increase visitor engagement
Get the best from Instagram content to create an enticing feed for your website and involve more viewers
Boost website sales
Showcase your business, products and services to increase trust and sales on your website
Attract more Instagram followers
Use website traffic as one more source of new Instagram audience and increase the number of followers
Join 100,929 customers already using Elfsight Apps
You can start with creating your first Elfsight Instagram Feed widget for free.
What makes Elfsight Instagram Feed special?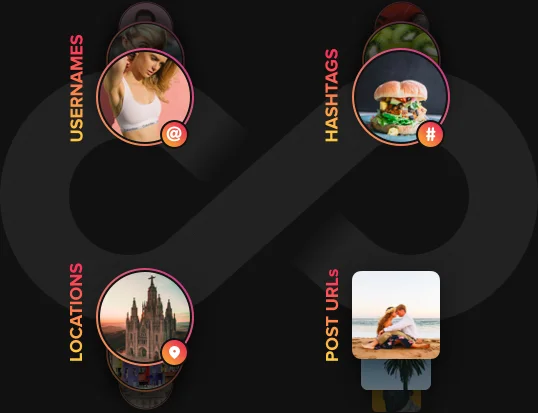 Any Instagram photos
Instagram photos from username, hashtag or location in any combination
With Elfsight Instagram plugin, you are free to show photos from Instagram by all available means - hashtags, URLs, or usernames, and any combination of those. It's so easy to fill your feed! For the most careful content selection, you can use two types of feed filters - excluding by sources and showing only from limited ones.
50+ customization options
Custom Instagram feed for any use-case
With diverse settings of the responsive interface, you can add maximum customization to the design of your plugin. Start with layout of photos - Slider or Grid - then choose your post template variant, set parameters of columns and rows, and don't forget to create an eye-catching title. The gallery size is also under your control, so you can configure your unique Instagram plugin for your website.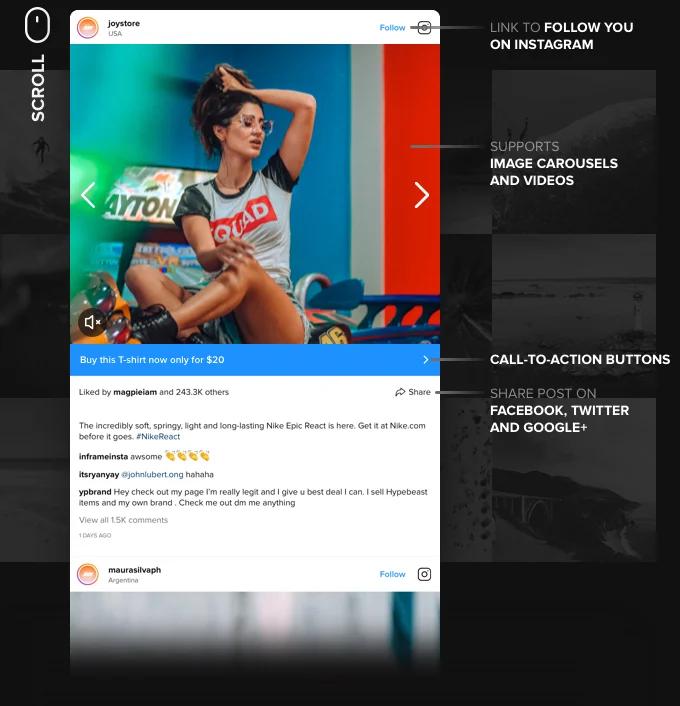 Interaction elements
Engagement from the first sight
InstaShow is the best Instagram Feed for growing your visitor engagement! It includes a lot of features, which will help you with this: Popup mode showing photos in full size and playing videos right on the page for lasting demonstration; a variety of post elements, such as Follow and share icons allowing seamless interaction; and call-to-action buttons that are here to inspire and motivate activities.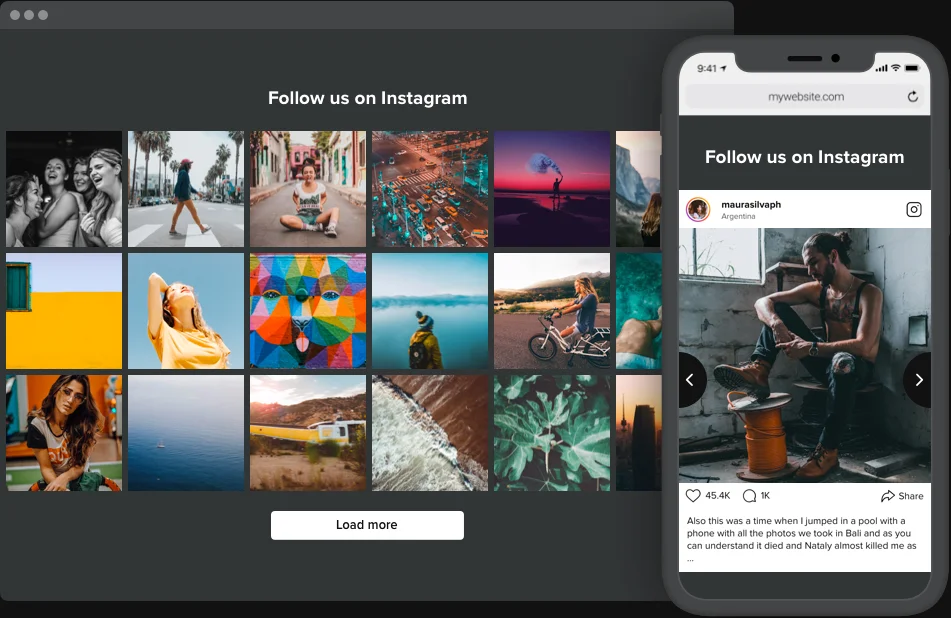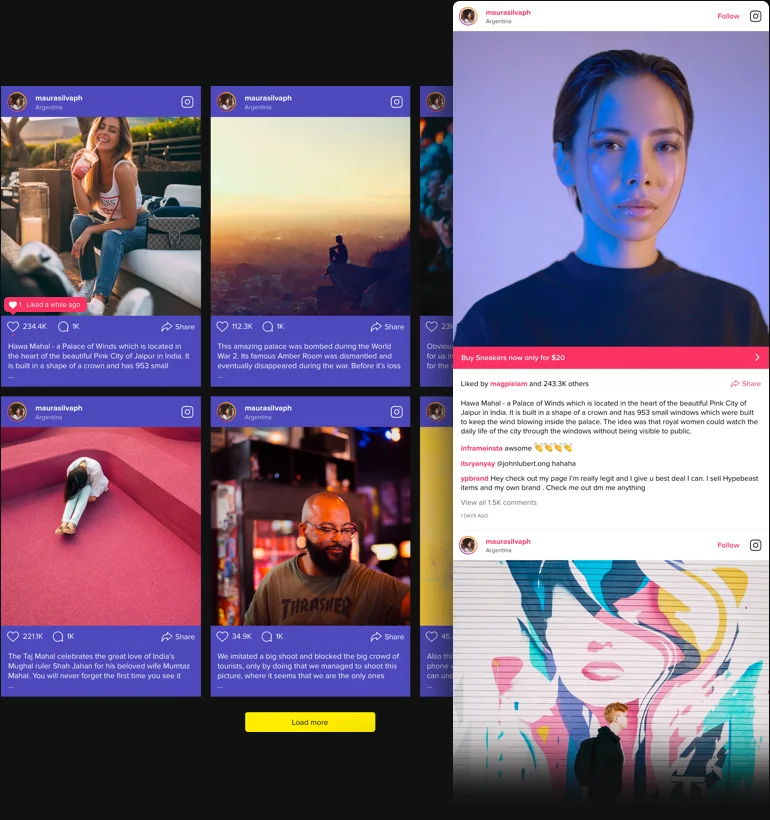 12 predefined color schemes
Easily matching your website style
Make your widget an integral part of the overall website style, giving it the matching custom look. Our Instagram page plugin offers you a choice of 12 ready-to-use color schemes, featuring trendy and balanced color solutions to create an unforgettable gallery! And if you want even more customization, you are free to additionally paint 12 elements of the interface yourself. Make your Instagram Gallery hit the style!
Usage examples
See a selection of real examples to explore the full potential of Instagram Feed for your website.
See in action
Live demo
Try all the features of Instagram Feed in live demo now. No fees. No registration. No coding.
Try now
Why Elfsight widget of all others?
Useful interactive configurator
No programming, no need to hire a developer - our live panel ensures installation in a few easy steps to save your time and money.
Qualified Elfsight team
Premium help and free plugin embedding will guarantee you the smoothest and problem-free user experience.
Stunning Elfsight Apps service
Cloud tools for systematic automated updates, fast bug fixing and great loading speed in any location.
What our customers say ❤️
Best looking Instagram gallery for website. Incredibly easy configuration through the plugin developers website. Tons of options and simply beautiful. Also, I had a few questions that were immediately answered within 24 hours! I'm super happy.
EVERYTHING about this plugin for Instagram is excellent! Doesn't slow my page down at all, the code is excellent, the features are actually more than I expected. And the authors for Instagram Gallery are fast and more importantly informative! I wish all authors supported their products like this.
This is an amazing responsive plugin that works extremely well with minimal setup. The author has done an outstanding job. This is the only widget/script I've found that actually works.
WOW! Such a great plugin. I spent hours using other Instagram galleries, and wasn't happy with the results. I tried out the website Instagram Feed and within 10 minutes I had everything I wanted and so much more! Great work!
This is by far the best method I have found to display Instagram on my website, and the support staff I have come into contact with has been phenomenal: quick and courteous response, always willing to help. Kudos to you guys!

Thank you so much!
Tried many Instagram galleries and plugins for Wordpress sites and this one is the best by far, it has the most customization features than the other apps, and a clean UI that is very easy to use... 5 Stars
Try Instagram Feed widget demo
Frequently Asked Questions
Can I add photos by hashtag or location?
Our website Instagram widget allows for adding feed using any hashtag or location URL. In addition, you can add photos from any public username. Simply paste one of these in the box and the plugin will automatically apply this source.
Can I hide away the photos I don't need from my Instagram gallery?
You can control your Instagram gallery content using two types of filters: excluding, which will not allow photos from the sources that you set and limiting filter, which displays photos only from added sources and. You also can limit the number of photos displayed.
Can I create Shoppable Instagram Feed using InstaShow plugin?
Yes, you can make your Instagram feed Shoppable linking your photos with corresponding product pages. Users will see call-to-action button under each photo which will be the first to buy the product or service. You can add unlimited number of call-to-action buttons to the plugin.
Can I change the layout of the photos?
Elfsight InstaShow offers you Slider and Grid layouts and setting the number of columns and rows in each of them. Also, you are free to vary the gutter between the pictures and make them closer or further apart from each other.
Is InstaShow mobile friendly?
Instagram website plugin is absolutely responsive. Our feed works and looks perfectly on any device from desktop to mobile phone. Your users will enjoy a beautiful and handy Instagram feed gallery.
How to embed Instagram Feed to my website?
To adjust your Instagram Gallery to the space requirements of your page, you can vary its width, by simply setting the needed number of pixels You can also optimize your widget for mobile devices, by setting the number of columns, rows, and choosing the best width value.
How do I change the size of the plugin?
To adjust your Instagram widget to the space requirements of your page, you can vary its width, by simply setting your custom number of pixels. You can also optimize your plugin for mobile devices with responsive breakpoints, by setting the number of columns, rows, and choosing the best width value.
Is it compatible with my website platform?
Our InstaShow Instagram plugin is compatible with all the most popular website platforms and will be added to any of them in seconds. Please, check the followin list:
Adobe Muse
,
Big Cartel
,
BigCommerce
,
Blogger
,
Drupal
,
Joomla
,
jQuery
,
Magento
,
HTML
,
Lightspeed
,
ModX
,
OpenCart
,
Shopify
,
Squarespace
,
Webflow
,
Webnode
,
Weebly
,
Wix
,
WordPress
.
Join 100,929 customers already using Elfsight Apps
Get the taste of 15 more powerful apps by Elfsight. No credit card. Joining is risk-free!