Responsive
Easy-to-use
Coding-free
Subscription Form
widget for website





















Why do I need Elfsight Subscription Form?
Convert visitors into loyal fans
Acquire more email subscribers
Create and easily design your subscription form, run tests and see your list grow faster than before
Present highly targeted content
Demonstrate your subscription forms to the right people on the right pages and prevent them from bouncing away
Easily design a form right for your website
Use one of many premade templates and customize it by means of easy-to-use configurator
Join 2,078,753 customers already using Elfsight Apps
You can start with creating your first Elfsight Subscription Form widget for free.
What makes Elfsight Subscription Form special?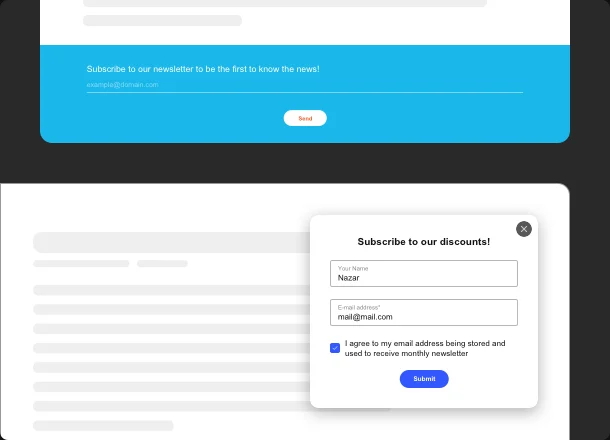 FORM
Grow your audience with simple and effective email widget
Email marketing is still one of the most effective tools in growing an online business. To collect your own email list, use this simple and intuitive form, allowing you to get email addresses which can be later downloaded in CSV format. All the fields of the newsletter subscription form are manageable - you are free to adjoin header with caption, ask for the first name, last name, email address or keep it simple and leave only an email field there and accompany it with an explanatory label and a placeholder. Also, our widget allows you to select the post-submit actions - users can be redirected to some URL, see the success message or you can simply hide the form after the action has been taken.
INTEGRATIONS
Integrate your form with popular email services
If you are working or planning to work with Mailchimp, there's an option for you to connect your Subscription Form widget with the Mailchimp. You'll get your emails collected in your Mailchimp admin panel, where you'll be able to manage them the way it works for you. All that is left for you here is to log in or sign up to your Mailchimp account. And stay tuned for other integrations that are coming in the nearest future!
LAYOUTS
Position your form effectively
Finding the best position of the form on the website's page may take time but not with our email widget. With one of four offered layout templates and you'll create the widget that works just for you. Fit it perfectly into the content zone with the Embedded layout, set up triggers to make it Pop up as the user explores your website, use the Pane to place it on the left or right side of your web page, and the Side-in will demonstrate an unobtrusive widget in the corner. And after selecting the pages where you want the subscription form to appear you'll get the tool that really does the job!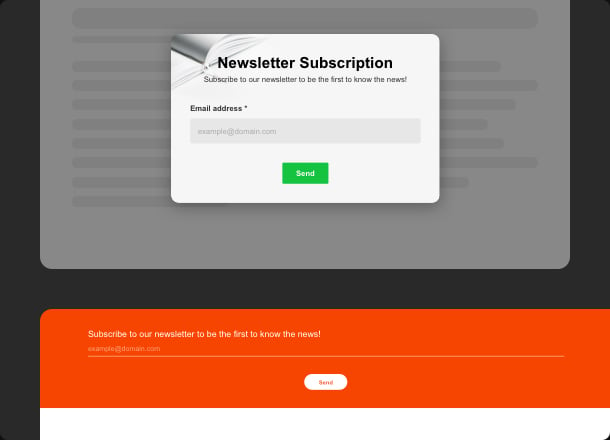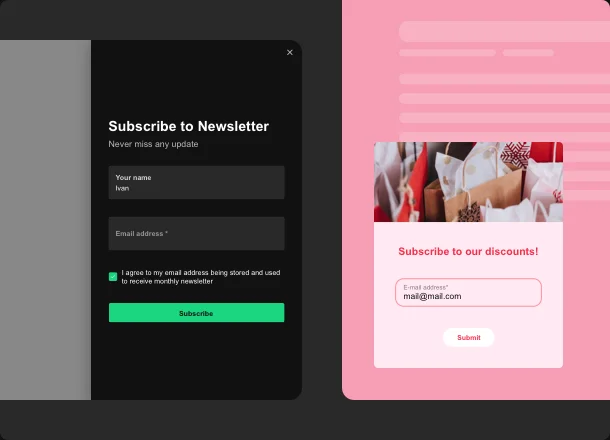 STYLE
Choose a ready-made color palette or set up your own conception
We offer an extraordinary instrument for those who value their time - a Color Scheme Generator that'll create a design for your widget all by itself. Merely select primary color, a Dark or Light mode, and let the auto color designer set everything up for you. On the other hand, if you need a distinctive look of the widget, you can always continue to modify all the elements separately: popup, header, background, and so forth. See all changes straightaway in free configurator with no need to program.
Usage examples
See a selection of real examples to explore the full potential of Subscription Form for your website.
See in action
Live demo
Try all the features of Subscription Form in live demo now. No fees. No registration. No coding.
Try now
Why Elfsight widget of all others?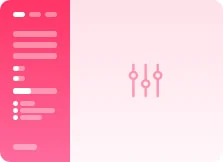 Interactive user-friendly board
No more urgency in looking for a competent developer or coding. Apply our live panel which assures painless widget integration.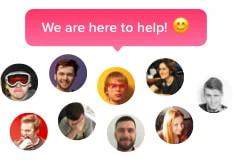 Qualified Elfsight team
Your smooth experience is provided by our skilled team. We will stay in regular contact with you to help you integrate plugins on your website.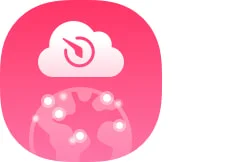 Marvelous Elfsight Apps service
You will regularly receive the most recent constant version. Cloud solutions will grant immediate problem fixes and high loading speed.
What our customers say ❤️
Really flexible and adaptive Subscription Form plugin that displays nicely. My clients left so many lovely comments about how easy it is to subscribe to newsletters just because of the form. It doesn't break or slow down my site, which is so good!
I needed to move the subscription plugin to a different domain and had a couple of custom CSS queries. And the amount of support from the team was unbelievable. They guided me through each step, and the form worked. GREAT help and GREAT widget! So thanks, Elfsight!
Great plugin! Elfsight support answered all our questions quickly, friendly, and competently. We needed the exact form for our website visitors to subscribe to and be updated with new info. So finally, we were able to install the Subscription Form without issues.
I enjoyed this Subscription Form widget from the first moment because of the design. I can create functional form fields and choose the layout. It is simple to use, and customer support is always there to provide help at any time. Thank you for this!
The first Subscription Form plugin I've embedded in 5 years that actually works. In others, I couldn't make the subscribe button work. But this one does it really well at that. Once I had a bug on my website with the form, and they fixed it in no time.
Super-easy widget to set up, it took me not more than 5 minutes to create and embed my subscription form to the website. My metrics are high because users have started to subscribe.100% recommended!
Frequently Asked Questions
What is a Subscription Form?
Subscription Form is an easy-to-use widget letting you collect your website visitors' emails by demonstrating to them an attractive fill-in form. The purpose of the subscription form is to allow new users to subscribe to the email list and expand your audience base.
Overall, the installation process on your website takes seconds and doesn't require special technical knowledge and skills in coding. The form plugin generates a personalized code to embed. Hence, it works well with a lot of popular website platforms, some examples: WordPress, Squarespace, Wix, Shopify, and many more.
Inside the form plugin builder, you can create and modify fields, such as an email address, consent checkbox, choice options, and a short text area. Plus, fitting your website theme is easy with five template options. Make it unique and fully customizable to address your needs.
How do I get the Subscription widget's installation code?
You can obtain the code after shaping the Subscription widget by creating it in the live demo or directly via the admin panel after registration. Later, you embed the copied code into your website platform.
How do I implement the Subscription Form widget to any site?
To embed the Subscription Form widget, use all the points from the simple guideline below:
Employ the configurator and start forming your customized tool.
Personalize the Subscription Form widget parameters and click to save the needed edits.
Copy the personal code revealed in the popup.
Enter the unique code into your page and save it.
Well done! You've smoothly integrated the Elfsight plugin on the website.
Came across any issues during the setup? Feel free to reach out to our client support staff, and they'll be glad to assist.
Is there a way to adjust the subscribe widget's color scheme?
Yes, if you need to make any modifications to the widget or add sources, you can do this right via the admin panel or live demo. Apply all the modifications, press the save button and they will be implemented on your website. To do so, follow the instructions:
Open the Subscription Form configurator.
Pick the "Appearance" menu option.
Switch between the "Light" or "Dark" color scheme.
In addition, don't forget to pick the accent color for the "Subscribe" button and customize elements to fit the color palette.
In case the form doesn't work as it should, address our Support Department. We will be happy to assist you with any problem you have and offer a detailed response.
What are the best ways to use the Subscription Form on my website?
We know the five best ways of using the Subscription Form on your website. Check them out:
Embed the form right on your website page. Add the widget to your homepage and start building your email list quickly and effectively.
Share the form link with the audience directly. Copy the link and send it to the chosen group of people to subscribe.
Attach the form to the email marketing campaigns.
Make a landing page form. This is by far one of the most favorite examples out there.
Make use of social media platforms as a tool to share the subscribe form.
Consider this list as an inspiration and define the methods that totally will work for you!
Is the Subscription Form compatible with my website's platform?
Yes, the Subscription Form is compatible with almost every content marketing system and website builder. But to be honest, all the Elfsight plugins can be integrated with any popular website platform and CMS. Find yours in the list below:
Adobe Muse, BigCommerce, Blogger, Drupal, Facebook Page, Elementor, Joomla, jQuery, Jumpseller, iFrame, Magento, HTML, ModX, OpenCart, Shopify, Squarespace, Webflow, Webnode, Weebly, Wix, WordPress, WooCommerce, Google Sites, GoDaddy, Jimdo, PrestaShop.
Will my Subscription Form from Elsight be responsive?
Yes, all the Elfsight widgets, including the Subscription Form, are responsive. When it comes down to examples, we are saying that you can use them on various screen sizes, OS, platforms, and orientations. It's mobile adaptive and designed to work with every digital device.
Is the final "Thank you" message in the subscribe form plugin customizable?
Yes, it is. You can create an original form message and customize the text of the button in a few steps, take a look:
Open up the website form builder.
Go to the "Settings" bar.
Navigate to the "Submission" tab and select the "Post-Submit Action" button.
Hit the "Show Success Message" option just to make sure.
Type in the final message title and text.
Scroll down and toggle on the "Button" field.
Add text for the subscription button.
In case there is a problem or a random bug with customizing the form message, get in touch with our team on the Elfsight Support website page.
How can I add a floating subscription form to the web page?
There are two examples of how you can add a floating form to the website: pick the floating template at the beginning or edit the settings in the configurator. The first method is pretty straightforward, so let's explain better the second one:
Open the website form configurator.
Find the "Layout" tab.
Switch from "Embedded" to the "Pane" layout.
Customize the position and floating button.
Leave the "Layout" tab and go to the "Appearance" menu.
Select the "Floating Button" in the "Customizable Elements" section.
Bring up some changes to the button and save them.
Receive the widget's code and install the subscription form on your web page.
Do you have any questions left? Do not hesitate to ask them in full detail. Our support staff will figure out the solutions.
What are the examples of templates I can use to make the Subscription Form widget?
There are a few examples of templates you can use to make the form:
Light/dark sample form. By choosing this sample template, you get an embedded format in two color schemes, a ton of custom elements to configure, and one email field to fill in.
Floating light/dark sample form. With this sample template, you get a floating format in a light or dark color scheme, customizable elements, and an email field.
Extra fields sample form. If you pick this sample template, you get two color schemes, custom elements, and two areas to fill in: name and email address.
But keep in mind that all templates can be modified based on your preferences. Switch between formats depending on your mood, style, and occasion!
Where on the website can I place my custom form?
You can place the form anywhere on the website page, but our beloved examples are the bottom of the page, the homepage, and the top of a sidebar. Or pick the floating format and get a subscribe button on all the web pages.
Join 2,078,753 customers already using Elfsight Apps
Get the taste of 80+ powerful apps by Elfsight. No credit card. Joining is free!