Learn about the simplest and fastest way to add Google Reviews to a website. Increase business trust and automatically collect new customer reviews.
Quick guide: Embed Google Reviews with a widget
To add Google Reviews to the website without programming in a flash, you can use a ready-made solution called widget. With the help of Elfsight Google Reviews, you'll be able to create a review section in a visual editor: change colors and fonts, switch on and off all the elements.
Spend 2 minutes embedding Google reviews on a website
Sign up for free in an Elfsight account.
Customize a template you like the most and save the widget.
Copy installation code.
Embed it in the needed place on a web page.
Wow, that's easy! By the way, you create a widget in a free dynamic online demo. Test all the functions without registration and reveal your creativity!
Benefits of the Google Reviews widget
Google reviews widget is a powerful tool to increase trust in a brand, get new and actual testimonials, create smarter user experiences. When embedding Google Reviews by Elfsight you get tons of advantages in swift.
Universal installation code for any CMS
Google Reviews widget by Elfsight will be embedded perfectly on any platform: Shopify, WordPress, Wix, OpenCart, or even a website created with HTML and CSS.

A large number of ready-made templates
Google Reviews widget offers 30+ pre-built templates. They are extremely professional, neat, and functional. Such a big number of available review galleries will save your time and money.

Full customization
We know you want your embedded reviews to look an inseparable part of a web page. To achieve this, the Google Reviews widget allows you to personalize all elements in a visual editor. You can change colors, sizes, fonts, buttons, rewrite header and button texts.

Growing and evolving product (+ help and forum)
Our engineers are constantly developing Reviews. Thanks to Google Reviews widget being cloud-based, bugs are updated directly in all the widgets embedded on all websites.

Innovative AI review summary
Enhance your online reputation and captivate potential customers with Elfsight's AI Summary Card. This feature takes your Google Reviews to the next level by condensing the emotions and experiences of numerous satisfied customers into one powerful summary.
Top-notch support. You won't get such professional help in any other service. Support specialists have written a well structured database of instructions for review embedding and customization. Also, we have a welcoming community where Elfsight users share their love and experience. Here's what you can get after requesting supporters for help:
Free installation aid. In case you come across any difficulties embedding reviews, our professional and friendly supporters can help you right away.
Help with review customization. Never mind if you have any personal requirements with the widget's appearance. Elfsight support specialists will help you with it with great pleasure.
Wishlist to describe your cravings. Having ideas of how Google Reviews widget can be improved? Add your thoughts on the wishlist and vote for your favorite concepts.
Agency or freelancer? Working with your clients?
In case you help a lot of businesses to improve their websites, you can join our affiliate program. Embed our Google reviews on your clients' websites. This is a truly win-win situation: real benefit for customers means real payouts to you.
Find out how you can gain profit from working with clients on our Affiliate page.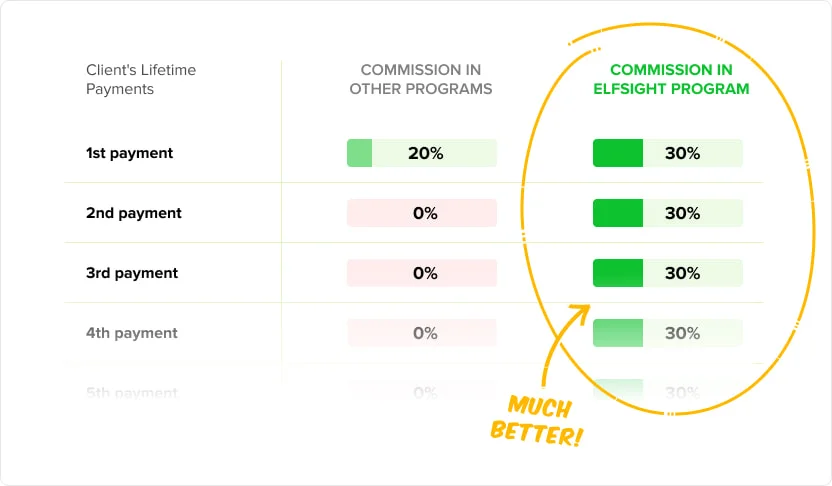 Notable use cases to uncover your imagination
Elfsight Google Reviews widget is attractive and functional. There are tons of amazing ready-made templates which you can use as they are or customize according to your preferences. Review section is not only attractive, but can also increase website performance. Look at the real examples of our customers' embedded Google reviews and get inspired.
Google Place reviews by House+Co Property
Gorgeous! Fantastic! Amazing! We simply adore this use case. Website owners decided to embed Google reviews at the beginning of a homepage. This solution is so unexpected yet logical, that helps House+Co Property steadily grow their sales and boost trust. Actual reviews left not long ago make people sure they're at the right place to buy their house.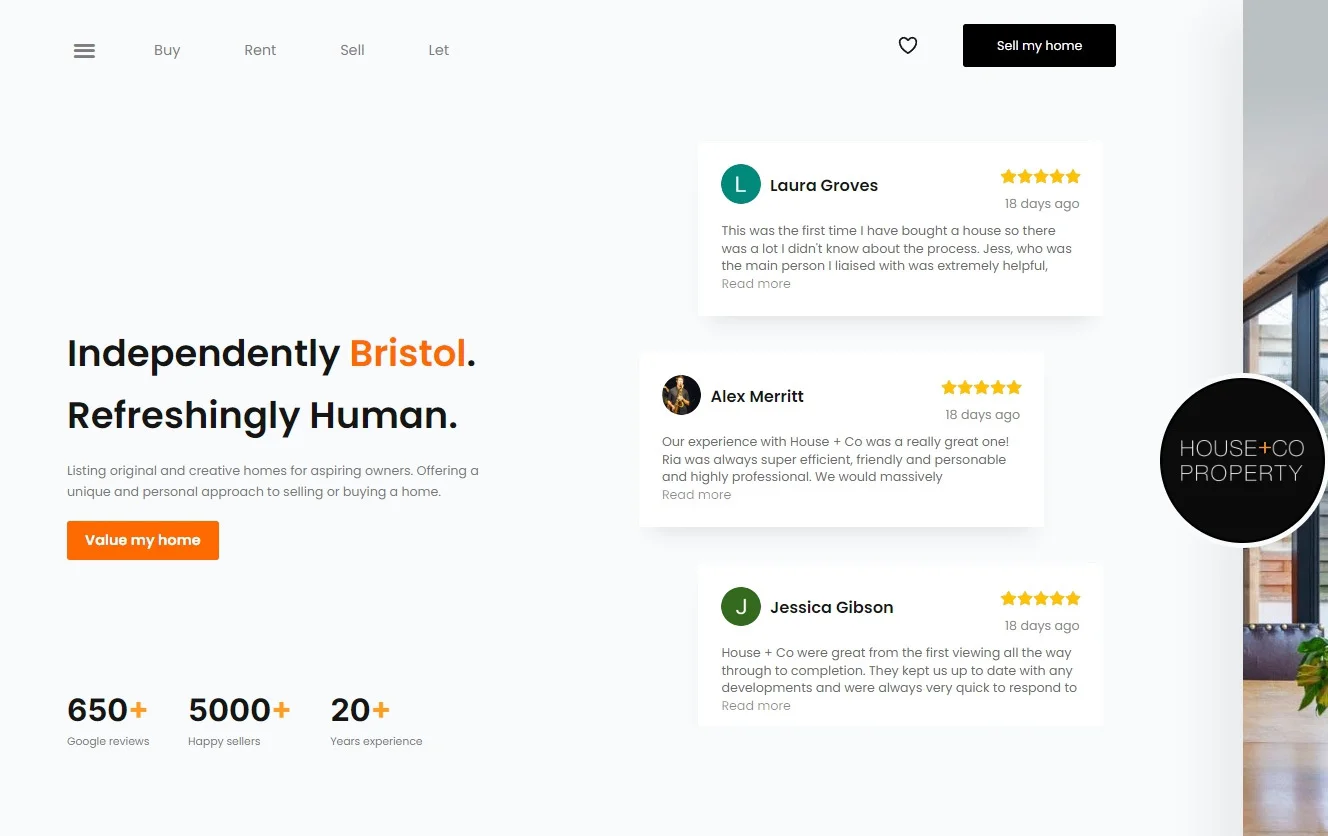 Review badge by Spartan Geek
True gamers need outstanding PCs and accessories. Spartan Geek owners described all the products they sell so juicy that thousands of gamers visit their website monthly. Google Reviews badge embedded on a website is a cherry on a gamer's cake. Visitors are offered to get acquainted with all the ratings on a separate page and see examples of the best ones right in the section.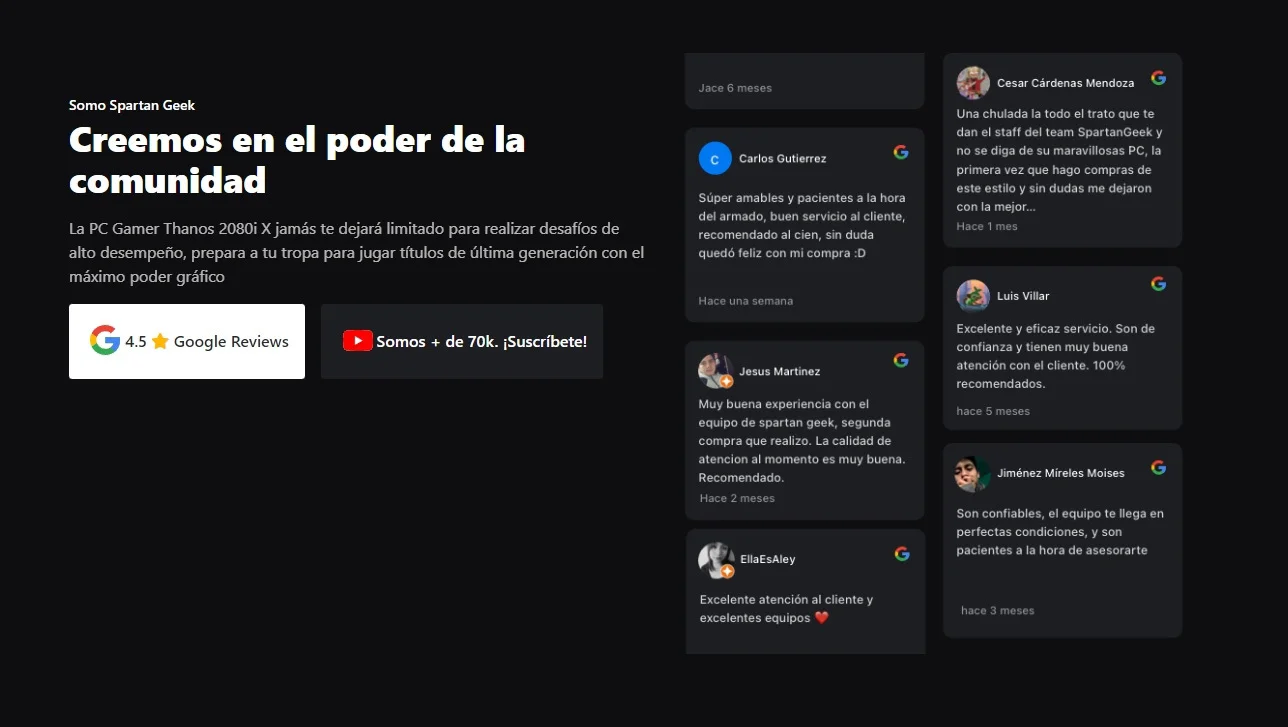 Google My Business reviews by PrintShoppy
PrintShoppy is a noteworthy and significant tool for ordering printable books, clocks, bottles, iphone cases, and so much more. To gain trust and increase sales, website owners decided to embed the Google Reviews slider on a separate page. It attracts a lot of attention, and works as it is supposed to. Any interested customer can visit this page to learn they're in the right spot to get a unique present.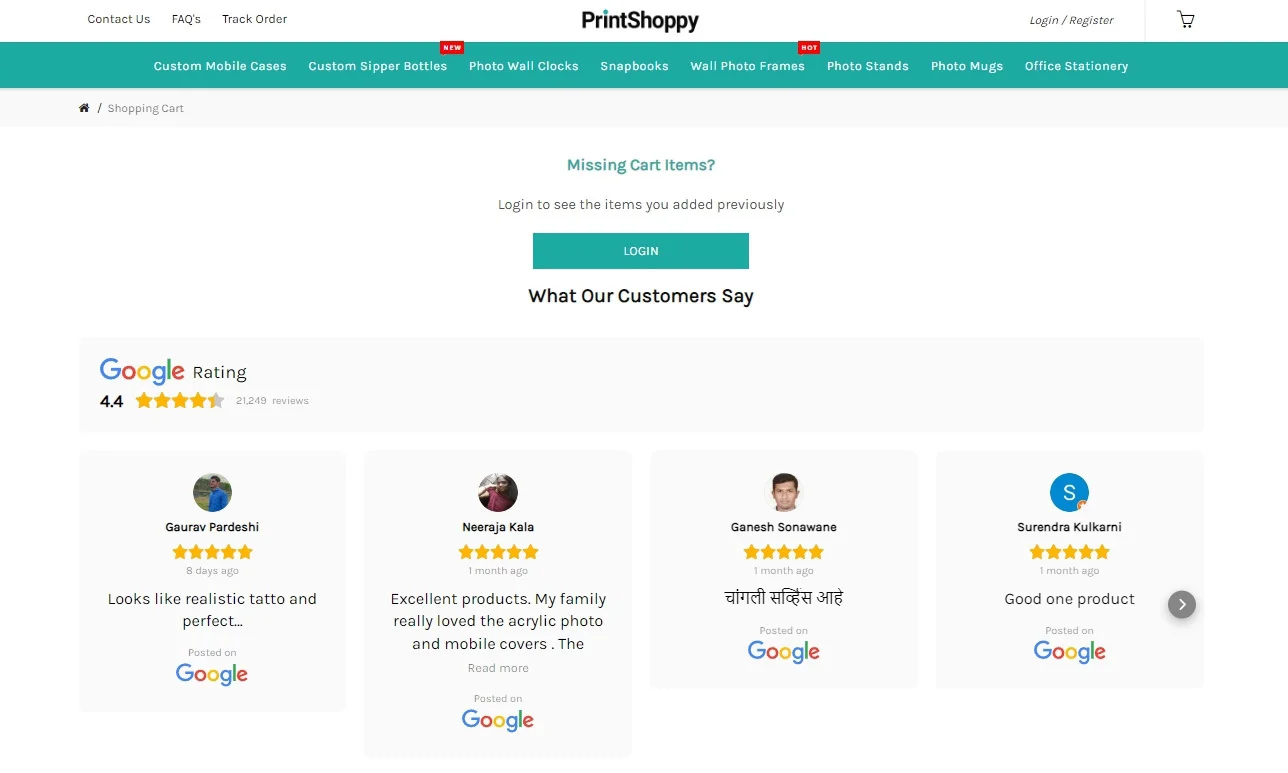 Google rating by Razer Store
Meet the Razer – an absolutely unique and undeniably best online store for true gamers. They provide admirers of simulations and strategies with the top-notch gaming accessories and services. Their community army consists of millions of gamers who eagerly share their positive reviews on Google. Google Rating is embedded in the middle of their homepage, decreasing cart abandon rate and boosting sales.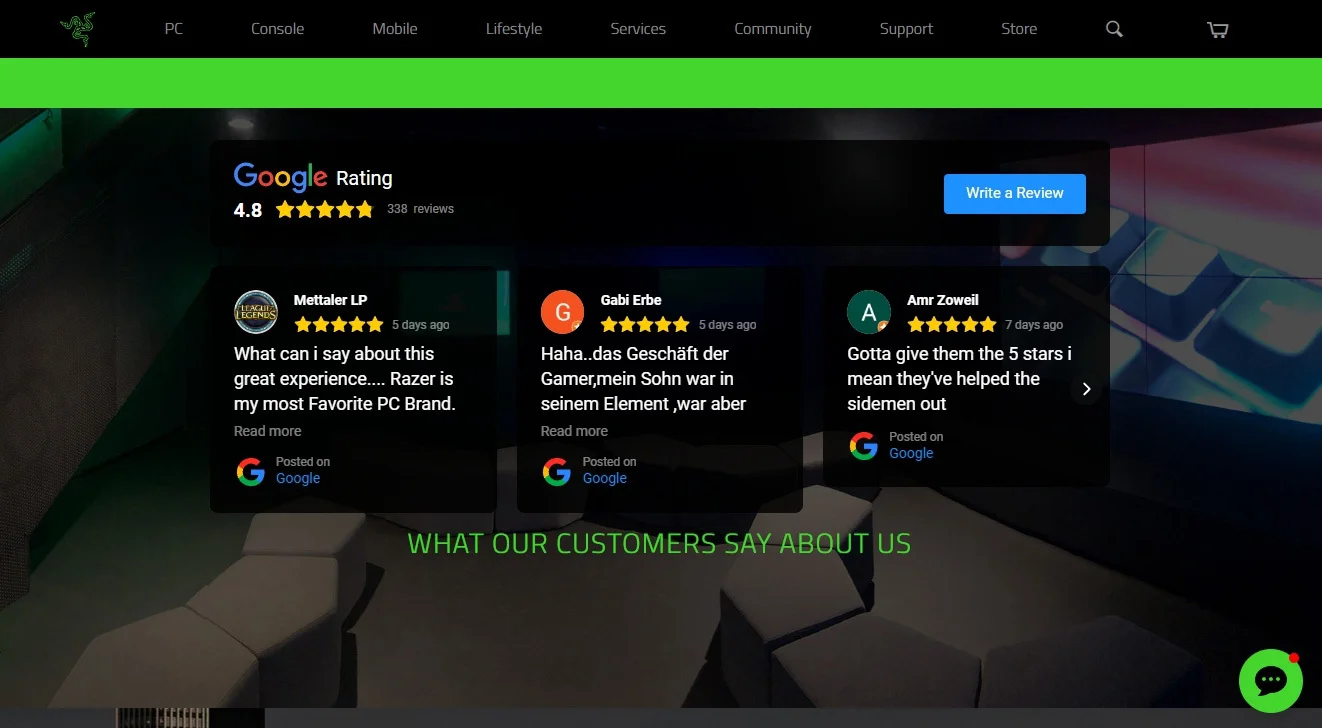 Super thorough guides: How to embed Google Reviews in CMS
After you've got your portion of inspiration, created the Google Reviews widget, customized it according to your requirements, you'd need to embed it. No matter what platform you use to manage website content, you can embed a widget on any web page into an HTML field.
The process is easy and fast. All you need to do is sit back and enjoy a tremendous increase of conversions. Here's what you get after installing the widget on your site.
The embed is free with no limitation in review functionality.
You can make changes in the design and template through the Elfsight admin panel, no need to make adjustments in platform code.
Review updating and adding is automatic.
That's why the first thing you'll need to learn is how to embed Google Reviews in HTML code. And there's nothing as easy as this, the process only takes several easy steps:
Log into the Elfsight admin panel.
Create, customize, change settings of your Google Reviews.
Save a widget.
Copy an installation code.
Add it to the needed HTML field in your web page backend.
That's how easy it is! Now, you can check the Google Reviews section on your website.
Google Reviews widget features
Together with easy embedding and tons of benefits, by using Elfsight Google Reviews widget you get enhanced functionality. Responsive and coding-free Review widget is easy to create in a visual editor. You can find the main features of it in the table below.
Easy integration

Paste your Google Place ID from Google My Business
Display your place by business name and address
Paste it to the widget in a click and see reviews right away

Filters

Show reviews with or without text
Set minimal rating (for example, only display 5-star testimonials)
Display a certain number of reviews
Display or hide reviews by certain authors or keywords

Review sorting

Most recent show up first
Random sorting

Layout

List, Masonry, Grid, Carousel, Floating Badge, Embeddable Badge layouts
All layout types can be totally customized
It's possible to change columns, number of posts to display, gaps between reviews
You can personalize content width and widget title

Header

Display or hide the header (you can switch it on and off)
5 elements to display or hide: title, the overall rating, total number of reviews, and a CTA.

Review style

3 pre-set review styles
Display or hide elements of review: author name, picture, date, rating, source
3 review source styles
Long and short variants of displaying review text

Design

Light and dark color schemes
Opportunity to choose an accent color
Customizable font
Each element of the review gallery can be tailored separately
You can change colors, alignment, text and button sizes, button color radius and outline

Other settings

Language of elements
Schema.org – enable this config and you'll see a rich Google rating snippet in search results
Enable or disable external links
Make them open in new or the same tab

Many features give you so many opportunities. What is more, you can test them all for free, and even add the widget to the website. Create a widget right away and start growing engagement on your website without delay.
Why you need to embed Google Reviews on a website
People have significantly changed the way they choose products on the Internet. Ten years ago everyone asked their friends for recommendations of the best products and services. Today, according to numerous studies, insecure buyers read at least one review before making a purchase decision. To shorten the time between the moment people learn about your products and consider buying, you can simply embed Google reviews on the web page.
It has amazing benefits.
⅔ of consumers read reviews before buying.
And, according to the BrightLocal study, in 2021, 77% 'always' or 'regularly' read them when browsing for local businesses (with only 60% in 2020).
Reviews reduce bounce rate.
The average conversion rate in 2021 was a dismal 2.2%. It means, people leave your website or app without completing purchases in most cases. That's why reducing the bounce rate by even 1% will help you earn many times more. Embed reviews on a website to increase time on a website and help users make a purchase decision.
People trust new reviews.
It means you need a tool that adds reviews to a website as soon as they're left on Google. Customers don't believe testimonials left 3 years ago, they need to know how your business treats clients today. As stated by numerous surveys, when products begin displaying user-generated content, conversion rates escalate. Having five reviews causes purchase likelihood to increase by a factor of nearly 4x.

Google believes your users.
The search engine prefers articles, businesses, and products with good ratings over others, because value is one of the main ranking factors.

Reviews add relevant content to your website.
Text in testimonials contains keywords related to your site. In addition, if you embed a widget, reviews aggregate in it automatically. And renewed content raises your website in search results.
Review snippets increase click-through rate.
Stars in rich snippets boost the attractiveness of your site in search results, making it more outstanding. So, Google rating will also make you stand out from the crowd of your plain and insignificant competitors.
More information improves customer satisfaction.
Add details about shipping, prices, delivery times, and reviews – all the kinds of facts will boost confidence in your brand. People will know you don't hide anything from them, and this will surely increase sales and stimulate conversions.
Even bad reviews can be useful.
No business avoids troubles and inadequate customers. But if you properly treat public negative reviews, people will know you don't hide from bad reviews and admit mistakes. Based on Neil Patel's recommendations, you should decide on a communication strategy that will match your brand identity and tone of voice. Afterwards, constructive feedback will become a gold mine for your business.

After you've decided to add Google Reviews to the website, you'll need to work with them and gain even more. In the next section, we'll discuss tips on how to reach success more thoroughly.
7 tips on using product reviews to boost sales
No doubt that you should embed product reviews on a website to develop digital marketing strategy. Shoppers consider them to be of the same weight as a recommendation from a close friend. It happens so because Google fights against fake reviews. In some countries leaving fake Google reviews is punished on the governmental level for misleading in order to gain money.
Below, you'll find the pieces of advice on how you can use both good and bad reviews for making profit.
Tip 1. Automate collecting reviews
Embed a Google Reviews widget on your website and switch on a CTA button. Actual and new reviews look more trustworthy. People visiting your website will see an invitation to leave their thoughts, some of them will eagerly make their opinion public. Those reviews are the key to making people take purchasing decisions faster.

Tip 2. Switch on the schema.org markup
Stay different from your competitors. Switch on the markup, and stars will appear in search results. They will make you stand out from the crowd and increase the click-through rate. Being prominent in search results, you'll get more website visitors, and, therefore, sales. In the Elfsight Google Reviews widget, you can do it with ease by just switching on this option in the configurator

Tip 3. Manage Google Reviews
Respond to all reviews, even negative ones. Users invest their time leaving their comments, so, spend several minutes on saying thank you or taking criticism into account. According to a 2022 Report by ReviewTrackers.

Companies aren't responding fast enough (or at all) to reviews. 53% of customers expect businesses to respond to negative reviews within a week. 1 in 3 have a shorter time frame of 3 days or less.

Good answers will increase trust in your brand and will make people sure you've improved. After all, you can add a Google Reviews widget to the website, filter reviews and show only those with 5- and 4-star ratings.

Tip 4. Optimize Google My Business profile
Claim it and update business information. Make it more appealing for the prospects, and social proof will help you get more organic reviews from them. Also pay attention to the appearance of your business in Google Maps, and work with it as well.

Tip 5. Don't stimulate people to leave reviews for rewards
Bought reviews are easy to indicate. Don't deceive your customers just to get good ratings. It's especially important, because too good five-star testimonials look extremely suspicious. According to Medill Spiegel Research Center's research, only five-star ratings are 'too good to be true' in the eyes of prospects.

Across product categories, we found that purchase likelihood typically peaks at ratings in the 4.0 – 4.7 range, and then begins to decrease as ratings approach 5.0.

Tip 6. Make the process of leaving new reviews simple
We've figured out that new Google reviews are crucial and help your website rank higher. To get more reviews, you can include a link to leave reviews to an email signature or ask for a review after seeing the customer is satisfied with your service.

Tip 7. Don't ask employees to leave reviews
Fraudulent and implausible Google reviews look suspicious in the eyes of your customers. Don't ruin their trust. Ask real clients for reviews, and if your services are as great as you advertise, people will be happy to give you a five-star rating.
Need more sources? Reviews from Amazon, Facebook, Yelp and 30+ others
30+ sources in one widget: Google, Amazon, Yelp, Booking, Etsy, Airbnb, Aliexpress, and many, many more! Combine together, show one at a time, create rating badges for any site – the widget gives you an opportunity to do whatever you want!
Get more reviews and grow your business with an Elfsight All-in-One Reviews widget.

In case of other questions
If you have read the instructions but still have some requests, you have the following options:
If you liked the article or did not find the information you need, we warmly welcome you in the comments below. Let's discuss everything that interests you!