Learn about a free form generator – the best solution for any website to add forms quickly and easily. Create your unique form with a simple guide.
How to Quickly Set Up Website Form With Elfsight
It can require much effort and time to create website forms yourself. Coding them requires knowledge of HTML, CSS, and other programming languages, which can be difficult to learn and manage. That's why developers have released an online form generator to easily create forms for any web page. Elfsight Form Generator is a free solution designed to make creating forms for websites a breeze, without any need to code. No matter which form type you need, this all-in-one tool has you covered. Form Generator makes it simple to create forms that have all the features you need: from custom fields and field validation to pre-filled fields, payment options, and more. It allows you to set up fantastic forms that can effectively capture leads, accept payments, and quickly collect feedback.
Create an effective website form in just minutes
Creating a form for your web page with Elfsight's no-code Form Generator is easy and can be done in just a few simple steps:
Log in to your Elfsight account or sign up for free if you are new to it.
Select Form Generator from the list of Elfsight tools, and click 'Install'.
Customize the form to your taste using the intuitive Elfsight editor.
Adjust the settings to your liking and save them after you're done.
Copy the HTML code that is generated for you at the end of the process.
Paste the code into your website's HTML code, then hit 'Publish'.
And you're done! Your new form is online, ready to receive submissions from visitors to your web page in no time.
Benefits and Results of Using Elfsight's Form Generator
Elfsight's no-code Form Generator has been designed to help users create forms and surveys for their websites quickly and easily. With Elfsight's free Generator, you will be able to unlock the following five benefits:
| | |
| --- | --- |
| Time-saving | By eliminating the need for HTML code knowledge, the Form Generator simplifies and streamlines the form creation process, saving you a great deal of time. |
| Increased engagement | Since forms created by this tool look modern, stylish, and professional, they are sure to encourage more engagement from website visitors. |
| Fully customizable forms | From form types and design elements to fields and text placement — you can customize forms to a tee to create an effective user experience. |
| Data analytics & online support | With Elfsight's Generator you can export web data into CSV format or HTML tables – enabling you to analyze the results easily. Additionally, Elfsight's Customer Support is always there to assist with any questions or issues that may arise along the way. |
| All-in-one multi-purpose tool | From surveys to contact requests – Elfsight's Form Generator is a must-have tool for anyone looking for an easy solution to create any type of form for their website, without any HTML code knowledge or experience. |
Detailed Guide to Creating Form Using Elfsight's Form Generator
Designing a form for your website doesn't have to be a daunting task. The Elfsight Form Generator enables you to seamlessly craft and integrate customized forms tailored to your specific needs, irrespective of your technical background.
Create and add a form to your website at no cost and with ease, even if you lack HTML code knowledge:
Once the form is established and embedded, it operates seamlessly on your web page without any additional work.
Furthermore, you can modify it directly in Elfsight's online generator without altering your website builder's HTML code.
The icing on the cake is that Elfsight's online generator allows free configuration of the design and functionality of your custom form.
For step-by-step visual instructions on embedding the form, please view the video guide:
Alternatively, follow the below five steps to build a perfect online form for your website:
Define Your Form Type: First, choose which type of form you want to create, such as a contact, booking, or registration form.
Design Your Form: Use the pre-built designs and custom styling options to modify the design of the form to match your website branding look.
Set Up Actions: Connect the Form Generator with third-party services such as Google Sheets, MailChimp, and Zapier. This way your forms can become automated processes like adding leads directly into your CRM system without manual efforts.
Enable Security Options: Enable CAPTCHA and reCAPTCHA verification methods for added security protection against spam bots when visitors submit forms on your site.
Add Your Form: Elfsight's embedding HTML code allows you to add forms directly onto your web page and can be integrated with any website builder like Squarespace, Wix, Weebly, and WordPress.
Wow, that was easy! Now you can test the form on your website, ensuring it works as expected.
All-in-One Form Generator for Website
Elfsight Form Generator is an all-in-one tool that enables you to create any type of form for your website – without any coding. With just a few clicks, you can create forms that are tailored to your needs and deliver the optimal user experience.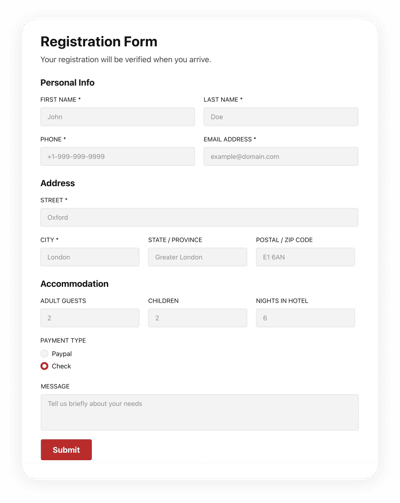 FAQ on Form Generator by Elfsight
Here is a comprehensive FAQ section on Elfsight Form Generator to help you create and manage online forms for your website. Whether you're new to Elfsight Generator or a seasoned user looking for additional insights, the FAQ aims to address your queries and enhance your website experience.
How secure is the data collected through the forms created with Elfsight Form Generator?
Elfsight's free Generator prioritizes web data security and ensures that the collected information is handled securely, following industry best practices and adhering to data protection regulations.
Are there any limits on the number of forms or submissions with Elfsight Form Generator?
Elfsight Generator offers different plans with varying levels of features and allowances, depending on your website's needs. While the free plan may have limitations on the number of forms and submissions, premium plans offer more flexibility and capacity to cater to your requirements.
How can I customize my forms using HTML in Elfsight Form Generator?
Elfsight Generator offers you the ability for form customization using HTML. You can tweak the HTML code to modify their appearance or behavior, ensuring they align with your website's design and brand. While the Elfsight platform simplifies the creation without requiring HTML knowledge, advanced users can take advantage of the HTML customization options to achieve a more tailored result for their website.
How can I optimize the loading speed of my Elfsight Generator forms using HTML?
Optimizing the loading speed is essential for providing a seamless user experience on your website. To achieve this, you can make adjustments to the HTML code to reduce the file sizes and minimize unnecessary elements. Consider compressing images, using CSS for styling instead of inline HTML styling, and removing any unused or redundant code. By refining the HTML code, you can improve the loading speed, resulting in a more responsive and user-friendly experience for your website visitors.
Can I use HTML to add third-party integrations to my Elfsight Form Generator forms on my website?
Yes, you can use HTML to integrate third-party tools or services on your website. By modifying the HTML code, you can connect your forms with various external platforms, such as CRM systems, email marketing services, or analytics tools. This enables you to streamline your data collection and processing, ensuring a more efficient workflow and a better overall experience for your website visitors. Always consult the documentation of the third-party service you wish to integrate on the website for specific implementation guidelines.
Additional Resources to Guide You Along Form Creation Journey
Elfsight's Form Generator simplifies the process of creating forms for your website, eliminating the need to work with HTML code. Should you require further guidance, numerous online resources are at your disposal for free, such as:
This article inspires you to tap into the potential of this free no-code tool, enhancing your website's user experience. Continue building connections and enjoy the process of crafting forms!