Learn to create and easily embed free custom forms into Wix to collect insights on your websites. Facilitate communication and data collection processes discovering the Elfsight no-code form builder for making surveys, registrations, donations, quizzes etc.
Multifunctional Forms for Wix Websites
There are many business scenarios when you may need to create a free form for your Wix website visitors. For instance, businesses often need to gain contacts and subscriptions. Also, one can encourage registrations, by offering a coupon in exchange. Sometimes businesses ask their customers to fill in surveys, in order to improve their services and optimize processes.
With Elfsight form builder for Wix you can quickly create various types of forms without a need to code anything. Such no-code widgets are simple to manage and they are free for any Elfsight customer.
You can try creating your first widget by using the demo of our form builder for Wix website pages with these tutorials:
Choose the best template for your current business task.
Adjust fields and other elements, define style options, make integrations.
Finish by receiving and a unique HTML code of your widget for Wix websites.
Incorporate the code into your site.
Simple and exciting! You have created and added a perfectly functioning form widget to your Wix website pages, spending just a few minutes.
Why You May Want to Have Forms on Wix Websites
Let's try to imagine certain real situations when a website holder might desire to add a free form widget to their Wix platform. We are sure that most businesses can benefit from our no-code widget that can be easily integrated with any Wix website for free. Here are just some of the promising ideas:
Feedback gathering
A nice way to show that you care about how your customers view the website and your business activity is to add a template that collects feedback. Ask people to evaluate your efforts, products and services to find aspects for improvement. This way you don't only evoke trust but receive a mass audit of what you are doing. Go ahead and ask the visitors to contribute to your development for mutual benefit.
You can reward the respondents with a coupon or a small gift for doing this sort of work for your business and investing their time.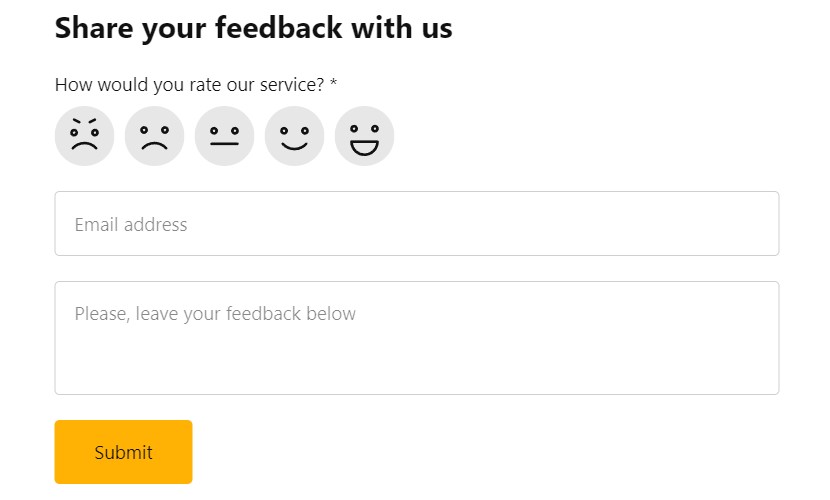 Surveys to boost development
Next, you can try our template to create survey forms for your Wix website pages. It is quite similar to feedback gathering and has similar features. You can use this template to ask customers about what you are brilliant in and what they want to improve for future cooperation. The widget may consist of several steps to be more space-efficient and include more questions without overwhelming the viewer. Also, an AI generator in our builder can help you create perfect elements for your widget.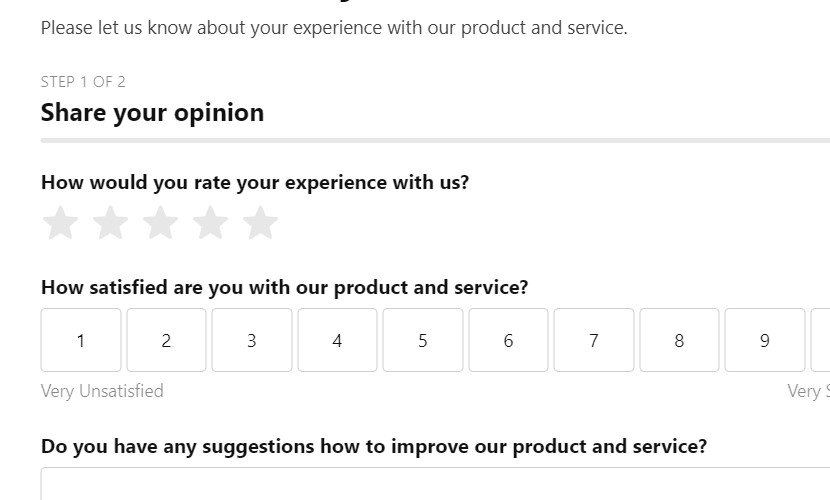 Contact form widget for subscription databases
For many businesses getting contacts for future emails with special offers is one of key selling strategies. Our free form builder for Wix websites enables you to create those simple non-intrusive sections with fields to match your website's design and attract visitors.
A visitor who agrees to fill in the fields is a potential customer, so you are interested in getting more information about them. At the same time, you should be polite in your free form widget on Wix and not ask website users for too much data. We found some recommendations on avoiding mistakes when using contact forms on your website pages and are glad to share some expertise with you.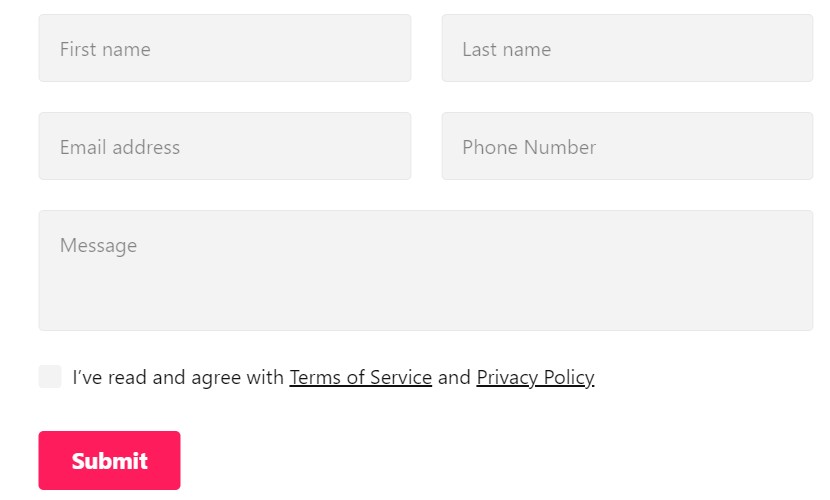 Booking or registration
When your business gives something in rent or organizes events with a preliminary registration, this form is a perfect widget for your Wix website. 20 types of fields and different layout options are at your service to help you work in the form builder resulting in a custom result for your website's goals.
With this kind of widget you can invite people to join your events, help them choose a suitable time for an appointment within your working hours or provide them with a facility for a desired period.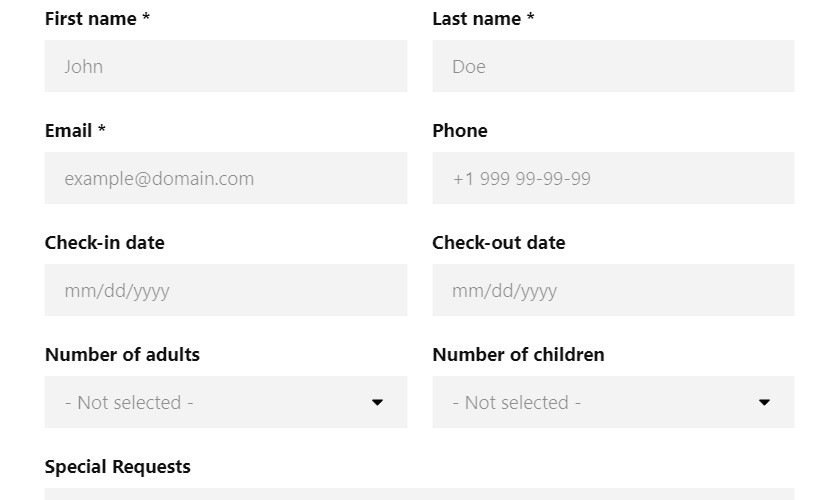 Embedding Your No-Code Form into Wix Website Pages
A time has come to give you tutorials on adding your free form into any place of your Wix website. The good news is that the process is simple and available for any site editor with an access to Wix admin panel. The steps are slightly different depending on the area you want to add your free solution to. First things first, we introduce you to this special Youtube video to start the tutorials on your Wix form app.
Hopefully, this brief video instruction showed you how simple it is to add the app to Wix sites. Now we invite you to see our text tutorials on embedding forms into Wix websites and their pages.
How to add your form app to a specific page of a Wix website
Here are straightforward tutorials for adding your form app to a dedicated Wix website's page:
Access the Wix site builder by logging into your Wix account and selecting the site where you want to have our free plugin. Then, click on "Edit Site".
Add an HTML block by clicking the Plus icon, going to the Embed section, and selecting "Embed a Widget" in the "Custom Embeds" tab.
Insert the installation snippet. Click on "Enter Code," paste the installation snippet, and click "Update".
Customize the plugin's size and placement. Drag the plugin to your desired location and adjust its dimensions until it fits perfectly without the need for scroll bars.
Optimize the plugin for mobile devices and publish. Click on the Mobile icon to access the mobile editor, adjust the plugin's size if necessary, and then click "Publish".
Congratulations! You've now successfully added your Elfsight form app to a specific page on your Wix website. Enjoy the improved display of your app and enhance your visitors' experience.
How to add inline form app to all pages of your Wix website
Integrating your inline plugin across all pages is a troubleless process. Just follow these steps:
Access the Wix site builder by logging into your account and selecting the site where you want to have the Elfsight plugin. Then, click on "Edit Site".
Add an HTML block by clicking the Plus icon, going to the "Embed" section, and selecting "Embed a Widget" in the "Custom Embeds" tab.
Insert the installation snippet. Click on "Enter Code", paste the installation snippet, and then click "Update".
Customize the plugin's size and position. Drag the plugin to your desired location and adjust its dimensions until it fits perfectly without the need for scroll bars.
Publish the plugin across all pages. Right-click on the plugin's container, choose "Pin to Screen", enable "Show on All Pages", and click "Publish".
That's it! You've successfully embedded your inline form app across all pages of your Wix website. Enjoy the elegant display of your plugin and enhance the user experience for all your visitors.
How to add floating form app to all pages of your Wix website
Putting your versatile floating app on all pages of your Wix site is a simple process. Here's how:
Go to your Wix dashboard. Log in to your account and select the site where you want to have the plugin. Click on the "Settings" section in your Dashboard menu, find the "Advanced" section, and choose "Custom Code".
Add Custom Code. Click the "+ Add Custom Code" button located in the upper right corner.
Integrate your installation snippet. Add the installation code for your form app to the designated "Paste the code snippet here" area and click "Apply" to save the changes in your Wix dashboard.
That's it! You've successfully enhanced your Wix website by adding the floating form app to all pages. Experience the transformation as your plugin elegantly displays itself, improving the visitor experience across the board.
Why Embed Form Builder for Wix by Elfsight?
In this section we would like to be more explicit about features of our form builder that helps you create individual no-code solutions for Wix websites. We are constantly working on improvement of the builder's facilities, so the list of features is in stable growth. We are researching market needs and web development trends to update the plugins and satisfy Elfsight's customers.
Here are some reasons to opt for Elfsight's form builder for Wix websites.
| | |
| --- | --- |
| 200+ ready-made templates | Elfsight's builder for Wix provides a library of over 200 pre-designed form app templates to choose from. These templates cover various purposes and styles, making it easy to find a design that suits your specific needs and matches your site's aesthetics. |
| Drag & drop form builder | The intuitive drag-and-drop form builder allows you to easily make and customize your Wix form apps without the need for coding or technical skills. You can insert customizable fields, rearrange them, and style them effortlessly. |
| AI generator | Elfsight's AI generator feature of the builder can assist you in generating no-code forms based on your requirements. By providing some information about your purpose and design preferences, the AI can suggest a template that aligns with your needs, saving you time and effort. |
| Easy file upload feature | This feature of the builder enables users to attach files when submitting forms on Wix websites. It's useful for cases like job applications, image uploads, or any scenario where users need to embed documents or media. |
| Multi-page form builder | Make complex forms with multiple pages to improve user experience and organize information collection more effectively across your Wix website. Multi-page form apps of our builder break down longer sections into smaller, manageable sections, reducing abandonment rates. |
| 5000+ integrations (Mailchimp, Zapier, Google Sheets) | Elfsight's product offers seamless integration with a wide range of popular third-party services and platforms, including Mailchimp, Zapier, and Google Sheets. This ensures that the data collected can be easily synced and utilized in your existing workflows. |
| Autoresponder feature | Set up automatic email responses to acknowledge submissions or send personalized messages to users. Autoresponders help you establish immediate communication and keep users informed. |
| Google reCaptcha spam protection | To protect you from spam submissions and ensure data integrity, Elfsight's form app builder includes Google reCaptcha integration. This helps filter out automated bot submissions and adds quality to the data collected. |
| Progress saving | Elfsight's form app builder allows users to save their progress when filling out longer forms. This feature is particularly helpful for situations that require users to provide detailed information over multiple sessions. |
| Tech-free solution | Elfsight's form app builder for Wix is designed to be user-friendly and doesn't require any coding or technical expertise. It's accessible to users of all skill levels, making it easy to establish and manage forms on your Wix website. |
| Custom CSS and JS | For advanced users who want to fine-tune the appearance and functionality of their forms, Elfsight's app builder offers the flexibility to add custom CSS and JavaScript code. This allows for full customization and integration with your Wix website's unique design and functionality requirements. |
Overall, Elfsight's form app builder provides a comprehensive set of features to help you project, customize, and manage forms on your Wix website, making it a versatile tool for collecting information, engaging with users, and enhancing the functionality of your site.
Get Maximum Effect from Form App Builder for Wix
Efficiently using Elfsight's form builder for Wix websites can help you make effective and user-friendly no-code solutions that meet your specific needs. Here are some tips to help you make the most of this app:
Define your purpose in the form app builder:
Clearly understand the purpose of your no-code Wix form app. Determine what information you need to collect and what actions you want users to take after submitting the results.
Choose the right template for your business goals:
Explore Elfsight's library of ready-made templates to find one that closely matches your Wix form's purpose and style. Customizing a template is often faster than starting from scratch.
Customize fields:
Use the drag-and-drop builder to add, edit, or remove form app's fields as needed.
Keep your inquiries concise and only request essential information, since long ones can discourage users from completing them.
Enable progressive profiling:
For longer app projects on your Wix website, consider embedding multi-page forms from the builder to improve user experience. Break the fields into sections and allow website users to see their progress.


Set up autoresponders:
Create autoresponder emails to acknowledge submissions and provide users with confirmation or additional information.
Personalize autoresponder messages in the builder to make users feel valued.
Integrate with third-party tools:
Explore Elfsight's integrations in the app builder to connect your Wix form data with other platforms and tools you use, such as email marketing software, CRM systems, or Google Sheets.
Implement Google reCaptcha within the form builder:
Enable Google reCaptcha spam protection to prevent automated bot submissions and maintain the quality of data collected.
Optimize for mobile:
Ensure that your Wix forms are mobile-responsive. Test them on various devices to ensure a seamless experience for mobile users.
Test and preview:
Before publishing your form, thoroughly test it in the app builder to ensure all fields, logic, and integrations work as intended.
Use the preview feature to see how your Wix form will appear to users on the website.
Track performance:
Monitor and analyze the performance of your added forms on Wix website pages. Elfsight's builder may offer analytics or integrate with other analytics tools to help you gather insights.


Maintain brand consistency:
Customize the form's appearance in the app builder to align with your Wix website's branding, including fonts, colors, and styling.
Use custom CSS and JavaScript for advanced customization.
Consider user privacy:
Comply with data privacy regulations (e.g. GDPR) by providing clear privacy notices and obtaining user consent when necessary.
Keep forms on your Wix website pages updated:
Periodically review and update your forms using the Elfsight's builder to ensure they remain relevant and effective.
Provide help and support:
Offer clear instructions or add tooltips via the form app builder to assist users in filling it out.
Include contact information or a support link in case users have questions or encounter issues.
By following these tips and tutorials, you can efficiently add and use Elfsight's form app builder to create solutions that enhance user engagement, collect valuable data, and support your Wix website's goals.
FAQ on Elfsight's Form Builder
After reading this article, the app is surely not a puzzle to you. We have learnt about reading and integrating processes. In addition, you now have a pretty long list of possible reasons to add this marvelous no-code form app to your Wix website pages. Still, you may have more questions about the app that we would love to answer in the FAQ section below.
Can I add the Wix form builder by Elfsight for free?
Yes. Any Elfsight user can get the HTML code of their custom app for free and use it on their Wix or other CMS platform. Actually, you can choose any Elfsight product and use it on your website at no cost. However, it is always possible to enhance our cooperation with more opportunities that you can check in our Pricing section.
How to obtain the HTML code from the form builder?
You will get the free code of your form for Wix upon making an account on Elfsight. You can either start with it or build your app first in the demo. The code can be saved and used in any area of your website.
What are the best ways to implement the form for Wix?
Integrate the plugin into your page: to do this, simply incorporate the installation snippet into your website's HTML, regardless of the platform you're using.
Share the plugin using a direct link: you can easily copy the URL link from the editor and share it with anyone you want.
Incorporate the plugin into your email marketing campaigns.
Add the plugin to your landing page.
Share the plugin across your social media platforms: you can include it in taplinks, posts, stories, or send it via direct messages.
With these options, you can create a user-friendly solution that includes text fields for name, email address, phone number, website URL, and customer messages. This allows users to reach out to you with just a few simple clicks.
What types of form widgets for Wix does Elfsight offer?
The Elfsight team has developed a versatile tool that empowers users to easily create various types of inquiry solutions for their websites. These are: contact and feedback forms, surveys, orders, and custom templates tailored to your specific requirements. Let's delve into the details:
Contact Us solution. This option allows users to submit their personal information and reach out to you directly.
Feedback option. Gather valuable insights from your clients about your company, products, services, and branding through this option.
Survey option. Designed for collecting and analyzing data, this solution lets you write questions for a specific group of respondents.
Order solution. Clients can use this option to request individual products or services from your website.
Custom templates. If none of the predefined solutions suit your needs, you can always make a customized project from scratch.
You're welcome to utilize any of these ideas in your project. You can access them through live demos or within your Elfsight admin dashboard after registering.
Can I divide my questions into categories within the form builder?
Certainly, you have the freedom to organize as many categories as required. Within each category, you can customize the title, select elements, and modify the type and organization of questions. For instance, in the case of a survey template, each category can be presented on separate pages, with a progress bar guiding the client through each step.
Does the form builder support other CMS platforms for websites apart from Wix?
Certainly. Our products can be integrated with all other popular website builders. Find yours in the list below: Adobe Muse, BigCommerce, Blogger, Drupal, Facebook, Elementor, Joomla, jQuery, iFrame, Magento, HTML, ModX, OpenCart, Shopify, Squarespace, Webflow, Weebly, WordPress, WooCommerce, Google Sites, GoDaddy, Jimdo, PrestaShop.
Try Also
Before we say goodbye, we would like to enable you with some more advice within this article. We appreciate long-term projects and cooperation, so you can find a lot of ways to communicate with us.
To start with, you can move further exploring the collection of our products for your Wix website. Our solutions receive constant updates and work perfectly on our customers' e-stores and platforms. They are especially useful when you mix their advantages in combinations.
For instance, you can try adding our Countdown Timer for Wix to encircle your website's forms with urgency and anticipation. Make everyone see that your offer is limited and they are to sign-up or leave email as soon as possible in case they want to get a bonus from you. Here, you will find more ideas on using the Countdown Timer on Wix websites.


Reach us at Community
Another cool way to talk to us is visiting our friendly Community. We collect useful practices and tips in this section of the forum. All the expertise you find there is often tested and offered by our experienced customers. So, it is a good place not only for leaving your feedback, but for discovering new ideas and inspiration as well. The Community is constantly growing and getting better due to contributions from our users.
Wishlist
In case you have fresh ideas for product development, you can share them in our Wishlist section. Vote for interesting ideas to speed up the development of a certain product or propose your own solutions we could focus on in future work. Also, you can inform us that some of our products lack important features that are required for your business goals. Members of our Community influence the directions our company considers in its development.
Help Center
Finally, you might probably have more questions about the form builder or Elfsight widgets' compatibility with various CMS platforms. Whatever your issue is, you can write to our Help Center being sure to find individual solutions and a caring approach to your concerns. You are always welcome to ask questions and report about problems.
Thank you for reading the article and tutorials on your versatile form builder for Wix websites that we hope you are going to like! Now you know everything to start your experience and make your free custom solution right in the demo.