Have you ever wished there was a way to show off great social media posts directly on your website? Well, it's possible. Introducing social media feed plugin – a powerful tool for brands and businesses to embed and promote their media content and events on websites.
What Is Social Media Feed?
A social media feed, known as a social media wall, is a visually attractive display of content on a website. Embedding this type of aggregator on the web page ensures a high engagement rate and excludes the hassle of searching for your content across different social media platforms.
Let your website users like, share, and comment on posts and decide what content will be shown to them by specifying a particular hashtag, account, group, board, playlist, or channel. Think of it as a free marketing tool to make yourself more likable and noticeable to social media algorithms by getting interactions and activities. Additionally, there are many examples of social media platforms to implement the plugin, like Twitter, TikTok, Instagram, Facebook, and others.
Use this tool for promoting events, products, or services and presenting new releases, knowing your followers will be able to keep up with updates in one place. The major key is to create a compelling and engaging visual story and connect with customers on emotional levels — and that is where the Elfsight Social Feed plugin comes in!
Following the covered points above, it's time to find out how to create and embed a social media feed plugin for your website!
How to Create Social Media Feed With Social Feed Plugin
The social media feed plugin allows you to create an outstanding feed and capture website users' attention. So start sharing your content with the audience from every social network by following this step-by-step tutorial:
Sign in to your Elfsight admin dashboard and search for Social Feed in the Application menu.
Select the template you like the most.
Personalize the plugin by adding custom elements and features.
Save changes and get the installation code to embed the social wall on your website.
It takes seconds and doesn't require any special skills. Check it out yourself!
What Are the Benefits of Using Live Social Media Feed?
Based on understanding the concept and main idea of curating your media feed, let's speak more of the benefits it brings and how the simple embedding process may change the course of your marketing strategy.
Here are some of the advantages:
Increased brand awareness. Showcasing your content on a live social media feed can help spread the word about your brand across social networks and boost recognition. The more people know and talk about you, the more sales and competitive advantages you gain.
Good user experience. The social media feed displays only relevant content for your audience and offers an engaging multimedia format that prolongs the average time spent on a website. Plus, this is an incredible way to present storytelling and entertain customers by highlighting the best sides of your product.
Product marketing. Start a marketing campaign, share exclusive insights about new releases, and show transparency of your business processes by embedding a media feed plugin. One of the best examples is posting reviews, tutorials, or life hacks to motivate and inspire clients to purchase.
Drive more traffic. The content-rich and optimized environment helps to receive more visitors from your market segmentation and improve your website visibility in search engines. So it's safe to say that adding a live social wall is a great tactic to increase and attract traffic from different channels.
Get customer feedback & reviews. The media wall is one of the ways to receive an honest response. Present it as solid proof of the product's quality that helps you manage other customers' expectations. For instance, you can start an exclusive hashtag, ask your clients to share their experiences, and post it on your website.
Bond with your customers. Create an emotional connection with your brand that can strengthen customer loyalty over time. You can start an inside joke for your community to break the ice or add reply comments to their posts and make them feel grateful for making a purchase.
Increase the SEO rating of your website. With the help of a wall feed widget, you can add more relevant keywords to the page and improve the website's visibility in search engine results rankings. And in other words, it means drawing in more organic visits from potential customers.
Time & resources saver. Spend your energy on maintaining vital business processes rather than thinking through a new visual identity and creating original content from scratch. The social media wall is a cost-effective way to increase your online presence without investing too much effort.
Examples of Using Social Media Feed Plugin on Your Website
The Elfsight Social Feed Plugin offers a wide range of options for creating stunning social media feeds. Whether you're a brand looking to promote your latest product launch or an event organizer wanting to show off content from the event's hashtag, – the plugin makes it easy with ready-to-use template examples.
Here are some examples of what you can do with the Social Feed plugin:
Example 1. Carousel Social Media Feed
Create a scrollable live feed wall that rotates content from social networks like Facebook, Instagram, and Twitter. Increase engagement by making users swipe through posts leading to more time spent and clicks.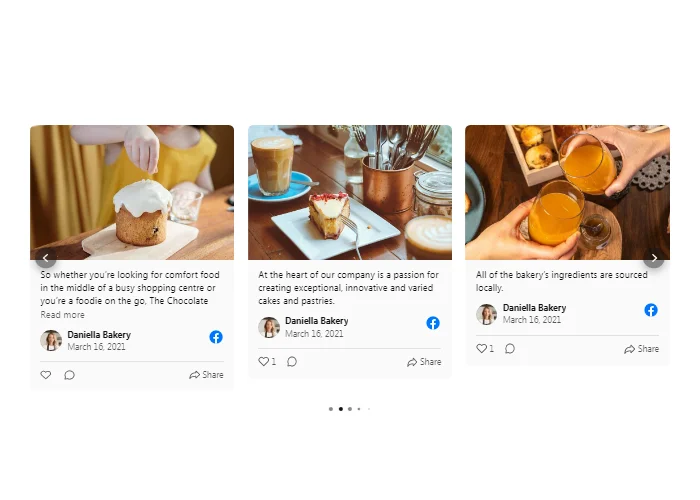 Example 2. Masonry Social Media Feed
The second template on the list of examples is to feature your social feed content in a structured format that may remind you of a brick wall or tiles. It is optimized to fit images and videos of all sizes and orientations appealingly. Let website users scroll through the live feed and get an overall opinion of your company.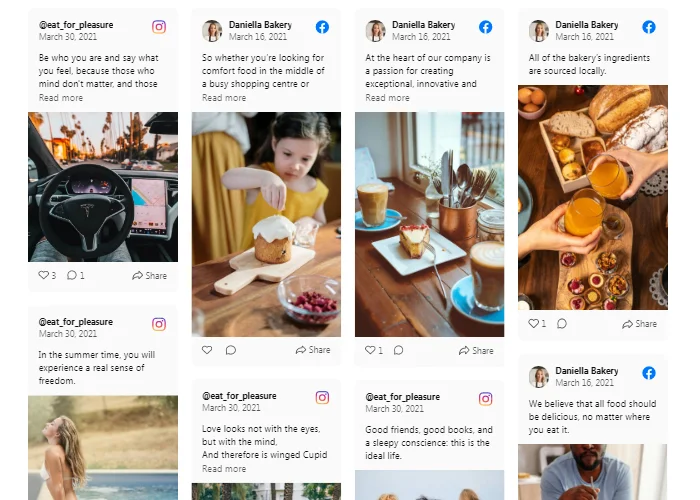 Example 3. Grid Social Media Feed
Add a cohesive and visually pleasing media feed using the grid layout arrangement. This classic and organized post-displaying style can help you divide content into different themes or split it based on hashtags.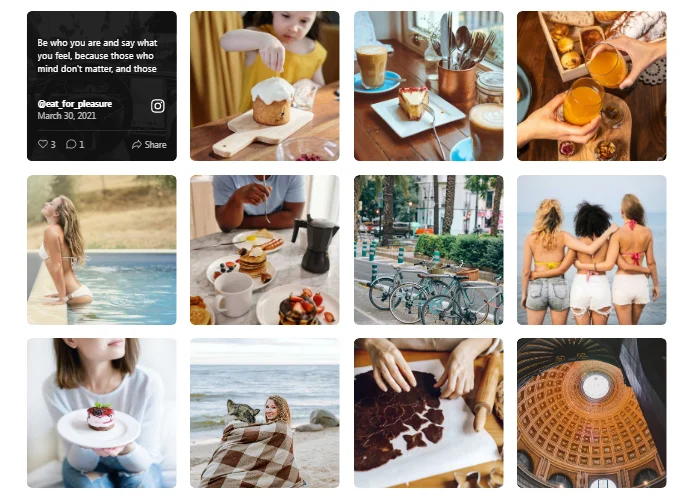 Example 4. Slider Social Media Feed
If you don't have enough space on your website, you may like to try embedding this option out of template examples. A sleek and minimalistic live media wall with a sliding effect takes almost no room on a page and gradually fits into a visual aesthetic.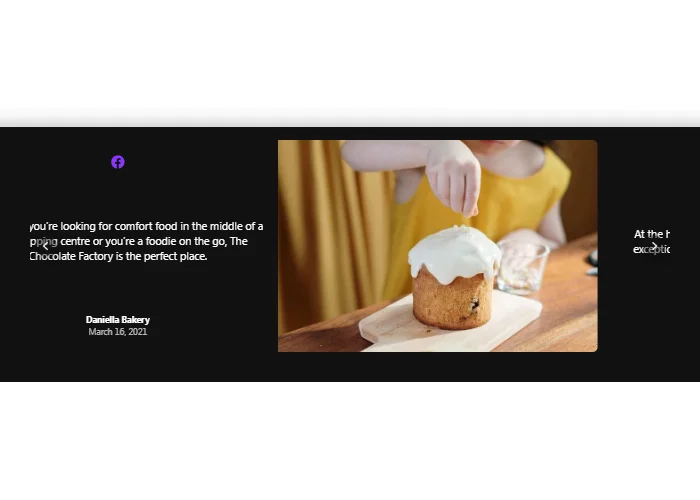 Example 5. Timeline Social Media Feed
A timeline social media wall represents a chronological post display. The order of posts depends on the time when they went live. Make sure your users stay up-to-date and never miss a new piece of content from you.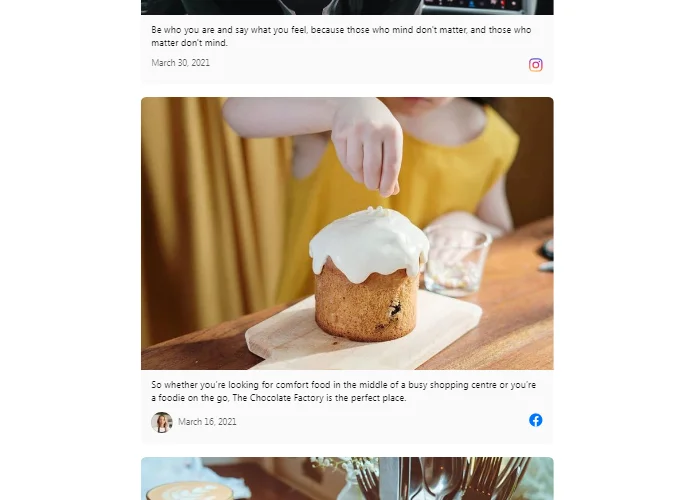 The list of examples can go on and on! So let your imagination run wild when you begin to create the feed.
How to Add Social Feed Plugin to Your Website
Now that you know pretty much everything about the social media feed and have seen several examples. Last but not least, let's talk about adding the Elfsight Social Feed plugin to your website.
Adding the Elfsight Social Feed plugin is easy and can be done in several steps:
Log in to your Elfsight admin panel or create a new account.
Search for our Social Feed widget and choose the suitable template format.
Create your media feed.
Receive the unique code for embedding and copy it.
Go to your website dashboard and open the page where you want to locate the plugin.
Paste the installation HTML code and save all the changes.
Well done! Feel free to test the plugin performance yourself.
It usually takes no more than a few minutes for users to embed their social media feeds with this free plugin – no coding required! And the process stays almost the same for each website builder, like WordPress, Elementor, Wix, Squarespace, and many others. But if you ever run into any issues along the way or would like some help customizing your media feed wall, our team of experts is always available for support.
Conclusion
Social media feed is a valuable tool for brands and businesses of all sizes. It helps to curate and showcase content from social media in real-time. Using the Elfsight Social Feed plugin, anyone can embed a stunning social media wall on their website that is fully customizable to match their brand and appeal to their audience.
If you have any questions or would like to receive help with the plugin, check out these options:
Support team. Our staff is happy to assist you and solve any issues. Plus, you can always find free guide materials about Social Feed in the help center.
Forum. Join our community and share thoughts and ideas with your mates!
Wishlist. In case the plugin misses any cool features, you are free to leave suggestions for developers.
And remember, as businesses continue to look for free and innovative ways to engage their audiences and stand out from the competition, a social media feed may be an excellent addition to any website.