With the great popularity of
contact us form
plugins for websites, they've become essential tools to stay in touch with clients. However, no matter what form plugin you are using, you may come across it not working. This article's main aim is to describe the most common issues with contact forms and offer quick solutions.
The most frequent reasons why a contact form is not working
If you are having hard times with your plugin or ever did so, check five most common problems and solutions that we describe below. It will help you fix the problem and you will be prepared for possible issues in the future.
Contact form not working
The contact form on my website stopped working. What do I do?
Make sure there are no Javascript errors in the error console of your browser. They can prevent further script executing and, as a result, initialization of your widget.
Contact form not sending emails
My form doesn't send emails from my clients. How can I fix this?
You need to make sure that you've set a valid email address in the widget's settings. Check your browser's error console for Javascript errors, and fix them if you have any.
If you are an Elfsight form widget user and have a WordPress version of the widget, then check that your server supports mail function. For other widget versions, mailing is done via our own server, so leave your inquiry at Elfsight help center at [email protected] we will fix it for you!
Contact form emails going to spam
Emails sent via the widget on my website, go to the spam folder. Can I change it?
Simply add the sender to the exceptions list of spam filter in your email agent. Look for Elfsight Courier or other names in case of WordPress version.
Contact form cannot upload file
I fail to upload a file to my plugin. What is wrong?
Check which file formats are supported by your widget and make sure that the file you want to upload is of the right format.
For Elfsight widget users – unfortunately, this option is not supported yet in our widget. We have it on the roadmap for future updates and we'll try to be as quick as we can.
My contact form is not responsive
My widget doesn't reflect customization that I apply. What can I do?
Go to Style tab of your widget's settings, and set widget width to auto in Width field. This will make the widget automatically calculate its size according to the size of the screen it's displayed on.
Reliable contact form plugin by Elfsight
There are lots of requirements to feedback plugins nowadays, with reliability and ease of use on top. And that is the reason why Elfsight Contact Form has gained so much popularity. Users love its responsive design with layout options, flexible header, and embedded styles. Our plugin is equipped with save progress tool for trouble-free filling. And it takes seconds to install it.
Elfsight Contact Form Templates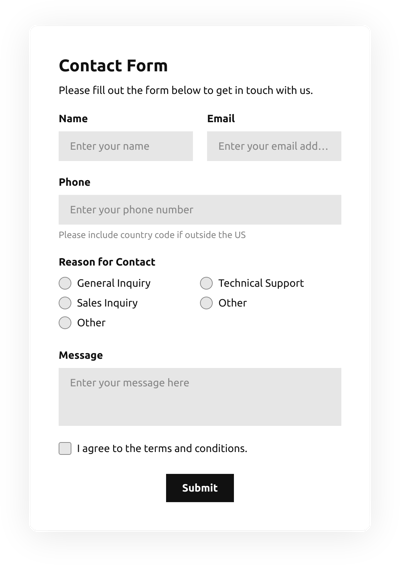 Complete support for Elfsight users
Every user may someday come across issues with a plugin or queries about its settings or updates. At that's where high-quality customer support is needed. Elfsight offers its customers friendly and professional support not only when your contact form doesn't send emails or is not responsive, but if any of your plugins doesn't work or if you find it hard to install or customize it.
Try 100% working Contact Form here
Try live demo right now and check out a simple and reliable plugin!