Cool custom social media icons that you can insert to your web-resource in a series of activities.
A couple of types of icons ready for show: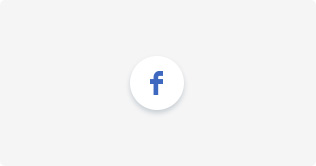 How does the Social Icons Widget operate?
You create special beautiful icons and utilize the script to display them on a personal web-platform. Elfisght Apps is adaptable with almost every platform, here you can find the embed tutorials for the most widely-used ones: WordPress, Wix, Weebly, Shopify, Blogger, Adobe Muse, HTML, Webflow, Squarespace and others.
You can find out the Comprehensive information about the widget, such as the major parameters and featured appearance types at the product's main page - Social Icons.
How to display a Facebook icon on your site
To display the widget, you need to perform a sequence of short stages:
Get registered at our service;
Shape and configure the icons;
Position the icons on your page.
You can check out the Detailed instructions at your Content Management System's section (see above).
Facebook icons use patterns
You can paste the app to any element of your personal resource. Or, you can embed the icons into the content of the most important pages and thus localize the most interest to them.
Here are a series of the usual positions to embed the widget to:
Footer

Header

The advantages as compared to the habitual Facebook icons
Besides all the vector SVG extension properties, we also obtain the following:
Quick install;
Breathtaking configuration options;
Fast social media account installs and change;
Coding expertise is not required;
Unlimited technical support.
With this kind of widget, you no longer have to always reinstall the code to the server every time you have to correct the layout or the look. All you have to do is install the product, and alter the edits from your personal account.