Cool flat social media images that can be inserted to platform in several activities.
A few kinds of icons available for use: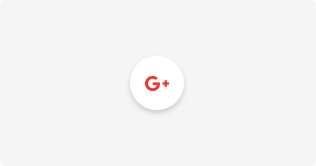 What is Social Icons Widget?
You construct individual high quality icons and employ the script to paste them to personal platform. Our service supports practically with any website builders, here you can find the paste guides for most well-known: HTML, Blogger, WordPress, Weebly, Adobe Muse, Shopify, Wix, Webflow, Squarespace and others.
You can read up the more detailed information about the plugin, such as the important characteristics and featured layout variations at the app's webpage - Social Icons.
How to add a Google Plus icon on your website
To display the widget, you have to perform two quick steps:
Create an account at Elfsight apps;
Create and configure the app;
Display the icons to your site.
You can test the Detailed tutorial at your own platform's page (see above).
Google Plus icons usage patterns
You're able to insert the widget to whichever block of your website. Or, you can install the icons into the contents of the main sections and thus direct maximum attention to them.
Here are several popular elements to paste the widget:
Footer

Header

The benefits as compared to the usual Google Plus icons
Regardless of all the vector SVG format advantages, we also receive the following:
Fast placement;
Extensive adjustment features;
Instant social media account installation and replacement;
Programming proficiency is not necessary;
Termless technical support.
With this plugin you no longer require to constantly reinstall the icons to the server every time you have to adjust the design or the colors. It will be enough to embed the app, and adapt the settings from your account.