Original custom social media logos that you can display on personal site in several stages.
Some samples of icons configured for installing: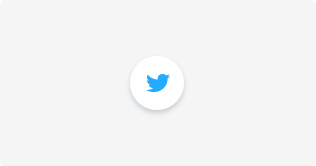 Overview of the Social Icons Widget
You form unique clean icons and utilize the script to insert them to website. Our plugin supports almost any website builder, here you can find the insertion guides for the most prominent ones: Shopify, WordPress, Adobe Muse, Weebly, HTML, Blogger, Wix, Webflow, Squarespace and others.
You can check out the Complete information about the widget, such as the principal advantages and available design variations at the app's main page - Social Icons.
How to install a Twitter icon to your web-page
To display the widget, it is necessary to perform several simple phases:
Authorize at our platform;
Implement and set the app;
Place the icons to your web-platform.
You can study the Complete manual at your website builder's webpage (see above).
Twitter icons placement illustrations
You may display the icons to whichever part of your site. Or, you can paste the icons into the contents of the key pages and thus direct a significant degree of attention to them.
Here are some habitual places to install the widget:
Footer

Header

The Benefits as Compared to the Usual Twitter Icons
Apart from all the vector SVG format advantages, we also access the following:
Easy installation;
Limitless adjustment features;
Fast social media account installation and editing;
Photo editor skills are not needed;
Life technical support.
With Elfsight icons you no longer have the necessity to always reload the files to the server every time you have to replace the layout or the appearance. The only thing you have to do is add the product, and adjust the settings from individual dashboard.