Calendar Planner template for website
Be ahead of the curve and publish your schedule on a website page using this Calendar Planner template. Designed to match your branding style, it is totally perfect for any business looking to stay productive and be an open book for their online audience.
Works on 99.9% of websites
Features
Recurring Events
Ability to Add Event Images
Video Upload
Event Filters
Map Integration
Event Labels
Advanced Event Search
Previous Events Listing
Action on Event Click
Popup Prompt Display
Event Prompt Buttons
Local Time Support
Date-Time Formatting
Multiple Language Support
Multiple Event Layouts
Customizable Elements
Image Background Support
Multiple Event Card Styles
Event Color Set Up
Custom CSS Support










































Template Catalog
Need a Different Template?
Check out more ready-made templates for any use case or build your own!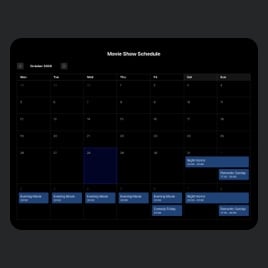 Add a professional look and structure to your website using a grid-formatted calendar.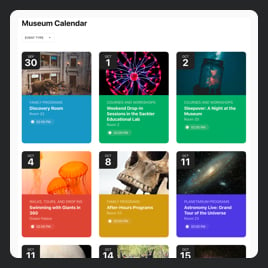 Embed an engaging calendar on your website to make users feel longing to come back.
Create a calendar for your website to let users countdown days 'till the next big event.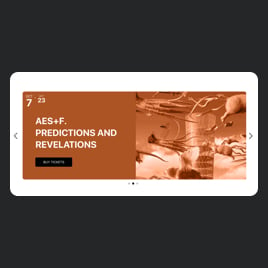 Add a scrolling calendar and keep a continuous stream of events available for your website users to see.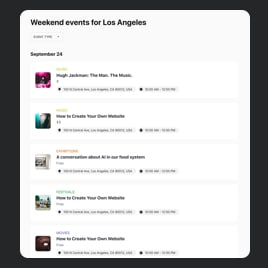 Create a calendar for your website with an informative list of upcoming events.
Create the attention-grabbing calendar button that will follow users throughout the whole website page scrolling.
Add a mobile-friendly calendar to your website to keep users engaged even on the go.
No Suitable Template?
You can easily assemble the widget you need using our simple-to-use configurator.
Here's what people say about Elfsight Event Calendar widget
In search of a simple-to-use Event Calendar that easily could be embedded on my website, I've come across Elfsight. Whenever I had any questions, their support was extremely useful. To tell the truth, I was shocked by such speedy and beneficial responses!
I was struggling with the lack of a native calendar on my website until I came across Elfsight's template. The design is visually stunning. Simple to adjust and modify with all the different available options. Plus, their customer support was highly responsive and addressed my issues in no time.
I'm blown away by this Calendar Planner template! It enables me to display events without creating extra pages. I was concerned that I would not be capable of figuring out how to insert the code on my website, but it turned out to be easy. Haven't faced any problems, so I would highly suggest this widget.
FAQ
How to embed the Event Calendar widget on the website?
To incorporate the Calendar Planner into your website, take the following steps:
Establish the features and customize the Event Calendar plugin to match your aesthetics.
Log in or set up a new user profile to open your Elfsight admin panel.
Obtain the installation code.
Copy and paste the code into your website editor. Done!
For further information, take a look at our blog article on how to embed an Event Calendar on any website.
Can I filter or group events via the Calendar Planner?
Definitely, both can be done. You can choose several alternatives—filter by date, event type, venue, and host—to ensure ease of navigation. As for the grouping events, the Calendar Planner template arranges them by year, month, and day.
What website platforms are compatible with the Calendar Planner widget?
You can embed your Calendar Planner on 99.9% of websites, regardless of the platform and CMS. Here are the most common ones:
Adobe Muse, BigCommerce, Blogger, Drupal, Joomla, jQuery, iFrame, Magento, Facebook Page, Elementor, HTML, ModX, OpenCart, Shopify, Squarespace, Webflow, Webnode, Weebly, Wix, WordPress, WooCommerce, Google Sites, GoDaddy, Jimdo, PrestaShop.
Can I use the Calendar Planner template for free?
Yes, indeed. Elfsight has various subscription alternatives: Free, Basic, Pro, Premium, and Enterprise. You can pick the Free tier to discover the entire set of modifiable features and test the waters. But if it feels like not enough—don't hesitate to upgrade!
What visual elements can I upload to the Calendar widget?
Video and image files are fully supported by the Event Calendar. Overall, there are three options to evaluate the plugin's appearance: feature images in the event description, insert a public YouTube or Vimeo video, and use a picture as a backdrop.
Does the Calendar Planner support different time zones?
Yes, it certainly does. The widget features a built-in function that displays events according to the local time zone of website users. Furthermore, while filling out the event info, you can set a specific time zone.
How to customize the Calendar Planner widget?
Grab the chance to express the business's personality on your Calendar Planner by modifying these elements and features:
Event information
Take advantage of the opportunity now to demonstrate your strengths. The plugin enables you to manage event name, duration, time zone, description, venue, event type, tags, pictures, video, call-to-action buttons, and color scheme.
Layout options
Present your Event Calendar plugin in the best possible way on your site by selecting the layout style, width, and spacing.
Custom elements
There are unlimited opportunities to explore: background, heading, filters, event card styles, popup elements, date and time formats, action per click event, Custom CSS, etc.
For more clarification, get in touch with our Support Team to resolve any questions and exclude misunderstandings in the future!
Help with Calendar Planner Setup and Website Installation
For further information on the plugin templates or assistance, we suggest exploring the following options:
Support
If you're encountering any unresolved issues, we suggest contacting the Elfsight Support Team or exploring related posts in the Help Center. We're here to ensure your success!
Forum
Gain additional backing from like-minded business owners and participate in ongoing activities in our dedicated community.
Wishlist
Propose new and exciting ideas, functionalities, and widgets using the Wishlist.