Are you running events and would you like to attract more audiences? Organization is a challenging task in itself, and promotion may often become an additional burden. Read the article to learn how you can facilitate it with embedding Event Calendar on your website.
One of the best ways to present events on a website or landing page is to embed a custom calendar. Such a website section gives occasions their own identity. It might sound complicated, but with the right tool you can easily create different types of event schedules, listing every detail like time, agenda, venue and hosts.
What Is Event Calendar and How to Create It
The term Event Calendar refers to an adaptable plugin that you can embed on your website to showcase the details of your upcoming occasions. It pretty much works like an online calendar, but looks like an interactive list, grid or slider where you can highlight events' information: their dates, times, venues and other related information. Via such a plugin users can also share events with their friends and save occasions to their personal calendars.
Follow these simple steps to run a successful event and attract as many visitors as possible:
Plan your occasions thoroughly
Create your own Event Calendar
Embed Calendar to website
First, think about your agenda and potential sponsors; book a location and invite hosts, experts, create a website, etc. Then register an Elfsight Account and find the app in the catalog. Work directly in an online editor and decide on a predefined template or create your unique events schedule with the required settings. When you're done with the settings, press Add to website. You only get 2 rows of code. Copy and paste them into your web page or your website template.
How to embed Event Calendar on any CMS
If you've decided to display events with the dates and details on your website, it doesn't matter what CMS or website builder it is based on. See how you can embed the widget to any website. It is fast, easy, free and requires no coding knowledge. Check out the short guide to get an idea of ​​how it's done:
Enter your CMS or Website builder account and go to the admin board;
Choose the website, page or template where you want to place a calendar and press Edit;
Add a Custom HTML block there and paste your Event Calendar code you've copied at Elfsight into the field;
Click Save to apply the changes you've made.
Your Calendar widget is all set and ready, and you can visit your website to check how it looks and acts.
Our Calendar widget has many benefits, here are some of them:
Automation. Save time by setting recurring status to occasions that happen weekly or monthly.
Greater exposure. Users can freely and automatically drag events to their calendar from the widget on your website.
Sleek mobile-friendly design. It's a highly customizable calendar designed to blend into any website and screen size.
Virtual format supported. Users can easily identify events as virtual by special tags and follow the links to videos and live streams in your listings.
Intuitive navigation. Users can sort and filter units in the interactive interface by tags, locations, or categories.
No limit of units. Post as many events as you want – there's no limit to how many you can add.
Features of the Event Calendar
In addition to easy embedding or integration with any CMS and website builders, free support and many other benefits, you get access to the super comprehensive functionality of Elfsight's Events Plugin. A live editor has an intuitive, no-coding interface that makes it easy to create your own widget. Check out the main features below.
Full design adaptability
Pick one of the pre-made templates or easily create your own calendar from the scratch;They are easy to pick and adjust;Various variants of layouts and design options.
All types of events covered
Create recurring or one-time occasions;Create a schedule, agenda, or simply a list of upcoming events;Showcase local or online happenings.
Complete information
Display one day or multi day events;Include venues and location marks;Feature the hosts for each item;Write a detailed description for each event.
Popup mode for improved UI
Reveal all the details of each occasion;Let users share your events with their friends;Embed the Get Direction button to let users build a route in Google Maps app.
Handy organizing and sorting
Implement numerous categories;Mark events of various classes with different colors;Set tags for easy search and navigation;Use one or all 4 filters: by date, type, location or host.
Various elements
Construct appearance the way you need;Embed active buttons;Upload photo or video for item's cover and background;Add tags, time, location, and occasion type;Show them all or hide the units that you don't want to use.
Convey the message
Edit the heading and all the captions;Change the language to reach out to local audience;Write a custom message for the audience in case there are no upcoming events so far;Include a call-to-action to attract more visitors, make them excited and drive them to action.
Buttons for immediate action
Set up a customizable button for each event;It can lead a visitor to any page or web address you specify;Helps to convert site visitors to participants.
Synchronization with personal calendars
Users can export your event to their personal software;They'll get a notification about your occasion;It helps for a better conversion rate and helps win more participants.
Design options
You can paint all the elements to match your website design;
Upload a background image or set a suitable color;Choose how you will arrange the items: List, Grid or Masonry, Featured Events Slider.
Who Needs Event Calendar
A wide range of our plugins is intended for a diverse category of customers – both B2B and B2C of any scale. And the Event Calendar is no exception! It can be easily adapted for any website, use case, and requirements, being essential part of any business promotion strategies. Here are just few examples of who may benefit from using the plugin:
Event Professionals
Our widget makes event management of any class easy. It helps to promote the occasion and deliver detailed information via a website or link in a structured way to a large number of guests. The calendar can be added to a website or landing page dedicated to the occasion or shared via a link and sent out to all the participants.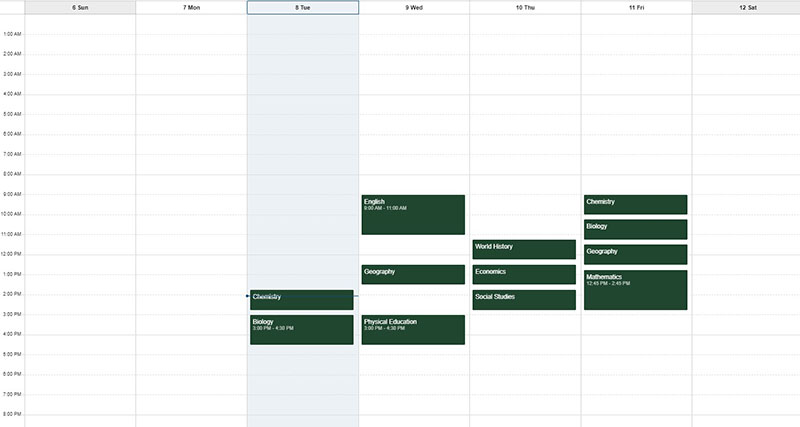 Personal Brands
Embedding such an application is important for any professional who does teaching or public speaking activities. When taking part in many different events and hosting your own it's necessary to promote them for best exposure and attendance. A personal website or social media account suits perfectly for embedding the calendar with your upcoming events.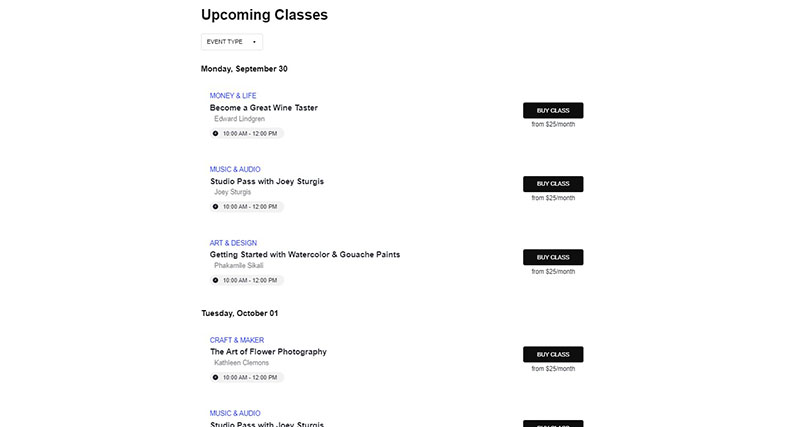 Small Business
When running occasions to widen business awareness, embedding our tool helps you to make the most of your company events. A thoroughly planned and well advertised occasion contributes to driving more online traffic to websites and potential customers, connecting with a wider audience.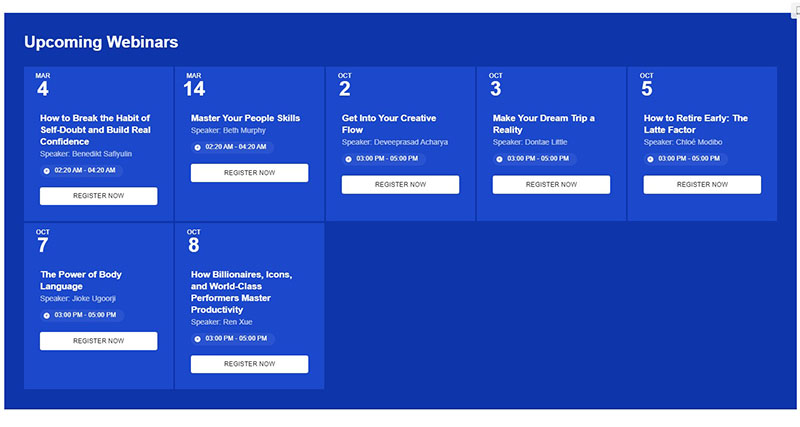 Civic & Community Organizations
Our Event Calendar widget is best for all types of non-profit or public institutions, as we provide a free version of our products for them upon request. These include school, college, and university websites, various community groups and civic associations doing some kind of charity or socially meaningful activity.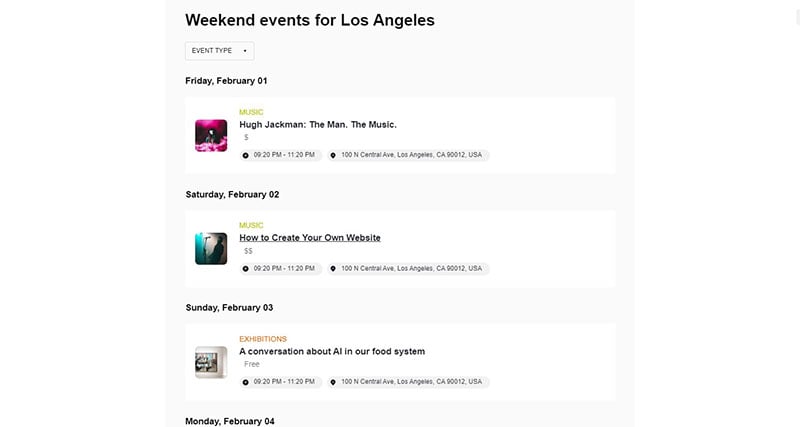 Where You Can Place Events Calendar
Building a widget is just a half of it. You also have to make it vivid to your audience to capture their attention. Here are some tips to help you get the most out of your schedule and place it the most efficient way possible:
Homepage. This seems like the most obvious and easiest option. It works perfectly for the online presence of sports teams or music bands, for example. This is also a good option for sites presenting music or any other kind of festivals, seminar series or webinars. However, these websites are very specific, so the option is not suitable for all use cases.
Separate section. This might be a good idea to create a separate section named Events or Occasions and embed it in the menu to be available right away for users. This will help to leave the front page clean and deliver complete information about all the upcoming occasions. The variant is suitable for those who have a lot of occasions to present on a single website – exhibition galleries and music halls, museums, universities and so on.
About page. This is the best place for your calendar if you run recurring events or just regularly take part in various occasions. It is suitable for all kinds of speakers, lecturers, musicians, sportsmen and teams, bands, etc.
Schedule page. This option is useful when more information is best to be embedded on the home page or when the calendar contains many events with detailed descriptions.This variant is also suitable for conferences, festivals, retreats, and other multi-day events.
Why You Should Have a Calendar On Website
Creating the Event Calendar widget and embedding it to the website brings endless benefits for the success of your occasions and business performance as a whole. By implementing our widget on a website you can reach the following goals:
Clear Event Presentation
Calendar is a great opportunity for your audience to view all the event details in one place. With the help of our highly customisable plugin, you can display full information about your past, present and future events in the best manner possible.
Growing email list
Promoting events online through an interactive calendar can help you establish or significantly grow your email list almost free and without additional efforts. Give your users the option to receive updates about the upcoming events by subscribing to your newsletter. Add a button leading to the subscription page or form that users can fill out if they want to receive notification about future occasions.
Higher engagement rates
Adding an Event Calendar to your homepage or other web page can help you attract visitors and make them stay longer on your website, improving its statistics and performance. The plugin also allows you to present the details of your activity to the audience by adding relevant videos and images, which also encourages people to attend your occasions .
Increased traffic
You can also use your events page to draw your visitors' attention to other areas of your website. For example, you can add links to related blogs or to your online store. Ultimately, this will increase traffic to your website.
Greater brand awareness
When you promote occasions via social media or other channels, the embedded event calendar promotes your brand for free and indirectly. You can share a direct link to the widget and as they engage and tap the buttons, it will guide users to your website. Sharing your events on your social media account can also help increase interest in your work, service or product, especially if you have a live and growing community group.
Reasons for Embedding Event Calendar
There are many advantages of using Event widget from Elfsight while planning, hosting, or taking part in occasions, but let us name at least 6 of them. Here's a quick breakdown:
Automatic migration of recurring events saves time and effort; increases productivity and performance; widens exposure and audience reach.
Seamless and free event notifications that all website users and potential participants can receive if they synchronize the calendar with their personal software.
Several options to arrange, search, and sort the events in the calendar allow visitors to easily find and keep track of the various events planned, coming soon, and carried out.
Easy access anywhere and anytime, because everything in the widget you create is stored in the cloud for free and can be viewed by people from any device thanks to full mobile compatibility and adaptation to any screen size.
Improves search engine marketing because it may increase the number of pages within the website for free. Embed Event Schedule on a separate page and also link each item in it to its own page via a CTA button. This way you can easily embed some fresh content, and adding more pages often results in an increased chance of ranking for certain keywords.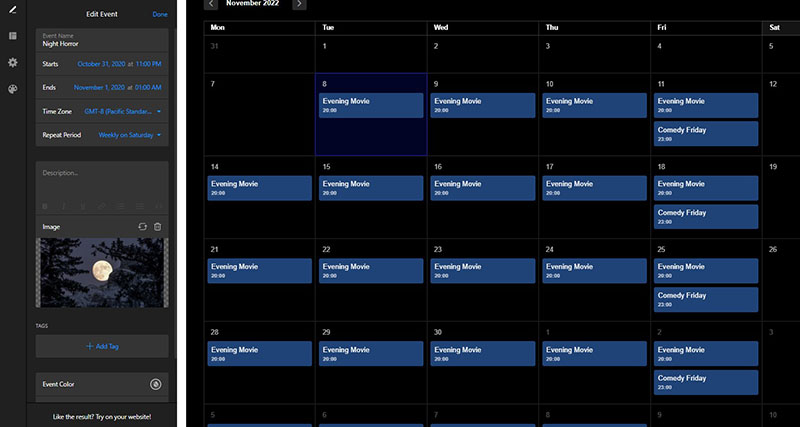 Best Practices
Don't know how to organize and run your event in a hassle-free way? Sometimes it might feel overwhelming to find the ways for filling in the blanks in your timeline and designing an amazing section that draws attention. This is especially important if you are planning so many events that your schedules overlap. Here are some tips and tricks on how to make any occasion successful and beneficial for your business, be it a single-time, seasonal, or recurring occasion, class, or meeting.
Spacings in the event timeline and optimal presentation.
Consider using a grid or list layout for a better visualization of your events. An embedded Slider of featured events also helps to prioritize the occasions for your users and potential visitors. Each embedded item must have a name, a summary of minimum 125-words, and search tags and assigned category. Your potential visitors, participants and employees should always be able to find important event details quickly and easily.
Marketing and sales collaboration for the full lifecycle of each event.
It's easy to field your entire team, partners, and audience when everyone lands on the same page with all the necessary information. Just make sure you add all the details and make regular updates to keep everyone on time and on task.
Allow adequate time for pre- and post-event activities.
Wondering how much time before or after the actual occasion you should devote to event planning, feedback collection, and customer development? Experts say the magic number for items in a schedule is typically 6 hours.
Create event promotions and related communications.
You must have enough time for developing content strategy, creation of promotion materials and their distribution. Start planning 90-180 days before each individual event.
Describe ticket and registration goals.
Embedding the widget will help you track the numbers and statistics and forecast more accurate ROI numbers for events. Plan some additional time for yourself to catch up if goals aren't met. But don't panic: there are many last-minute tactics to increase traffic and potential guests.
Consider dates for staggered ticket price releases.
In order to attract more people to any kind of event, planning a graded approach to ticket sale and pricing is a must. This way you can raise the feeling of scarcity and exclusive offerings among the people, which would be the best reason to stimulate them to sign up or book tickets.
FAQ
Is the Events Calendar widget mobile-friendly?
Sure! You can check how the calendar is displayed on different devices in the Screen View mode in the editor.
How do I create event calendar and add it to my website? 
Sign up for our service, use our editor to create your events widget. Then copy the code from the popup and add it into an HTML block in your website admin and save your changes. This way you can test how the embedded calendar works and looks on your site with the help of a free Elfsight account.
Does your calendar widget support time zones?
Yes, you can set the time zone for your events and visitors of your website will see the time settings according to their browser time zone.
Can I have more than one calendar of events on my website?
Yes. For this, you need to select a paid subscription that suits your needs best, and then you can create multiple calendars and embed them on your page.
What types of events can I add to the widget?
A fully customizable interface of our Events widget allows you to feature online and offline occasions of various types embedded on your homepage: educational, entertainment, community and non-profit.
Why is it important to embed an Event Calendar on a business website?
When events are shared online in one place, it's easy for people to find occasions that are either geographically close to them or support their values and are of a special interest to them. And for you, the organizer, embedding the schedule is the best way to share the wonderful things you do to support the spheres you care about while inspiring others to attend, volunteer, or donate.
Conclusion
Why do businesses and organizers invest so much money and effort in events? It is easy. Events are the strongest form of experiential marketing, and those that brands run evoke positive emotions in customers long after they are over. A successful event offers participants added value that goes beyond information about a product or service.
By finding an opportunity to connect with the best audience (both current customers and potential buyers), brands can develop positive attitudes to their business and long-term relationships. An online calendar of events embedded on your website improves its functionality and performance. Most importantly, it creates a new way for existing and prospect clients to stay connected to your activities, resulting in lasting online and offline marketing success.