Online Weekly Calendar Templates for website
The Weekly Calendars are here to help you create a blueprint for your business. With a wide variety of custom elements and features, you can customize it to your taste. It's time to start sharing a chronological plan of your meetings, promotion events, or product launches on a website to keep the audience invested.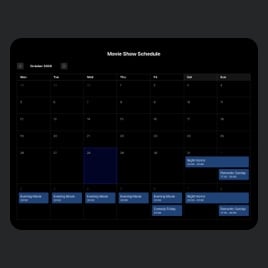 Add a professional look and structure to your website using a grid-formatted calendar.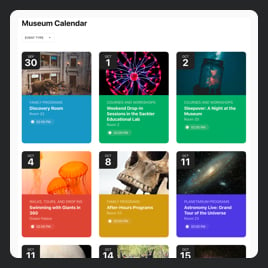 Embed an engaging calendar on your website to make users feel longing to come back.
Create a calendar for your website to let users countdown days 'till the next big event.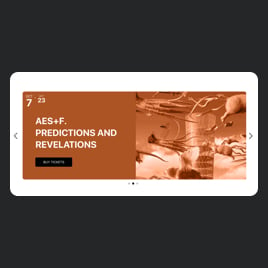 Add a scrolling calendar and keep a continuous stream of events available for your website users to see.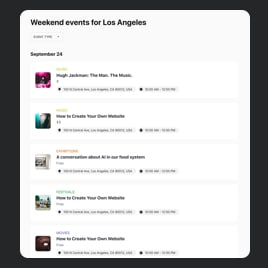 Create a calendar for your website with an informative list of upcoming events.
Create the attention-grabbing calendar button that will follow users throughout the whole website page scrolling.
Add a mobile-friendly calendar to your website to keep users engaged even on the go.
Embed a calendar on your website to make each day leading up to Christmas a fun experience for the consumers.
Embed a calendar on your website to provide a seamless ticketing experience and generate more sales!
No Suitable Template?
You can easily assemble the widget you need using our simple-to-use configurator.
Why are Elfsight Online Weekly Calendar the best?
The sudden and distressing turns of events—such as overbooking—are not tolerable anymore with Elfsight's coding-free Weekly Calendars. Take matters into your own hands—start letting others know the latest shifts in plans, milestones, events, and meetings online. Create a user-friendly calendar for yourself and your website users. Unlock dozens of customizable elements and features to identify the perfect style match and notify everyone beforehand with just a few clicks!

Weekly Calendars Features and Integrations
Ability to Add Event Images
Ability to Add Event Videos
Full Elements' Customization
Several Event Card Styles
How to create Online Weekly Calendar for website
To create Weekly Calendar plugin, you can complete this tutorial:
Select the Weekly Calendar template that you find the most suitable.
Press the "Use Template" option.
Adjust the elements and features to fit your branding.
Authorize your Elfsight admin panel.
Receive the installation code that only belongs to you.
Needing additional support? Reach out to the experts from the Support Team.
How to add Online Weekly Calendar to website
To integrate the Weekly Calendars into your web page, see this guide:
Log in to your Elfsight dashboard.
Receive the personalized installation code.
Navigate to your site editor.
Paste the code and save the changes. Now you're done!
For further assistance, please, feel free to ask the Elfsight Support Team.
FAQ
How many events can I add to the Weekly Calendar widget?
With the Online Event Calendar plugin, you're not limited to a specific number of events. The rules are yours to make, allowing you to include as many events as you like!
What website builders and CMS are compatible with the Weekly Calendars?
You can use our plugins on almost any website builder, with a compatibility rate of 99.9%. Here are just a few of the most popular ones: WordPress, Woocommerce, Wix, Weebly, Webflow, Squarespace, Shopify, Prestashop, Opencart, Mailchimp, Magento, jQuery, Joomla, HTML, Google Sites, Godaddy, Facebook Page, Elementor, Drupal, Divi, Bootstrap, Blogger, BigCommerce, Clickfunnels, Adobe Muse, etc.
What event details can I include in the Online Weekly Calendars?
Showcase in your Weekly Calendars almost everything you want: event title, duration length, time zone, description, image, meet-up place, event category, tags, event color, CTA button, and video materials.
Can I display the past events on a calendar?
Absolutely! All you need to do is follow these guidelines:
Open the Event Calendar configurator.
Navigate to the "Layout" menu.
Pick "Past Event."
Enable "Show Past Events."
Can I set up notifications about the upcoming events on the Weekly Calendars?
Yes. One of the many benefits of using the Weekly Calendar templates is the possibility to export each event you make to the preferred calendar: Google Calendar, Apple Calendar, Outlook, etc. As a result, you can enable reminders without any hassle!
Can I customize the Online Weekly Calendar template?
Certainly, you have complete control over the customization process to reveal the purpose and norms you've taken in your business—from selecting a layout, event card styles, and a number of showcased events to the color of buttons and backdrop.
Do the Weekly Calendar templates work on digital devices?
Let's get this thing straight—all the Event Calendar templates are mobile-responsive. The plugin delivers top-tier service no matter the device you are using.