Online Monthly Calendar Templates for website
Plan ahead the marketing strategy and align goals with the advertising widget for your website—Monthly Calendars. Designed for maximum customization and user engagement, you gain an intuitive overview of upcoming events to promote your business or service within the niche.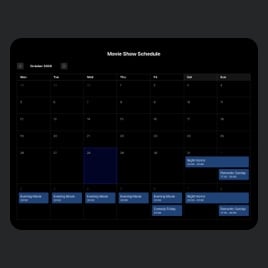 Add a professional look and structure to your website using a grid-formatted calendar.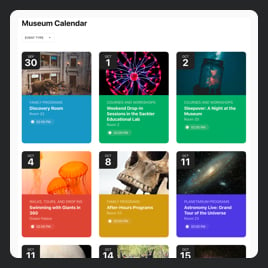 Embed an engaging calendar on your website to make users feel longing to come back.
Create a calendar for your website to let users countdown days 'till the next big event.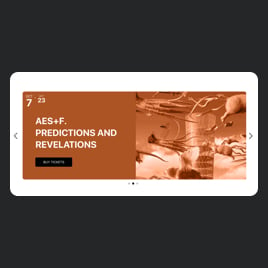 Add a scrolling calendar and keep a continuous stream of events available for your website users to see.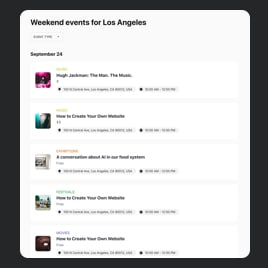 Create a calendar for your website with an informative list of upcoming events.
Create the attention-grabbing calendar button that will follow users throughout the whole website page scrolling.
Add a mobile-friendly calendar to your website to keep users engaged even on the go.
Embed a calendar on your website to make each day leading up to Christmas a fun experience for the consumers.
Embed a calendar on your website to provide a seamless ticketing experience and generate more sales!
No Suitable Template?
You can easily assemble the widget you need using our simple-to-use configurator.
Why are Elfsight Online Monthly Calendars the best?
The unforeseen and demanding changes—like an overwhelming workload—are not tolerable anymore with the coding-free Monthly Calendars by Elfsight. Get a handle on the situation—start letting others know the most recent shifts in plans, goals, events, and meetings online. Create a user-friendly calendar for yourself and your website visitors. Unlock numerous customizable elements and features to pick the perfect format and let everyone know what you are up to beforehand with just a few clicks!

Monthly Calendars Features and Integrations
Ability to Add Event Images
Multiple Language Support
Several Event Card Styles
How to create Online Monthly Calendar for website
To create Monthly Calendar widget, you need to complete the following guidelines:
Select the most desirable Monthly Calendar template.
Click on the "Use Template" button.
Personalize the elements and features to satisfy your brand vision.
Log in to your Elfsight dashboard.
Receive the installation code exclusively designated for you.
Needing additional support? Get in touch with the experts from the Support Team.
How to add Online Monthly Calendars to website
If you plan to embed the Monthly Calendars on your site, complete the uncomplicated instruction:
Log in to your Elfsight account.
Copy the personalized installation code.
Go to your site editor.
Insert the code and save your edits. That's it!
For further assistance, get in touch with the Elfsight Support Team.
FAQ
How many events can I add to the Monthly Calendar widget?
You're not restricted by a specific quantity using our Event Calendar plugin. In this case, you set the rules—add as many events as you desire!
What website builders and CMS are compatible with the Monthly Calendars?
You can use our widgets on almost any website platform, with a compatibility rate of 99.9%. Here are a few of the popular ones:
WordPress, Woocommerce, Wix, Weebly, Webflow, Squarespace, Shopify, Prestashop, Opencart, Mailchimp, Magento, jQuery, Joomla, HTML, Google Sites, Godaddy, Facebook Page, Elementor, Drupal, Divi, Bootstrap, Blogger, BigCommerce, Clickfunnels, Adobe Muse, etc.
What event details can I include in the Online Monthly Calendars?
In your Monthly Calendars, you can include almost anything and everything: event name, duration time, time zone, summary, image, location, event category, tags, event color, call-to-action button, and video content.
Can I display the past events on a online calendar?
Absolutely! All you need to do is follow these guidelines:
Launch the Event Calendar builder.
Locate the "Layout" tab.
Pick "Past Event."
Enable "Show Past Events."
Can I set up notifications about the upcoming events on the Monthly Calendars?
Yes, certainly. One of the many benefits of using the Monthly Calendar templates is the capability to transfer each event you make to the calendar you like: Google Calendar, Apple Calendar, Outlook, etc. That being said, you can receive reminders and stay up-to-date!
Can I customize the Online Monthly Calendar template?
Indeed, you can go the extra mile in the customization process to show the approach and values you've taken in your business—beginning from layout, event card styles, and a number of showcased events to the color of buttons and background.
Do the Monthly Calendar templates work on digital devices?
Let's make one thing crystal clear—all the Event Calendar templates are optimized for mobile devices. With this in mind, you can rely on top-tier performance on any device, including phones, computers, laptops, and tablets.