Best Online Calendar Templates for Small Business
Discover a new way to organize the workload, attract more leads, and promote upcoming events on your website with a curated collection of intuitive Business Calendar templates. From professional looks to royalty-free features, they come in handy for almost every industry on the market!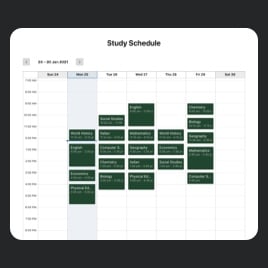 Add a calendar to your website to let teachers manage schedules and share availability with students.
Embed a trainer scheduler on your website to streamline the fitness business.
Create a calendar for your website to manage yoga classes and keep your business running smoothly.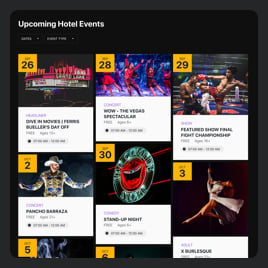 Add a scheduler to your hotel business website for maintaining online reservations and promotion events.
Create an intuitive doctor scheduler for your website to simplify booking appointments for patients.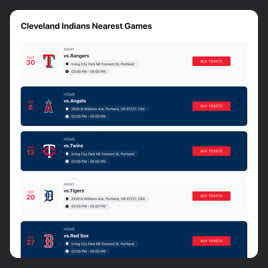 Add a scheduler to your website to keep your sports team and fans on top of a game.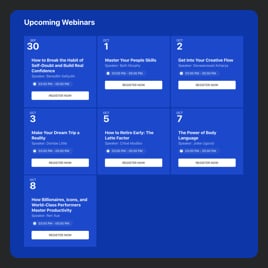 Add an agenda to your website to showcase conference speakers' schedules and session times.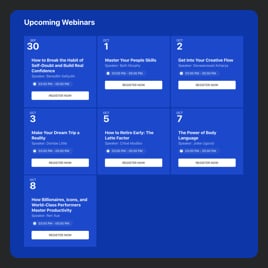 Create an intuitive agenda for your website to host workshops, training sessions, or per her educational events.
Embed a calendar on your website to provide a seamless ticketing experience and generate more sales!
Create an event calendar for your website to make your restaurant the go-to destination.
Embed a customizable calendar on your website to keep students and faculty up-to-date on all academic events.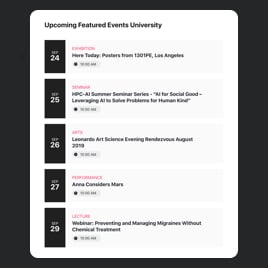 Create a university calendar on your website for easy navigation and information sharing on campus.
Embed a calendar on your website to foster a strong sense of community within your educational institution.
No Suitable Template?
You can easily assemble the widget you need using our simple-to-use configurator.
Why are Elfsight Business Calendars the best?
The unexpected and nerve-wracking turns of events—such as an overwhelming workload—are no longer acceptable with the coding-free Online Business Calendars from Elfsight. Handle the situation on your own terms—start letting others know the latest shifts in plans, goals, events, and meetings online. Create a calendar that is user-friendly for both parties involved. Explore tons of customizable elements and features to identify the perfect style match and inform everyone about what you have planned far in advance with just a few clicks!

Business Calendars Features and Integrations
Ability to Add Event Images
Ability to Add Event Videos
Full Elements' Customization
Multiple Event Card Styles
How to create Online Calendar template for your Business
If you want to create the Business Calendar, you should complete the following steps:
Choose the most desirable Business Calendar template.
Hit the "Use Template" option.
Customize the elements and features to match your branding.
Sign in to your Elfsight account.
Obtain the installation code exclusively designated for you.
Need any additional help? Contact the experts from the Support Team.
How to add Online Business Calendars to website
To add the Business Calendars to your web page, check out this guide:
Log in to your Elfsight profile.
Get the auto-generated setup code.
Locate your site editor.
Insert the code and save the changes. All set!
If you still need help, please, get in touch with the Elfsight Support Team.
FAQ
How many events can I add to the Business Calendar widget?
With the Event Calendar widget, you're not limited to a certain number of events. The rules are yours to make, allowing you to include as many events as you desire!
What website builders and CMS are compatible with the Business Calendars?
Almost all website platforms are eligible for our plugins. Here are some of the frequently-used ones: WordPress, Woocommerce, Wix, Weebly, Webflow, Squarespace, Shopify, Prestashop, Opencart, Mailchimp, Magento, jQuery, Joomla, HTML, Google Sites, Godaddy, Facebook Page, Elementor, Drupal, Divi, Bootstrap, Blogger, BigCommerce, Clickfunnels, Adobe Muse, etc.
What event details can I include in the Business Calendar?
In your Online Calendars, you can add whatever you need: event name, duration time, time zone, summary, image, meet-up place, event category, tags, event color, call-to-action button, and video content.
Can I display the past business events on a online calendar?
You can definitely do this! Here's how:
Launch the Event Calendar builder.
Go to the "Layout" menu.
Tap on "Past Event."
Toggle on "Show Past Events."
Can I set up notifications about the upcoming events on the Business Calendar?
Indeed. It's quite remarkable that each event set in our Business Calendar templates can share data with the calendar of your choice: Google Calendar, Apple Calendar, Outlook, or any other alternative. Meaning, you can turn on reminders without any hassle!
Can I customize the Online Business Calendar template?
Yes, of course, you can go the extra mile with the customization to define the purpose and norms you've been pursuing in your business—from selecting a layout, event card styles, and a number of featured events to the color of buttons and background.
Do the Business Calendar widget work on digital devices?
Allow us to put the record straight—every single Event Calendar template is mobile-optimized. This means that whether you're on your smartphone, pc, laptop, or tablet, the plugin delivers seamless performance.