Notifications & Announcements for website
Let your users stay ethically conscious by delivering significant updates with our Notifications & Announcements templates. From announcement news to disclaimer alerts, they seamlessly integrate with your website, enhancing user experience and driving conversions. Reach out, make a transparent statement, and keep everyone well-informed.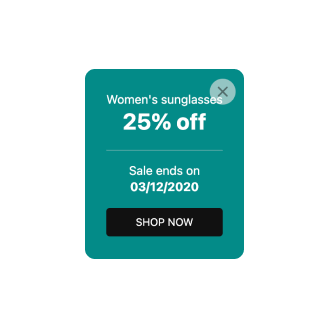 Help your visitors stay up to date with your future events by means of Elfsight Popup.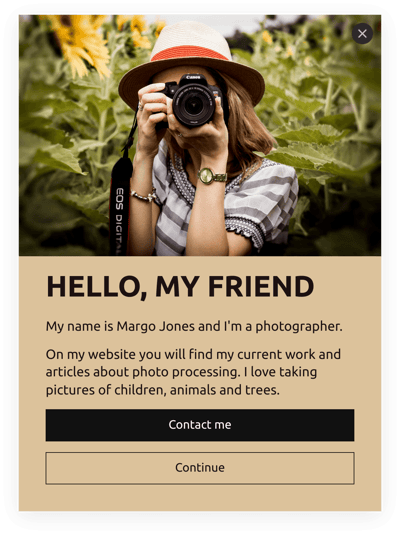 Create a heart-warming first impression and engage new visitors with the welcoming popup.
Add a popup template to your website and inform the users of big announcements and upcoming updates.
Add a professional touch to your website and communicate any terms with this popup template.
Create a popup template and ensure your website audience never misses out on vital details.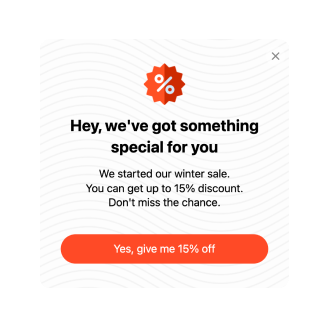 Create mutual trust within your website community and stay connected using this popup widget.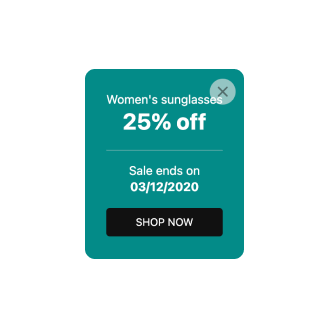 Create a notification widget to display time-sensitive messages and boost website conversion.
Add an extra level of trust and contribution to your terms and conditions with this popup widget.
Add a popup template to enhance user interaction on your website and gather feedback.
Add a text popup to your website and attract attention to special promotions or other relevant events.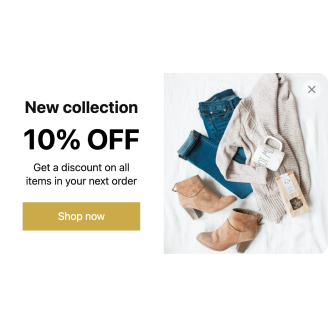 Add a popup widget to promote your special offers, discounts, or announcements with an eye-catching banner.
Create buzz around new product launches with this popup template for websites.
Add a popup widget to generate anticipation before launching new updates on your website.
Create a maximum customer engagement with push notifications using this popup widget.
No Suitable Template?
You can easily assemble the widget you need using our simple-to-use configurator.
Why are Elfsight Notifications & Announcements the best?
Direct your focus towards the ideal demographic, ignite the audience's curiosity, and captivate them with your business using the Notifications & Announcements templates from Elfsight. Create a
Popup widget
that accurately reflects your brand's essence, incorporating a compelling key message that leaves an everlasting impact and numerous customizable visual components. No more need for a coding background or any design skills to implement the plugin—simply make adjustments, acquire the installation code, and integrate it into the website.
It's as simple as that!
Start spreading the word, stimulating demand, and being your own master when it comes down to promoting special events or recent sales!

Notifications & Announcements Features and Integrations
Email Notifications via Form Fill-Out
5000+ Data Export Integrations
Customizable Modal, Slide-in, Pane Layouts
Sticky Popup Opening Button
Adjustable Frequency Display Setting
Exclude or Specify Pages for Displaying
Auto-Opening Trigger after Time Spent
Scroll Trigger On-Element or On-Click
Set Up Popup for Multiple Mobile Devices
Coupon Code & Redirect Link Creation
Page-Speed Friendly Lazy Loading
Multiple Languages Translation
Custom CSS & JavaScript Editors
How to create Notifications & Announcements template for website
If you want to create the Notifications & Announcements widget, you can complete this tutorial:
Pick the Notifications & Announcements template that appeals to you the most.
Click on the "Live Preview" option.
Personalize the elements and features to match your branding.
Verify your Elfsight dashboard.
Obtain the installation code.
Would you like some additional help? Contact the experts from the Support Team.
How to add Notifications & Announcements to website
If you're looking to embed the Notifications & Announcements on your HTML web page, see this guide:
Log in to your Elfsight account.
Receive the setup code that's been automatically created for you.
Access your website editor.
Insert the code and save your edits. That's it!
Please, address the Elfsight Support Team for further support or refer to our blog post for a step-by-step guide on how to embed the Popup widget on a website.
FAQ
Can I embed the Notifications & Announcements without coders?
Indeed! With Elfsight, you don't need to know how to code or have an external tool to install the widget. Meaning, you can add the Notifications & Announcements with the auto-generated string of code provided by our team.
What kind of triggers can I set to the popup widget?
Enjoy the flexibility of the Popup widget, which empowers you to take a customized tactic using a comprehensive range of triggers: during website loading, within a specific amount of time spent on a page, on scroll, on scroll to element, upon click, and on exit intent. It all boils down to your business requirements and preferences!
What website builders and CMS are compatible with the Notifications & Announcements?
With a compatibility rate of 99.9%, our widgets are the best solution for almost any website builder, including the HTML-based ones. Here are the most common platforms:
WordPress, Woocommerce, Wix, Webflow, Squarespace, Shopify, Opencart, Magento, jQuery, Joomla, Elementor, Drupal, Blogger, BigCommerce, and many others.
What details can I include in the Notifications & Announcements?
Maintain control over the Notifications & Announcements template and allow yourself the space and time to tackle all the key factors—add several marketing content blocks, append the discount code, include a call-to-action button, and ensure the presence of visuals.
Can I sync my popup with other integrations?
Absolutely! To do so, follow these steps:
Open the Popup configurator.
Go to the "Builder" menu choice.
Include a brand-new "Form" block or make edits to the existing one.
Keep scrolling 'till you spot the "Integrations" tab, then select it.
Opt for the integration—Mailchimp, Google Sheets, or Zapier—and follow the further on-screen directions.
On what website pages can I add the Notifications & Announcements?
There are no strict rules regarding where to place the widget. You have the freedom to choose what suits you best. Consider common alternatives: the homepage, get-in-touch page, or product page.
What kind of display settings does the widget support?
With the Notifications & Announcements templates, there are available three display options: frequency, pages, and devices. By specifying the frequency conditions, you have the flexibility to adjust how often popups appear depending on your specific business requirements. Similarly, you can make choices regarding the inclusion or exclusion of pages and devices. The key is you have full control over the entire process ensuring it maintains your branding norms.
Can I customize the Notifications & Announcements template?
Yes! From the contextual imagery and layout designs to the paddings and exact spacing—you can venture into a wide array of custom elements and royalty-free attributes to identify what suits your needs.
Do the Notifications & Announcements templates work on mobile devices?
Yes, the Popup templates embody this essential factor to ensure a top-tier encounter for every user. Regardless of the gadget—whether it's a cellphone, desktop, laptop, or tablet—this tool is optimized to be mobile responsive, ensuring an optimal display.