BigCommerce Notifications & Announcements for website
Maintain ethical consciousness among your BigCommerce users by delivering important updates using our Notifications & Announcements templates. From announcement news to disclaimers, they effortlessly integrate with your website, elevating user experience and driving conversion rates. Reach out, make a transparent statement, and ensure everyone is fully informed.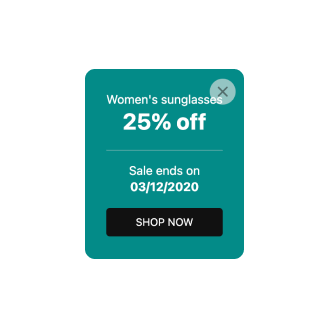 Help your visitors stay up to date with your future events by means of Elfsight Popup.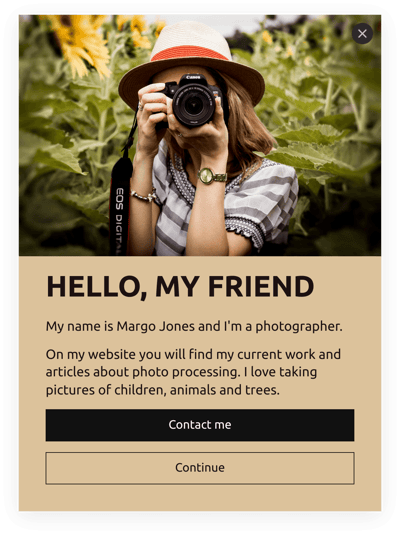 Create a heart-warming first impression and engage new visitors with the welcoming popup.
Add a popup template to your website and inform the users of big announcements and upcoming updates.
Add a professional touch to your website and communicate any terms with this popup template.
Create a popup template and ensure your website audience never misses out on vital details.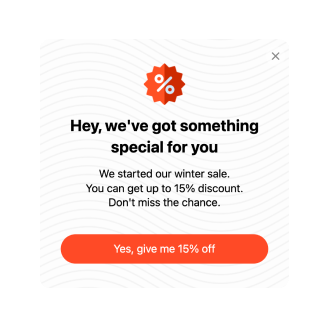 Create mutual trust within your website community and stay connected using this popup widget.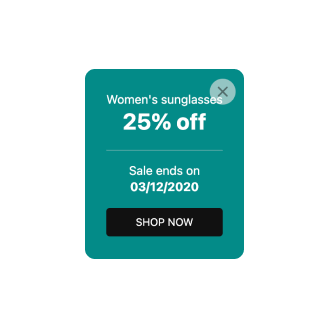 Create a notification widget to display time-sensitive messages and boost website conversion.
Add an extra level of trust and contribution to your terms and conditions with this popup widget.
Add a popup template to enhance user interaction on your website and gather feedback.
Add a text popup to your website and attract attention to special promotions or other relevant events.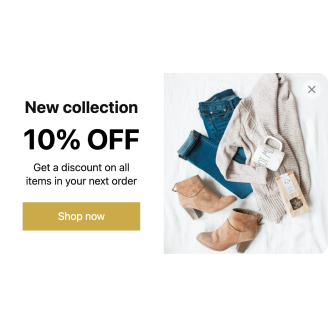 Add a popup widget to promote your special offers, discounts, or announcements with an eye-catching banner.
Create buzz around new product launches with this popup template for websites.
Add a popup widget to generate anticipation before launching new updates on your website.
Create a maximum customer engagement with push notifications using this popup widget.
No Suitable Template?
You can easily assemble the widget you need using our simple-to-use configurator.
Why are Elfsight BigCommerce Notifications & Announcements the best?
Direct your efforts towards the right target market, heat the audience's interest up, and make them captivated by your business with Elfsight's Notifications & Announcements templates. Create a
Popup widget
that showcases your brand's identity with a central message that leaves an everlasting impact and an array of visually personalized elements. Say goodbye to the necessity of the coding background or any design expertise to implement the plugin-simply tweak it accordingly, acquire the installation code, and add it to your BigCommerce website.
It couldn't be any simpler, could it?
Begin spreading the word, generating demand, and being your own mastermind when it comes down to promoting special events or recent sales!

BigCommerce Notifications & Announcements Features and Integrations
12 Customizable Content Elements
Mailchimp Email Notifications
Form with 5000+ Integrations
Customizable Modal, Slide-in, Pane Layouts
Engaging Popup Opening Button
Adjustable Frequency Display Setting
Exclude or Specify Pages for Displaying
Scroll Trigger On-Element or On-Click
Set Up Popup for Multiple Mobile Devices
Coupon & Redirect Link Creation
Page-Speed Friendly Lazy Loading
How to create Notifications & Announcements template for BigCommerce website
If you want to create the Notifications & Announcements widget for your BigCommerce website for your BigCommerce website, you should complete the following steps:
Choose the most desirable Notifications & Announcements template.
Hit the "Live Preview" button.
Modify the elements and features to fit your branding.
Log in to your Elfsight admin panel.
Receive the installation code.
Need any additional help? Contact the experts from the Help Center.
How to add Notifications & Announcements to BigCommerce website
If you're looking to incorporate the Notifications & Announcements into your BigCommerce web page, see this guide:
Sign in to your Elfsight account.
Copy the auto-generated setup code.
Access your BigCommerce site editor.
Insert the code and save your edits. All done!
Please, reach out to the Elfsight Support Team for further assistance or take a look at our blog post on how to embed the Popup widget on a website.
FAQ
Can I embed the Notifications & Announcements without coders?
Yes, indeed! With Elfsight, you don't need to be a coding expert or use a third-party app to install the widget. This means that you can add the Notifications & Announcements using the generated code string from our team.
What kind of triggers can I set to the popup widget?
The Popup widget provides the opportunity to adopt a personalized method using a broad selection of trigger alternatives: during website loading, after a certain time spent on a page, on scroll, on scroll to element, on click, and on exit intent. It entirely depends on what your business needs and desires!
What website builders and CMS are compatible with the Notifications & Announcements besides BigCommerce?
You can use our widgets on almost any website builder, with a compatibility rate of 99.9%.
What details can I include in the Notifications & Announcements?
Keep the Notifications & Announcements template in order and empower yourself to address all the crucial aspects-insert several marketing text blocks, append the coupon code, incorporate a call-to-action button, and remember about visuals.
Can I sync my popup with other integrations?
Certainly! All you need to do is follow these guidelines:
Open the Popup live demo.
Go to the "Builder" menu tab.
Add a brand-new "Form" block or edit the existing one.
Keep scrolling until you discover the "Integrations" tab, then select it.
Choose the integration-Mailchimp, Google Sheets, or Zapier-and proceed to follow the additional guidelines shown on the screen.
On what BigCommerce website pages can I add the Notifications & Announcements?
When it comes down to plugin position, there are no fixed rules. The choice lies entirely in your hands, depending on your liking. Consider common alternatives: the main landing page, contact page, or merchandise page.
What kind of display settings does the widget support?
Our Notifications & Announcements templates offer three display options: frequency, pages, and devices. The frequency setting allows you to control the popup numbers shown to meet your unique business needs. Likewise, pages and devices can be selectively excluded or included, according to your choice. The bottom line is you have the advantage of the whole customization in accordance with your branding norms.
Can I customize the Notifications & Announcements template for BigCommerce websites?
Certainly! Starting from the backdrop imagery and layout designs to the paddings and exact alignment-you can venture into a plethora of personalized elements and free-to-use features to discover what works best.
Do the Notifications & Announcements templates work on mobile devices?
Yes, absolutely, the Popup templates take care of this pivotal aspect to deliver a seamless user experience. No matter the device used-the phone, pc, laptop, or tablet-this BigCommerce tool is compatible with mobile format.