Lead Generation Popups for website
Discover the power of Lead Generation Popups templates and supercharge your website's conversion rate. From the attention-grabbing Conversion Popup and Lead Capture Popup to the persuasive Call to Action Popup and Exit Intent Popup—you can convert users into loyal customers. Customize every element to match your branding to never miss out on opportunities.
Adding the popup widget is the best for maximizing conversions and reducing cart abandonment.
Creating a faster way to supercharge your lead generation efforts is easy with this popup template.
Add a persuasive popup template to the website and guide visitors toward your desired goals.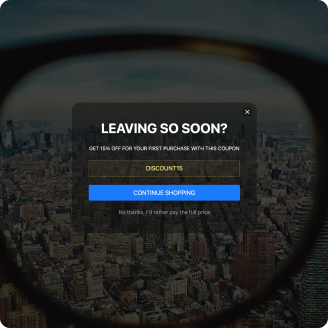 Add a popup widget to capture your website users' attention one last time and retain their interest.
Creating a popup widget to optimize your lead generation strategy and increase sales up to the sky.
Create a popup template and entice website visitors to sign up for your platform, service, or exclusive access.
Add a popup template to promote your latest E-book or valuable content in an attractive and engaging way.
Add a popup template on the website and welcome visitors to join your exclusive community.
No Suitable Template?
You can easily assemble the widget you need using our simple-to-use configurator.
Why are Elfsight Lead Generation Popups the best?
Attract the desired demographic, generate excitement among viewers, and make them fall for your business with Elfsight's Lead Generation Popups templates. Craft a
Popup widget
that showcases your brand's identity using a core message and a variety of visually customizable elements. No coding background or design skill is needed for installation—simply fine-tune, get the installation code, and add it to your website.
Isn't it hassle-free?
Begin spreading the word, generating demand, and taking control of your promotional initiatives for special occasions or recent sales!

Lead Generation Popups Features and Integrations
12 Custom Content Elements
Form Fill-Out Email Alerts
Modal, Slide-in, Pane Layout Styles
Engaging Popup Opening Button
Frequency Popup Display Settings
Exclude or Specify Pages for Displaying
Scroll Trigger On-Element or On-Click
Set Up Popup for Multiple Mobile Devices
Coupon & Redirect Link Creation
Optimized for All Mobile Devices
Page-Speed Friendly Lazy Loading
Translation to Any Language
How to create Lead Generation Popups template for website
To create the Lead Generation Popups plugin, you can complete this tutorial:
Select the most desirable Lead Generation Popups template.
Tap on the "Live Preview" button.
Customize the elements and features to satisfy your brand vision.
Authorize your Elfsight account.
Receive the installation code.
Need help? Reach out to the specialists from the Help Center.
How to add Lead Generation Popups to website
In order to integrate the Lead Generation Popups into your HTML website, follow these steps:
Sign in to your Elfsight profile.
Get the personalized installation code.
Locate your site editor.
Paste the code and save the changes. Well done!
For extra help, please, contact the Elfsight Support Team or take a look at our blog post on how to embed the Popup widget on a website.
FAQ
Can I embed the Lead Generation Popups without coders?
Indeed! Elfsight makes it easy for you to add the Lead Generation Popups widget to your website without a need for programming skills or an external app. Our team will create a code snippet for you.
What kind of triggers can I set to the popup widget?
With the Popup plugin, you can adopt a customized method using its diverse range of trigger alternatives: upon page load, after a specific time spent on a page, while scrolling, on scroll to element, on click, and on exit intent. It entirely depends on what your business needs and desires!
What website builders and CMS are compatible with the Lead Generation Popups?
99.9% of website platforms—including the HTML-based ones—are supported by our plugins. Here are a few of the frequently used platforms:
WordPress, Woocommerce, Wix, Webflow, Squarespace, Shopify, Opencart, Magento, jQuery, Joomla, Elementor, Drupal, Blogger, BigCommerce, etc.
What details can I include in the Lead Generation Popups?
Stay focused on the Lead Generation Popups template and empower yourself to address all the critical aspects—insert multiple promotional copy blocks, attach the coupon code, incorporate a compelling CTA button, and don't forget about captivating visuals.
Can I sync my popup with other integrations?
You can definitely do this! Just follow these steps:
Launch the Popup builder.
Find the "Builder" tab.
Add a new "Form" block or edit the current one.
Browse downwards until you reach the "Integrations" tab, then press it.
Select the integration option—Mailchimp, Google Sheets, or Zapier—and proceed with the further guidelines on the screen.
On what website pages can I add the Lead Generation Popups?
Placing the widget is not bound by strict rules. You have the opportunity to decide based on your own preferences. You have the flexibility to place it on the most favored alternatives, such as the homepage, contact information page, or merchandise page.
What kind of display settings does the widget support?
The Lead Generation Popups templates offer three options for displaying: frequency, pages, and devices. The frequency setting allows you to regulate the amount of popups displayed according to your unique business needs. Likewise, you have the flexibility to exclude or include specific pages and devices as you want. The crucial aspect is you have the advantage of complete customization in accordance with your branding standards.
Can I customize the Lead Generation Popups template?
Certainly! You can experiment with tons and tons of customized elements and royalty-free features to determine the optimal outcome—starting from the backdrop imagery and layout designs to the paddings and exact alignment.
Do the Lead Generation Popups templates work on mobile devices?
Yes, certainly, the Popup templates embrace this vital aspect to deliver an outstanding user experience. No matter the gadget used—the smartphone, desktop, laptop, or tablet—this plugin showcases itself as a mobile-compatible app.