Fixed Interval timers for website
Unlock the power of precision with our Fixed Interval Timers templates for websites. It features an array of timekeeping templates to add a touch of anticipation to your website. From 1-hour and 1-minute countdowns to quick 30-second timers and 5-minute intervals, you can effortlessly engage your audience with flexibility and convenience!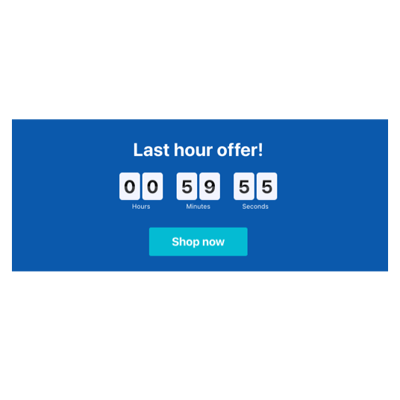 Add a sense of rush and compel customers to act within one hour using the website timer.
Embed a timer template on your website to captivate your audience in just 60 seconds.
Embedding a timer on a website is key to highlight yearly milestones, anniversaries, or important events.
Add the timer and count down to any specific day while creating a buzz among your audience.
Adding an extra layer of excitement with this template is a way to grab attention in half a minute.
Create the countdown widget to highlight the remaining days until a significant event.
Embed a monthly timer on your website and encourage visitors to mark their calendars until the big day arrives.
No Suitable Template?
You can easily assemble the widget you need using our simple-to-use configurator.
Why are Elfsight Fixed Interval Timers the best?
Enhancing the appeal of your website by effectively building interest, anticipation, or urgency for upcoming events is made easier using Elfsight's Fixed Interval Timer templates. Implement intentional marketing efforts and stand out from the crowd by adding a personal touch with a diverse range of custom elements. Create a countdown that values the user experience while serving your business goals.
The integration process can be completed in seconds: adapt, obtain the code, and embed it into the website editor. As you can observe, it is as simple as that—no necessity for programming knowledge or a design degree. And what's that buzzing noise? It's the countdown that ticks away, intensifying your engagement rate and leaving a memorable impression!

Fixed Interval Timers Features
3 Types of Up and Down Counters
Custom Expiration Period Setup
3 Unit Counter Animations
Different Time Zone Support
Seamless Website Integration
Coding-Free Customization
How to create Fixed Interval Timer template for website
If you want to create the Fixed Interval Timer plugin, you should complete the following steps:
Choose the Fixed Interval Timer template you like the most.
Tap on the "Use Template" button.
Adjust the elements and features to fit your branding.
Verify your Elfsight account.
Get the installation code.
Need any additional help? Get in touch with the specialists from the Support Team.
How to add Fixed Interval Timer to website
If you plan to incorporate the Fixed Interval Timer into your web page, follow these steps:
Log in to your Elfsight profile.
Obtain the installation code that's been automatically generated for you.
Locate your site editor.
Insert the code and save the changes. Done!
If you still need help, please, contact the Elfsight Support Team.
FAQ
Can I add duration dates to the timer widget?
Yes, you can! You can attain this aim by opting for the Start-to-Finish Timer format in the Countdown widget configurator.
What website builders and CMS are compatible with the Fixed Interval timers?
With a compatibility rate of 99.9%, our widgets are the ultimate solution for almost any website builder. Check out a few of the popular ones:
Adobe Muse, BigCommerce, Blogger, Drupal, Joomla, jQuery, iFrame, Magento, Facebook Page, Elementor, HTML, ModX, OpenCart, Shopify, Squarespace, Webflow, Webnode, Weebly, Wix, WordPress, WooCommerce, Google Sites, GoDaddy, Jimdo, PrestaShop, etc.
What timer details can I include in the Fixed Interval countdowns?
Take the creative approach for the Fixed Interval Timer template to its maximum potential—let your imagination run wild by adding duration length or numerical count, timer description, labels, call-to-action button, final message, and redirect URL.
Can I specify the time zone for the countdown?
You can definitely do this! Here's how:
Access the Countdown Timer builder.
Go to the "Timer" menu.
Tap on the "Start-To-Finish Timer" type.
Scroll down the time zones until you find the one you require.
Can I change labels or disclude unit counters in the Fixed Interval timers?
Absolutely. The Fixed Interval Timer templates come with four unit counters: days, hours, minutes, and seconds. Each counter is switchable and can be fully personalized according to your preferences. This allows you to turn them off and on as well as change the naming at any given time.
Can I customize the timer template?
Absolutely, you have dozens of design options to try out: colors, placements, font styles, sizes, alignments, animations, holiday themes, and countdown-displaying styles. Embrace each custom element to create the amazing timer that truly captures the values of your business.
Do the Fixed Interval Countdown templates work on mobile devices?
Rest assured that the Countdown Timer templates are equipped to deliver outstanding functionality and perform flawlessly on all devices: from phones and pcs to laptops and tablets. Simply saying, don't worry about compatibility problems—this widget is mobile-friendly.