Holiday timers for website
Bring the festive spirit to your website with our Holiday Timers templates. From Christmas and Halloween to Hanukkah and Valentine's Day, there is no doubt that you can capture the excitement and anticipation. Create a joyful atmosphere and make your brand shine during the most wonderful time of the year!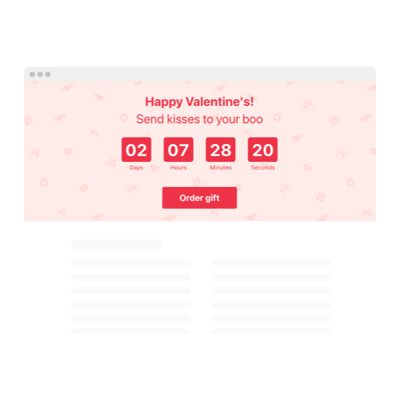 Embedding a Valentine-themed countdown timer can help you add a touch of romance to any website.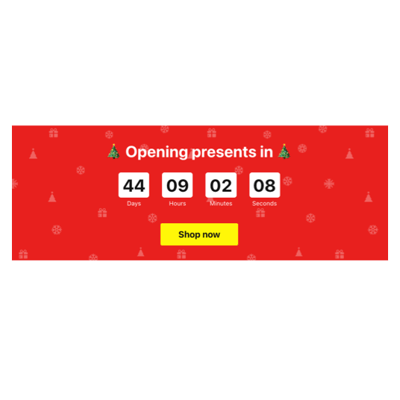 Create a Christmas atmosphere on your website using the countdown timer template and spread joy with upcoming events.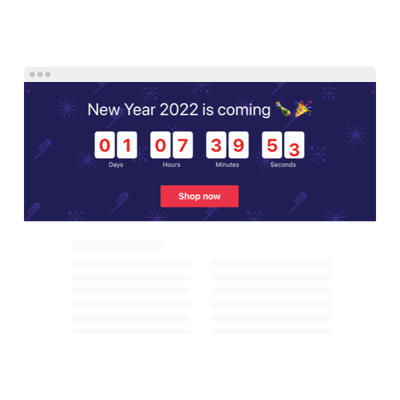 Add a sleek countdown timer widget to ring in the New Year with style and enjoy the ticking seconds.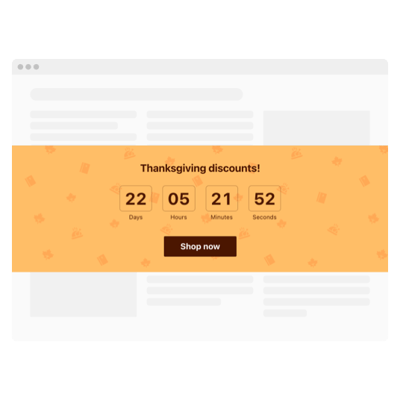 Create a building anticipation and remind your website users about the upcoming Thanksgiving celebration with this holiday timer.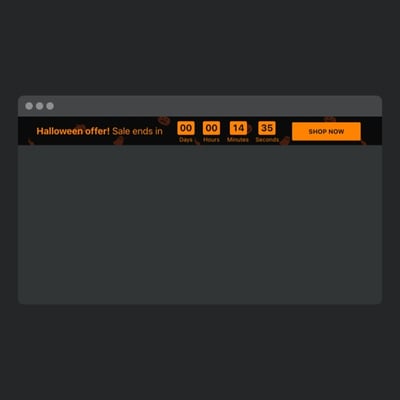 Add spice to your website and get spooktacular with our bewitching countdown timer for Halloween.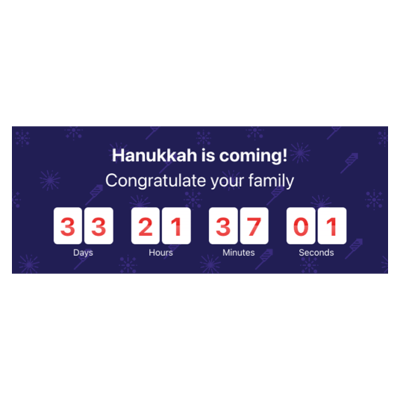 Embed a timer template on your website and start counting the days until Hanukkah begins.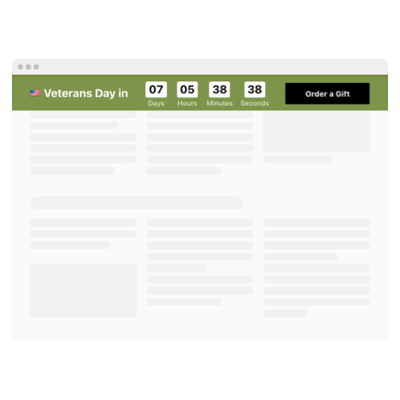 Embed a template on your website to pay tribute to brave veterans and always remember our heroes.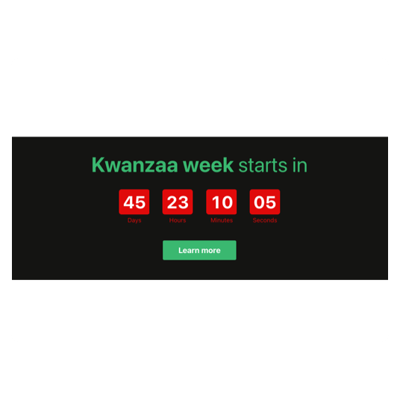 Embed a countdown timer widget to embrace the principles of Kwanzaa and make the most out of it.
Creating holiday cheer and generating excitement is easy with our countdown timer widget.
No Suitable Template?
You can easily assemble the widget you need using our simple-to-use configurator.
Why are Elfsight Holiday Timers the best?
Strategically creating interest, anticipation, or a sense of urgency on your website toward upcoming events becomes more manageable with the help of Elfsight's Holiday Timer templates. Implement intentional marketing actions and gain a competitive edge by adding a personal touch using a wide range of custom elements. Create a countdown that enhances the user experience while aligning with your business goals.
The integration process is quick: adapt, get the installation code, and paste it into the website editor. As you can see, it's really simple—no requirements for programming knowledge or design expertise. And what is this sound? It's the timer ticking away, intensifying your engagement rate and making a lasting impact!

Holiday Timers Features
3 Types of Up and Down Counters
Custom Expiration Period Setup
3 Actions After Timer Expires
3 Number Changer Animations
Support Multiple Time Zones
Seamless Website Integration
How to create Holiday Timer template for website
To create the Holiday Timer plugin, you can complete this tutorial:
Pick the Holiday Timer template that fulfills your preference.
Tap on the "Use Template" button.
Adjust the elements and features to satisfy your brand vision.
Log in to your Elfsight account.
Obtain the installation code.
Needing additional support? Get in touch with the specialists from the Help Center.
How to add Holiday Timer to website
To add the Holiday Timer to your web page, check out this guide:
Log in to your Elfsight account.
Copy the auto-generated installation code.
Access your website editor.
Paste the code and save the changes. Done!
For further assistance, feel free to ask the Elfsight Support Team.
FAQ
Can I add duration dates to the timer widget?
Absolutely! You can successfully accomplish this target by choosing the Start-to-Finish Timer format in the Countdown plugin configurator.
What website builders and CMS are compatible with the Holiday timers?
99.9% of website platforms are suitable for our widgets. Here are just a few of the most popular ones:
Adobe Muse, BigCommerce, Blogger, Drupal, Joomla, jQuery, iFrame, Magento, Facebook Page, Elementor, HTML, ModX, OpenCart, Shopify, Squarespace, Webflow, Webnode, Weebly, Wix, WordPress, WooCommerce, Google Sites, GoDaddy, Jimdo, PrestaShop, and many others.
What timer details can I include in the Holiday countdowns?
Take the artistic approach for the Holiday Timer template to its fullest—let your imagination run wild by including duration time or count, timer description, labels, call-to-action button, concluding message, and redirect link.
Can I specify the time zone for the countdown?
Of course, you can! All you need to do is follow these guidelines:
Open the Countdown Timer configurator.
Find the "Timer" tab.
Pick the "Start-To-Finish Timer" type.
Scroll down the time zones until you discover the one you are searching for.
Can I change labels or disclude unit counters in the Holiday timers?
Definitely. Our Holiday Timer templates come with four unit counters: days, hours, minutes, and seconds. They are all switchable, allowing for full customization. Meaning, you have the freedom to turn them off and on or even alter the naming whenever you desire.
Can I customize the timer template?
Definitely, there are dozens of design options available to you: colors, placements, font styles, sizes, alignments, animated transitions, holiday themes, and countdown-displaying variations. Take it all in to create the ultimate timer that aligns with your brand's image.
Do the Holiday Countdown templates work on mobile devices?
The Countdown Timer templates are set to provide excellent performance and work smoothly on all types of devices: phones, pcs, laptops, and tablets. Simply saying, you can forget about any compatibility problems—this widget is mobile-responsive.