General Countdown timers for website
Supercharge your website with our versatile General Countdowns templates. Engage your audience and create a sense of urgency—these templates are universal and be customized to each business's needs with ease. Don't miss out on this opportunity to make every moment count and drive conversations up!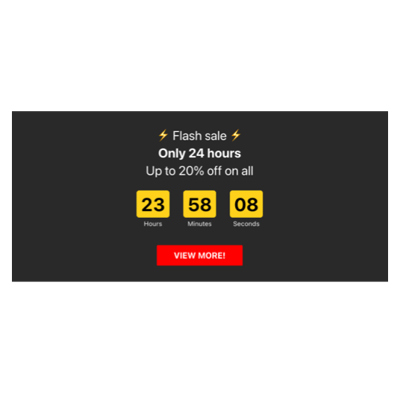 Create a fear of missing out effect and drive conversions using the timer widget on your website.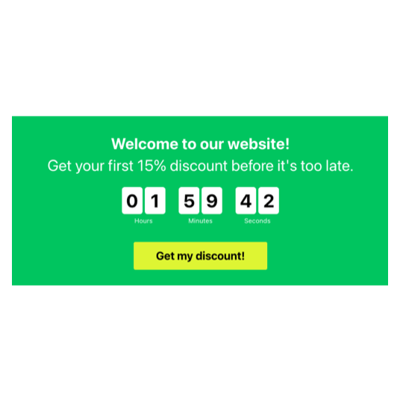 Add an engaging timer that resets after a specific time period straight to your website.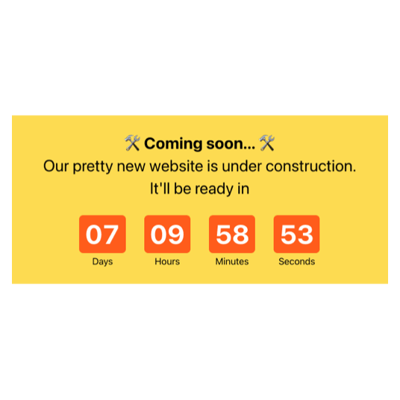 Embed the countdown widget to boost conversions and drive action on your landing page.
Add a pinch of genuine curiosity among your website users about what's next with the timer countdown.
Create an eye-catching timer widget to optimize your ticket-selling campaign and get more sales.
Embedding a countdown template on your website leads to increased sign-ups and attendance for your webinars.
Add a countdown template widget to your website and keep it in a trendy minimalist design.
Adding the countdown timer widget is a way to showcase the progress of a project, event, or any other important deadline.
Create a bold statement and catch the visitors' attention with our countdown timer for websites.
Add a touch of style and display the aesthetic goals right on your website using the countdown timer widget.
Add the template on your website to foster a sense of anticipation and drive action right from the start.
Embed a small countdown timer to save space on your website without compromising functionality.
Embed a fully interactive timer on your website and enhance user experience to the max!
No Suitable Template?
You can easily assemble the widget you need using our simple-to-use configurator.
Why are Elfsight General Countdowns the best?
Strategically cultivating interest, anticipation, or urgency on your website toward upcoming events becomes easier with the General Countdown templates from Elfsight. Take purposeful marketing actions and cut to the edge by incorporating a personal touch using various customizable elements. Build a countdown that not only enhances the user experience but also helps you achieve your business objectives.
The integration process is quick and easy: modify, obtain the installation code, and paste it into the website editor. As you can observe, it's straightforward—no need to know how to code or have a degree in design studies. And what is this sound? It's the ticking of the countdown, boosting your engagement rate and making an everlasting impact!

General Countdowns Features
Changeable Colors, Labels, and Message
3 Unit Counter Animations
Support Multiple Time Zones
Fast and Easy Website Integration
How to create General Countdown template for website
To create the General Countdown plugin, you should follow these steps:
Select the most desirable General Countdown template.
Hit the "Use Template" option.
Personalize the elements and features to align with your branding goals.
Log in to your Elfsight admin panel.
Get the installation code.
In search of more guidance? Get in touch with the experts from the Help Center.
How to add General Countdown to website
If you're looking to add the General Countdown to your website, complete the uncomplicated tutorial:
Sign in to your Elfsight account.
Copy the auto-generated installation code.
Go to your website editor.
Paste the code and save your edits. Well done!
For further help, please, get in touch with the Elfsight Support Team.
FAQ
Can I add duration dates to the timer widget?
Definitely! You can accomplish this target by picking the Start-to-Finish Timer timer type in the Countdown plugin builder.
What website builders and CMS are compatible with the General countdowns?
Almost all website builders are supported by our plugins. Here are the most common ones:
Adobe Muse, BigCommerce, Blogger, Drupal, Joomla, jQuery, iFrame, Magento, Facebook Page, Elementor, HTML, ModX, OpenCart, Shopify, Squarespace, Webflow, Webnode, Weebly, Wix, WordPress, WooCommerce, Google Sites, GoDaddy, Jimdo, PrestaShop, and many others.
What timer details can I include in the General timers?
Take the artistic approach for the General Countdown template to the extreme—don't hesitate to add duration time or count, timer description, labels, CTA button, concluding message, and redirect URL.
Can I specify the time zone for the countdown?
Of course, you can! To do so, follow these steps:
Access the Countdown Timer live demo.
Locate the "Timer" menu tab.
Click on the "Start-To-Finish Timer" type.
Scroll through the list of time zones to find the one you're looking for.
Can I change labels or disclude unit counters in the General countdowns?
Certainly. Our General Countdown templates offer four unit counters: days, hours, minutes, and seconds. Each counter is switchable and can be fully modified to your needs. This means you have the freedom to deactivate and activate them or even modify the naming at any time you want.
Can I customize the timer template?
Indeed, there are countless design options you can test: color palettes, positions, fonts, dimensions, alignments, animated effects, seasonal themes, and countdown-displaying variations. Embrace them all to craft the ultimate timer that reflects your brand's identity.
Do the General Countdown templates work on mobile devices?
The Countdown Timer templates are set to deliver the best performance and operate well on any device: from phones and computers to laptops and tablets. Put simply, there won't be any concerns regarding compatibility problems—this plugin is mobile-friendly.