Personal Milestone timers for website
Celebrate life's important moments with our Personal Milestones templates. Track and countdown to memorable events and share these special milestones on your website. Don't miss the chance to make your audience a part of these unforgettable occasions!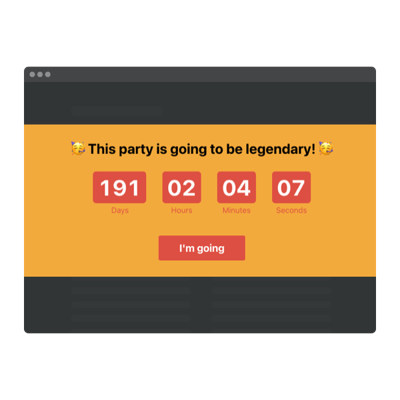 Create anticipation among your guests and plan the ultimate party with this countdown timer template.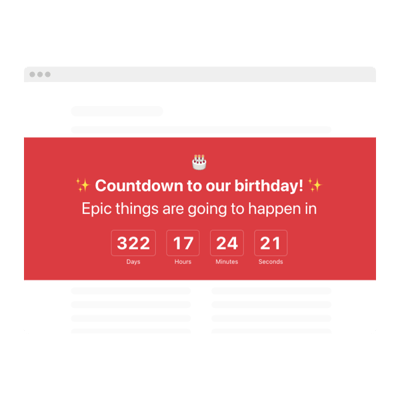 Embed a countdown timer widget to help your audience eagerly await your Birthday celebration.
Add a timer template to the website and count down the days until your well-deserved retirement begins.
Adding a timer to your website can help you track with your audience the remaining days left before the baby arrives.
Create a timer widget to track the progress of the pregnancy and share it in the public eye.
Embed a timer widget on the website and share the excitement of your future dream vacation.
No Suitable Template?
You can easily assemble the widget you need using our simple-to-use configurator.
Why are Elfsight Personal Milestones the best?
Effectively generating interest, anticipation, or a sense of urgency on your website for upcoming events is made easier with Elfsight's Personal Milestone templates. Become intentional with all your marketing actions and stand out from the crowd by incorporating a personal touch using numerous customizable elements. Create a countdown that values the user experience while serving your business goals.
The integration process is quick: customize, obtain the shortcode, and insert it into the website editor. As you can observe, it is straightforward—no need to know how to program or have a degree in design studies. And what's that buzzing noise? It's the countdown that ticks away, boosting your engagement rate and leaving an everlasting impact!

Personal Milestones Features
3 Action After Timer Finishes
3 Number Changer Animations
Support Multiple Time Zones
Seamless Website Integration
How to create Personal Milestone template for website
In case you want to create the Personal Milestone widget, you need to complete the following guidelines:
Choose the most desirable Personal Milestone template.
Press the "Use Template" option.
Adjust the elements and features to fit your branding.
Verify your Elfsight dashboard.
Receive the installation code.
Needing additional support? Reach out to the experts from the Help Center.
How to add Personal Milestone to website
If you're looking to incorporate the Personal Milestone into your website, check out this guide:
Sign in to your Elfsight profile.
Get the installation code that's been automatically generated for you.
Open your site editor.
Paste the code and save your edits. Done!
For further assistance, contact the Elfsight Support Team.
FAQ
Can I add duration dates to the timer widget?
Certainly! You can reach this aim by opting for the Start-to-Finish Timer timer type in the Countdown widget demo.
What website builders and CMS are compatible with the Personal Milestones timers?
Our plugins are compatible with 99.9% of website platforms. Here are some of the popular ones:
Adobe Muse, BigCommerce, Blogger, Drupal, Joomla, jQuery, iFrame, Magento, Facebook Page, Elementor, HTML, ModX, OpenCart, Shopify, Squarespace, Webflow, Webnode, Weebly, Wix, WordPress, WooCommerce, Google Sites, GoDaddy, Jimdo, PrestaShop, and many others.
What timer details can I include in the Personal Milestone countdown?
Explore the creative spectrum with the Personal Milestone template—let your imagination run wild by including duration period or count, timer description, labels, CTA button, concluding message, and redirection URL.
Can I specify the time zone for the countdown?
Absolutely! Just take these steps:
Open the Countdown Timer live demo.
Navigate to the "Timer" tab.
Select the "Start-To-Finish Timer" type.
Go through the list of time zones until you discover the one you are searching for.
Can I change labels or disclude unit counters in the Personal Milestones timers?
Yes, of course. Our Personal Milestone templates include four unit counters: days, hours, minutes, and seconds. These counters are all switchable and fully adaptable. Essentially, this means that you can disable and enable them as well as alter the naming whenever desired.
Can I customize the timer template?
Absolutely, there are countless design alternatives you can test: colors, placements, font styles, sizes, alignments, animations, seasonal themes, and countdown-displaying variations. Incorporate these elements to craft the ultimate timer that truly reflects your branding image.
Do the Personal Milestone Countdown templates work on mobile devices?
The Countdown Timer templates are equipped to offer excellent functionality and perform flawlessly on all types of devices: mobile phones, computers, laptops, and tablets. In simple terms, no worries about compatibility problems—this widget is made to be mobile-friendly.