Sales & Deals timers for website
Discover a range of easy-to-install countdown timer templates for your website's Sales and Deals promotions. From Black Friday and Cyber Monday to limited offers and special events, these eye-catching designs require zero coding or design skills. Increase urgency, engage visitors, and boost conversions with our countdown timers. Don't miss out on this opportunity to create a sense of scarcity and drive sales!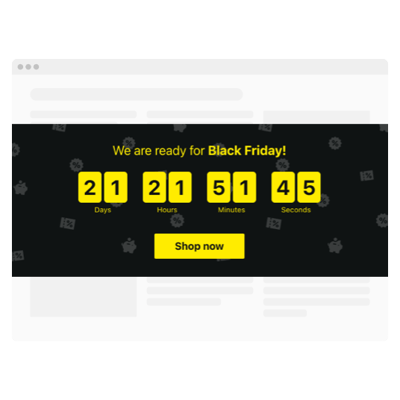 Embed a timer to boost your Black Friday promotions and create urgency among your website visitors.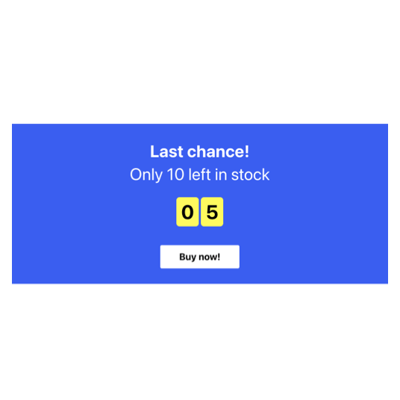 Create a countdown timer for your website to highlight limited-time offers.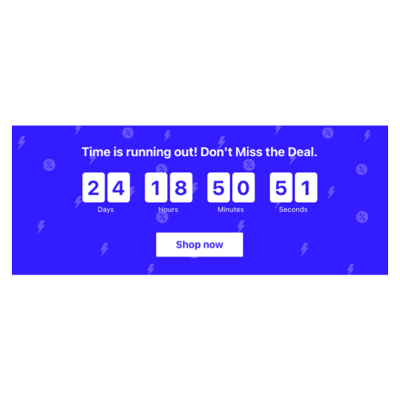 Add a countdown timer to maximize your Cyber Monday sales on exclusive deals.
Creating a sense of scarcity and enticing customers with limited offers is easy using this widget.
Embedding a countdown template on your website leads to super buzz around your event.
Add an extra layer of excitement to your sales campaigns with this timer template.
No Suitable Template?
You can easily assemble the widget you need using our simple-to-use configurator.
Why are Elfsight Sales & Deals Timers the best?
Elevating your website by strategically creating interest, anticipation, or a sense of urgency toward upcoming events is made easier with the help of the Sales & Deals Timer templates developed by Elfsight. Take purposeful marketing actions and differentiate the business by adding a personal touch with numerous custom elements. Design a countdown timer that enhances the user experience while aligning with your business goals.
The integration process takes seconds: adjust, receive the shortcode, and paste it into the website editor. As you can see, it is effortless—no need to know how to program or have a degree in design studies. And what is this noise? It's the countdown that goes tick-tock, intensifying your engagement rate and making an everlasting impression!

Sales & Deals Timers Features
Custom Duration Period Setup
3 Action After Timer Finishes
Changeable Colors, Labels, and Message
3 Count Animation Effects
Different Time Zone Support
How to create Sales & Deals Timer template for website
To create the Sales & Deals Timer widget, you can complete this tutorial:
Pick the Sales & Deals Timer template that appeals to you the most.
Press the "Use Template" option.
Modify the elements and features to satisfy your brand vision.
Sign in to your Elfsight profile.
Obtain the installation code.
Would you like some additional help? Reach out to the specialists from the Help Center.
How to add Sales & Deals Timer to website
In order to integrate the Sales & Deals Timer into your web page, see this guide:
Log in to your Elfsight dashboard.
Extract the setup code that's been automatically created for you.
Navigate to your website editor.
Paste the code and save the changes. You're all set!
Please, feel free to ask the Elfsight Support Team for further help.
FAQ
Can I add duration dates to the timer widget?
Certainly! You can fulfill this goal by choosing the Start-to-Finish Timer timer type in the Countdown widget live demo.
What website builders and CMS are compatible with the Sales and Deals timers?
You can use our plugins on almost any website, with a compatibility rate of 99.9%. Here are a few of the commonly-used ones:
Adobe Muse, BigCommerce, Blogger, Drupal, Joomla, jQuery, iFrame, Magento, Facebook Page, Elementor, HTML, ModX, OpenCart, Shopify, Squarespace, Webflow, Webnode, Weebly, Wix, WordPress, WooCommerce, Google Sites, GoDaddy, Jimdo, PrestaShop, etc.
What timer details can I include in the Sales countdowns?
Take full advantage of the Sales & Deals Timer template—let your imagination run wild by including duration period or count, timer description, labels, CTA button, concluding message, and redirection URL.
Can I specify the time zone for the countdown?
Certainly! All you have to do is follow these guidelines:
Open the Countdown Timer configurator.
Navigate to the "Timer" menu option.
Select the "Start-To-Finish Timer" type.
Go through the available time zones and select the one that suits your needs.
Can I change labels or disclude unit counters in the Sales and Deals timers?
Yes, you can. The Sales & Deals Timer templates include four unit counters: days, hours, minutes, and seconds. They are all switchable and fully customizable. This allows you to disable and enable them or even change the naming whenever you desire.
Can I customize the timer template?
Definitely, there are dozens of design choices available to you: color palettes, placements, font styles, dimensions, alignments, animations, holiday themes, and countdown-displaying variations. Incorporate these elements to make the perfect timer that truly captures the essence of your brand.
Do the Sales Countdown templates work on mobile devices?
You can trust that the Countdown Timer templates are ready to provide top-notch functionality and work smoothly on all sorts of gadgets: from smartphones and computers to laptops and tablets. In simple terms, compatibility issues are not a concern—this plugin is made to be mobile-responsive.