BigCommerce Video Popups for website
Transform your BigCommerce website into an immersive experience using one of the Video Popups templates. From the YouTube Video Popup to the Twitch Video Popup, our selection of templates is compatible with various platforms. Effortlessly add it to your website, personalize the appearance, and seize your audience's attention—watch your performance skyrocket!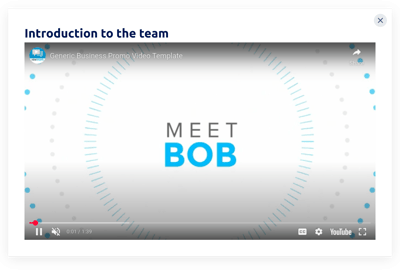 By means of Elfsight Popup you'll manage to create eye-catching widget that your audience won't miss.
Creating a loyal YouTube subscriber base is easy with this popup template for websites.
Create a popup widget for your website to promote and drive more followers to the Twitch channel.
Create a popup template to broadcast your interactive video content from YouTube.
Add a popup widget to showcase your Twitch live streams or recorded videos directly on your website.
Adding the Vimeo videos in a visually captivating way on your website can be easy using this popup widget.
Creating appealing video demonstrations of your products is the key using the popup template.
Add a popup template to provide step-by-step video tutorials for your website users.
No Suitable Template?
You can easily assemble the widget you need using our simple-to-use configurator.
Why are Elfsight BigCommerce Video Popups the best?
Reach your right target market, stoke the audience's intrigue, and make them captivated by your business using Elfsight's Video Popups templates. Craft a
Popup widget
that embodies your brand's essence using a powerful core message that leaves a lasting impact and numerous custom visual elements. No more need for coding knowledge or any design expertise to embed the widget-simply tailor it to your requirements, acquire the installation code, and integrate it into your BigCommerce website.
It's as simple as that!
Start spreading the word, igniting demand, and taking control of your marketing initiatives for special occasions or recent sales!

BigCommerce Video Popups Features and Integrations
Email Notifications via Form Fill-Out
Customizable Modal, Slide-in, Pane Layouts
Sticky Popup Opening Button
Adjustable Frequency Display Setting
Exclude or Specify Pages for Displaying
Scroll Trigger On-Element or On-Click
Set Up Popup for Multiple Mobile Devices
Coupon Code & Redirect Link Creation
Optimized for All Mobile Devices
Page-Speed Friendly Lazy Loading
Translation to Any Language
How to create Video Popups template for BigCommerce website
To create the Video Popups widget for your BigCommerce website, you need to complete the following guidelines:
Choose the Video Popups template that you find the most suitable.
Hit the "Live Preview" button.
Personalize the elements and features to align with your branding goals.
Sign in to your Elfsight dashboard.
Get the installation code.
Would you like any help? Get in touch with the experts from the Support Team.
How to add Video Popups to BigCommerce website
In order to add the Video Popups to your BigCommerce site, complete the brief tutorial:
Sign in to your Elfsight dashboard.
Obtain the setup code that's been automatically created for you.
Open your BigCommerce site editor.
Paste the code and save your edits. You're all set!
Please, address the Elfsight Support Team for further assistance or take a look at our blog post on how to embed the Popup widget on a website.
FAQ
Can I embed the Video Popups without coders?
Certainly! Elfsight offers you to add the Video Popups plugin to your BigCommerce website without requiring any coding skills or an external tool. Our team will generate a string of code for you.
What kind of triggers can I set to the popup widget?
Enjoy the flexibility of the Popup widget, which empowers you to take a customized tactic by offering an extensive selection of triggers: upon page load, within a certain time spent on a page, on scroll, on scroll to element, on click, and on exit intent. It all depends on what your business needs and desires!
What website builders and CMS are compatible with the Video Popups besides BigCommerce?
With a compatibility rate of 99.9%, our widgets are the ideal solution for almost any website builder.
What details can I include in the Video Popups?
Maintain control over the Video Popups template and grant yourself the space to address all the vital factors-add several marketing copy blocks, append the coupon code, include a CTA button, and ensure the presence of visuals.
Can I sync my popup with other integrations?
You can definitely do this! Simply follow these steps:
Access the Popup configurator.
Find the "Builder" menu option.
Add a new "Form" block or modify the current one.
Continue scrolling until you locate the "Integrations" tab, then select it.
Choose the integration option-Mailchimp, Google Sheets, or Zapier-and follow the further on-screen instructions.
On what BigCommerce website pages can I add the Video Popups?
Regarding the widget placement, there are no strict rules. The choice is primarily up to you and based on your needs. For example, you can consider using the most favored alternatives, such as the main page, get-in-touch page, and product page.
What kind of display settings does the widget support?
With the Video Popups templates, you can choose from three display options: frequency, pages, and devices. By setting frequency conditions, you can fine-tune the amount of popups displayed to meet your unique business requirements. Likewise, you can decide regarding the inclusion or exclusion of pages and devices. The main benefit is you have the advantage of complete customization while maintaining your branding guidelines.
Can I customize the Video Popups template for BigCommerce websites?
Indeed, without a doubt! Starting from the backdrop imagery and layout designs to the paddings and precise positioning-you can experiment with countless personalized elements and royalty-free features to discover what suits your needs.
Do the Video Popups templates work on mobile devices?
Yes, the Popup templates cover this essential factor to ensure a high-quality experience for all users. Regardless of the device used-the phone, computer, laptop, or tablet-this BigCommerce widget is designed to be mobile responsive, ensuring an optimal display.