Squarespace Banner Popup template
Impress your Squarespace website users with the Banner Popup template and make a lasting impact. Showcase alluring offers that catch the eye and start your marketing campaign: promote exclusive deals, announce new arrivals, or convey vital information. With effortless integration and personalized options, give it a go today!
100% Squarespace compatible
Features
12 Customizable Content Elements
Form Fill-Out Email Alerts
5000+ Integrations
Customizable Modal, Slide-in, Pane Layouts
Sticky Popup Opening Button
Frequency Popup Display Settings
Exclude or Specify Pages for Displaying
Timed-Display Trigger
Scroll Trigger On-Element or On-Click
Exit Intent Technology
Set Up Popup for Multiple Mobile Devices
Call-to-Action Button
Coupon & Redirect Link Creation
HTML & iFrame Fields
Image & Video Upload
Optimized for All Mobile Devices
Page-Speed Friendly Lazy Loading
Free-Coding Editor
Translation to Any Language
Custom CSS & JavaScript Editors
Template Catalog
Need a Different Template?
Check out more ready-made templates for any use case or build your own!
Add a text popup to your website and attract attention to special promotions or other relevant events.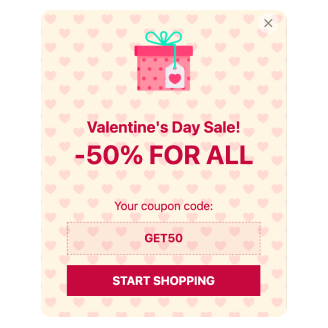 Add a bit of love in the air, show romantic gestures, and boost sales on Valentine's Day with this popup widget.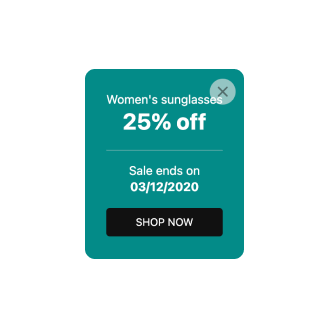 Help your visitors stay up to date with your future events by means of Elfsight Popup.
Add a popup template to your website and inform the users of big announcements and upcoming updates.
Add a professional touch to your website and communicate any terms with this popup template.
Create a popup template and ensure your website audience never misses out on vital details.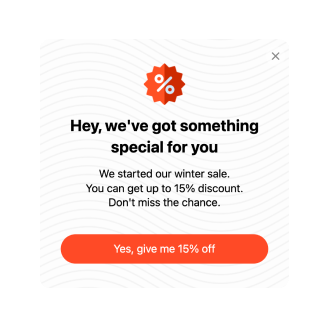 Create mutual trust within your website community and stay connected using this popup widget.
No Suitable Template?
You can easily assemble the widget you need using our simple-to-use configurator.
Here's what people say about Elfsight Popup widget
For the past few weeks, I have been actively utilizing the Popup widget, and I cannot emphasize enough how phenomenal it has been. Elfsight enables me to build a plugin with no need for any tech knowledge, which I can effortlessly install on client websites to address the necessary tasks.
The ease of use for developing custom widgets has been a tremendous time-saver, sparing me the effort of manually coding certain components on my Squarespace website. I had expected seamless functionality from the product. But what I wasn't expecting-the top-notch service and support. Highly recommended!
I have added the Banner Popup to my website and experienced no challenges whatsoever. I must say, the customer support has left me really impressed. They've been extremely supportive with any inquiries I've had and answered them within hours.
FAQ
How to create the Banner Popup template for the Squarespace website?
To create the Banner Popup for your website, follow the steps below:
Open the Banner Popup template.
Customize the elements and features to align with your branding goals.
Sign in to your Elfsight admin panel.
Obtain the installation code.
How to add the Banner Popup template to the Squarespace website?
To add the Banner Popup to your Squarespace website, follow the steps below:
Customize the appearance of the Popup widget to match your preferences.
Log in to your Elfsight admin panel or set up a free profile.
Obtain the auto-generated installation code.
Access your website.
Paste the shortcode into your website builder. You're good to go!
For a more in-depth guide, we suggest checking out our blog article on how to embed Popup on a website.
Do I need to have coding or programming skills to embed the Banner Popup?
No. Coding skills aren't required at all. You can create and add the Banner Popup to your website, even without any specialized knowledge or prior experience.
Can I set up the popup to open automatically?
Absolutely. When you're in building mode, select a trigger to display the Banner Popup template at the appropriate moment on your Squarespace website. You have multiple options available: on-page load, within a specific time spent on a page, on scroll, on scroll to element, on click, and on exit intent.
Can I use the Banner Popup template for free?
Absolutely. There is no need to rush and start with the paid alternatives straightaway. Elfsight utilizes a tiered subscription system that consists of Free, Basic, Pro, Premium, and Enterprise plans. Go at your own pace and discover all the functionalities without restrictions using our Free tier. But keep in mind, that you can always enhance your experience by upgrading and enjoying extra benefits!
Can I add a call-to-action button to the Popup widget?
Definitely! Here's what to do:
Launch the Popup builder.
Go to the "Blocks" menu.
Add the "Button" block.
Arrange a call-to-action message, click functionality, and visuals.
What email integrations or tools does the Squarespace widget support?
The key feature of this Squarespace widget is its synchronization ability with third-party apps, including Mailchimp, Zapier, and Google Sheets. You can go above and beyond and be confident that no gathered data is lost.
Where can I add the Banner Popup on my Squarespace?
This choice rests with you. No strict requirements need to be followed. However, ensure that it makes sense and is strategically positioned in a high-traffic area, such as the main page or product page.
How to customize the Banner Popup?
Endless opportunities await-tailor the visuals of the whole widget to mirror your brand norms and drive conversions quickly:
Popup specifics
You can stack elements and create a constructor of unlimited content blocks: title, text, CTA button, link, coupon, form, image, and video. Furthermore, for a more visually appealing appearance, you can incorporate gaps, separators, and custom HTML and iFrame fields.
Display settings
Elfsight presents three settings: frequency, pages, and devices. Outline all the necessary criteria to maintain a high standard.
Custom elements and features
And yet, you still have plenty of features left to unlock: triggers, custom CSS, custom JS, redirect link, layouts, close buttons, background visuals, alignments, and so on.
For more clarification, reach out to our Support Team to handle any questions and prevent confusion in the future!
Help with Banner Popup Setup and Website Installation
If you find yourself in need of more details on the widget templates or guidance, peruse these resources:
Support
For any unresolved issues, we suggest you reach out to the Elfsight Support Team or search for related topics in the Help Center.
Forum
Connect with like-minded professionals and join ongoing events within our dedicated community for extra assistance.
Wishlist
Suggest your fresh concepts, functionalities, and widgets via the Wishlist.