Squarespace E-commerce Popups for website
Skyrocket your marketing efforts and unleash the true potential of the Squarespace website with the E-commerce Popups templates now. Discover the carefully curated collection of popup designs for every situation to boost sales: promotional coupons, welcoming, shipping alerts, discounts, and many more. Set yourself apart from other online sellers and embody the mantra of prioritizing quality above all else!
Create a popup template and encourage online shoppers to complete their purchases.
Create an attractive popup widget to prompt users to add items to their carts with a few clicks.
Add a popup template to your website and offer exclusive coupon codes or discounts to online shoppers.
Add a discount popup to your website to draw attention and motivate users to make a purchase.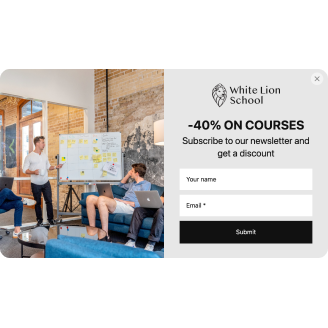 Create an engaging popup widget and start offering the best deal for your online customers.
Create loyalty among the website customers by giving away exclusive Amazon discounts with this popup.
Add a popup widget on your web page to boost the average order value and double the outcome.
Create a popup template to give the best product recommendations for online customers.
Adding a popup widget is the best for personalizing the shopping with tailored product suggestions.
Create a popup template to increase your average order value and upsell complementary products.
Create long-term relationships with your customers by embedding an easy-to-use popup widget.
No Suitable Template?
You can easily assemble the widget you need using our simple-to-use configurator.
Why are Elfsight Squarespace E-commerce Popups the best?
Direct your focus towards the appropriate demographic, stoke the audience's intrigue, and make them fall in love with your business using Elfsight's E-commerce Popups templates. Craft a
Popup widget
that truly represents your brand's identity with a powerful core message that resonates and a wide range of visually personalized elements. No more need for coding background or any design skills to install the widget-simply tweak it accordingly, obtain the installation code, and integrate it into the Squarespace website.
Isn't it hassle-free?
Start spreading the word, igniting demand, and taking control of your promotional initiatives for special occasions or recent sales!

Squarespace E-commerce Popups Features and Integrations
12 Customizable Content Elements
Email Notifications via Form Submission
Form with 5000+ Integrations
Modal, Slide-in, Pane Layout Styles
Sticky Popup Opening Button
Adjustable Frequency Display Setting
Exclude or Specify Pages for Displaying
Auto-Opening Trigger after Time Spent
Scroll Trigger On-Element or On-Click
Set Up Popup for Multiple Mobile Devices
Coupon & Redirect Link Creation
Page-Speed Friendly Lazy Loading
Translation to Any Language
How to create E-commerce Popups template for Squarespace website
To create the E-commerce Popups widget for your Squarespace website, you should complete the following steps:
Pick the most desirable E-commerce Popups template.
Click on the "Live Preview" option.
Personalize the elements and features to align with your branding goals.
Log in to your Elfsight admin panel.
Receive the installation code.
Need any additional help? Contact the specialists from the Help Center.
How to add E-commerce Popups to Squarespace website
In order to incorporate the E-commerce Popups into your Squarespace web page, follow these steps:
Log in to your Elfsight account.
Receive the personalized setup code.
Navigate to your Squarespace site editor.
Insert the code and save the changes. That's it!
If you still need help, contact the Elfsight Support Team or take a look at our blog post for guidance on how to embed the Popup widget on a website.
FAQ
Can I embed the E-commerce Popups without coders?
Yes! With Elfsight, you don't need to have any coding skills or dependence on a third-party support to help you install the plugin. Meaning, you can add the E-commerce Popups with the generated code provided by our team.
What kind of triggers can I set to the popup widget?
With the Popup plugin, you are given the flexibility to adopt a personal approach with its broad set of trigger choices: when the page loads, after a specific amount of time spent on a page, while scrolling, on scroll to element, on click, and on exit intent. It all boils down to your business needs and preferences!
What website builders and CMS are compatible with the E-commerce Popups besides Squarespace?
Almost all websites are compatible with our plugins.
What details can I include in the E-commerce Popups?
Stay focused on the E-commerce Popups template and allow yourself the space and time to address all the key factors-add several promotional text blocks, append the promo code, incorporate a persuasive call-to-action button, and ensure the presence of visuals.
Can I sync my popup with other integrations?
Definitely! All you need to do is follow these guidelines:
Open the Popup builder.
Find the "Builder" menu choice.
Add a new "Form" block or make edits to the existing one.
Continue scrolling downwards until you discover the "Integrations" tab, then select it.
Select the integration option-Mailchimp, Google Sheets, or Zapier-and proceed with the additional on-screen guidelines.
On what Squarespace website pages can I add the E-commerce Popups?
There are no rigid rules regarding where to place the plugin. It's all up to your choices and decisions. As an example, you can explore the most common alternatives: the main page, contact information page, and merchandise page.
What kind of display settings does the widget support?
The E-commerce Popups templates provide you with three configurable display options: frequency, pages, and devices. When it comes to frequency conditions, the popup number displayed goes under your specific business requirements. The same level of customization applies to pages and devices-you can choose to exclude or include them as you want. The point is you have the advantage of complete customization and maintaining your branding norms.
Can I customize the E-commerce Popups template for Squarespace websites?
Certainly! You have the flexibility to try out tons and tons of custom elements and freely available features to uncover what works best-whether it's backdrop imagery, layout formats, paddings, or precise positioning.
Do the E-commerce Popups templates work on mobile devices?
Yes, the Popup templates take into account this essential aspect to offer a top-notch user experience. No matter the gadget-whether it's a smartphone, pc, laptop, or tablet-this Squarespace plugin is compatible with mobile format.