Squarespace Subscription Popups for website
Enhance your followership using our coding-free Subscription Popups templates made for Squarespace websites. Whether you prefer the sleek Email Capture Popup or the elegant Ebook Popup, we have the comprehensive collection of ready-to-use solutions to suit any situation. Customize it to match the brand, embed it effortlessly on the website, and watch your email list grow!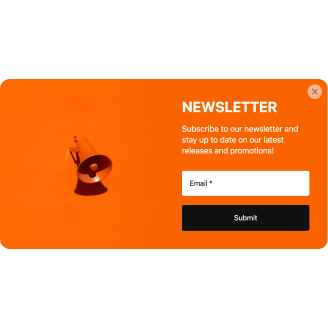 Adding a popup widget to your website can help you see the newsletter subscriber count soar for sure.
Add a popup template to promote your latest E-book or valuable content in an attractive and engaging way.
Adding a popup widget is the best way to grow your email list and capture potential leads.
Create a popup widget and take your email marketing strategy to the next level.
Add a popup template on the website and welcome visitors to join your exclusive community.
Create a popup widget to maximize your email marketing efforts and grow newsletter subscriber numbers in no time.
Creating an increased reader engagement for the latest news is super easy with the website popup template.
Create the best way to expand the mailing list and encourage website users to follow each step of your brand with this template.
No Suitable Template?
You can easily assemble the widget you need using our simple-to-use configurator.
Why are Elfsight Squarespace Subscription Popups the best?
Direct your efforts towards the ideal target market, stoke the audience's intrigue, and captivate them with your business using Elfsight's Subscription Popups templates. Design a
Popup widget
that truly represents your brand's essence using a core message and a wide array of custom visual elements. Say goodbye to the necessity of the coding knowledge or any design skills to embed the widget-simply fine-tune, get the installation code, and integrate it into the Squarespace website.
Doesn't it sound simple?
Start spreading the word, igniting demand, and taking charge of your marketing initiatives for special occasions or recent sales!

Squarespace Subscription Popups Features and Integrations
Form Fill-Out Email Alerts
5000+ Data Export Integrations
Modal, Slide-in, Pane Layout Designs
Engaging Popup Opening Button
Frequency Popup Display Settings
Exclude or Specify Pages for Displaying
Auto-Opening Trigger after Time Spent
Scroll Trigger On-Element or On-Click
Set Up Popup for Multiple Mobile Devices
Coupon Code & Redirect Link Creation
Page-Speed Friendly Lazy Loading
How to create Subscription Popups template for Squarespace website
To create the Subscription Popups plugin for your Squarespace website, you can simply follow these steps:
Select the most desirable Subscription Popups template.
Press the "Live Preview" option.
Modify the elements and features to align with your branding goals.
Verify your Elfsight account.
Obtain the installation code.
Looking for extra help? Get in touch with the specialists from the Help Center.
How to add Subscription Popups to Squarespace website
In order to embed the Subscription Popups on your Squarespace web page, check out this guide:
Sign in to your Elfsight profile.
Receive the unique installation code.
Open your Squarespace site editor.
Insert the code and save your edits. All set!
Please, feel free to ask the Elfsight Support Team for further help or take a look at our blog post on how to embed the Popup widget on a website.
FAQ
Can I embed the Subscription Popups without coders?
Yes, certainly! With Elfsight, you don't need to know how to code or have an external application to help you install the plugin. As a result, you can embed the Subscription Popups with the auto-generated code from our team.
What kind of triggers can I set to the popup widget?
The Popup widget strives to aid you in taking a customized tactic by making use of a versatile selection of trigger choices: upon page load, after a specific amount of time spent on a page, on scroll, on scroll to element, upon click, and on exit intent. Your business needs and preferences dictate the choice that aligns perfectly with your goals!
What website builders and CMS are compatible with the Subscription Popups besides Squarespace?
99.9% of websites are supported by our widgets.
What details can I include in the Subscription Popups?
Ensure the Subscription Popups template remains on track while giving yourself the flexibility to address all the essential factors-insert several marketing content blocks, append the discount code, include a CTA button, and ensure the presence of visuals.
Can I sync my popup with other integrations?
Absolutely, you can! Follow these steps:
Access the Popup builder.
Navigate to the "Builder" menu tab.
Add a new "Form" block or edit the current one.
Keep scrolling until you spot the "Integrations" tab, then click on it.
Opt for the integration-Mailchimp, Google Sheets, or Zapier-and proceed to follow the additional directions on the screen.
On what Squarespace website pages can I add the Subscription Popups?
When it comes to plugin position, there are no fixed guidelines. It solely depends on what you prefer. Some common alternatives are the main page, contact section, or product overview page.
What kind of display settings does the widget support?
Our Subscription Popups templates have three options for displaying: frequency, pages, and devices. By setting frequency conditions, the amount of popups shown goes under your unique business requirements. The same is true for pages and devices-exclude or include ones as per your choice. The main benefit is you have the freedom to personalize the entire process and maintain your branding standards.
Can I customize the Subscription Popups template for Squarespace websites?
Certainly! You can venture into countless personalized elements and freely available features to discover the ideal solution-from the background visuals and layout styles to the paddings and accurate gaps.
Do the Subscription Popups templates work on mobile devices?
Yes, certainly, the Popup templates embody this fundamental factor to ensure an outstanding user experience. Regardless of the device used-the smartphone, desktop, laptop, or tablet-this Squarespace tool is optimized to be mobile responsive, ensuring an optimal display.