Wix Banner Popup template
The Banner Popup template is here to create an enduring impression on your Wix website audience. Exhibit captivating promos that immediately engage and initiate your marketing plan: publicize special promotions, announce recent releases, or convey important messages. With simple integration and adaptable features, give it a try now!
Features
12 Customizable Content Elements
Email Notifications via Form Submission
Form with 5000+ Integrations
Modal, Slide-in, Pane Layout Styles
Sticky Popup Opening Button
Adjustable Frequency Display Setting
Exclude or Specify Pages for Displaying
Timed-Display Trigger
Scroll Trigger On-Element or On-Click
Exit Intent Technology
Set Up Popup for Multiple Mobile Devices
CTA Button
Coupon Code & Redirect Link Creation
HTML & iFrame Fields
Image & Video Upload
Optimized for All Mobile Devices
Page-Speed Friendly Lazy Loading
Tech-Free Customization
Language Localization
Custom CSS & JavaScript Editors
Template Catalog
Need a Different Template?
Check out more ready-made templates for any use case or build your own!
Add a text popup to your website and attract attention to special promotions or other relevant events.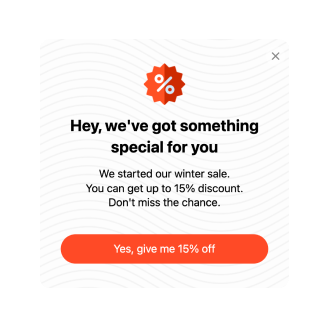 Create mutual trust within your website community and stay connected using this popup widget.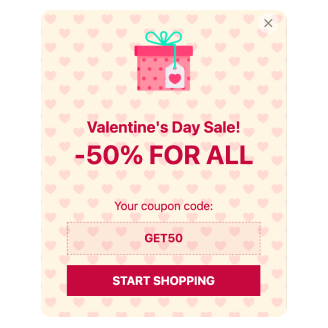 Add a bit of love in the air, show romantic gestures, and boost sales on Valentine's Day with this popup widget.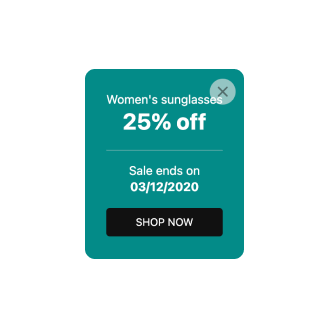 Help your visitors stay up to date with your future events by means of Elfsight Popup.
Add a popup template to your website and inform the users of big announcements and upcoming updates.
Add a professional touch to your website and communicate any terms with this popup template.
Create a popup template and ensure your website audience never misses out on vital details.
No Suitable Template?
You can easily assemble the widget you need using our simple-to-use configurator.
Here's what people say about Elfsight Popup widget
I've been actively employing the Popup widget for a few weeks now, and I must say it's been a top-notch journey. Without any tech knowledge, Elfsight allows me to build a plugin that I can effortlessly integrate into client websites to address the required functions.
The convenience of designing customized widgets has rescued me from the time-consuming task of programming various components on my Wix website. Initially, I expected the product to work without any issues. However, I was truly surprised to receive the exceptional service and support. I highly recommend it!
I have embedded the Banner Popup on my website, and the experience has been problem-free. I must say, the customer service has left me genuinely satisfied. They've proven to be so informative with any questions I've had and delivered answers within a short span of time.
FAQ
How to create the Banner Popup template for the Wix website?
To create the Banner Popup for your website, follow these steps:
Open the Banner Popup template.
Modify the elements and features to satisfy your brand vision.
Authorize your Elfsight admin panel.
Get the installation code.
How to add the Banner Popup template to the Wix website?
To embed the Banner Popup on your Wix website, follow these instructions:
Personalize the look of the Popup widget to complement the design choice of your website.
Log in to your Elfsight dashboard or register a free account.
Obtain the generated embedding code.
Go to your website.
Paste the code into your website builder. You're all set!
For additional details, we suggest reading our blog article on how to embed Popup on a website.
Do I need to have coding or programming skills to embed the Banner Popup?
No, you're not obliged to have them. Proficiency in coding is not required. You can build and add the Banner Popup to your website, regardless of your familiarity or experience in coding.
Can I set up the popup to open automatically?
You can definitely do this. Pick a trigger while designing the Banner Popup template to showcase it at the appropriate time on your Wix website. Here are the options you have: on-page load, within a specific time spent on a page, on scroll, on scroll to element, on click, and on exit intent.
Can I use the Banner Popup template for free?
Absolutely. There is no need to hurry and start with the paid choices straightaway. Elfsight uses a tiered subscription system that consists of Free, Basic, Pro, Premium, and Enterprise plans. Take your own time and discover all the features without limitations with our Free tier. But keep in mind, that there is always a chance to upgrade and access extra perks!
Can I add a call-to-action button to the Popup widget?
Absolutely, you can! To do so, follow these steps:
Open the Popup configurator.
Go to the "Blocks" menu option.
Add the "Button" element.
Set up a call-to-action message, click behavior, and visuals.
What email integrations or tools does the Wix widget support?
One of the greatest advantages of this Wix widget lies in its capability to seamlessly connect with third-party applications such as Mailchimp, Zapier, and Google Sheets. You can go above and beyond and be confident of not losing any captured data.
Where can I add the Banner Popup on my Wix?
It is fully your decision to make. There are no set regulations to follow. Just ensure that it makes sense and is positioned in a highly prominent spot, such as the homepage or product page.
How to customize the Banner Popup?
Endless customization options-tailor the visual presentation of the entire widget to mirror your brand principles and increase conversions quickly:
Popup details
You can stack elements and build an extensive structure of content blocks: title, text, call-to-action button, link, discount voucher, form, image, and video. Additionally, to optimize visual aesthetics, you can include spacing, dividers, and custom HTML and iFrame fields.
Display settings
Elfsight presents three settings: frequency, pages, and devices. Clearly outline all the requirements to ensure optimal performance.
Custom elements and features
And there's still plenty to unlock: triggers, custom CSS, custom JS, redirect link, layouts, close buttons, background visuals, alignments, and so on.
To avoid confusion and issues, get in touch with our Support Team to resolve any questions!
Help with Banner Popup Setup and Website Installation
For further info on the widget templates or guidance, we suggest using the following resources:
Support
For any unresolved problems, we advise you to get in touch with the Elfsight Support Team or explore relevant posts in the Help Center.
Forum
Connect with business peers and join ongoing events in our dedicated community for additional support.
Wishlist
Feel free to suggest creative ideas, functionalities, and widgets using the Wishlist.