Shopify Banner Popup template
Set a memorable tone for your audience and use the Banner Popup template for the Shopify website. Share captivating advertisements that instantly grab attention and jumpstart your promotional initiative: highlight exceptional bargains, introduce novel items, or communicate vital updates. Give it a go, explore several integration options, and find out tons of customizable settings!
Features
12 Custom Content Blocks
Mailchimp Email Notifications
5000+ Data Export Integrations
Modal, Slide-in, Pane Layout Designs
Engaging Popup Opening Button
Adjustable Frequency Display Setting
Exclude or Specify Pages for Displaying
Auto-Opening Trigger after Time Spent
Scroll Trigger On-Element or On-Click
Exit Intent Support
Set Up Popup for Multiple Mobile Devices
CTA Button
Coupon Code & Redirect Link Creation
HTML & iFrame Fields
Image & Video Upload
Mobile Optimized
Page-Speed Friendly Lazy Loading
Tech-Free Customization
Multiple Languages Translation
Custom CSS & JS Editors
Template Catalog
Need a Different Template?
Check out more ready-made templates for any use case or build your own!
Add a discount popup to your website to draw attention and motivate users to make a purchase.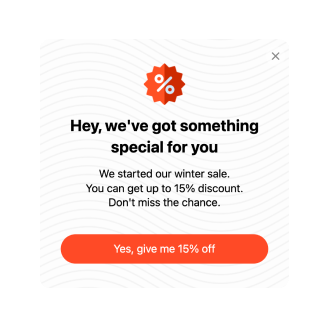 Create mutual trust within your website community and stay connected using this popup widget.
Create a maximum customer engagement with push notifications using this popup widget.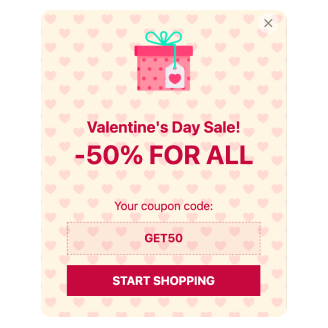 Add a bit of love in the air, show romantic gestures, and boost sales on Valentine's Day with this popup widget.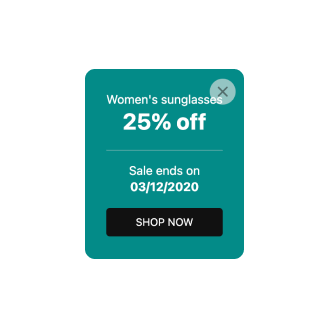 Help your visitors stay up to date with your future events by means of Elfsight Popup.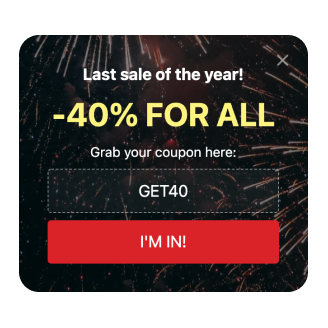 Adding a popup template can help you make the most out of the new year's enthusiasm and fuel the sales.
Create buzz around new product launches with this popup template for websites.
No Suitable Template?
You can easily assemble the widget you need using our simple-to-use configurator.
Here's what people say about Elfsight Popup widget
I have had the pleasure of utilizing the Popup widget for a couple of weeks now, and I can honestly say it has been the finest experience. With zero coding skills, Elfsight enables me to create a plugin that I can seamlessly install on client websites to fulfill the necessary tasks.
The user-friendly interface for designing personalized widgets has saved me from the time-consuming task of writing code for certain elements on my Shopify website. Initially, I had high expectations for the flawless performance of the product. But the top-notch service and support I received surpassed everything. I recommend it!
The Banner Popup has been successfully embedded on my website with no glitches encountered. I'm genuinely impressed by the help offered by the customer service team. They've proven to be incredibly informative, swiftly answering all my inquiries within a matter of hours.
FAQ
How to create the Banner Popup template for the Shopify website?
If you want to create the Banner Popup for your Shopify website, perform the following steps:
Select the Banner Popup template.
Personalize the elements and features to match your branding.
Verify your Elfsight account.
Receive the installation code.
How to add the Banner Popup template to the Shopify website?
If you wish to embed the Banner Popup on your Shopify website, take the following steps:
Personalize the look of the Popup widget to your taste.
Sign in to your Elfsight dashboard or create a free account.
Get the unique embedding code.
Go to your website.
Put the code into your website editor. You're all done!
To gain a comprehensive understanding, we recommend reading our post about how to embed Popup on a website.
Do I need to have coding or programming skills to embed the Banner Popup?
Not at all. There is no requirement for any coding skills whatsoever. You can easily build and embed the Banner Popup on your website without any specialized background or prior knowledge.
Can I set up the popup to open automatically?
You can definitely do this. In the building mode, choose a trigger that will ensure the Banner Popup template appears at the precise moment on your Shopify website. You can try multiple choices: on-page load, within a specific time spent on a page, on scroll, on scroll to element, on click, and on exit intent.
Can I use the Banner Popup template for free?
Definitely. There is no hurry to jump straight into the paid choices straightaway. Elfsight operates on a tiered subscription model that includes Free, Basic, Pro, Premium, and Enterprise plans. Take your own time and explore all the features without limitations with our Free tier. Just remember, you can always upgrade and gain access to extra perks!
Can I add a call-to-action button to the Popup widget?
Certainly! All you have to do is follow these guidelines:
Open the Popup editor.
Locate the "Blocks" menu tab.
Insert the "Button" element.
Define a call-to-action message, click action, and visual display.
What email integrations or tools does the Shopify widget support?
One of the primary perks of this Shopify widget lies in its ability to seamlessly sync with external applications like Mailchimp, Zapier, and Google Sheets. Feel free to go out of your way and be confident of not losing any gathered data.
Where can I add the Banner Popup on my Shopify?
The decision is in your hands. There aren't any specific guidelines to meet. Just make sure it is logical and placed in the most commonly visited area, like the homepage or product page.
How to customize the Banner Popup?
Wide-ranging options are available-personalize the entire widget's look to align with your brand ethics and achieve rapid conversion growth:
Popup details
You have the option to layer things up and build an extensive structure of content blocks: header, text, call-to-action button, redirect link, discount voucher, form, image, and video. Moreover, for an improved visual appeal, you can include spacing, dividers, and custom HTML and iFrame fields.
Display settings
Elfsight offers three choices: frequency, pages, and devices. Clearly state all the requirements to maintain the desired level.
Custom elements and features
But that's not all, there are still plenty of things to discover: triggers, custom CSS, custom JS, redirect link, layouts, close buttons, background visuals, alignments, etc.
To exclude misunderstandings and problems along the way, reach out to our Support Team to resolve any concerns!
Help with Banner Popup Setup and Website Installation
For additional information regarding the plugin templates or assistance, check out these resources:
Support
In case of any pending matters, we advise you to get in touch with the Elfsight Support Team or find relevant posts in the Help Center.
Forum
Gain further backing from like-minded professionals by engaging in ongoing activities in our exclusive community.
Wishlist
Feel free to submit creative concepts, features, and plugins by using the Wishlist.