Shopify Event Popups for website
Captivate your Shopify website visitors in a way they've never experienced before using our mesmerizing Event Popups templates. Make every occasion shine under a spotlight to grab the ideal amount of attention—effortlessly modify and display the widget to promote, communicate, and invite new people. Browse through our remarkable collection today!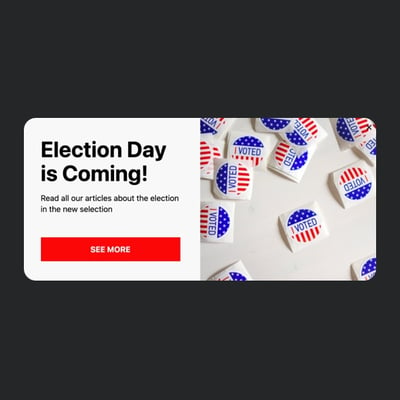 Create an impact during elections or voting events with the coding-free popup template.
Create a sense of urgency and buzz around upcoming events with this popup widget for websites.
Create a popup widget for your website to extend an exclusive invitation to your upcoming event.
Add a popup template to your website and inform the users of big announcements and upcoming updates.
No Suitable Template?
You can easily assemble the widget you need using our simple-to-use configurator.
Why are Elfsight Shopify Event Popups the best?
Target the right target market, ignite the audience's enthusiasm, and make them captivated by your business using Elfsight's Event Popups templates. Craft a
Popup widget
that aligns with your brand's identity with a powerful key message that resonates and a variety of visually customizable elements. Say goodbye to the necessity of the coding background or any design skills to implement the plugin-simply customize, get the installation code, and add it to your Shopify website.
Isn't it as easy as pie?
Start spreading the word, stimulating demand, and becoming the mastermind of your own marketing strategy for special occasions or recent sales!

Shopify Event Popups Features and Integrations
12 Customizable Content Elements
Email Notifications via Form Submission
Modal, Slide-in, Pane Layout Styles
Sticky Popup Opening Button
Frequency Popup Display Settings
Exclude or Specify Pages for Displaying
Auto-Opening Trigger after Time Spent
Scroll Trigger On-Element or On-Click
Set Up Popup for Multiple Mobile Devices
Coupon Code & Redirect Link Creation
Page-Speed Friendly Lazy Loading
How to create Event Popups template for Shopify website
To create the Event Popups widget for your Shopify website, you should complete the following steps:
Choose the Event Popups template that appeals to you the most.
Tap on the "Live Preview" option.
Adjust the elements and features to match your branding.
Log in to your Elfsight admin panel.
Get the installation code.
Need any additional help? Reach out to the experts from the Support Team.
How to add Event Popups to Shopify website
To incorporate the Event Popups into your Shopify web page, follow these steps:
Log in to your Elfsight dashboard.
Extract the personalized installation code.
Go to your Shopify website editor.
Insert the code and save your edits. All set!
For further assistance, contact the Elfsight Support Team or take a look at our blog post on how to embed the Popup widget on a website.
FAQ
Can I embed the Event Popups without coders?
Yes! Elfsight allows you to add the Event Popups widget to your Shopify website without requiring any coding knowledge or an external app. Our team will create a code for you to use.
What kind of triggers can I set to the popup widget?
Enjoy the flexibility of the Popup widget, which empowers you to take a customized approach by leveraging a comprehensive selection of triggers: upon page load, after a specific time spent on a page, while scrolling, on scroll to element, upon click, and on exit intent. It entirely depends on what your business needs and desires!
What website builders and CMS are compatible with the Event Popups besides Shopify?
With a compatibility rate of 99.9%, our widgets are the best solution for almost any website.
What details can I include in the Event Popups?
Stay focused on the Event Popups template and give yourself the space to address all the crucial aspects-add various marketing copy blocks, attach the discount code, include a compelling CTA button, and ensure the presence of visuals.
Can I sync my popup with other integrations?
Yes, you can! Here's what to do:
Access the Popup live demo.
Navigate to the "Builder" menu.
Add a brand-new "Form" block or edit the existing one.
Continue scrolling downwards until you discover the "Integrations" tab, then select it.
Opt for the integration-Mailchimp, Google Sheets, or Zapier-and proceed to follow the additional instructions shown on the screen.
On what Shopify website pages can I add the Event Popups?
Positioning the plugin doesn't require any set rules. It primarily depends on your liking. You have the flexibility to use it at the most popular alternatives: the homepage, contact section, and product page.
What kind of display settings does the widget support?
With the Event Popups templates, you have access to three display options: frequency, pages, and devices. The frequency setting allows you to have the flexibility to adjust how often popups appear to perfectly suit your unique business decisions. Similarly, you can make choices regarding the inclusion or exclusion of pages and devices. The point is you have full control over the entire process ensuring it reflects your branding norms.
Can I customize the Event Popups template for Shopify websites?
Yes, you can! You have the flexibility to experiment with a plethora of customized elements and royalty-free attributes to identify the most effective approach-from the background imagery and layout designs to the paddings and precise positioning.
Do the Event Popups templates work on mobile devices?
Yes, the Popup templates take care of this crucial aspect to offer a high-quality user experience. Regardless of the device-the smartphone, computer, laptop, or tablet-this Shopify plugin shows off as a mobile-friendly application.