WooCommerce Message Popup template
Supercharge your WooCommerce store's performance with our powerful Message Popup template. Take hold of your audience's interest with a customized message or promotion presented at the ideal moment. Easy integration and comprehensive customization over appearance and functionality make it a requisite app for every entrepreneur.
100% WooCommerce compatible
Features
12 Customizable Content Elements
Email Notifications via Form Submission
5000+ Integrations
Customizable Modal, Slide-in, Pane Layouts
Sticky Popup Opening Button
Frequency Popup Display Settings
Exclude or Specify Pages for Displaying
Timed-Display Trigger
Scroll Trigger On-Element or On-Click
Exit Intent Trigger
Set Up Popup for Multiple Mobile Devices
Call-to-Action Button
Coupon & Redirect Link Creation
HTML & iFrame Fields
Image & Video Upload
Optimized for All Mobile Devices
Page-Speed Friendly Lazy Loading
Free-Coding Editor
Language Localization
Custom CSS & JavaScript Editors
Template Catalog
Need a Different Template?
Check out more ready-made templates for any use case or build your own!
Add an extra level of trust and contribution to your terms and conditions with this popup widget.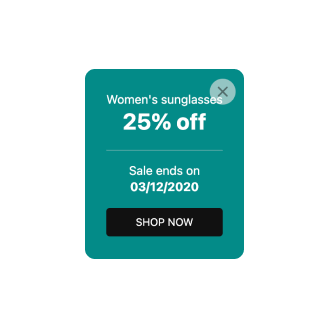 Help your visitors stay up to date with your future events by means of Elfsight Popup.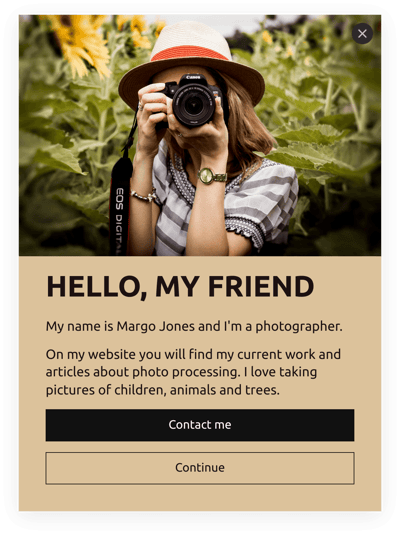 Create a heart-warming first impression and engage new visitors with the welcoming popup.
Add a popup template to your website and inform the users of big announcements and upcoming updates.
Add a professional touch to your website and communicate any terms with this popup template.
Create a popup template and ensure your website audience never misses out on vital details.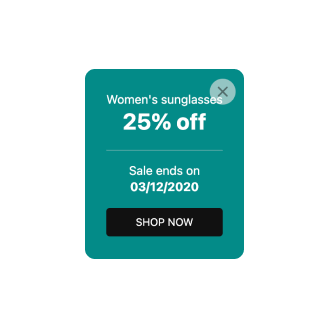 Create a notification widget to display time-sensitive messages and boost website conversion.
Add a popup template to enhance user interaction on your website and gather feedback.
No Suitable Template?
You can easily assemble the widget you need using our simple-to-use configurator.
Here's what people say about Elfsight Popup widget
Over the past few weeks, I have been using the Popup widget, and I cannot emphasize enough how phenomenal it has been. Elfsight empowers me to create a plugin without the need for any programming expertise, which I can effortlessly integrate into client websites to address the required tasks.
The ease of use for creating personalized widgets has been a time-saver as I no longer need to manually write code for various elements on my WooCommerce website. Initially, I had high expectations for the seamless performance of the product. Nevertheless, the exceptional level of service and support I received took me by surprise. I highly recommend their services!
I have added the Message Popup to my website with no difficulties to report. I must say, the customer support has left me really impressed. They've been extremely helpful, promptly responding to all my inquiries within hours.
FAQ
How to create the Message Popup template for the WooCommerce website?
To create the Message Popup for your website, follow these steps:
Access the Message Popup template.
Personalize the elements and features to fit your branding.
Sign in to your Elfsight dashboard.
Receive the installation code.
How to add the Message Popup template to the WooCommerce website?
If you wish to add the Message Popup to your WooCommerce website, take these steps below:
Customize the appearance of the Popup widget to match your taste.
Sign in to your Elfsight dashboard panel or set up a free profile.
Obtain the unique embedding code.
Access your website.
Put the code into your website builder. You're all done!
For additional details, we suggest reading our blog article about how to embed Popup on a website.
Do I need to have coding or programming skills to embed the Message Popup?
No. There is no requirement for any coding skills in any way. You can create and embed the Message Popup on your website without any specialized background or experience.
Can I set up the popup to open automatically?
Of course, you can. In the building mode, pick a trigger to display the Message Popup template at the right moment on your WooCommerce website. You can try multiple alternative choices: on-page load, within a specific time spent on a page, on scroll, on scroll to element, on click, and on exit intent.
Can I use the Message Popup template for free?
Of course. There is no chase to jump right into the paid alternatives straightaway. Elfsight employs a tiered subscription system that includes Free, Basic, Pro, Premium, and Enterprise plans. Take your own time and enjoy exploring all the functionalities without limitations using our Free tier. But keep in mind, that upgrading and unlocking additional extras is always an option!
Can I add a call-to-action button to the Popup widget?
Absolutely, you can! Just follow these steps:
Access the Popup builder.
Locate the "Blocks" menu.
Include the "Button" element.
Set up a call-to-action message, click behavior, and appearance.
What email integrations or tools does the WooCommerce widget support?
One of the primary perks of this WooCommerce widget is its ability to link with external applications such as Mailchimp, Zapier, and Google Sheets. You can proactively make sure and be confident that no captured data is lost.
Where can I add the Message Popup on my WooCommerce?
It's up to you to decide. There aren't any fixed requirements to adhere to. Just ensure it is logical and strategically placed in a high-traffic zone, like the homepage or product page.
How to customize the Message Popup?
Wide-ranging options are available-personalize the visual presentation of the whole widget to reflect your brand principles and boost conversions quickly:
Popup details
You have the option to stack elements and create an array of limitless content blocks: header, text, call-to-action button, link, discount voucher, form, image, and video. Moreover, for a more visually appealing appearance, you can insert spacing, separators, and custom HTML and iFrame fields.
Display settings
Elfsight presents three options: frequency, pages, and devices. Define all the criteria to maintain the set quality level.
Custom elements and features
And there's still plenty to discover: triggers, custom CSS, custom JS, redirect link, layouts, close buttons, background visuals, alignments, and so on.
To avoid misunderstandings and issues, get in touch with our Support Team to address any queries!
Help with Message Popup Setup and Website Installation
For additional info on the widget templates or assistance, we recommend exploring the following options:
Support
If there are any unresolved issues, we recommend you to contact the Elfsight Support Team or browse relevant posts in the Help Center.
Forum
Connect with like-minded business owners and participate in ongoing events in our exclusive community for extra support.
Wishlist
Feel free to share creative ideas, features, and plugins with us by using the Wishlist.