WordPress Message Popup template
Enhance your WordPress website's performance with our versatile Message Popup template and boost conversions in split seconds! Grab your audience's focus with a tailored message or proposal exhibited at the right moment. User-friendly integration and complete mastery over design and function make it a necessary tool!
100% WordPress compatible
Features
12 Custom Content Blocks
Form Fill-Out Email Alerts
Form with 5000+ Integrations
Modal, Slide-in, Pane Layout Styles
Engaging Popup Opening Button
Adjustable Frequency Display Setting
Exclude or Specify Pages for Displaying
Timed-Display Trigger
Scroll Trigger On-Element or On-Click
Exit Intent Technology
Set Up Popup for Multiple Mobile Devices
Call-to-Action Button
Coupon & Redirect Link Creation
HTML & iFrame Fields
Image & Video Upload
Mobile-Friendly
Page-Speed Friendly Lazy Loading
Free-Coding Editor
Translation to Any Language
Custom CSS & JavaScript Editors
Template Catalog
Need a Different Template?
Check out more ready-made templates for any use case or build your own!
Add a text popup to your website and attract attention to special promotions or other relevant events.
Add a professional touch to your website and communicate any terms with this popup template.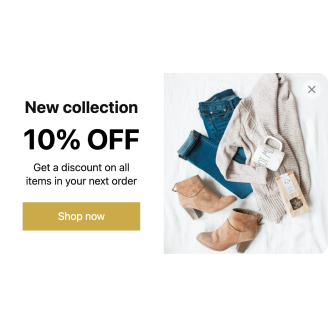 Add a popup widget to promote your special offers, discounts, or announcements with an eye-catching banner.
Create buzz around new product launches with this popup template for websites.
Create a maximum customer engagement with push notifications using this popup widget.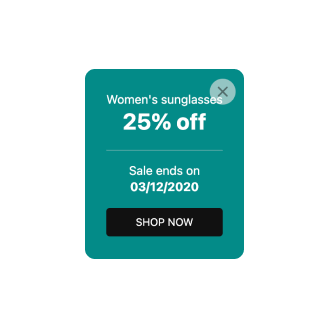 Help your visitors stay up to date with your future events by means of Elfsight Popup.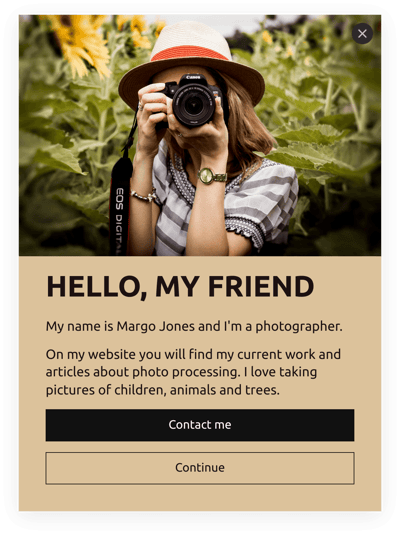 Create a heart-warming first impression and engage new visitors with the welcoming popup.
Add a popup template to your website and inform the users of big announcements and upcoming updates.
No Suitable Template?
You can easily assemble the widget you need using our simple-to-use configurator.
Here's what people say about Elfsight Popup widget
Over the course of the past couple of weeks, I have been employing the Popup widget, and I must say it has given me the most exceptional experience. With zero programming skills, Elfsight enables me to create a plugin that I can effortlessly integrate into client websites to cover the needed functions.
The user-friendly interface for creating custom widgets has saved me the valuable time that I spend manually programming specific components on my WordPress website. I expected the seamless functioning of the product. Yet, what pleasantly took me by surprise was the top-notch service and support. I recommend it!
The Message Popup has been successfully added to my website, and I have not encountered any challenges so far. I'm highly amazed with the customer service too. They've proven to be so helpful with any inquiries I've had and answered them within hours.
FAQ
How to create the Message Popup template for the WordPress website?
If you want to create the Message Popup for your WordPress website, perform the following steps:
Open the Message Popup template.
Personalize the elements and features to fit your branding.
Log in to your Elfsight admin panel.
Obtain the installation code.
How to add the Message Popup template to the WordPress website?
To add the Message Popup to your WordPress website, take these steps below:
Personalize the appearance of the Popup widget according to your liking.
Sign in to your Elfsight admin panel or set up a free profile.
Obtain the auto-generated embedding code.
Access your website.
Put the shortcode into your website editor. That's it!
For more information, we advise checking out our blog post on how to embed Popup on a website.
Do I need to have coding or programming skills to embed the Message Popup?
No. There is no requirement for any coding expertise whatsoever. You can easily create and embed the Message Popup on your website, regardless of your familiarity or experience in coding.
Can I set up the popup to open automatically?
Yes, certainly. When you're in building mode, pick a trigger that will ensure the Message Popup template displays at the appropriate time on your WordPress website. Here are the alternatives you have: on-page load, within a specific time spent on a page, on scroll, on scroll to element, on click, and on exit intent.
Can I use the Message Popup template for free?
Definitely. There is no need to rush and start with the paid options straightaway. Elfsight uses a tiered subscription system that offers Free, Basic, Pro, Premium, and Enterprise plans. Take your time and explore all the features without limitations using our Free tier. Just remember, there is always a chance to upgrade and access additional extras!
Can I add a call-to-action button to the Popup widget?
Definitely! Here's how:
Launch the Popup live demo.
Go to the "Blocks" menu.
Include the "Button" element.
Arrange a call-to-action message, click functionality, and visuals.
What email integrations or tools does the WordPress widget support?
The biggest perk of this WordPress widget lies in its synchronization capacity with external apps, including Mailchimp, Zapier, and Google Sheets. Feel free to make an extra effort and be assured that no captured data slips away.
Where can I add the Message Popup on my WordPress ?
It is fully up to you to make this choice. There aren't any fixed guidelines to follow. But ensure that it makes sense and is strategically placed in the highest traffic spot, like the main page or product page.
How to customize the Message Popup?
The world is your playground-tailor the complete widget's appearance to embody your brand principles and achieve rapid conversion growth:
Popup details
You can stack elements and construct an infinite array of content blocks: header, text, call-to-action button, redirect link, coupon, form, image, and video. Also, for a better visual look, you can include spacing, dividers, and custom HTML and iFrame fields.
Display settings
Elfsight provides three choices: frequency, pages, and devices. Clearly outline all the criteria to keep the bar high.
Custom elements and features
And there's still much more to unlock: triggers, custom CSS, custom JS, redirect link, layouts, close buttons, background visuals, alignments, etc.
To exclude misunderstandings and problems, contact our Customer Support Team to handle any questions!
Help with Message Popup Setup and Website Installation
For further information on the widget templates or guidance, we suggest using the following resources:
Support
If you're facing any unresolved issues, we advise you to get in touch with the Elfsight Support Team or explore related topics in the Help Center.
Forum
Find additional assistance from like-minded business owners by engaging in ongoing initiatives within our dedicated community.
Wishlist
Feel free to share fresh concepts, features, and plugins through the Wishlist.