Responsive
Easy-to-use
Coding-free
Online Form Builder
widget for website





















Why do I need Elfsight Form Builder?
Collect more data. Develop business further.
Collect more data from your potential customers
Create user-friendly forms that invite more answers and make every channel of client communication effective
Increase the number of leads
Don't lose leads, but grow their number and motivation with every step they make filling your handy forms
Save your time and money
You only need a single instrument to create diverse data-collecting formats and get more insights from your audience
Join 2,078,753 customers already using Elfsight Apps
Your best start with Online Form Builder for free.
What makes Elfsight Form Builder special?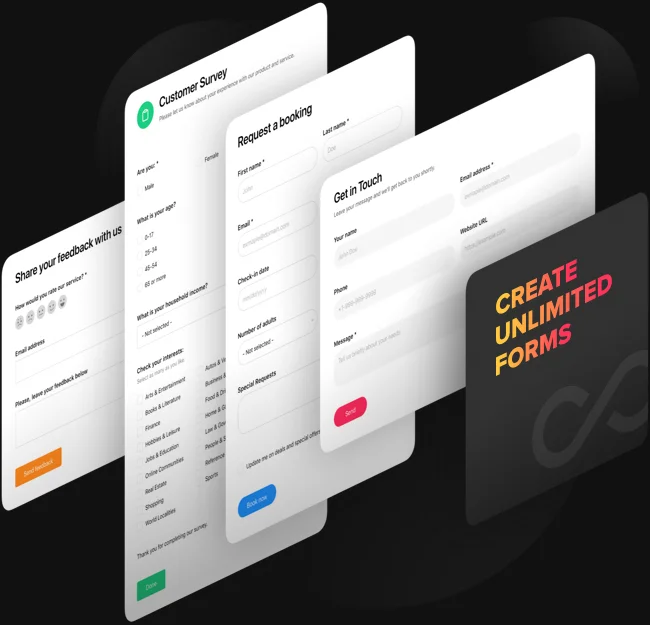 FORM TYPES
Create any form types
Elfsight Form Builder widget is the only thing you need to have all kinds of fill-in forms on your site. We offer a universal tool that has everything to allow you to create a wide range of forms to collect data from your clients. Contact, Feedback form, Survey, Booking form - whatever type you need, be sure that it is supported by our app and it takes seconds to configure it.
Learn more
I easily created a survey form with ratings, a feedback form, and a contact form out of this single app.
Layouts
Position your form effectively
You don't need to rack your brain over the perfect way to place the widget on your page. This website Form Creator widget has three well thought-out layouts: Default and Boxed with adjustable width, for inserting the widget into content areas; and Floating that has an expandable form icon and can be placed to several pages at once. And whatever layout you choose, you are free to break your text into up to three columns.
Learn more
I added my feedback form to each and every page of the site thanks to Floating option. And it helps me get more customer information.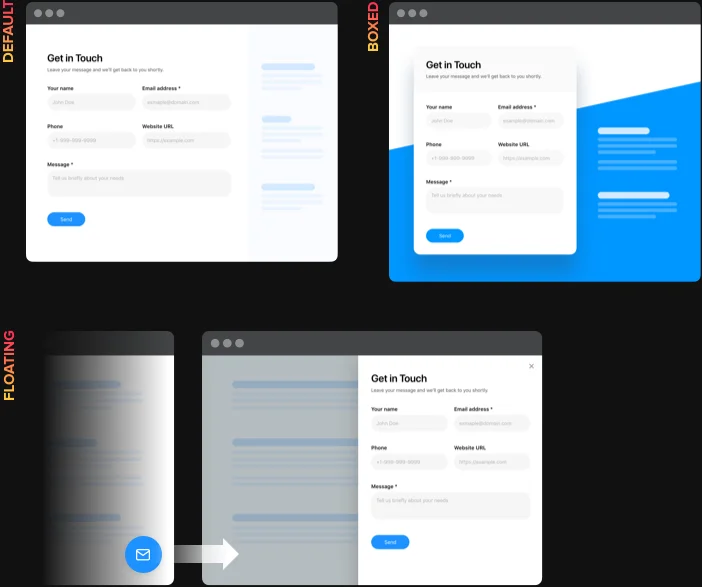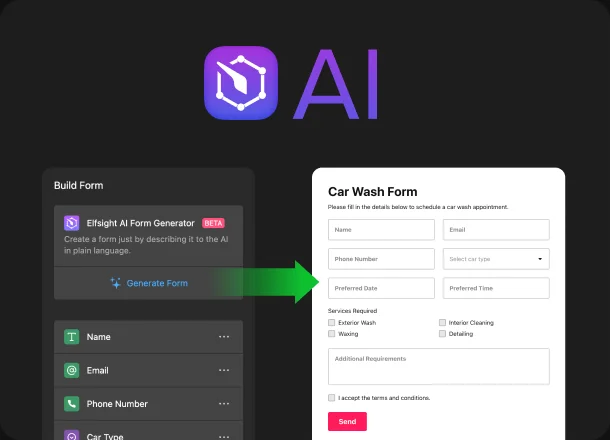 AI FORM GENERATOR
Innovative form creation with Elfsight AI Generator
Elfsight AI Form Generator is a time-saving and innovative feature that implements advanced AI technology to generate personalized forms based on your needs and use cases. Brainstorm an idea, type in a prompt request, and watch how AI creates a tailored form live. This is that simple to keep up with trends!
Learn more
INTEGRATION
Add integrations for even more data efficiency
To handle your data the most effective way, use the widget feature that allows you to add integrations, such as Google Sheets, Mailchimp and Zappier. The integration is one-click, and you only need to authorize to share data between your forms and services. For example, integrating Google Sheets to your Form Builder is an easy way to collect, visualize and analyze user statistics.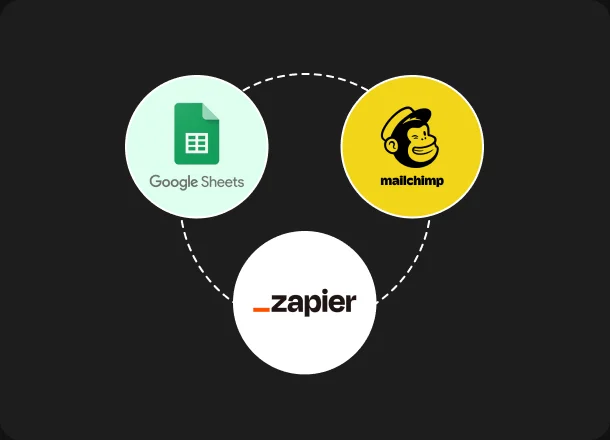 APPEARANCE
Integrate your form into website seamlessly
Getting a balanced look for your widget is a matter of several clicks! Our Online Form Creator offers five ready-to-use style options and custom painting of the interface. Choose the main color and the rest will be automatically painted in the most contrasting tones to make the interface comfortable for users. Don't forget to change the Header: it has editable title and text, and you can also add an icon from our library.
Learn more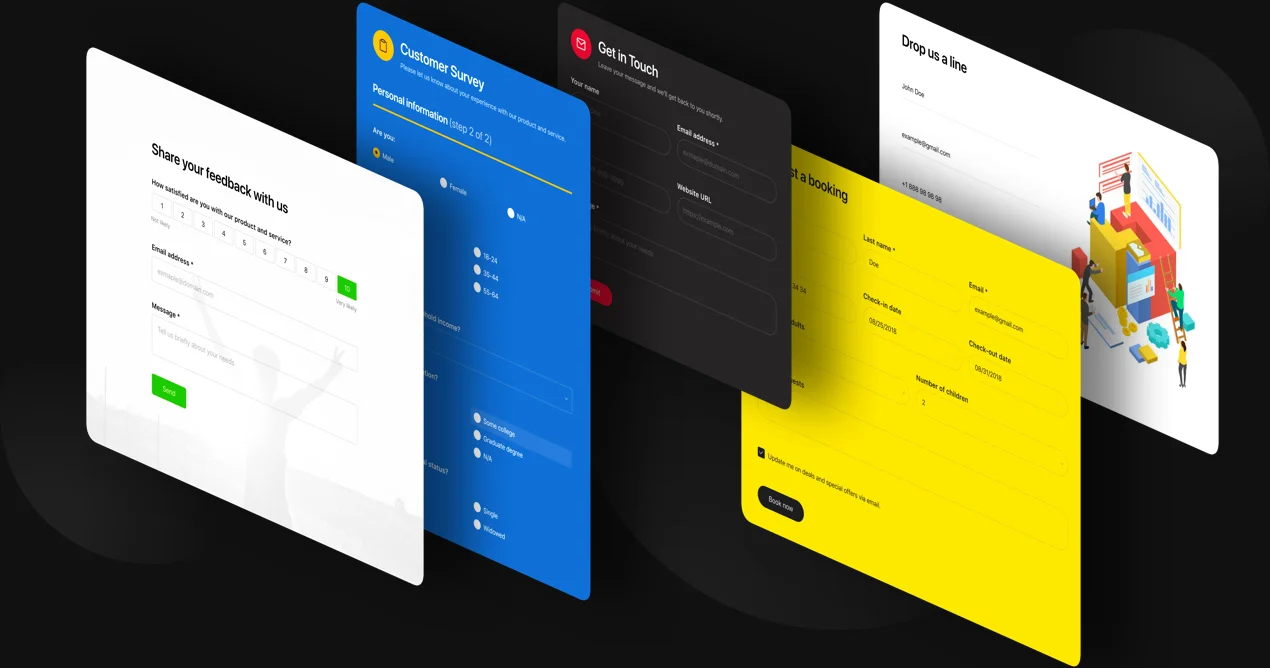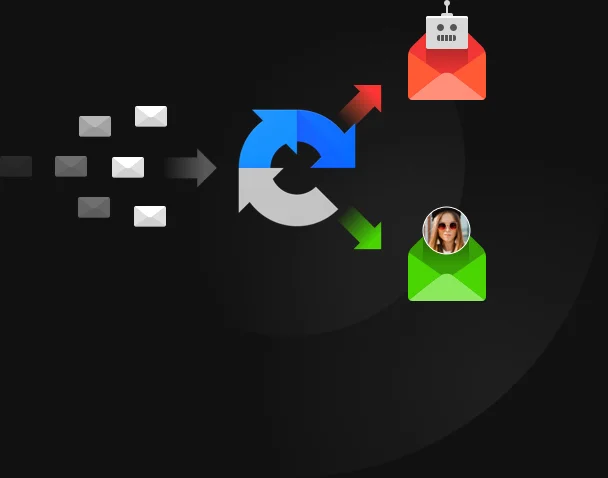 SUBMISSION
Secure and convenient emailing process
Till the very last step, your forms will be handy for users and effective for you. The entered data is saved even after page refreshing with Save progress tool. Your forms and mailbox are protected from spam and bots with reCAPTCHA. And you can choose what will happen after form submission: a Thank you message will appear, the user will be redirected to another page, or the form will be simply hidden.
Learn more
With filling progress saved, users don't need to re-enter the data they already put and it prevents losing contacts.
Usage examples
See a selection of real examples to explore the full potential of Form Builder for your website.
See in action
Live demo
Try all the features of Elfsight Forms in live demo now. No fees. No registration. No coding.
Try now
Why Elfsight widget of all others?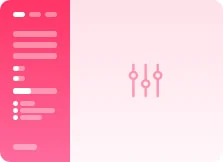 Interactive convenient editor
Using Elfsight's convenient configurator you'll be capable of adjusting and embedding any tool into your website swiftly! No more need to hire a professional developer or learn how to code.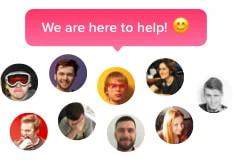 Experienced Elfsight team
Your trouble-free experience is guaranteed by our skilled people. We will be in constant contact to assist you implement responsive widgets on your site.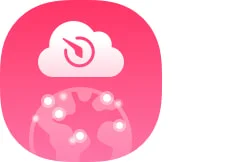 Marvelous Elfsight Apps service
You will regularly receive the latest stable release. Cloud solutions will grant instant bug adjustments and immense loading speed.
What our customers say ❤️
Useful, engaging widget that is absolutely aiding! The installation process takes seconds, and it's super easy to personalize. For me, this is the best online form builder so far. Wonderful customer service too!
I had an issue with this widget builder and couldn't figure out how to solve it. But their team immediately fixed the problem I was having with the Online Form Creator. Everyone was so friendly and supportive. I have to test their other widgets for sure!
Honestly, surprised that this is a free online form builder and SO pleased with the final results. Wonderful product and customer service is very quick, really helpful, and professional. Splendid partner!
I'm obsessed with this free HTML form generator with easy setup and classy design. All I can say is that this company provides helpful widgets, smooth and demonstrates your social influence to get more business. I use it on almost all my web pages.
I've been looking for a generator like this one for a long time, and it saved me a lot of money.The website form creator is very uncomplicated and I am truly in love with it and this is the reason for me I want to write this comment.
Excellent form plugin, easy to customize and in case of any trouble, you will surely get immediate support. Also, there are tons of options, and I don't need to code anything. I am seriously thinking about using all Elfsight plugins.
Frequently Asked Questions
What is a Form Builder?
A Form Builder is a widget which can help you create various filling forms right on the pages of your website. You can use it to collect feedback from your audience or to organize surveys, rating requests, and many more. It will attract potential leads, influence sales increase, and you will get to know your clients to a much higher degree.
The web form generator's main feature is its simplicity in everything. You don't need extra knowledge in programming languages or any other specific skills. This plugin provides you with a unique code that belongs only to you. The one thing that is required from you is to embed the code on your website.
Plus, it has become easier to make custom form structures by utilizing this widget. You can pick whatever design, color scheme, elements, and composition you like. So you know, it all depends on your preferences with this responsive form builder!
Which way to obtain the widget's code?
You can copy the code after building the app, applying the live demo or directly in the Elfsight admin board after registration.
How to add form to any website?
In order to add the forms builder widget, view the steps from the detailed tutorial:
Perform Elfsight editor and start building your own tool.
Customize the app options and click to save the required edits.
Receive your individual code which appears in the popup.
Implement the unique code on your web page and save the page.
You've smoothly implemented the Elfsight tool on your site.
Came across any troubles with the installation? Don't hesitate to get in touch with our client support staff and they'll be delighted to assist.
Is it suitable for my CMS or website builder?
Certainly. Our widgets can be integrated with all popular website builders. Find yours in the list below:
Adobe Muse
,
BigCommerce
,
Blogger
,
Drupal
,
Facebook Page
,
Elementor
,
Joomla
,
jQuery
,
iFrame
,
Magento
,
HTML
,
ModX
,
OpenCart
,
Shopify
,
Squarespace
,
Webflow
,
Weebly
,
Wix
,
WordPress
,
WooCommerce
,
Google Sites
,
GoDaddy
,
Jimdo
,
PrestaShop
.
What are the best ways to use the Online Form Builder?
These are the best ways to use the website form maker:
Embed the form to your web page. In simple words, you need to integrate the form's installation code into your HTML code on the website on any platform.
Share the form via a direct link. You can copy the URL link in the widget editor and share it with anyone you know.
Add the form to the email marketing campaigns.
Add the form to the landing page.
Share a link to the form across your social media platforms. You can include it in a taplink, posts, and stories or send it to direct messages.
You can create a handy contact form featuring text fields for name, email address, phone, website URL, and customer message. Let users reach you in just a few clicks.
What formats can I create with Elfsight Form widget?
Elfsight team has developed a universal tool to enable users to create their own filling forms of various kinds, such as contact us forms, forms for leaving feedback, surveys, order forms, and other custom variants that you may need for your site.Let's take a closer look:
Contact us form. The users submit their personal information and get in touch with you via this form.
Feedback form. This form gathers your clients' opinions about the company, products, services, and branding.
Survey form. This form consists of questions dedicated to a specific group of people. The survey form will work better for you if you need to collect and analyze data.
Order form. Your clients can fill in the form to ask for an individual product or service.
Custom form. You can always create a website form from scratch that will fit your needs perfectly.
Feel free to use any of these forms in your project – they are all available to you by live demo or in your Elfsight admin dashboard after registration!
Can I create a survey form with the help of Elfsight Form Creator?
Sure! You are free to organize a survey with multiple choice questions for your clients or website users. Simply choose the type of selects in the widget's settings. After that, you can create a single or multiple-step form, set up email notifications, build as many pages as you like, and edit questions to fit your topic. You can even add a progress bar and footer. Feel at ease to customize a header, change a layout, and select your favorite color palette!
Will my Feedback forms from Elfsight Form widget be responsive?
Yes, our responsive website form widget is maximum mobile optimized! It allows every user to have a smooth experience, no matter what device they are using, from desktop to mobile. So your Feedback forms will look fantastic no matter what. If you have questions on how to embed the widget or any other related difficulties, our support team is here to guide you.
Where on the website can I place my custom form?
You can insert your form into any page of your website. If you choose Default or Boxed layout, it will be displayed full size, and if you set Floating layout, your form will be displayed as an icon, following visitors' scroll and expanding on click.
Can I divide my questions into categories within the Form Builder widget?
Yes, you are free to create as many categories as you need. Within each group, you can edit the title, choose elements, vary the type of questions and their organization. For example, if this is a survey form, each category will be placed on different pages, and a progress bar will follow the client per step.
Can I alter the placeholders in my website Form Builder?
Yes, in case you need to make any edits to the forms or add fields, you are free to do this via the admin board. Make all the modifications, click the save button and they will be automatically implemented on your website. In case it doesn't work out, address our Support staff.
Is your form creator best for creating custom forms?
Definitely! Our online form creator is the perfect solution for anyone looking to create custom forms for their website. With Elfsight Form Builder, you can easily create and customize forms to fit your specific needs, without any coding or design skills required. And the best part is, our form builder is completely free to use!
Elfsight Form Builder is an online creator that specializes in custom forms for your website. Whether you need a simple contact form, a survey, or something more complex, our form builder makes it easy to create exactly what you need. And with our user-friendly interface, you can design and customize your forms in just a few clicks.
Our form builder is perfect for anyone who needs custom forms for their website, and it's completely free to use! So if you're looking for an online creator that can help you create custom forms quickly and easily, look no further than Elfsight Form Builder.
Join 2,078,753 customers already using Elfsight Apps
Get the taste of 80+ powerful apps by Elfsight. No credit card. Joining is free!