In this editorial we will examine the in-depth manual on how to implement Instagram feed InstaShow on a Weebly website. We will use a fabulous cloud service with ready-made plugins for web platforms –
Elfsight Apps
.
Tune Up Your Own Instagram Widget
Complete several easy steps to embed the widget to the appropriate page of your website. The estimated install time is below 3 minutes.
1. Get an account at Elfsight Apps
• Register or login to Elfsight Apps
At first, to start working with our Elfsight Apps, you have to create an account. Provide us with only true e-mail addresses and passwords to create an account. In case you already have a personal account, please, authorise here.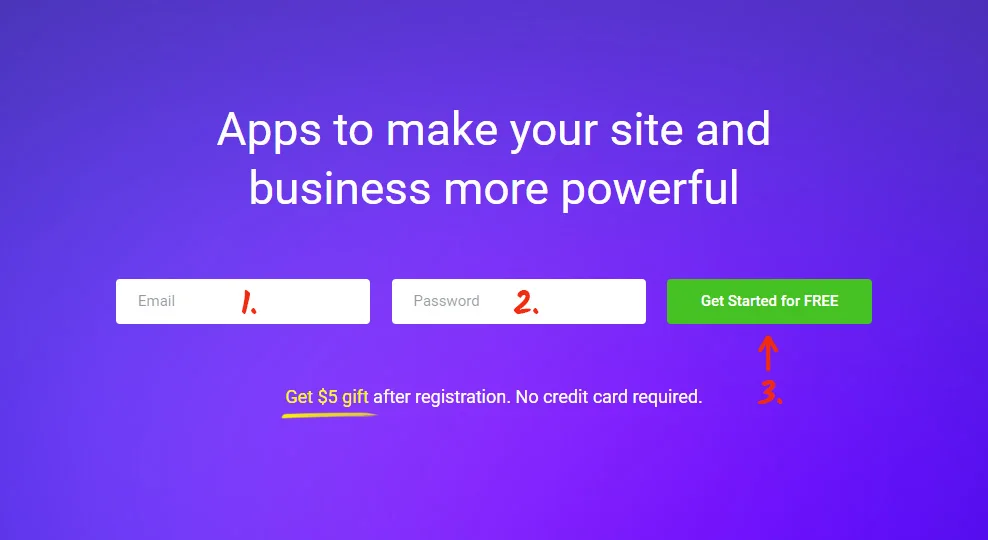 • Select Instagram feed from the plugins catalog
Our platform includes several solutions which will improve online resources. To place Instagram feed to a Weebly website, you should click InstaShow.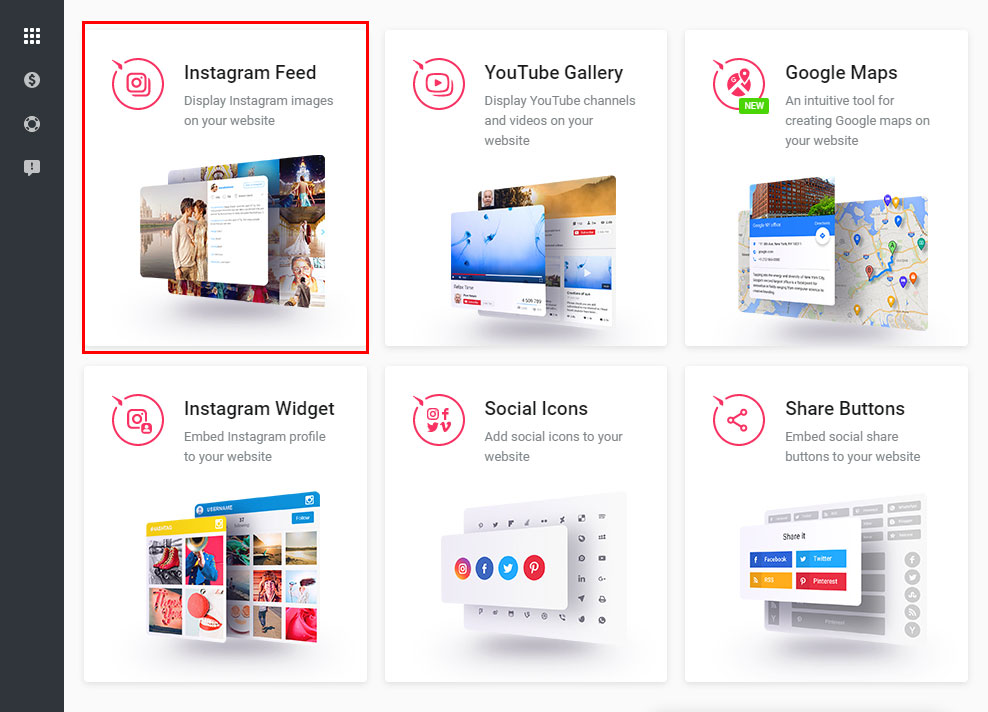 • Adjust the social feed
Configure the design, styles and display configuration to organize the gallery plugin that will correspond to your website.
InstaShow key features:
Infinite number of combinations of Instagram sources (usernames, tags, locations and photo URLs);
Additional source filters;
Capability limit social pictures in the widget;
Cache media time feature;
etc.
You can find all the options at the Instagram Feed page.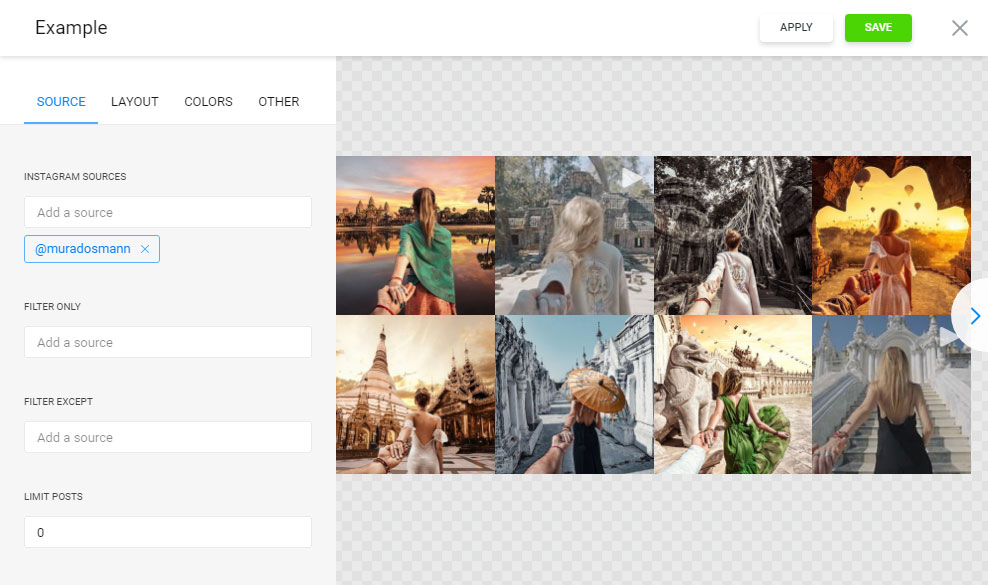 • Choose your subscription
You be able to select the subscription plan in the table that appears. Subscriptions range from free to extened. Consider your own site's popularity and press the "Select" button.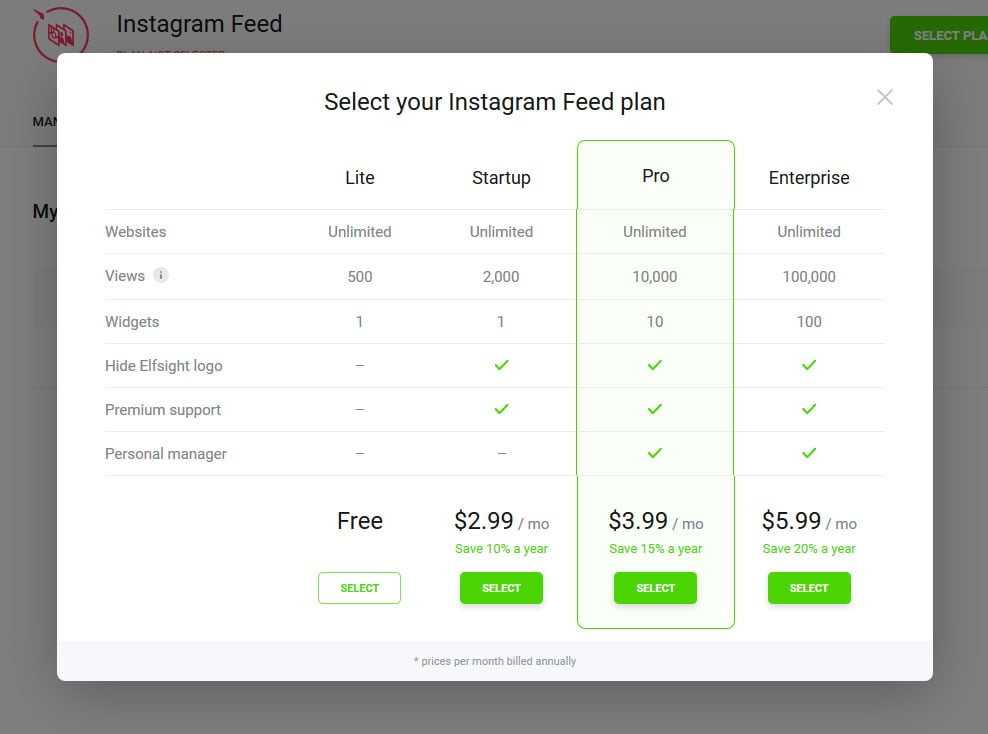 • Get the script to set it into your site
The final step in our service is to copy the app script by using "Get" tab by the feed's header.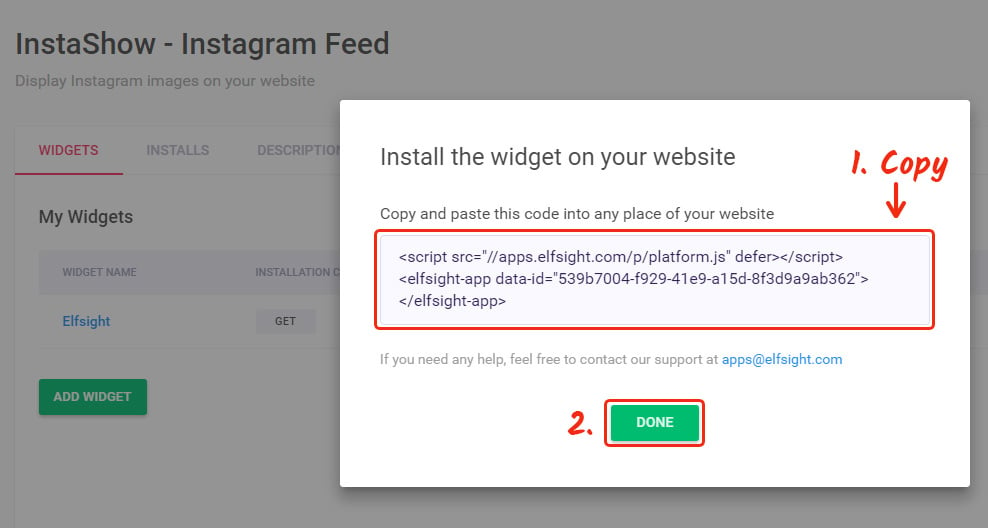 2. Your Instagram Gallery installation stages
• Open the Weebly site editor
To place the plugin on your website's page, you need to login to your Weebly profile, choose the appropriate site and press "Edit site".

• Add the plugin's code to the page
Insert the "Embed Code" element into the right part of the page.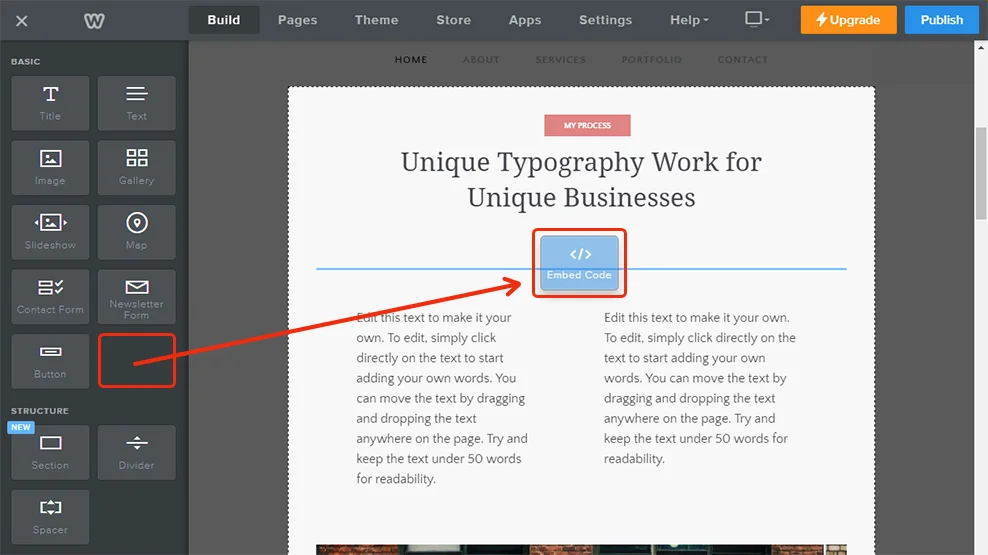 After you've added the "Embed Code" element, click it and press "Edit Custom HTML" to edit.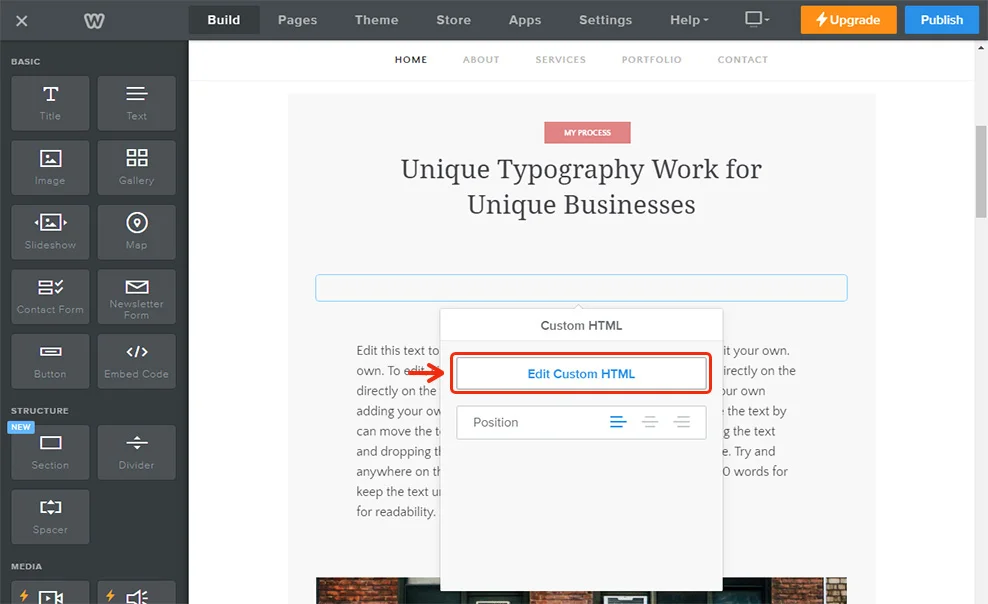 Insert the plugin code you've got at Elfsight Apps into the field that comes up and press "Publish" to save the changes.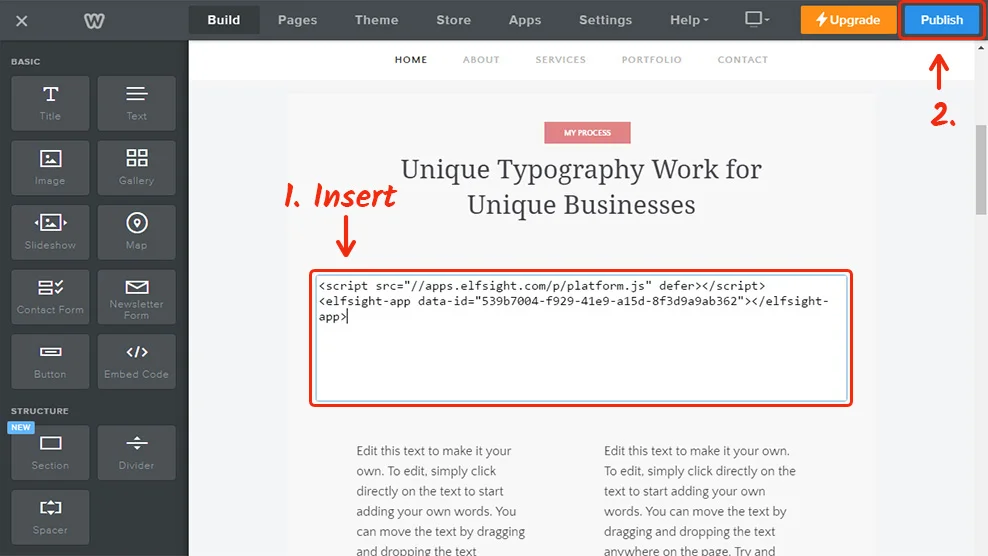 • Done! The plugin is installed
Check out the result on your website.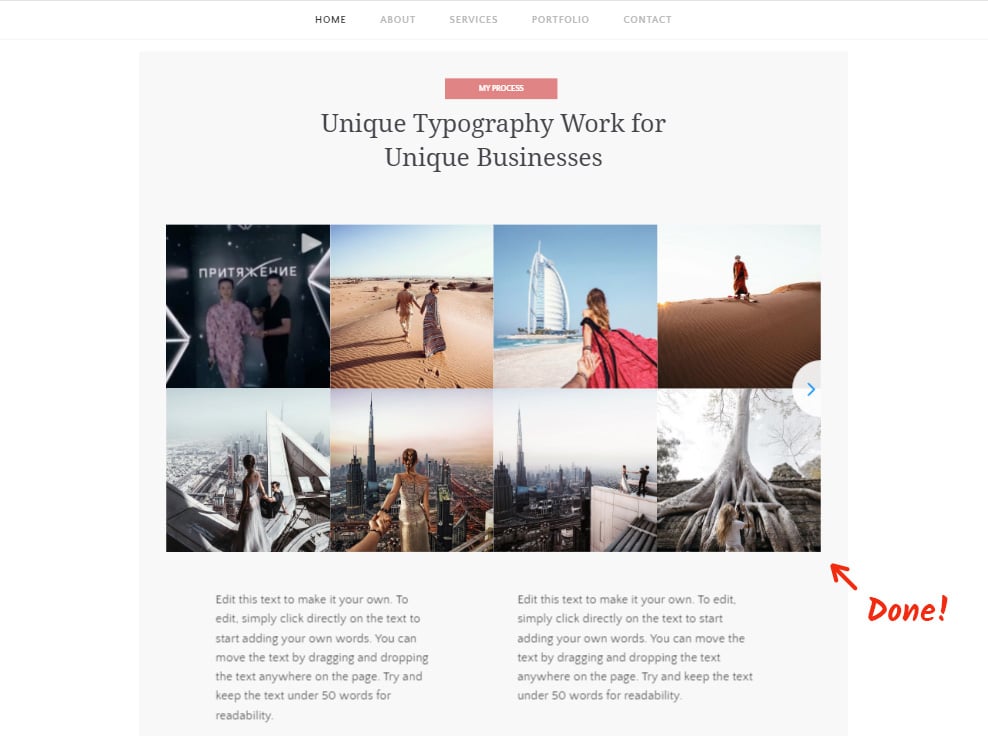 How to Modify Widget's Options after Setup?
You can improve the product's layout or the provided Instagram page in your account at Elfsight Apps. After you apply the adjustments, they will be automatically implemented in your widget.
Best Instagram gallery for Weebly
InstaShow is a professional Instagram photograph feed with a large number of settings, contents controls, entirely adaptive design and an easy installation, what makes Elfsight feed the very best one among the other Instagram solutions..
Briefly About Elfsight Apps?

It is a project with cloud solutions that will help you enhance your site and make your enterprise more profitable. It only takes a couple of steps to add our apps to any platform. Make your page more powerful with Elfsight Apps!
Study the Instagram Plugin for Free
Evaluate the appearance set up and create the most colorful Instagram gallery for your own website.
Still got questions?
If you need any further assistance, contact our very helpful
Support Center
and we'll be happy to answer any questions. Just expect a response during our working hours (from 10 a.m. to 7 p.m. CET, Monday through Friday).