Event Invitation Popup template for website
Grab the attention with our Event Invitation Popup template and increase response rates among website users. Showcase event information with RSVP options and highlight the exclusive benefits of attending. Customize the design and messaging to create a compelling offer and make a lasting impression.
Works on 99.9% of websites
Features
12 Customizable Content Elements
Form Fill-Out Email Alerts
Form with 5000+ Integrations
Modal, Slide-in, Pane Layout Designs
Sticky Popup Opening Button
Adjustable Frequency Display Setting
Exclude or Specify Pages for Displaying
Timed-Display Trigger
Scroll Trigger On-Element or On-Click
Exit Intent Technology
Set Up Popup for Multiple Mobile Devices
CTA Button
Coupon Code & Redirect Link Creation
HTML & iFrame Fields
Image & Video Upload
Mobile-Friendly
Page-Speed Friendly Lazy Loading
Free-Coding Editor
Multiple Languages Translation
Custom CSS & JS Editors










































Template Catalog
Need a Different Template?
Check out more ready-made templates for any use case or build your own!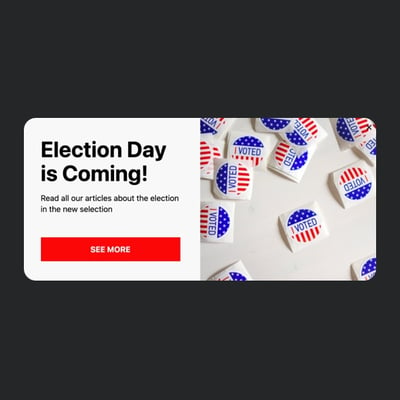 Create an impact during elections or voting events with the coding-free popup template.
Create a sense of urgency and buzz around upcoming events with this popup widget for websites.
Add a popup template to your website and inform the users of big announcements and upcoming updates.
No Suitable Template?
You can easily assemble the widget you need using our simple-to-use configurator.
Here's what people say about Elfsight Popup widget
I've been utilizing the Popup widget for a couple of weeks now, and I cannot emphasize enough how phenomenal it has been. Elfsight empowers me to create a plugin without the need for any coding knowledge, which I can effortlessly install on client websites to address the needed operations.
The user-friendly interface for creating custom widgets has rescued me from the time-consuming task of programming various components on my HTML website. Initially, I had anticipated flawless functionality from the product. Yet, what pleasantly caught me off guard was the top-notch service and support. I highly recommend their services!
I have embedded the Event Invitation Popup on my website, and the experience has been problem-free. I must say, the customer support has left me genuinely satisfied. They've been extremely supportive, swiftly answering all my questions within hours.
FAQ
How to create the Event Invitation Popup template for the website?
If you want to create the Event Invitation Popup for your HTML website, take these steps:
Choose the Event Invitation Popup template.
Customize the elements and features to align with your branding goals.
Authorize your Elfsight admin panel.
Get the installation code.
How to add the Event Invitation Popup template to the website?
To embed the Event Invitation Popup on your HTML website, take the following steps:
Customize the look of the Popup widget to your liking.
Sign in to your Elfsight admin panel or set up a free user profile.
Get the generated embedding code.
Navigate to your website.
Paste the code into your website builder. You're all done!
For a more in-depth guide, we recommend reading our blog article on how to embed Popup on a website.
Do I need to have coding or programming skills to embed the Event Invitation Popup?
Not at all. Proficiency in coding is not required. You can create and add the Event Invitation Popup to your website, even without any specialized background or previous experience.
Can I set up the popup to open automatically?
Certainly. In the building mode, opt for a trigger that will ensure the Event Invitation Popup template displays at the appropriate time on your HTML website. Here are the alternative choices: on-page load, within a specific time spent on a page, on scroll, on scroll to element, on click, and on exit intent.
Can I use the Event Invitation Popup template for free?
Yes, certainly. There is no need to rush into the paid alternatives straightaway. Elfsight operates on a tiered subscription system that offers Free, Basic, Pro, Premium, and Enterprise plans. Take your own pace and enjoy exploring all the functionalities without limitations with our Free tier. But remember, you always have an opportunity to upgrade and unlock extra perks!
Can I add a call-to-action button to the Popup widget?
Absolutely, you can! Here's what to do:
Access the Popup live demo.
Navigate to the "Blocks" menu.
Include the "Button" content block.
Arrange a call-to-action message, click behavior, and visuals.
What email integrations or tools does the widget support?
One of the key features of this HTML widget is its synchronization capability with external apps, including Mailchimp, Zapier, and Google Sheets. Rest assured, you can confidently make an extra effort without any worry of losing any collected data.
Where can I add the Event Invitation Popup on my website?
You have the freedom to choose. No strict requirements need to be followed. Just make sure that it makes sense and is strategically placed in a high-traffic spot, like the main page or product page.
How to customize the Event Invitation Popup?
Endless opportunities await-personalize the complete widget's look and feel to embody your brand norms and achieve rapid conversion growth:
Popup details
You can stack elements and construct an unlimited array of content blocks: title, text, CTA button, link, discount voucher, form, image, and video. Furthermore, for an improved visual appeal, you can add gaps, separators, and custom HTML and iFrame fields.
Display settings
Elfsight offers three options: frequency, pages, and devices. Outline all the requirements to keep the bar high.
Custom elements and features
Moreover, there are countless other possibilities to discover: triggers, custom CSS, custom JS, redirect link, layouts, close buttons, background visuals, alignments, etc.
To avoid confusion and problems along the way, reach out to our Support Team to solve any concerns!
Help with Event Invitation Popup Setup and Website Installation
If you need more info about the widget templates or assistance, check out these resources:
Support
If you're facing any unresolved issues, we recommend you to get in touch with the Elfsight Support Team or browse relevant posts in the Help Center.
Forum
Gain further backing from like-minded business owners and participate in ongoing initiatives in our exclusive community.
Wishlist
Suggest your innovative ideas, features, and widgets via the Wishlist.