Embed Instagram Video widget
The Instagram Video template is ideal for showcasing your brand's dynamic video content directly on your website. The integration process is seamless—no need for coding skills. Customize the template to fit your style and make it a must-have for aspiring influencers.
Works on 99.9% of websites
Features
3 Source Types
Over 20 Ready-to-Use Templates
Feed Filtration
Content Sorting
Several Post Layouts
Post Styles
Popup Mode
Post-Click Actions
10+ Color Palettes
Customizable Elements
CTA Buttons
Custom CSS Support
Mobile-Friendly
Multilingual Support
Automatic Feed Updates










































Template Catalog
Need a Different Template?
Check out more ready-made templates for any use case or build your own!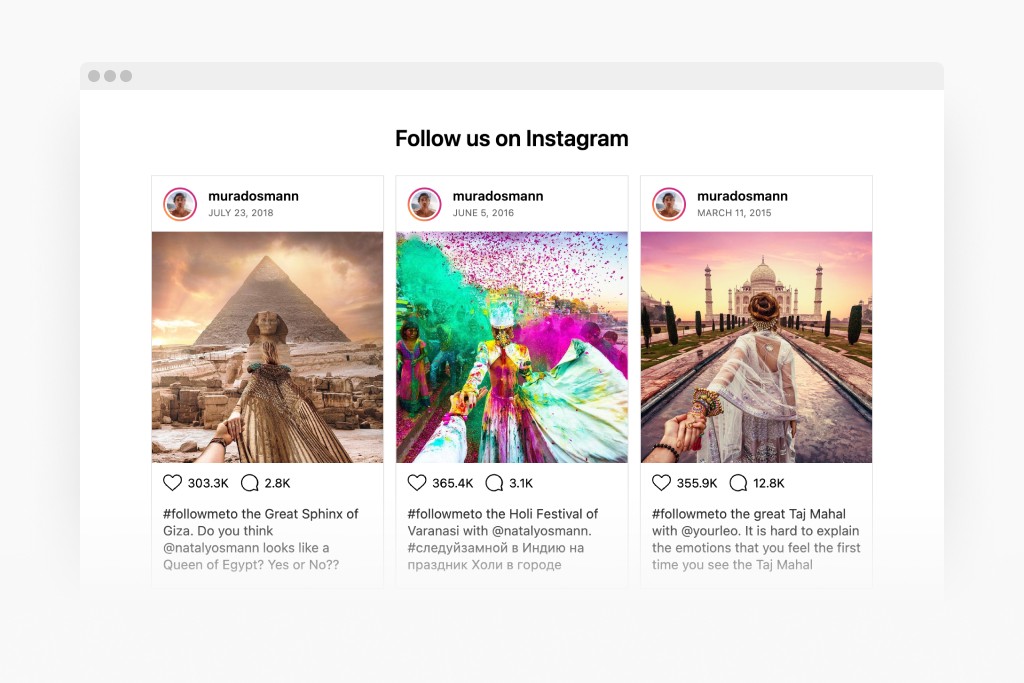 Embed your favorite Instagram posts on your website for better brand engagement.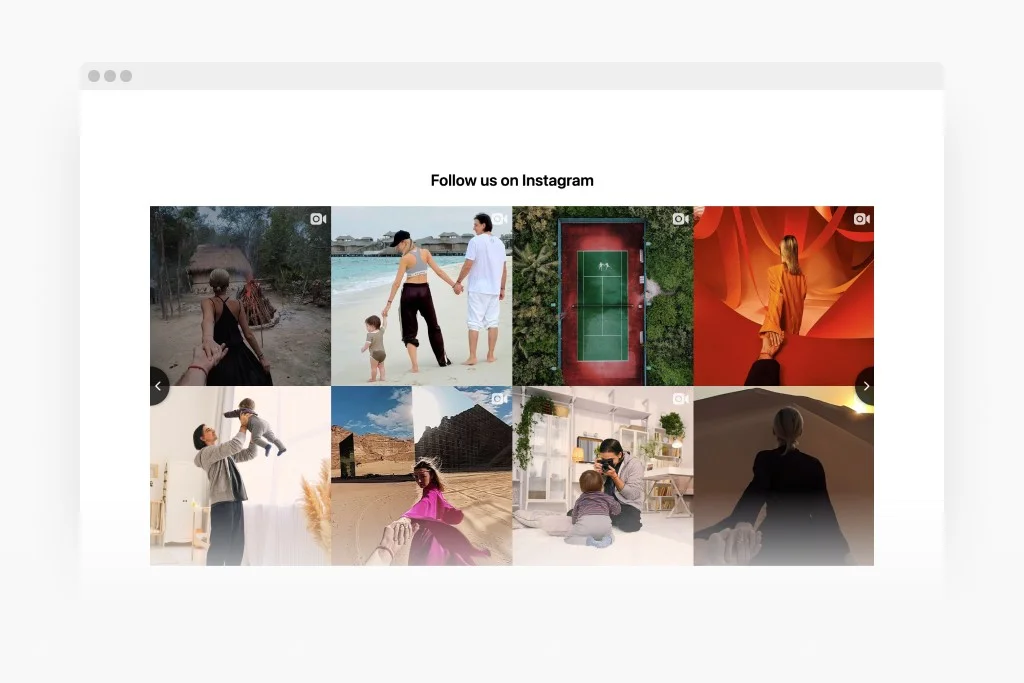 Embed a custom Instagram gallery of images and videos on your website to complement the brand style.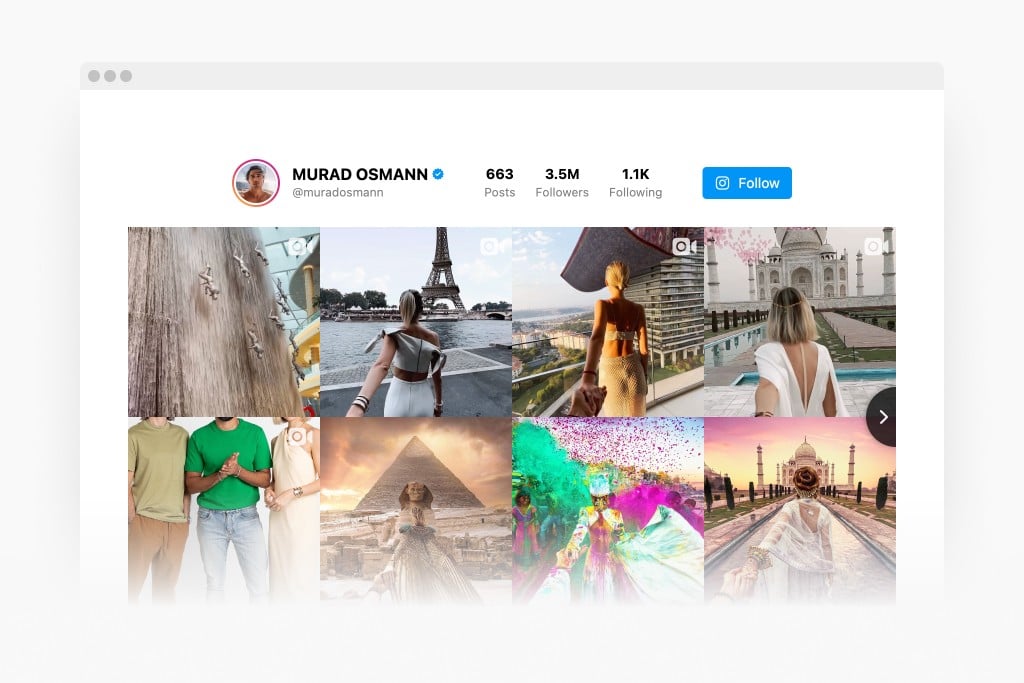 Embed an Instagram feed with profile details to highlight the legitimacy of your brand.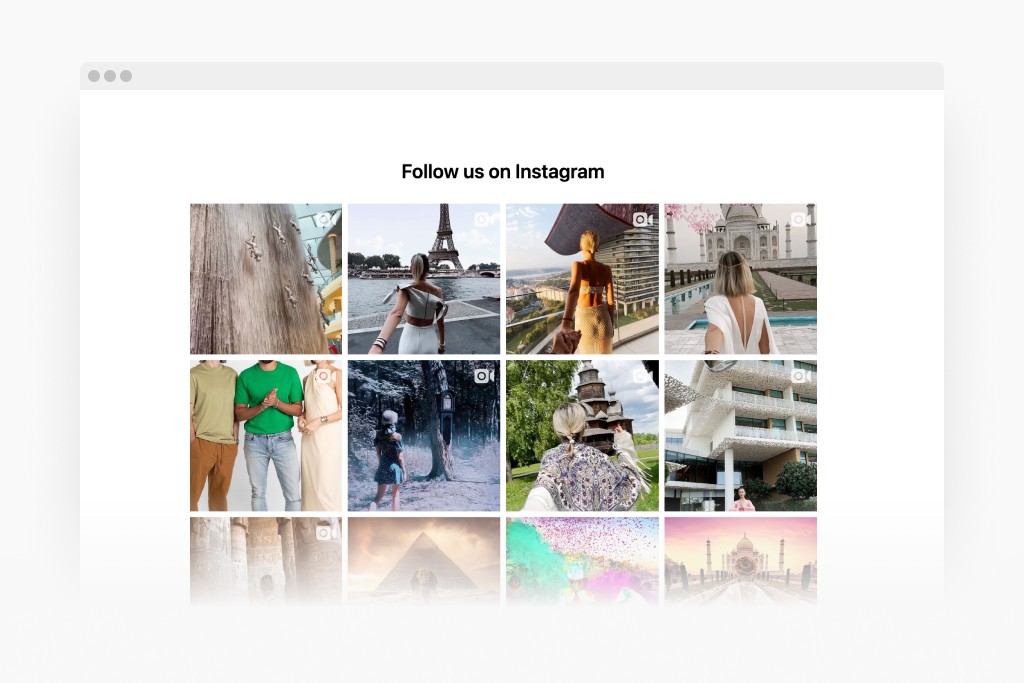 Embed a customizable grid of the Instagram feed on your website to enhance your website's visual appeal and raise brand awareness.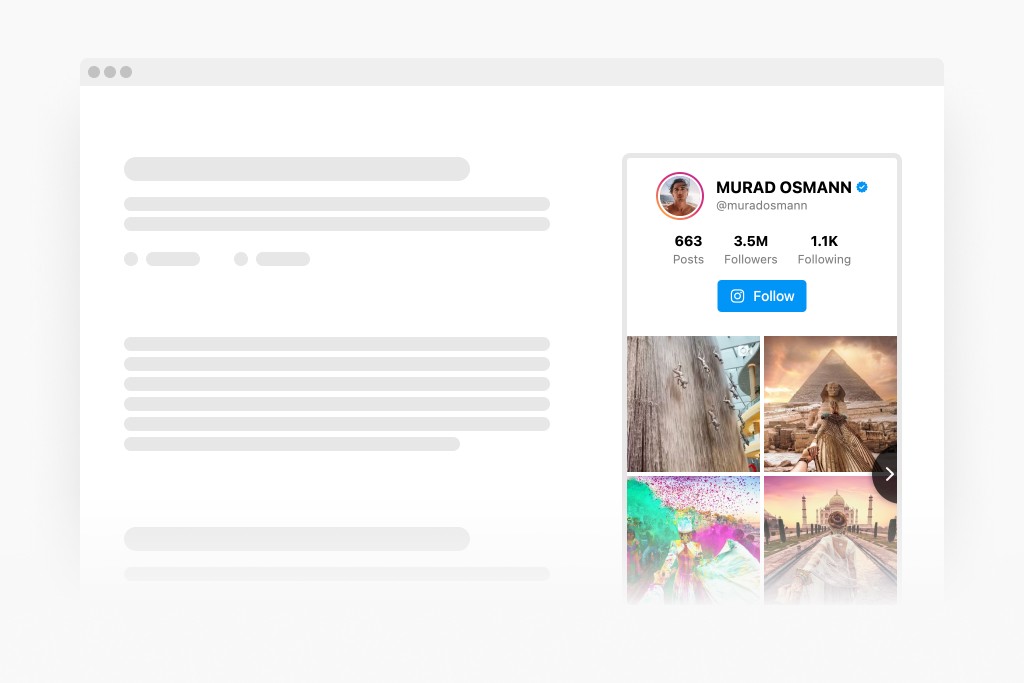 Embed your Instagram posts in a sidebar content area of your website to draw more attention.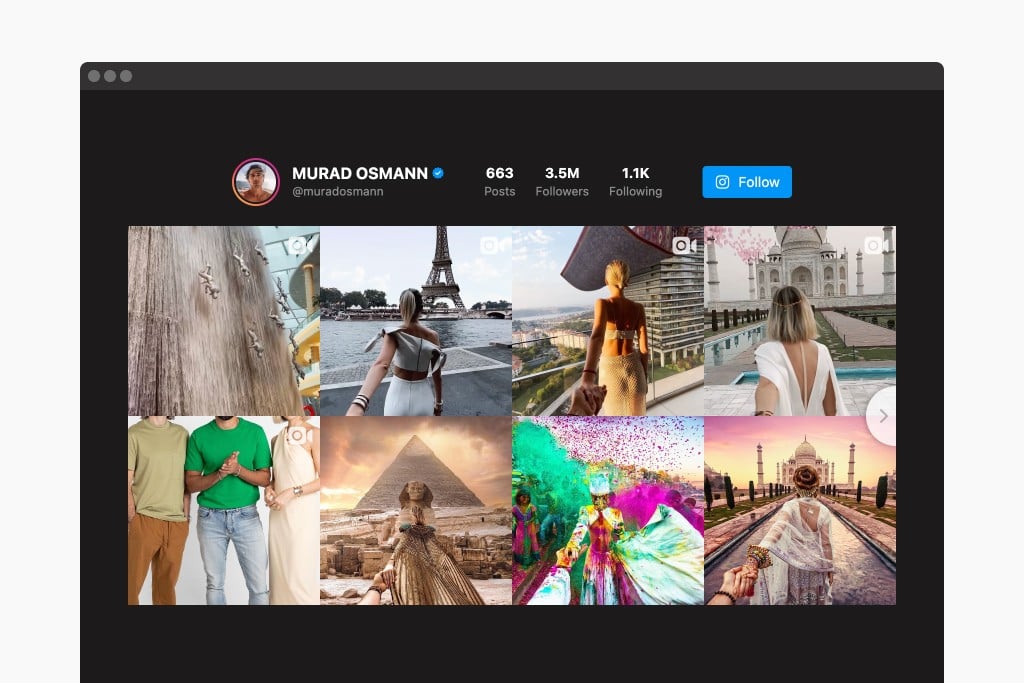 Embed an Instagram feed on your website that updates in real-time to attract more views.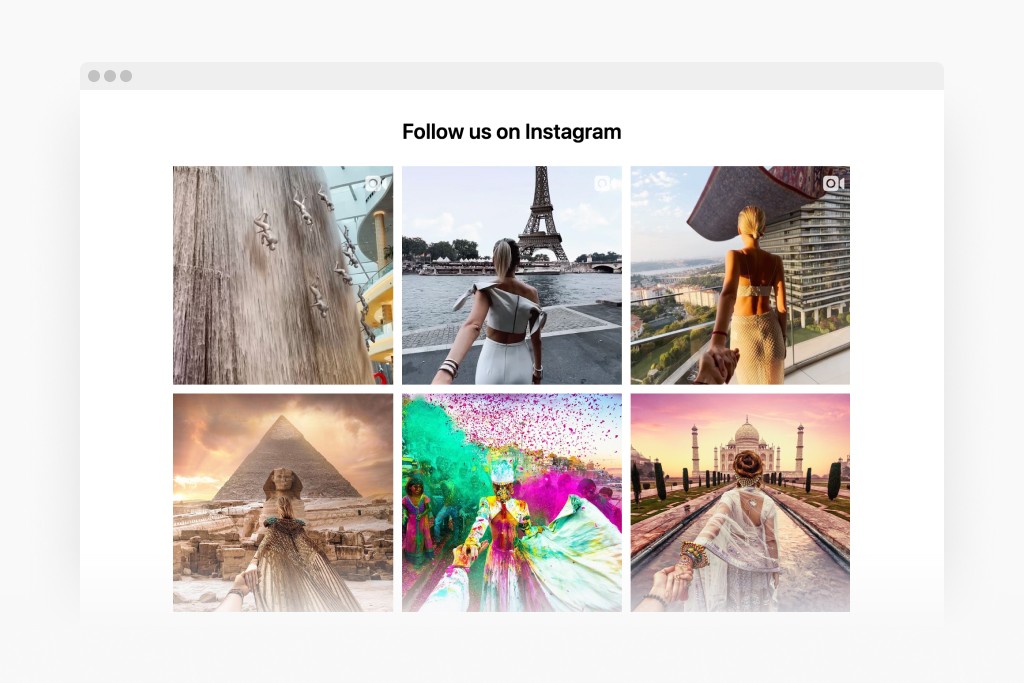 Embed a photo feed on your website to keep your viewers informed and engaged with the brand story on Instagram.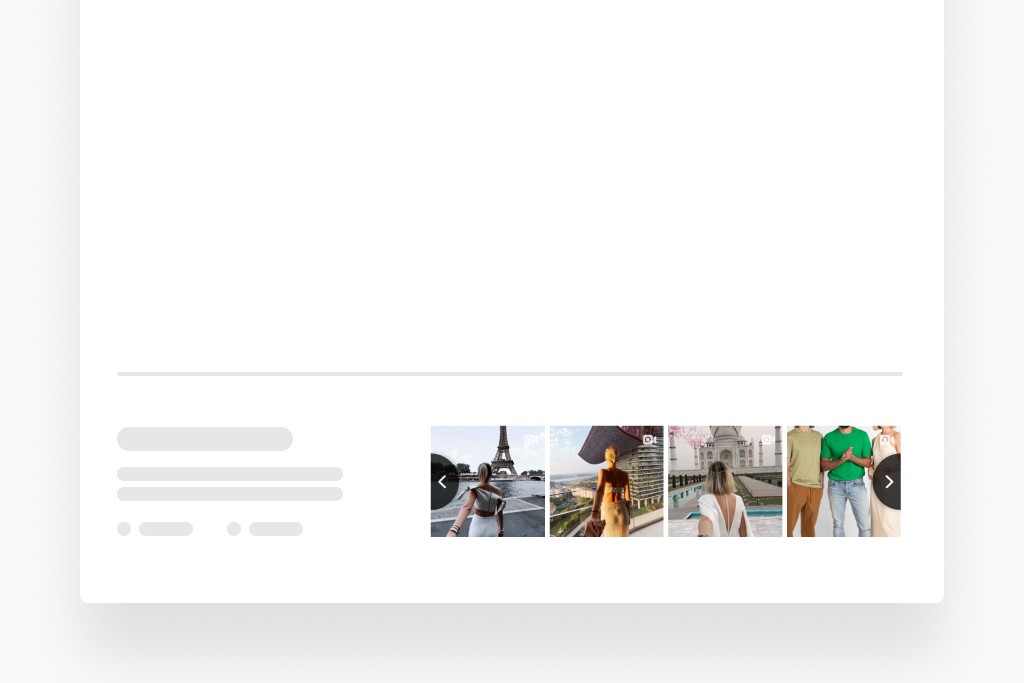 Embed a stylish Instagram content in a website's footer to give viewers a chance to explore your feed.
No Suitable Template?
You can easily assemble the widget you need using our simple-to-use configurator.
Here's what people say about Elfsight Instagram Feed widget
Setting up a professional-looking Instagram Feed is incredibly simple. Elfsight has been super supportive in resolving any issues I've had. Takes the weight off my shoulders of promoting a custom social feed on the website.
The Instagram Video template functions amazingly on multiple platforms and has a simple embedding process. It's really hard to get a coding-free plugin that consistently works, looks good, and is responsive on mobiles. But not with this tool!
For the past few weeks, I've been struggling to integrate a working Instagram widget on my client's website, and Elfsight's template made it happen instantly. What's more, their customer service was prompt and helpful. Marvelous!
Enhancing Your Website with Dynamic Instagram Videos
Embedding Instagram videos on your website can significantly enhance its visual appeal and engage your audience in exciting ways. Here are a few reasons why you should consider embedding Instagram videos on your website:
Increase User Engagement: By incorporating dynamic Instagram videos, you can capture the attention of your website visitors and encourage them to spend more time exploring your content. The movement and interactivity of videos can create an immersive experience for users.
Showcase Your Products or Services: Instagram videos provide an excellent platform to showcase your products or services in action. Whether you want to demonstrate how your product works, share customer testimonials, or highlight unique features, embedding Instagram videos can effectively communicate your message.
Humanize Your Brand: Instagram videos allow you to add a personal touch to your brand by sharing behind-the-scenes footage, team activities, or interviews. This helps humanize your brand and connect with your audience on a more emotional level, fostering trust and loyalty.
Drive Traffic to Your Instagram Profile: Embedding Instagram videos on your website can serve as a bridge to your Instagram profile, encouraging your website visitors to follow you on Instagram. This cross-promotion strategy can expand your social media reach and increase engagement with your content.
Introducing Elfsight Instagram Feed Video Widget Template
Elfsight offers a comprehensive Instagram Feed Video widget template that empowers you to seamlessly integrate Instagram videos into your website. With its powerful features and customization options, you can create a visually captivating and interactive experience for your visitors.
Key Features and Benefits
The Elfsight Instagram Feed Video widget template provides the following key features and benefits:
Responsive and Mobile-Friendly: The widget template ensures that your embedded Instagram videos will adapt seamlessly to different screen sizes, providing an optimal viewing experience for both desktop and mobile users.
Multiple Layout Options: Choose from a variety of layout options, such as grid, carousel, or masonry, to display your Instagram videos in a visually appealing manner that suits your website's design and style.
Customization Options: Customize the appearance of the widget to align with your brand identity. Adjust colors, sizing, spacing, and other visual elements to match your website's aesthetics and create a cohesive user experience.
Video Popup Feature: Engage your audience further with the video popup feature, which allows your visitors to view Instagram videos in fullscreen mode. This interactive functionality ensures that your Instagram videos receive the attention they deserve.
Hashtag Filtering: Curate specific video content by filtering Instagram videos based on relevant hashtags. This feature enables you to create targeted video collections and organize content around specific topics or campaigns.
How to Embed Instagram Videos on Your Website Using Elfsight's Instagram Feed Video Widget Template
Embedding Instagram videos on your website using Elfsight's Instagram Feed Video widget template is a straightforward process. Follow these steps:
Sign Up and Create a Widget: Begin by signing up for an Elfsight account. Once you're signed in, create a new widget and select the Instagram Feed Video template.
Connect Your Instagram Account: Connect your Instagram account to Elfsight's platform by providing the necessary credentials. This step grants Elfsight access to your Instagram videos, allowing them to be displayed on your website.
Customize the Widget: Customize the appearance and functionality of the Instagram Feed Video widget according to your preferences. Adjust the layout, colors, sizing, and other visual elements to seamlessly integrate with your website's design.
Generate the Embed Code: Once you're satisfied with the customization, generate the embed code for your widget. This code will be used to embed the Instagram videos on your website.
Add the Embed Code to Your Website: Copy the generated embed code and paste it into the HTML markup of your website where you want the Instagram video to appear. Save the changes and ensure they are reflected on your website.
Final Thoughts
Incorporating Elfsight's Instagram Feed Video widget template empowers you to effortlessly embed Instagram videos on your website, enriching it with engaging and visually captivating content. Enhance user engagement, showcase your products or services, and humanize your brand by leveraging the power of Instagram videos. Take advantage of this powerful tool and create a visually stunning website that leaves a lasting impression on your visitors.
Remember, with Elfsight's Instagram Feed Video widget template, embedding Instagram videos on your website is now easier than ever before!
FAQ
How to embed the Instagram Video widget on the website?
If you want to add videos from your Instagram profile to the website, you need to complete the following guidelines:
Modify the Instagram widget's appearance to suit your site's visual appeal.
Log in to your Elfsight admin panel or create a new account at no cost.
Get the unique installation code intended for you only.
Go to your website.
Paste the code into the website editor. You're done!
For more details, check out our post on how to embed Instagram Feed on any website.
What website platforms can integrate with the Instagram Video widget?
You can embed your Instagram Feed on practically every website, no matter the platform and CMS. But here's the list of the most common ones:
WordPress, Woocommerce, Wix, Weebly, Webflow, Squarespace, Shopify, Prestashop, Opencart, Mailchimp, Magento, jQuery, Joomla, HTML, Google Sites, Godaddy, Facebook Page, Elementor, Drupal, Divi, Bootstrap, Blogger, BigCommerce, Clickfunnels, Adobe Muse, etc.
Enjoy the advantages of the widget without any compatibility concerns!
Can I use the Instagram Video template for free?
Yes, as Elfsight uses a freemium pricing model! The free Lite plan is perfect for novices, and it provides a full package to cover fundamental necessities. Therefore, if you aspire to create, this tool is the ideal choice for you! You may use this plan for as long as you wish or step up to gain extra features.
What sources of content are available for the Instagram widget?
Reasonably, the main source is Instagram. However, the plugin comes with an account type classification:
Public Account and Hashtags
User's Business Account
User's Personal Account
How to customize the widget for Instagram Video?
If you want to reflect your personal style via the widget, you may want to consider customizing these elements and features:
Layout
You can personalize the layout by adjusting the design style, number of columns and rows, header, and feed title. At this moment, there are two available layout formats: Slider and Grid.
Color scheme
Choose between 12 different color schemes—Sky, Dark, Emerald, Jeans, Leather, Light, Night Life, Orange, Red Power, Yellow, and Custom—to level up the Instagram Feed plugin's look.
Filtering and sorting
Use the widget's built-in filters feature to showcase or hide posts based on a hashtag or phrase. Additionally, you can sort the order of Instagram posts by publication date and source list position.
Custom elements
Modify the Instagram Video elements: insert the feed title, show or hide post elements, set the CTA buttons, change colors, or even insert a Custom CSS to match your visual preferences.
For extra help or assistance, our Support Team is always here for you!
Help with Instagram Video Setup and Website Installation
Discover support and more details about the widget template by browsing these sources:
Support
Access professional help from the Elfsight support team to solve any problems. Or pursue an answer in the Help Center.
Forum
Join our lovely community of freethinkers, share ideas, find help, and participate in activities!
Wishlist
If you believe our widgets are lacking features, you may make suggestions via Wishlist.