Popularize your content and boost your platform's target audience loyalty by using the free
Facebook Feed
from Elfsight.
The Features of our Facebook widget for Blogger
Our product is perfectly compatible with most monitor formats, and the flexible widget looks options let it blend in with your service's design in an amazing way. Show any kind of Facebook account contents: page, news, videos, photos, events.
Set up a successful web-platform, using premium tools to engage your readers, and take conversion to a whole new level.
Add and manage your widget
Let's review the widget's embedding and customization step by step.
Point 1: Configuring your Facebook plugin
Create your own Elfsight Apps account or access your account. Here's a guide for you to quickly create the widget and add it to your website.
• Choose the right plugin
Click on Facebook Feed in the list of plugins.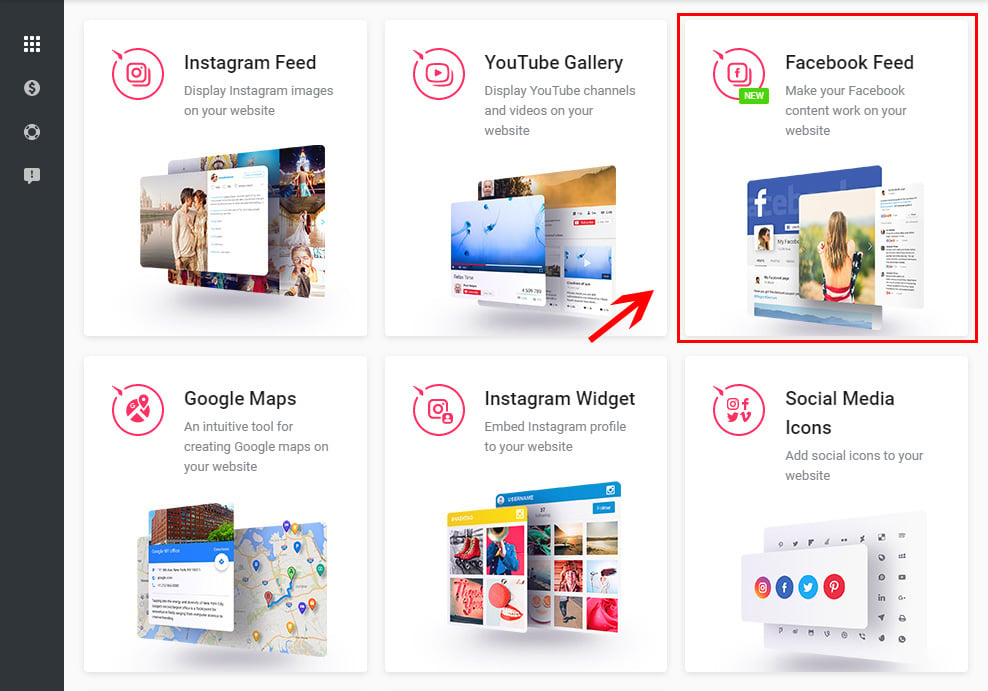 • Generate your plugin
Select the plugin's parameters and design.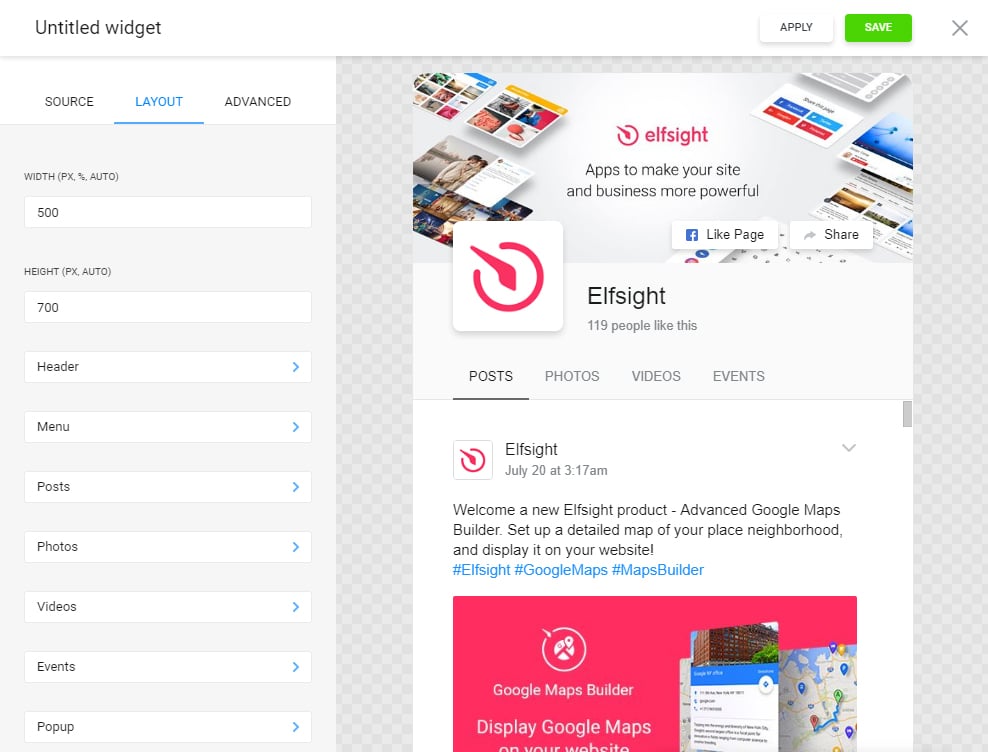 • Get the integration code
Acquire the plugin code to embed on your own resource.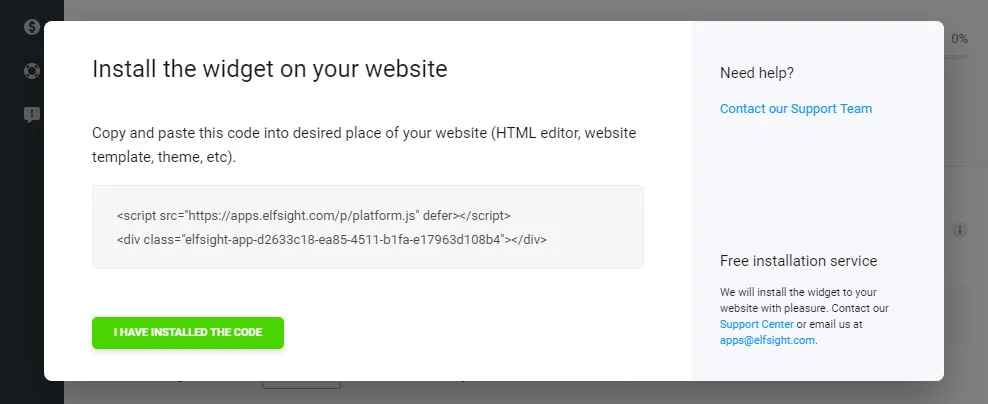 Point 2: Displaying on your web-resource
Placing the plugin on a Blogger page – Option 1.
• Login to the admin panel
Go to Blogger and open the page where you need to install the plugin.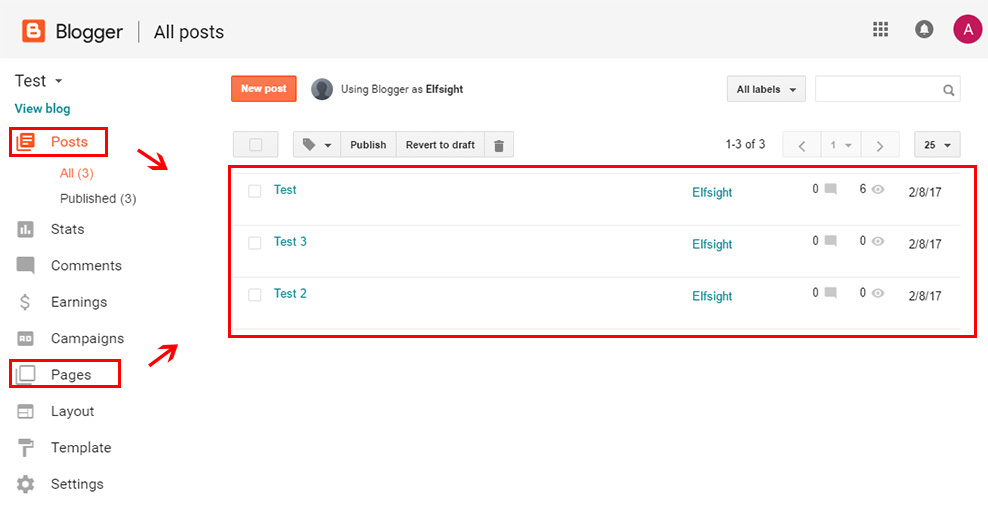 • Get ready to edit the page
Switch the page's content to HTML.

• Edit the page
Install the plugin's code and click «Update» to apply the changes.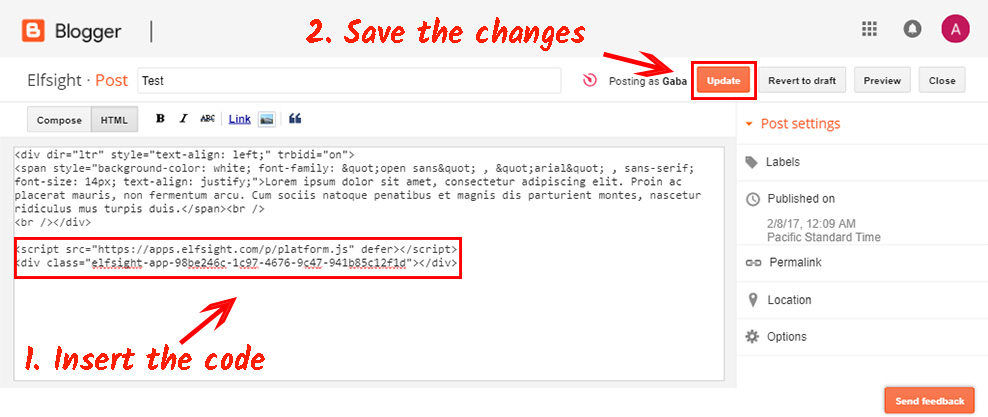 • The Facebook Feed plugin's installed!
You have successfully installed the plugin to a specific page.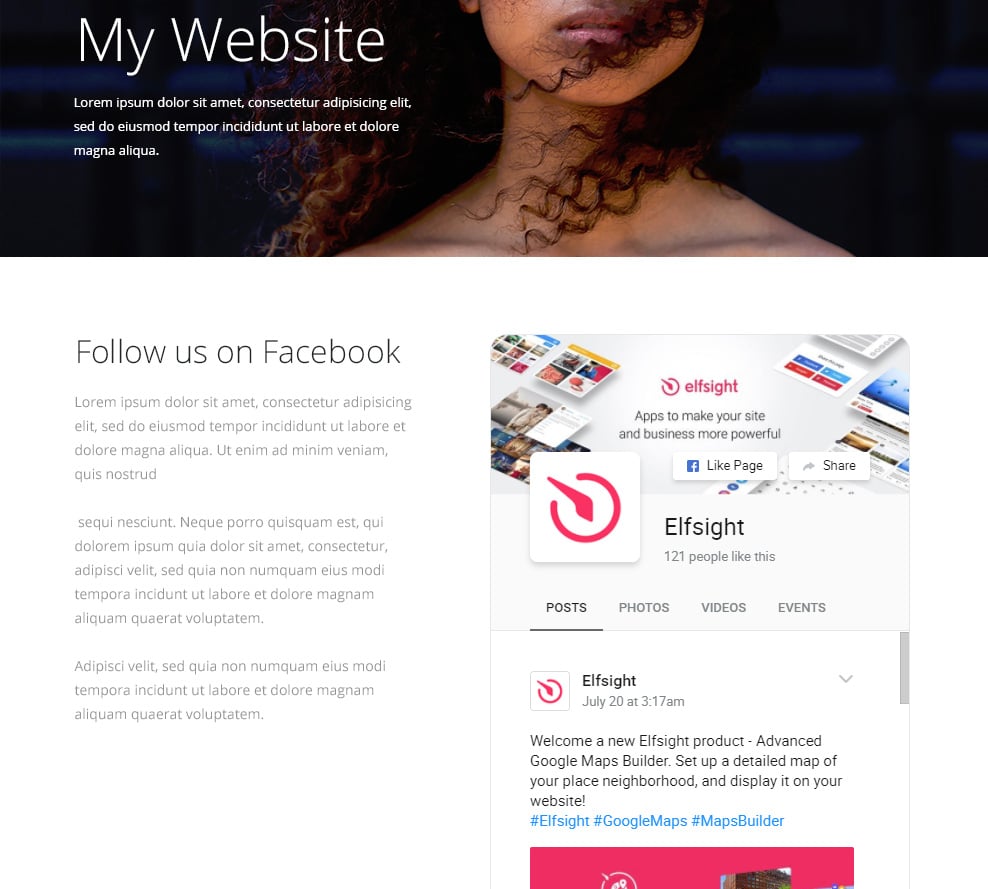 Placing the plugin on a Blogger website – Option 2.
• Login to the admin panel
Go to Blogger "Layouts" section. Select the template element to display the plugin, and press «Add a Gadget».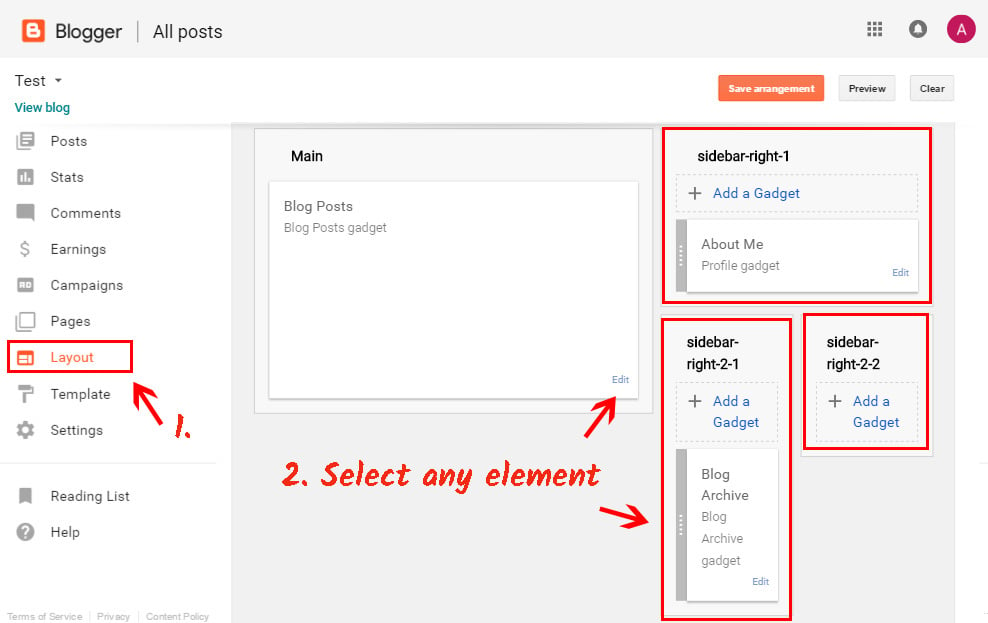 • Install a gadget from Blogger catalogue
Select the «HTML/JavaScript» gadget to edit the code.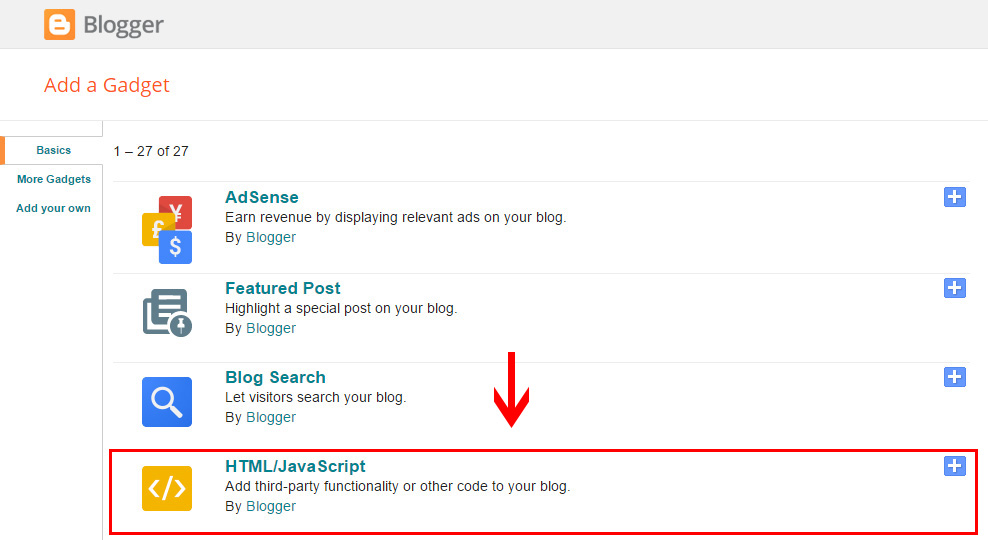 • Add the plugin's code
Paste the Facebook plugin's code from Elfsight and press «Save».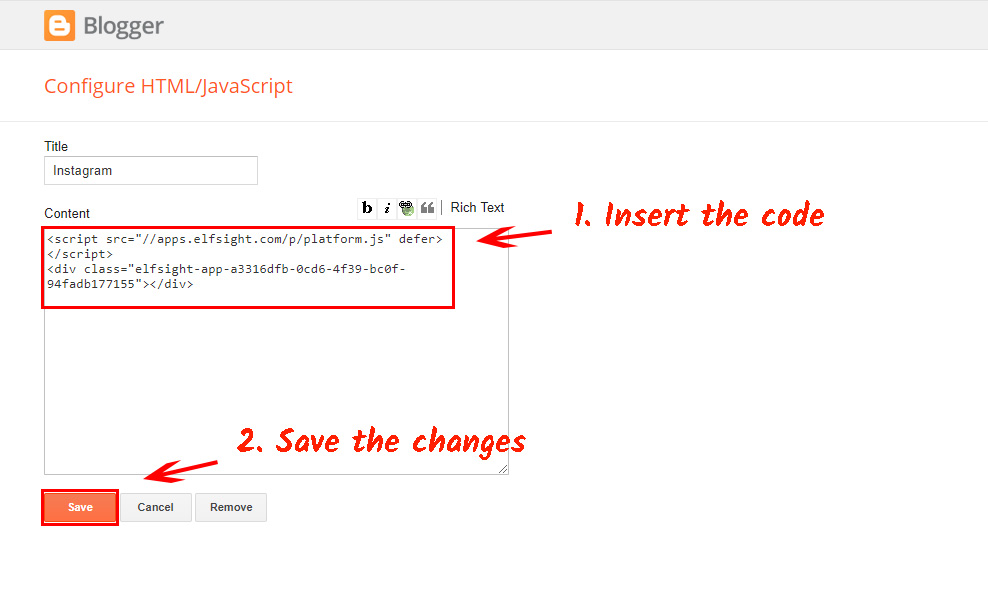 • The Facebook Feed plugin's installed!
You've successfully placed the plugin in the site's template.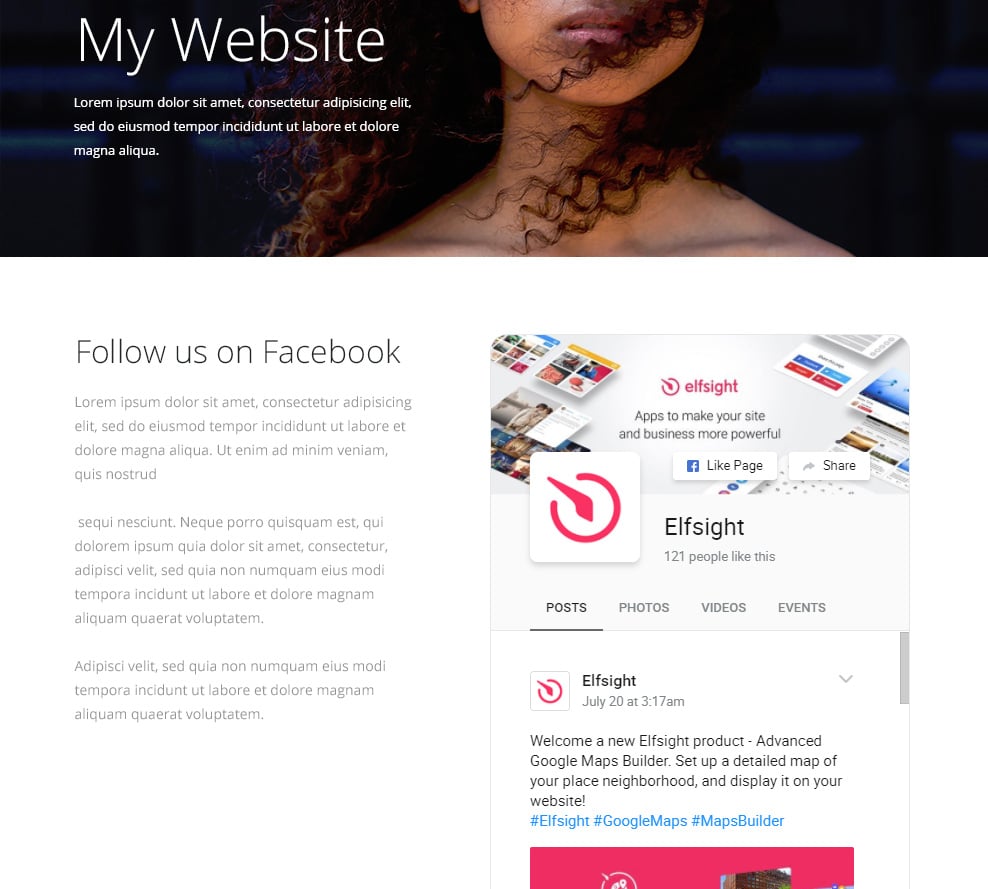 How to Edit Widget's Configuration after Installation
You are able improve the widget's appearance or change the featured social media source in your profile at Elfsight Apps. After you save the modifications, they will be automatically carried out in your Facebook widget.
Strong points
The key features of the custom Blogger Facebook widget that are an advantage over the rest of similar products:
Striking style;
Absolutely adaptive;
Caching the data;
Diverse Layout customization;
Allows to display different Facebook content.
Get more information at the Blogger Facebook page.
A couple of words about Elfsight Apps
An unprecedented resource, to increase various CMS sites' productiveness.