WordPress Notification Popup template
The Notification Popup template for WordPress websites is the ultimate tool for getting your message across. Whether you need to display important announcements, updates, or alerts, this template lets you do it in a sleek manner. And with easy integration and customization options, you can create a widget that perfectly reflects your brand's personality.
100% WordPress compatible
Features
12 Custom Content Blocks
Form Fill-Out Email Alerts
Form with 5000+ Integrations
Modal, Slide-in, Pane Layout Designs
Engaging Popup Opening Button
Frequency Popup Display Settings
Exclude or Specify Pages for Displaying
Auto-Opening Trigger after Time Spent
Scroll Trigger On-Element or On-Click
Exit Intent Trigger
Set Up Popup for Multiple Mobile Devices
Call-to-Action Button
Coupon & Redirect Link Creation
HTML & iFrame Fields
Image & Video Upload
Mobile-Friendly
Page-Speed Friendly Lazy Loading
Tech-Free Customization
Language Localization
Custom CSS & JavaScript Editors
Template Catalog
Need a Different Template?
Check out more ready-made templates for any use case or build your own!
Add a professional touch to your website and communicate any terms with this popup template.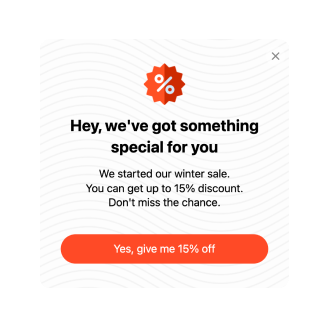 Create mutual trust within your website community and stay connected using this popup widget.
Add a text popup to your website and attract attention to special promotions or other relevant events.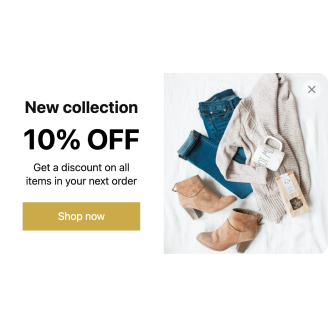 Add a popup widget to promote your special offers, discounts, or announcements with an eye-catching banner.
Create buzz around new product launches with this popup template for websites.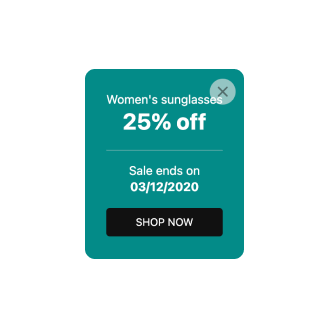 Help your visitors stay up to date with your future events by means of Elfsight Popup.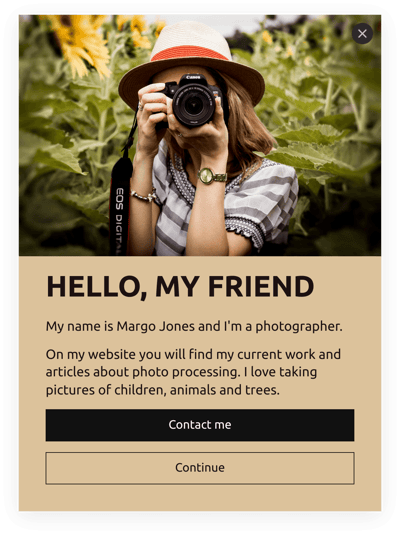 Create a heart-warming first impression and engage new visitors with the welcoming popup.
Add a popup template to your website and inform the users of big announcements and upcoming updates.
No Suitable Template?
You can easily assemble the widget you need using our simple-to-use configurator.
Here's what people say about Elfsight Popup widget
Over the past few weeks, I have been employing the Popup widget, and I can confidently say it has provided me with the supreme experience. With Elfsight, I can easily install on client websites to cover the needed operations, even without any tech knowledge.
The user-friendly nature of creating custom widgets has been a tremendous time-saver from coding certain elements on my WordPress website. I anticipated the product to function without any issues. However, I was pleasantly surprised to receive the exceptional level of service and support. I strongly recommend it!
The Notification Popup has been successfully added to my website with no glitches encountered. The level of customer support I have received has been amazing. They've been so informative with any questions I've had and answered them within a few hours.
FAQ
How to create the Notification Popup template for the WordPress website?
To create the Notification Popup for your website, do the following:
Select the Notification Popup template.
Customize the elements and features to satisfy your brand vision.
Verify your Elfsight account.
Obtain the installation code.
How to add the Notification Popup template to the WordPress website?
If you wish to embed the Notification Popup on your WordPress website, follow these directions:
Personalize the appearance of the Popup widget to match your taste.
Sign in to your Elfsight dashboard or set up a free profile.
Receive the generated installation code.
Navigate to your website.
Put the code into your website editor. Done!
For a more in-depth guide, we advise checking out our post on how to embed Popup on a website.
Do I need to have coding or programming skills to embed the Notification Popup?
No, you're not obliged to have them. Any prior coding skills aren't required at all. You can build and embed the Notification Popup on your website, regardless of your previous background or knowledge.
Can I set up the popup to open automatically?
Absolutely. Opt for a trigger while designing the Notification Popup template to showcase it at the right time on your WordPress website. You have several choices available: on-page load, within a specific time spent on a page, on scroll, on scroll to element, on click, and on exit intent.
Can I use the Notification Popup template for free?
Sure. There is no hurry to dive straight into the paid choices. Elfsight implements a tiered subscription system that consists of Free, Basic, Pro, Premium, and Enterprise plans. Take your own pace and discover all the functionalities without restrictions using our Free tier. Just remember, there is always a chance to upgrade and access extra options!
Can I add a call-to-action button to the Popup widget?
Yes, you totally can! To get started, follow these steps:
Open the Popup live demo.
Go to the "Blocks" menu choice.
Include the "Button" content block.
Set up a call-to-action message, click behavior, and appearance.
What email integrations or tools does the WordPress widget support?
One of the standout features of this WordPress widget is its synchronization ability with third-party apps such as Mailchimp, Zapier, and Google Sheets. You can go the extra mile without the risk of losing any collected data.
Where can I add the Notification Popup on my WordPress ?
The choice is in your hands. No strict guidelines need to be followed. Nevertheless, ensure it makes sense and is strategically positioned in the most popular area, like the homepage or product page.
How to customize the Notification Popup?
The world is your playground-tailor the design of the entire widget to embody your brand norms and enhance conversions rapidly:
Popup details
You have the option to layer elements and create an array of limitless content blocks: header, text, call-to-action button, redirect link, coupon, form, image, and video. Also, to enhance visual aesthetics, you can add spacing, separators, and custom HTML and iFrame fields.
Display settings
Elfsight provides three choices: frequency, pages, and devices. Clearly state all the necessary criteria to ensure the highest standards are met.
Custom elements and features
Moreover, you still have plenty of features left to unlock: triggers, custom CSS, custom JS, redirect link, layouts, close buttons, background visuals, alignments, etc.
For more clarification, get in touch with our Support Team to solve any questions and avoid confusion in the future!
Help with Notification Popup Setup and Website Installation
For further information regarding the plugin templates or guidance, peruse these resources:
Support
For any unresolved problems, we suggest you contact the Elfsight Support Team or search for related topics in the Help Center.
Forum
Connect with like-minded business owners and join ongoing events in our dedicated community for extra help.
Wishlist
Feel free to submit new and exciting concepts, functionalities, and plugins via the Wishlist.