Elementor Lead Generation Popups for website
Discover the power of Lead Generation Popups templates and supercharge the conversion rate of your Elementor website. From the eye-catching Conversion Popup and Lead Capture Popup to the persuasive Call to Action Popup and Exit Intent Popup—you can turn users into devoted clientele. Customize each element to mirror your brand identity and capitalize on every chance.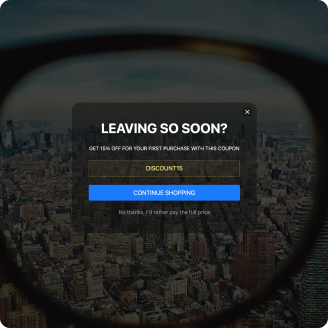 Add a popup widget to capture your website users' attention one last time and retain their interest.
Adding the popup widget is the best for maximizing conversions and reducing cart abandonment.
Creating a faster way to supercharge your lead generation efforts is easy with this popup template.
Add a persuasive popup template to the website and guide visitors toward your desired goals.
Creating a popup widget to optimize your lead generation strategy and increase sales up to the sky.
Create a popup template and entice website visitors to sign up for your platform, service, or exclusive access.
Add a popup template to promote your latest E-book or valuable content in an attractive and engaging way.
Add a popup template on the website and welcome visitors to join your exclusive community.
No Suitable Template?
You can easily assemble the widget you need using our simple-to-use configurator.
Why are Elfsight Elementor Lead Generation Popups the best?
Direct your focus towards the relevant target market, generate intrigue among viewers, and captivate them with your business using Elfsight's Lead Generation Popups templates. Craft a
Popup widget
that accurately reflects your brand's essence, incorporating a focused message and an array of visually personalized elements. No more need for coding knowledge or any design skills to implement the widget-simply tweak it accordingly, obtain the installation code, and add it to the Elementor website.
Isn't it straightforward?
Start spreading the word, generating demand, and being the driving force behind your marketing efforts for special events or recent sales!

Elementor Lead Generation Popups Features and Integrations
12 Custom Content Elements
Form Fill-Out Email Alerts
5000+ Data Export Integrations
Modal, Slide-in, Pane Layout Styles
Sticky Popup Opening Button
Adjustable Frequency Display Setting
Exclude or Specify Pages for Displaying
Auto-Opening Trigger after Time Spent
Scroll Trigger On-Element or On-Click
Set Up Popup for Multiple Mobile Devices
Coupon Code & Redirect Link Creation
Page-Speed Friendly Lazy Loading
Translation to Any Language
Custom CSS & JavaScript Editors
How to create Lead Generation Popups template for Elementor website
To create the Lead Generation Popups widget for your Elementor website, you should follow these steps:
Choose the Lead Generation Popups template you prefer the most.
Press the "Live Preview" option.
Modify the elements and features to fit your branding.
Verify your Elfsight account.
Receive the installation code.
Need any additional help? Reach out to the experts from the Help Center.
How to add Lead Generation Popups to Elementor website
If you're looking to embed the Lead Generation Popups on your Elementor site, check out this guide:
Log in to your Elfsight profile.
Get the auto-generated setup code.
Open your Elementor site editor.
Paste the code and save your edits. Done!
For further help, please, feel free to ask the Elfsight Support Team or refer to our blog post for a step-by-step guide on how to embed the Popup widget on a website.
FAQ
Can I embed the Lead Generation Popups without coders?
Yes, absolutely! With Elfsight, there's no requirement for programming skills or an external service to set up the widget. Meaning, you can add the Lead Generation Popups using the auto-generated string of code provided by our team.
What kind of triggers can I set to the popup widget?
The Popup widget provides the opportunity to adopt a personalized tactic with a versatile set of trigger alternatives: during website loading, within a specific amount of time spent on a page, while scrolling, on scroll to element, on click, and on exit intent. It all boils down to your business needs and preferences!
What website builders and CMS are compatible with the Lead Generation Popups besides Elementor?
With a compatibility rate of 99.9%, our plugins are the ultimate solution for almost any website.
What details can I include in the Lead Generation Popups?
Stay on track with the Lead Generation Popups template and give yourself the space to address all the vital aspects-insert multiple promotional copy blocks, append the discount code, include a persuasive CTA button, and ensure the presence of visuals.
Can I sync my popup with other integrations?
Absolutely, you can! Follow these steps:
Open the Popup live demo.
Navigate to the "Builder" menu tab.
Add a new "Form" block or adjust the existing one.
Keep scrolling until you locate the "Integrations" tab, then click on it.
Choose the integration-Mailchimp, Google Sheets, or Zapier-and follow the additional on-screen directions.
On what Elementor website pages can I add the Lead Generation Popups?
The plugin's position doesn't follow rigid guidelines. It's all up to your choices and needs. You have the flexibility to use it at the most popular alternatives: the main landing page, contact page, and merchandise page.
What kind of display settings does the widget support?
With the Lead Generation Popups templates, you can choose from three display options: frequency, pages, and devices. Through frequency conditions, you can adjust how often popups appear to meet your own business decisions. Similarly, pages and devices-you can choose to exclude or include them as you want. The crucial aspect is you have the advantage of the entire customization and staying true to your branding standards.
Can I customize the Lead Generation Popups template for Elementor websites?
Certainly, without a doubt! You can experiment with numerous personalized elements and royalty-free features to find the most effective option-starting from the backdrop imagery and layout formats to the paddings and exact spacing.
Do the Lead Generation Popups templates work on mobile devices?
Yes, indeed, the Popup templates take care of this fundamental aspect to ensure an exceptional experience for each user. No matter the gadget used-the smartphone, pc, laptop, or tablet-this Elementor plugin is optimized to be mobile-friendly, ensuring an optimal display.