Conversion Popup template for website
Maximize your rate and drive more sales with our Conversion Popup template for websites. Display customized offers or discounts with compelling copy, increasing revenue and creating a motivational urgency. It's time to capture attention and convert every user into a loyal customer!
Works on 99.9% of websites
Features
12 Custom Field Elements
Mailchimp Email Notifications
Form with 5000+ Integrations
Customizable Modal, Slide-in, Pane Layouts
Engaging Popup Opening Button
Frequency Popup Display Settings
Exclude or Specify Pages for Displaying
Timed-Display Trigger
Scroll Trigger On-Element or On-Click
Exit Intent Support
Set Up Popup for Multiple Mobile Devices
Call-to-Action Button
Coupon & Redirect Link Creation
HTML & iFrame Fields
Image & Video Upload
Mobile-Friendly
Page-Speed Friendly Lazy Loading
Free-Coding Editor
Multiple Languages Translation
Custom CSS & JavaScript Editors










































Template Catalog
Need a Different Template?
Check out more ready-made templates for any use case or build your own!
Creating a faster way to supercharge your lead generation efforts is easy with this popup template.
Add a persuasive popup template to the website and guide visitors toward your desired goals.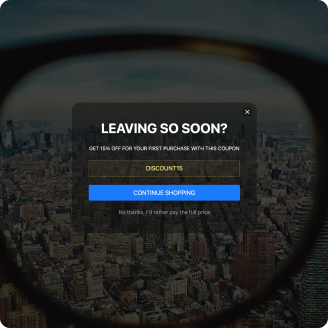 Add a popup widget to capture your website users' attention one last time and retain their interest.
Creating a popup widget to optimize your lead generation strategy and increase sales up to the sky.
Create a popup template and entice website visitors to sign up for your platform, service, or exclusive access.
Add a popup template to promote your latest E-book or valuable content in an attractive and engaging way.
Add a popup template on the website and welcome visitors to join your exclusive community.
No Suitable Template?
You can easily assemble the widget you need using our simple-to-use configurator.
Here's what people say about Elfsight Popup widget
For the course of the past few weeks, I have been employing the Popup widget, and I must say it has provided me with all my expectations. With no coding knowledge, Elfsight enables me to build a plugin that I can easily install on client websites to cover the required functions.
The user-friendly nature of designing personalized widgets has saved me time that would have otherwise been spent writing code for specific elements on my HTML website. I anticipated the seamless performance of the product. Nevertheless, the top-notch service and support I received surpassed everything. Highly recommended!
The Conversion Popup has been successfully added to my website with no glitches encountered. I'm genuinely amazed with the customer service as well. They've proven to be incredibly helpful with any inquiries I've had and answered them within a matter of hours.
FAQ
How to create the Conversion Popup template for the website?
If you want to create the Conversion Popup for your HTML website, take these steps:
Access the Conversion Popup template.
Adjust the elements and features to match your branding.
Log in to your Elfsight dashboard.
Obtain the installation code.
How to add the Conversion Popup template to the website?
To embed the Conversion Popup on your HTML website, perform the following actions:
Customize the look of the Popup widget to your preferences.
Sign in to your Elfsight dashboard panel or set up a free account.
Obtain the unique installation code.
Navigate to your website.
Paste the code into your website builder. Voila!
For additional details, we advise checking out our blog article on how to embed Popup on a website.
Do I need to have coding or programming skills to embed the Conversion Popup?
No, you don't. It's absolutely unnecessary to have coding expertise. You can easily build and embed the Conversion Popup on your website without any specialized background or knowledge.
Can I set up the popup to open automatically?
You can definitely do this. In the building mode, select a trigger that will ensure the Conversion Popup template appears at the appropriate moment on your HTML website. Below are the alternative choices: on-page load, within a specific time spent on a page, on scroll, on scroll to element, on click, and on exit intent.
Can I use the Conversion Popup template for free?
Absolutely. There is no need to rush into the paid options straightaway. Elfsight follows a tiered subscription model that offers Free, Basic, Pro, Premium, and Enterprise plans. Go at your own pace and enjoy exploring all the functionalities without limitations using our Free tier. Remember, you can always upgrade and gain access to extra benefits!
Can I add a call-to-action button to the Popup widget?
Absolutely, you can! Simply follow these steps:
Open the Popup editor.
Find the "Blocks" menu option.
Insert the "Button" element.
Set up a call-to-action message, click action, and visual display.
What email integrations or tools does the widget support?
The most significant benefit of this HTML widget lies in its synchronization capacity with third-party applications: Mailchimp, Zapier, and Google Sheets. Feel free to go above and beyond and be assured that no captured data slips away.
Where can I add the Conversion Popup on my website?
It's up to you to decide. No set guidelines need to be met. But ensure that it makes sense and is placed in the highest traffic spot, such as the main page or product page.
How to customize the Conversion Popup?
Limitless creative possibilities-tailor the look of the complete widget to reflect your brand standards and achieve rapid conversion growth:
Popup details
You have the option to layer elements and build a versatile structure of content blocks: title, text, call-to-action button, redirect link, discount voucher, form, image, and video. Plus, to enhance the visual appeal, you can incorporate spacing, separators, and custom HTML and iFrame fields.
Display settings
Elfsight provides you with three alternatives: frequency, pages, and devices. Define all the requirements to maintain the desired level.
Custom elements and features
And yet, there are unlimited possibilities to discover: triggers, custom CSS, custom JS, redirect link, layouts, close buttons, background visuals, alignments, and so on.
To avoid misunderstandings and issues, reach out to our Customer Support Team to address any concerns!
Help with Conversion Popup Setup and Website Installation
For more information on the plugin templates or guidance, look into these resources:
Support
If you're facing any unresolved issues, we advise you to reach out to the Elfsight Support Team or explore related posts in the Help Center.
Forum
Connect with like-minded business owners and join ongoing events in our exclusive community for additional support.
Wishlist
Feel free to submit creative ideas, functionalities, and widgets by using the Wishlist.