Giveaway Popup template for website
Reward your website audience to boost brand loyalty with our Giveaway Popup template. Encourage visitors to partake in exciting contests and take all the chances of winning. Grow your customer base while creating a positive and fun brand experience!
Works on 99.9% of websites
Features
12 Custom Content Blocks
Email Notifications via Form Submission
5000+ Integrations
Customizable Modal, Slide-in, Pane Layouts
Sticky Popup Opening Button
Frequency Popup Display Settings
Exclude or Specify Pages for Displaying
Timed-Display Trigger
Scroll Trigger On-Element or On-Click
Exit Intent Support
Set Up Popup for Multiple Mobile Devices
Call-to-Action Button
Coupon Code & Redirect Link Creation
HTML & iFrame Fields
Image & Video Upload
Mobile Responsiveness
Page-Speed Friendly Lazy Loading
Free-Coding Editor
Translation to Any Language
Custom CSS & JS Editors










































Template Catalog
Need a Different Template?
Check out more ready-made templates for any use case or build your own!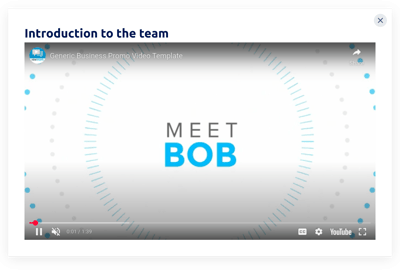 By means of Elfsight Popup you'll manage to create eye-catching widget that your audience won't miss.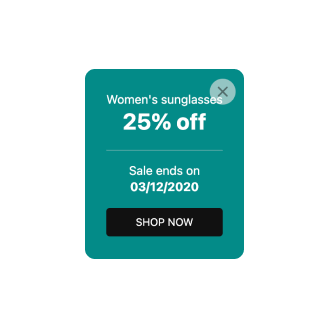 Help your visitors stay up to date with your future events by means of Elfsight Popup.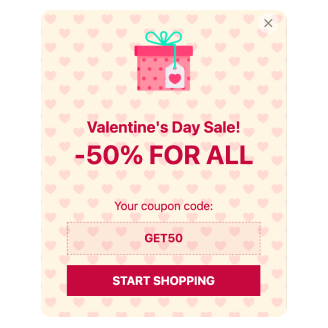 Add a bit of love in the air, show romantic gestures, and boost sales on Valentine's Day with this popup widget.
Create a popup template and encourage online shoppers to complete their purchases.
Create an attractive popup widget to prompt users to add items to their carts with a few clicks.
Add a popup template to your website and offer exclusive coupon codes or discounts to online shoppers.
Add a discount popup to your website to draw attention and motivate users to make a purchase.
No Suitable Template?
You can easily assemble the widget you need using our simple-to-use configurator.
Here's what people say about Elfsight Popup widget
I've been actively employing the Popup widget for a couple of weeks now, and all I can say is it's been the best journey. With zero coding expertise, Elfsight enables me to build a plugin that I can seamlessly integrate into client websites to cover the required functions.
The user-friendly interface for designing custom widgets has significantly reduced the time, relieving me from the burden of manually coding certain elements on my HTML website. I expected the product to function seamlessly. Nevertheless, what truly caught me off guard was the exceptional service and support. I highly recommend it!
I have added the Giveaway Popup to my website, and the experience has been problem-free. I'm highly impressed with the customer service team as well. They've proven to be incredibly supportive, promptly resolving all my inquiries within a few hours.
FAQ
How to create the Giveaway Popup template for the website?
To make the Giveaway Popup for your website, follow these directions:
Choose the Giveaway Popup template.
Customize the elements and features to align with your branding goals.
Sign in to your Elfsight admin panel.
Get the installation code.
How to add the Giveaway Popup template to the website?
To embed the Giveaway Popup on your HTML website, do the following:
Customize the look of the Popup widget to reflect the design choice of your site.
Sign in to your Elfsight dashboard panel or set up a free profile.
Get the unique installation code.
Go to your website.
Paste the code into your website builder. Done!
For further information, we recommend reading our blog article on how to embed Popup on a website.
Do I need to have coding or programming skills to embed the Giveaway Popup?
No. There is no need for any coding expertise whatsoever. You have the full capability to create and embed the Giveaway Popup on your website, even without any specialized background or prior experience.
Can I set up the popup to open automatically?
Yes, you can. Pick a trigger in a building mode to showcase the Giveaway Popup template at the precise moment on your HTML website. Here are the alternatives: on-page load, within a specific time spent on a page, on scroll, on scroll to element, on click, and on exit intent.
Can I use the Giveaway Popup template for free?
Yes, indeed. There is no hurry to jump straight into the paid options straightaway. Elfsight utilizes a tiered subscription model that offers Free, Basic, Pro, Premium, and Enterprise plans. Take your own pace and enjoy exploring all the features without limitations with our Free tier. Just remember, you can always upgrade later to unlock extra options!
Can I add a call-to-action button to the Popup widget?
Absolutely, you can! To get started, follow these steps:
Open the Popup configurator.
Find the "Blocks" menu choice.
Include the "Button" block.
Configure a call-to-action message, click functionality, and visual style.
What email integrations or tools does the widget support?
One of the standout features of this HTML widget is its ability to link with third-party apps, including Mailchimp, Zapier, and Google Sheets. Rest assured, you can confidently take additional steps without any concern of losing any captured data.
Where can I add the Giveaway Popup on my website?
This decision is yours to make. There aren't any specific guidelines to adhere to. But ensure it is logical and placed in the highest traffic zone, such as the homepage or product page.
How to customize the Giveaway Popup?
Limitless creative possibilities-personalize the look and feel of the whole widget to showcase your brand standards and accelerate conversions in no time:
Popup details
You have the option to layer elements and create an array of limitless content blocks: title, text, CTA button, link, coupon, form, image, and video. Plus, to elevate visual aesthetics, you can insert spacing, dividers, and custom HTML and iFrame fields.
Display settings
Elfsight provides three settings: frequency, pages, and devices. Define all the necessary preferences to maintain a high level of quality.
Custom elements and features
Moreover, you still have so many features left to unlock: triggers, custom CSS, custom JS, redirect link, layouts, close buttons, background visuals, alignments, and so on.
To exclude confusion and issues, contact our Customer Support Team to address any questions!
Help with Giveaway Popup Setup and Website Installation
If you find yourself in need of more details on the plugin templates or help, peruse these resources:
Support
If there are any unresolved problems, we suggest you contact the Elfsight Support Team or browse related topics in the Help Center.
Forum
Seek additional support from business people like you and join ongoing activities in our dedicated community.
Wishlist
Feel free to share innovative ideas, features, and plugins through the Wishlist.