It is well known that reviews influence consumer behavior. A successful strategy involves optimizing your Google Business Page listing, responding to existing reviews on time, asking customers for help, and more. In today's article, we'll discuss the psychology behind Google reviews and provide an extensive guide to increase them.
Why Are Google Reviews So Valuable?
Having more reviews on Google can do wonders for a business: shape consumer psychology, help you with SEO, and indicate trustworthiness. But before jumping to a detailed discussion of specific points, let's do a little experiment. Look at the picture below with three coffee shops located in the same area and price range: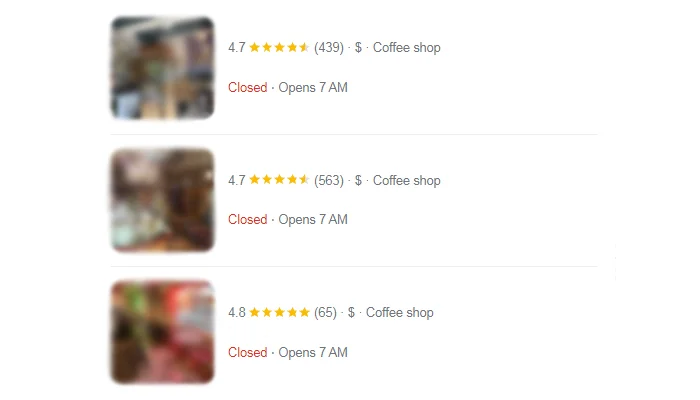 Which one appeals to you? Where would you go to enjoy yourself and spend money? Take as much time as you need to reflect and define what resonates with you.
Our choice shifts to the second option revealing more customer reviews. Why? It occurs to be the most visited and trustful place because of how many people have decided to leave feedback reviews. The logic is based on a psychological factor to consider others' opinions to build a perspective and increase confidence in our own decisions.
In the study made a decade ago, researchers have already acknowledged that people rely on somebody else's responses and reactions to determine what is valuable: what to buy, where to eat, what to use, etc.
So when a potential client consumes positive personal recommendations from other users, they find the product/service is tolerable to their needs and use reviews as social proof. Also, it invokes the ideal picture of accurately matching values with what the brand broadcasts to the public, which increases trust and respect.
In addition, what highlights Google Reviews' importance is its undeniable help in search engine optimization (SEO). The more people write about your business in Google Reviews, the higher your ranking will be in the Google search engine.
The central question surrounding all the mentioned information above is how and in what ways to increase reviews on Google. Among all the possibilities, we won't be talking about buying fake reviews from unknown content farm companies with poor outcomes. Instead, focus on more quality methods that will put you on a path toward big and genuine success without any side effects that might come along with it. Shall we get right into it?
How to Increase Reviews on Google?
Google reviews are a crucial tool for businesses, both large and small. They help businesses build trust with potential customers and increase the power of bonding by giving an accurate view of the quality of products and services they offer.
The question then stands: what are the most relevant and legal methods to increase reviews on Google? Time to point them out and share some insights.
1. Optimize Your Google Business Page Listing
For a start, contribute time to optimizing your Google Business page to rank higher in the Google search engine and increase the reviews number. Simple as that. It is a common thing — filling out the account information incorrectly. Ultimately it needs to be addressed with a detailed business description and additional keywords, which brings us to some general areas that perhaps require your extra attention:
Profile info
This is a fundamental step to take into account when you decide to increase reviews on Google. Once you've chosen the business in the Google dashboard, identify what's been missing: business name, categories, description with needed keywords, contact information (phone number and website), location, and business hours. From an outside perspective of the client, these give enough information to believe the pure brand's intentions. Plus, there are positive changes in establishing your position in the business ranking of the same category on Google.

Updates
There is something else you have yet to try, but maybe you were busy all this time — update your account regularly. Tend to increase the number of posts with photos as much as you are able to. Think of it as the more you post, the more reviews you get. This will keep your page likable by Google and help you promote the latest news, offers, and events to your potential customers.

Product/service details
Accomplish adding all the services or products your business offers to the market. Sort the prices and images, then complete the description with the necessary information and characteristics to increase the page quality.
Small tips:
Don't make too many simultaneous changes to avoid getting suspended because of escalated activity.
Opening a Google business account is required, in case you don't have one yet.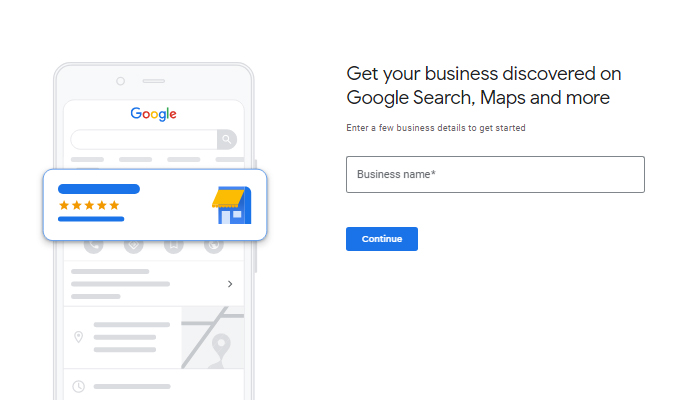 2. Respond to Existing Reviews
Responding to an existing reaction is an equally important method to increase reviews on your business's Google page. Bring some awareness to customers about your openness to feedback and willingness to accept others' opinions, even if the reviews are not exactly positive or match your expectations.
With that being said, despite how negative the Google reviews might be, try not to take them close to your heart. It's not about you — it's about them and their preferences. Learn a lesson and take it as an opportunity to grow and increase brand recognition.
Also, let's elaborate on your tone response for Google reviews and mention another point. To make an impact on a new audience and increase chances for feedback, show some personal touch: call names, avoid using premade answers, and make it sound more realistic like you're talking to a friend or business partner. Replying with an appreciation for positive reviews and ownership of any negative ones may demonstrate that customers mean a lot to you and can help increase loyalty in return. It's all about being mindful of the language you use and politeness!
3. Ask for Reviews From Your Old-Time Customers
Overcome the fear of being rejected and needy by reaching out for reviews to your good old-days customers that have shown respect and loyalty to your brand through the years. Most likely, these customers are ready to leave positive reviews as they've already had a good experience with your company and understood the value of your products or services.
There are two ways you can ask for reviews:
Send out an email or SMS. You can reach out directly through email or SMS and provide them with a link to your Google page and information on how to leave reviews.
Personal reminder. Sometimes, all it takes is a simple reminder to encourage customers to leave reviews on Google. You can take some time off to arrange a call or meet face-to-face and politely prompt them about Google reviews.
This could be a practical approach to increase the reviews on your Google listing in the short term but may not be beneficial in the long run as it does not guarantee genuine feedback.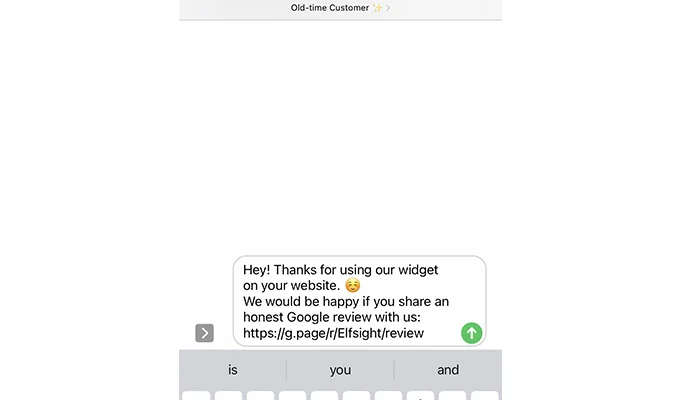 4. Embed Google Reviews Link on Website and Social Media
In the age of easy accessibility and a broad spectrum of options, Google reviews are a necessity rather than a simple fancy tool to increase acceptance. For many people, their first step in researching a new business is to look up the ratings and screen the product/service quality. It's important for you to make sure your Google reviews are readily available for potential customers.
So posting a link to the Google Reviews page on your website or sharing it across social media is an incredible initial proposition to spark the talk. Generally speaking, if customers have discovered your business first on Instagram or Facebook, the Google Reviews page can be a confirmation of your online presence on the Internet.
This interaction can help increase the possibilities for potential customers. They get to know your brand better and accept the provoking urge to assume you as an authority based on stories with thriving experiences from other people's reviews.
5. Share Google Reviews Link in Newsletter Campaigns
The goal of newsletters is to remind customers about your business and the experience with the product/service to increase the chances of feedback response. Tracing the roots of the first time using your product and their thoughts on it up to this day can be a powerful tool to increase reviews on the Google page. Send emails after a customer makes a purchase or wait a couple of days, weeks, or months to receive more detailed reviews.
Here are a few tips for writing a marketing email to increase reviews:
Personalize the email newsletter with the customer's name and information about the last purchase — this will feel more genuine, show a personal connection, and offer a sense of appreciation for leaving reviews.
Keep the message brief and clear — remain your email newsletter short and sweet to not overwhelm or increase triggers.
With these in mind, you should be well on your way to creating an effective newsletter campaign that leads to more customer reviews on Google.
6. Share Google Reviews Link in SMS
Even though sending promotional emails is fairly helpful, SMS messages can do a better job for you. If you are not committed to resilience, it will be challenging to avoid reading one. Plus, SMS obtains a decent reach compared to emails that may be lost in spam or promotion folders.
So the point is: including a link to the Google Reviews page in your SMS messages can help customers quickly and easily leave reviews.
When sending out SMS messages, include names and a call-to-action phrase like "Leave us a review on Google." Another thing that can be beneficial for building a strong belief in your actions is sharpening your skills in explaining why you would like their reviews and how much they will support your business.
On top of that, set reminders or automate the process to never lose anything out of sight.
7. Personal Reminder About Google Reviews
When customers buy a product or service from your business, it's a great time to ask them to leave reviews on Google. Implementing personalized reminders can show how much you care about their experience and value customers' honest opinions to increase the chances of them actually leaving reviews.
For example, you can include a note in their order confirmation email or an insert in their purchase box. If your staff members make sales calls or visit customers, they can share guides with step-by-step information on how to leave reviews on Google.
Be sure to provide clear instructions on how to add reviews so that customers won't be confused by the process. Also, don't forget to thank them for taking time out to express authentic emotions about the product in reviews!
8. Create QR Code for Posters, Receipts, and Business Cards
Making a QR code to print on posters, receipts, and business cards is another method to increase Google reviews. What's striking about this is you can create whatever you want. This code will be linked directly to your Google review page, which makes it easier and faster for people to leave a review.
The benefits of using QR codes to increase your Google reviews include these:
Quickly generate reviews from existing customers.
Create an automated process for collecting customer reviews.
Increase the likelihood of customers leaving positive reviews.
Give customers an easy way to write Google reviews without a manual search.
You can also use this code as a reminder for customers who have received quality services from you but have not left any reviews yet.
The End Point
Google reviews are essential for any business: they add credibility and trust. To increase the number of reviews for your business, it is critical to optimize your Google Business page, respond to existing reviews, ask old-time customers for help, share the Google review link, provide a newsletter and SMS, send a personal reminder, and add QR codes for posters and receipts.
Following the discussed earlier steps in a post, it will help your business get more Google reviews and boost its visibility. But most important, it will offer an opportunity to have healthy and genuine relationships with clients.