You can get tons of Google reviews by allowing customers to leave comments with a simple scan. In this article, you'll learn how to easily get and publish a QR code on your website.
The QR code is a gorgeous solution for improving SEO of a website and generating more positive reviews. You can get a QR code leading to Google and allowing people to leave their honest reviews there with two options: with a widget or an official Google solution.
Google Business reviews QR widget
The QR code can instantly forward users to a Google profile of your company. The code contains the link you convert into a black-and-white pixel picture. Your customers will need to focus their cameras on it and they'll instantly get to the needed profile.
Try out this QR code widget and publish it on your site for free. The process requires zero developing skills and no professional web design. Here's how you can embed it on a website:
Register at Elfsight Apps.
Generate a QR Code widget and customize it the way you want.
Get an embed code.
Paste it to your website code.
That's it! Now, you are ready to show a website on your tab or computer and collect fantastic reviews after customers have successfully purchased your product.
Google Reviews widget
In case you need not just a single QR code on a website, but also review markup and a beautiful, converting review gallery, then you'll need a functional Google Reviews widget. Try it out in a demo below:
Besides all the perks of a simple QR link, you'll get tons of other benefits:
An installation code that works on any CMS
You can embed your Google Business Reviews on a website that you've created in Elfsight Apps on any platform.
Professional ready-to-use templates
You can choose from tons of ready Review examples with which you'll save time and money creating a gallery for your website.
Top-notch support
Fast and friendly support will help you with any enquiries: from customization to installation on ANY website builder you use.
Schema markup
Built-in markup will automatically show stars in your website search snippet. It will increase the number of clicks and conversions.
Find more perks and installation guides. Great to know that you can create and embed the widget for free without any obstacles.
Create a Google Business Reviews QR
You should make your Business profile ready for people to eagerly leave reviews via a QR code. Then, get a QR and publish it on a website.
Step 1. Set up your profile
Make sure that you use all the best practices recommended by Google:
Verify Business profile. If you don't, you won't be able to answer users' comments.
Remind people to leave reviews at the right time. No one will write a positive comment after having purchased an item of low quality. Determine your target audience, divide people into right groups, and see them eagerly leaving reviews after you've made them happy.
Reply to all the reviews, even negative ones. It will grow trustworthiness in the eyes of your audience. Look at negative reviews as at the point of growth, improve the situation, and proudly tell other Google profile visitors about them.
Value reviews. It's important to mention that Google doesn't allow My Business profile owners to manually delete reviews.
If you see any reviews that don't match Google guidelines or fraudulent ones, you can easily report them and request their removal. But it's impossible to delete them manually.
Step 2. Get a QR code for Google Business
You have two main options of generating a QR code: create a static QR code for printing it out or get a dynamic one. You can get a lot of advantages of a static one:
Opportunity to show a QR in brick-and-mortar shops
What can be better than asking for a review after a customer has successfully purchased an item from you? He or she is in a good mood and wants to make you happy either. Your offer to leave a review is the right approach here.
Possibility to print out a QR code on different physical objects
You can get stickers with QRs and place them on your restaurant's tables. In addition, you can print them out and put them on reception in front of visitors' eyes after they are leaving your shop or hotel.
Let's say you want to change a business name. Then, you'll need to change a QR code for Google Business reviews everywhere! In this case, dynamic QR code is the best choice. You should simply go to your code settings and change the URL, save modifications and your QR image won't change, whereas the link will update automatically.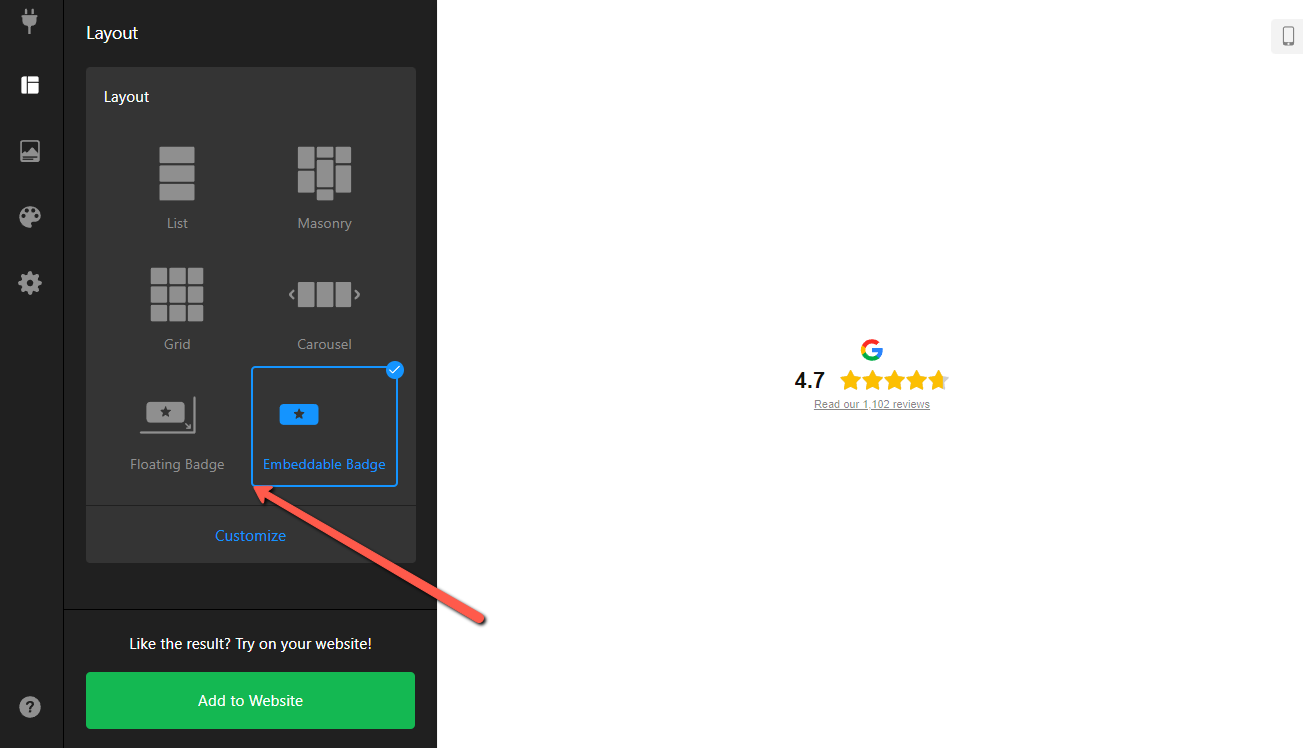 It doesn't change when you modify the settings of your profile
You can change the business's address, name, and any other crucial information. It won't require you to generate a new QR code.
You can place it on a website
This option gives you tons of benefits. First of all, your website visitors are able to scan it with an extension for Google browser and go directly to your Google Business profile. You can show a QR after people are leaving your place with happy feelings, they can scan it with their cameras and go to your profile without any delay.
To generate a dynamic QR use a widget – a simple, intuitive, and zero coding instrument for creating QRs. It only takes a few seconds to generate and embed it through any website builder and CMS.
Step 3. Enjoy!
Get the maximum from your QR code, place it on any surfaces available and collect reviews from grateful customers. With the QR code on a website you'll have an opportunity to add tons of different types of content in different formats, not cluttering your site design at all.
This simple detail will help you build brand transparency, for there will be an opportunity to offer customers comprehensive information on separate pages without making them search.
Let's cut it short
QR codes are incredibly useful in differentiating website content and building brand transparency. You can place a dynamic QR code widget on your website and show after people happily leave your place, or make stickers with a static QR. This way is not very convenient, because you'll need to generate a new QR for Google My Business each time you change brand info.