Navigating the complexities of managing bad reviews on Google can seem daunting, but with the right approach, it's certainly within reach. In this comprehensive guide, we'll explore the various strategies and steps you can take to effectively delete or address bad Google reviews. From understanding Google's review policies to engaging with customer feedback, this guide will provide you with clear, actionable advice to help you enhance your business's online reputation.
Why Should I Delete Google Review?
Every business owner dreads receiving a bad review on Google, particularly when the feedback seems unjustified or potentially fabricated.
Your frustration is understandable. Negative remarks on platforms like Google business listings, TripAdvisor, or Yelp, or a string of unfavorable comments, can deeply impact the hard work and dedication you've poured into your business.
In this article, we'll guide you through several methods to delete or remove a Google review from your Google Business Profile.
By the way, you can easily display all the reviews your business receives on Google Business. Just use Elfsight Google Reviews widget for this purpose and you're good to go.
Showcase your Google Reviews automatically, enhancing your site's credibility!

What's a Google Review?
You might think it's obvious, but with so many review sites out there, let's get clear on what a Google review really is. It's a way for your business to show off what customers think about you and what future customers can expect. These reviews pop up on your Google Business Profile when people search or use Maps. Google reviews are based on a star system. Customers can give anywhere from one to five stars.
A five-star review? That's a happy customer who loved their experience with your brand. On the flip side, a one-star review indicates a customer wasn't too thrilled.
To check out reviews on a Google Business Profile, just click on the business's star rating or the blue link showing how many reviews they've got. You'll see a breakdown of ratings by star, the top words people use in their reviews, and all the feedback left for that spot.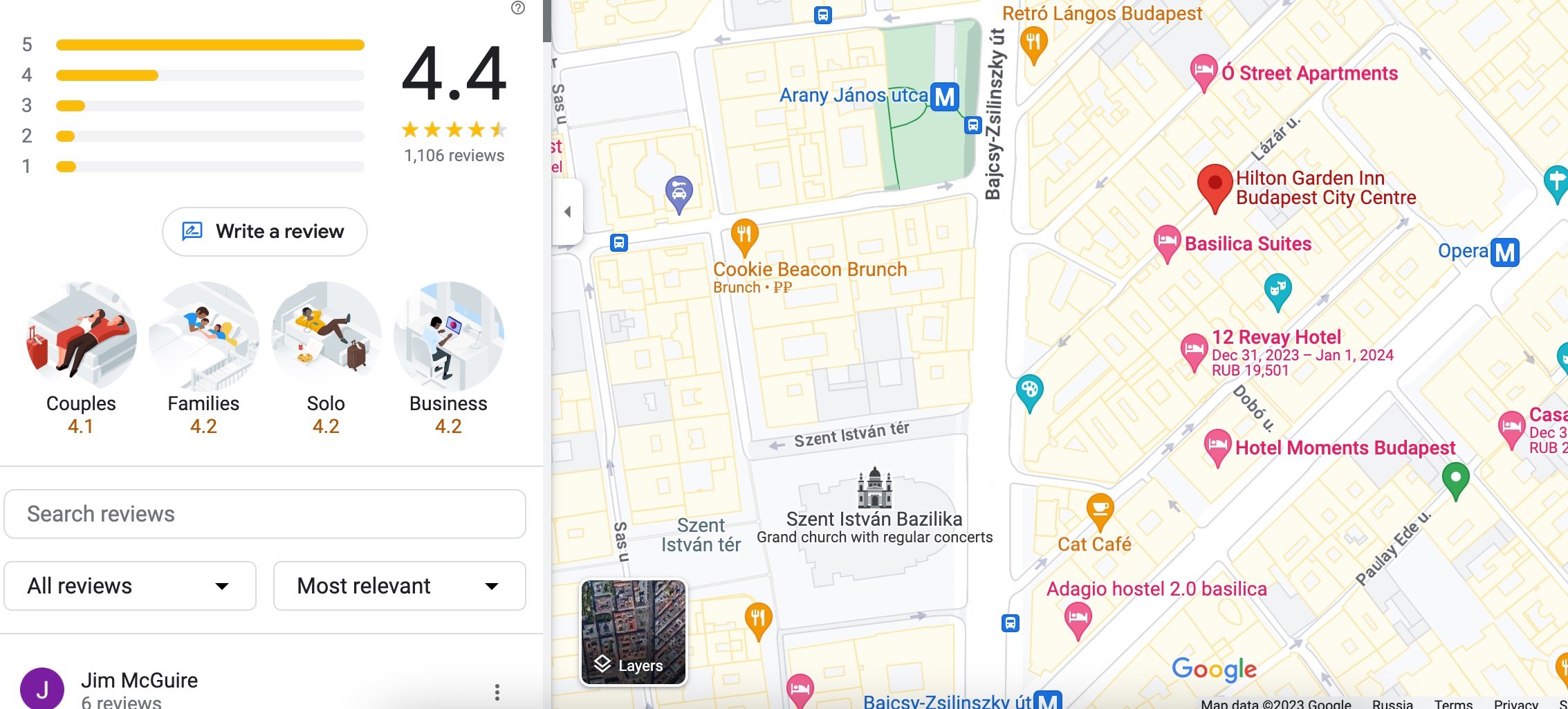 You can sort the reviews by what's most relevant, newest, highest, or lowest rating, giving you a comprehensive view of how a business is doing.
Can I Delete Google Review?
Google doesn't let businesses delete or remove reviews from their Google Business Profile. This stops businesses from just erasing negative feedback.
To get a review off your profile, the person who wrote it can delete it, or you can ask Google to remove it if it's not appropriate.
You can report a review for removal using Google Maps or Google Search. To make sure reviews stay genuine, there are two ways to delete them. The first is for the reviewer themselves to delete their own review.
The second way is for businesses to request Google to delete or remove the review. But remember, Google will only consider this if the review breaks their content rules.
Negative Google Review: Which One to Delete
Not every bad review can be taken down.
If a customer really didn't like their experience and writes about it, you can't ask Google to remove their review. Google will only delete or remove a review if it breaks their rules. Good news for businesses, though! Google is pretty strict about removing reviews that aren't okay, and there are quite a few things they consider not okay.
Here's a list of some types of reviews that can be removed:
Civil Talk

Inappropriate Google reviews include harassment, hate speech, offensive content, or personal details.
Reviews that harass or threaten individuals or businesses can be flagged for Google to delete, clear, or remove.
Hate speech and reviews that incite trouble or attack others are not allowed.
Google's policy prohibits reviews that disclose personal information like credit card numbers or medical records.

Fake News

Google disapproves of fake reviews, impersonation, misinformation, or deceptive content.
Reviews not based on real experiences or that attempt to manipulate through bribery can be deleted, cleared, or removed.
Impersonating someone or spreading lies in reviews is against Google's policy.

Mature Content

Reviews with profanity or adult content for the sake of offense are not tolerated and can be deleted or cleared.
Google aims to maintain a family-friendly environment, allowing only mature content for educational, documentary, scientific, or artistic purposes.

Risky and Illegal Content

Reviews that discuss or promote legally questionable activities, such as alcohol, tobacco, gambling, firearms, and certain services, are subject to removal.

Irrelevant Content

Google may delete or remove reviews that are off-topic, politically motivated, or commercial in nature, as they detract from useful business information.
How to Delete Google Reviews: Three Options
Sadly, Google doesn't provide an easy "delete" or "clear" button for its reviews. There are just three ways to get rid of a review: the person who wrote it can delete it themselves, your business can "flag the review as inappropriate", and you can file a legal removal request. When you flag a review, you're telling Google that it doesn't meet their review guidelines.
Once you do that, you'll be taken to a page where you need to fill out a short report about the problem and give your email for any follow-up messages.
Delete Google Reviews by Flag as Inappropriate
You simply have to follow the steps below:
Go to Google Maps and search for your business.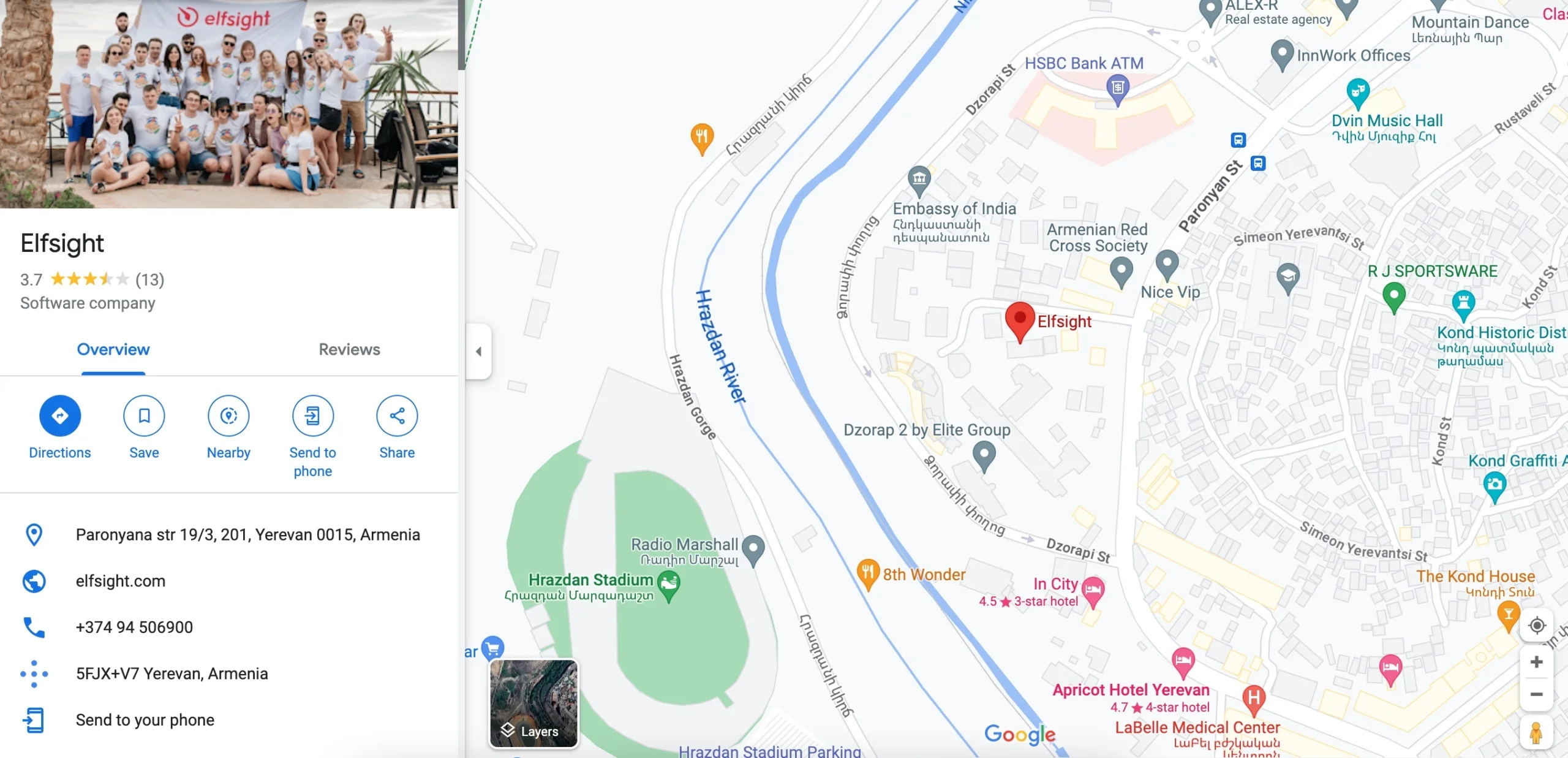 2. Navigate to the Google reviews section and locate the review in question.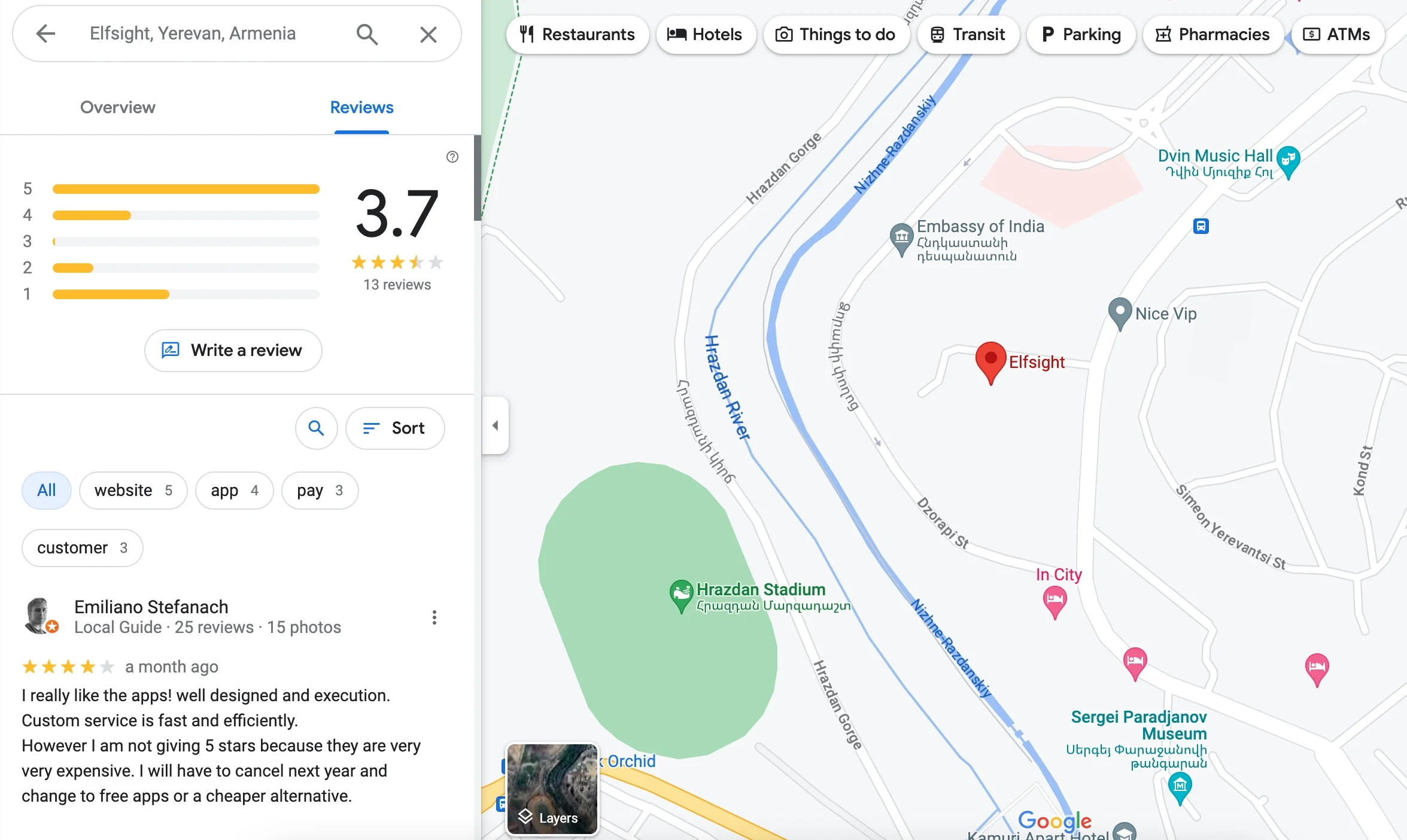 3. Click on the three vertical dots beside the review and choose "Flag as inappropriate".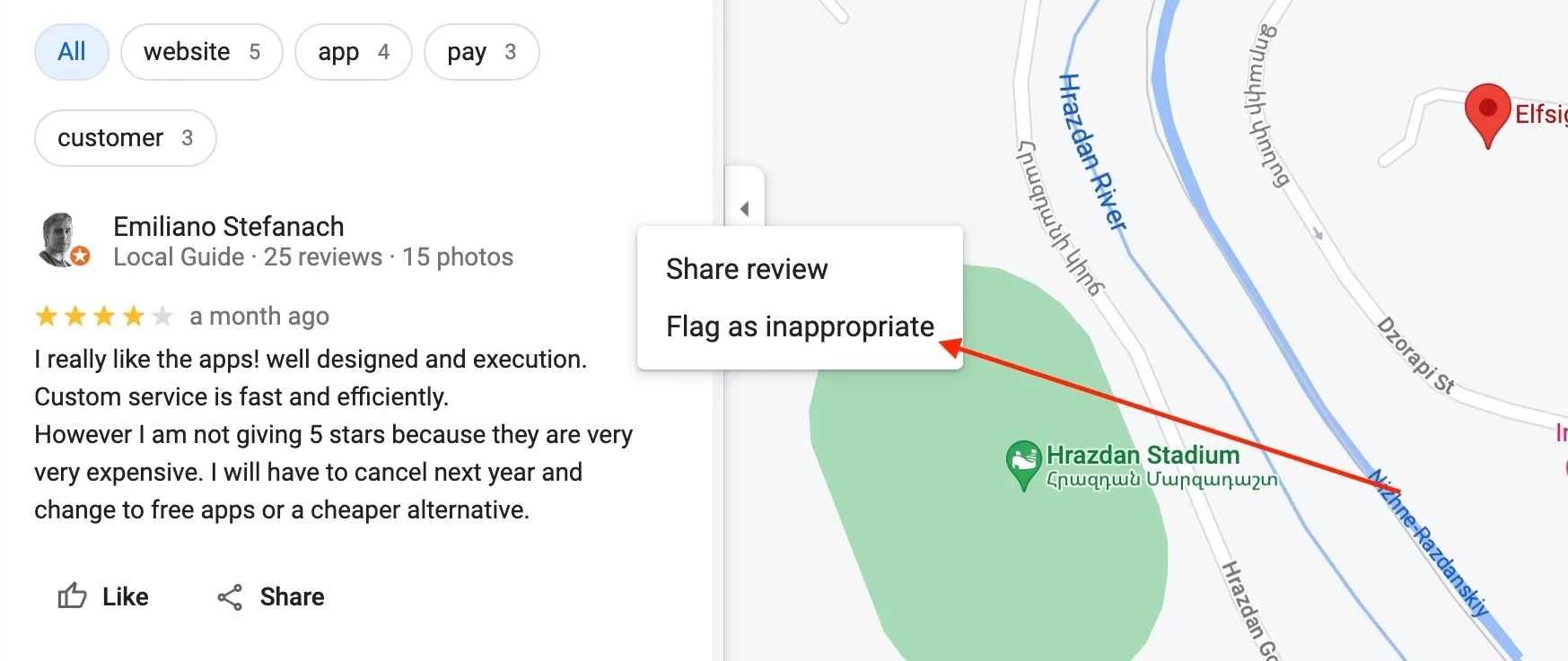 4. Select a reason from the options provided under "What's wrong with this review?".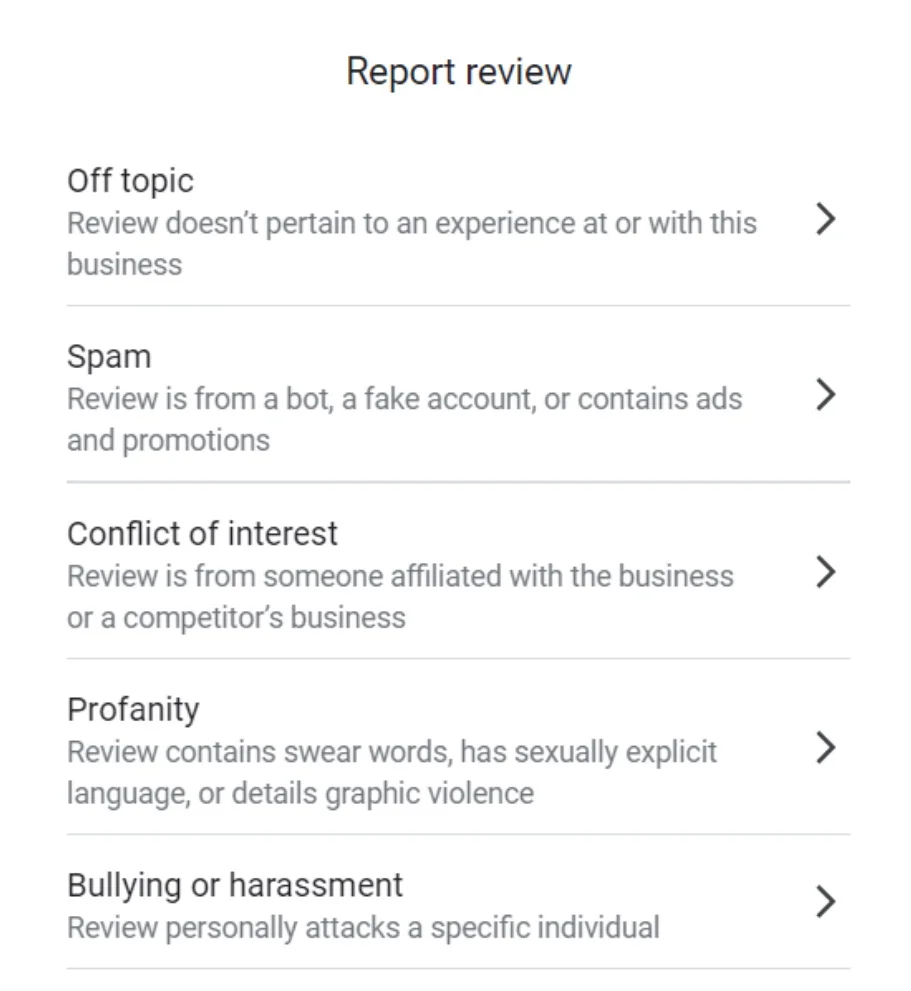 5. Submit your report about the review to Google.
Asking Users to Delete Google Review
Handling bad reviews well can be really beneficial for businesses. A bad review isn't the end of the world. In fact, you can turn unhappy customers into big supporters of your brand by dealing with their issues in a professional way, and not rushing into deleting those.
When you get a negative review, try to see where the customer is coming from. Can you fix their problem?
If it's a simple fix, respond to their review with your solution.
For more complex issues, suggest they email you their concerns. This shows others you're proactive in offering help, but keeps the details private. Plus, you get to understand the customer's side of the story better.
Once you've sorted out the issue and made the customer happier, you can nicely ask them to update or delete or remove their Google review. If you've really helped them out and ask nicely, they might just do it.
But if they don't want to change the review, you can flag it for Google to check. Remember though, responding to a review usually means Google sees it as valid and less likely to be removed.
In the worst case, if the review stays up and Google doesn't remove it, everyone will still see you tried to help. Showing you care can sometimes be even more impactful than just having good reviews.
Below are some tactics you may want to use in handling bad reviews personally:
Don't just ignore a bad review. Respond quickly and professionally. Show you care about the customer's issue and try to fix it or explain what happened. This demonstrates your commitment to listening and resolving problems, which we'll talk about more soon.
See the example of problem solving by Hilton: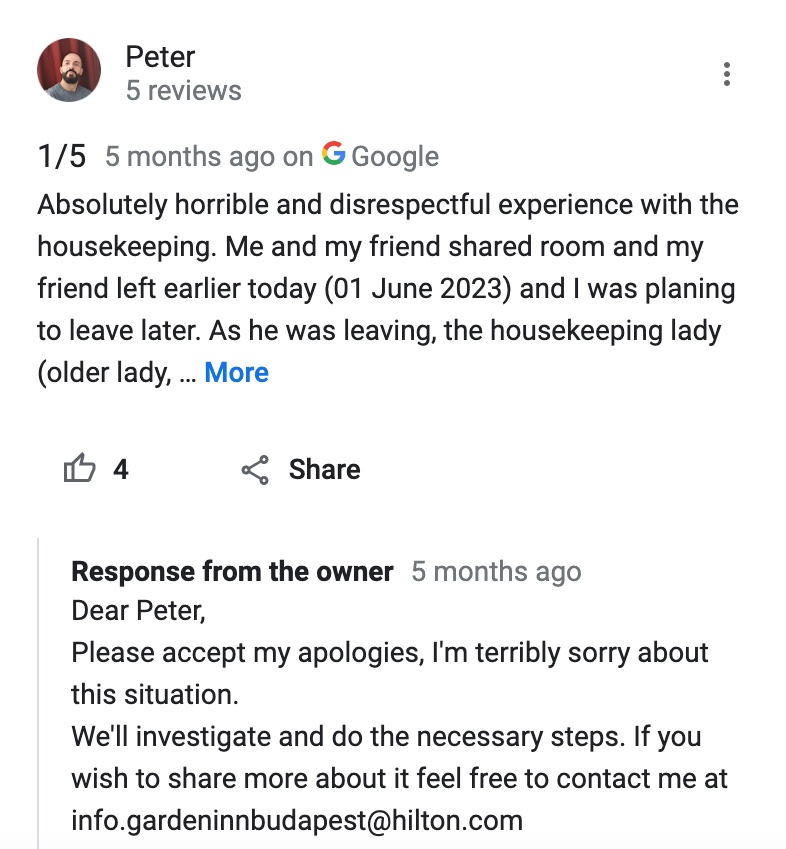 When dealing with bad reviews, keep your tone light and positive. Avoid getting defensive or upset, as that can make things worse. Thank the customer for their feedback and focus on how to solve their issue instead of simply asking to delete.
See the example of problem solving by KFC: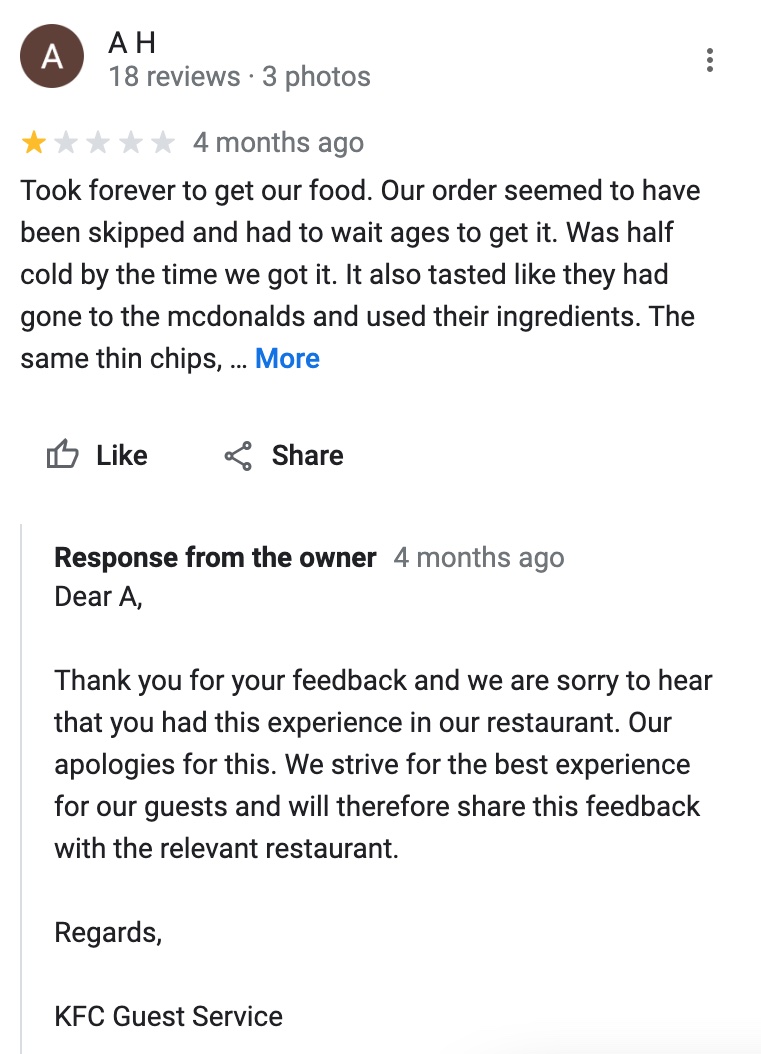 Handle the problem privately
For more complicated issues, give the customer a direct way to reach you, like a phone number or email. This shows you're really trying to sort out the problem and are willing to go further to do so.
See the example of problem solving by Radisson: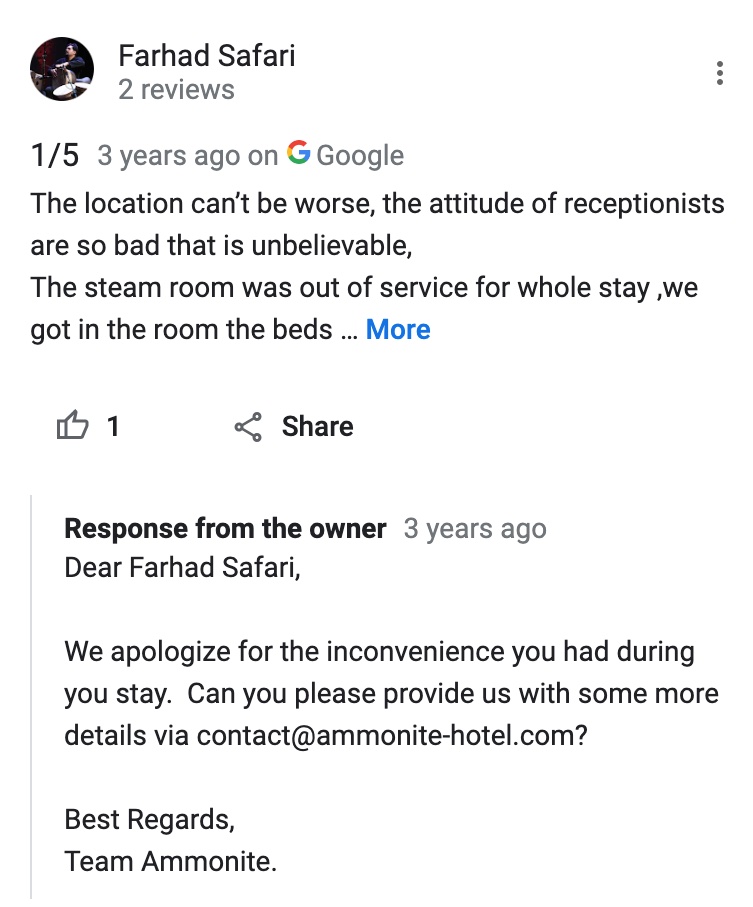 Check if the review is real
Not sure if a review is genuine? Look for signs like it being really vague or not having specific details before asking or trying to delete it. Check the reviewer's profile for other reviews or a profile picture. If something feels off, it probably is.
See the example of problem solving by Hello Beautiful salon: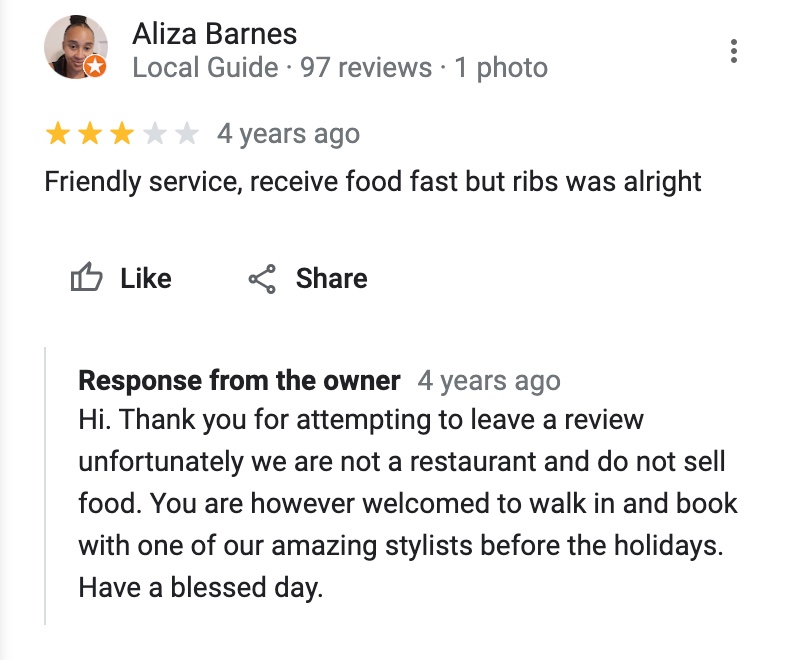 Submit a Legal Removal Request
Another way to get rid of bad Google reviews history or clear them, though it's not for every situation, is to file a legal removal request. This works only if the review is actually breaking the law.
How to submit a legal delete request:
Go to the Content removal tool.
Choose the Google product where the illegal content appears.
Answer the questions Google asks about the review.
Keep in mind, Google takes these legal requests very seriously. When you make this kind of request, you're basically saying there's some illegal stuff going on in the review. So, Google will be extra careful to follow all the proper steps from beginning to end before deciding to delete it.
Bonus: Contact Google by Tweet
If none of the previous methods to delete or clear negative feedback worked, you might want to take your issue to the public. Complaining on a public platform can nudge Google into action, as everyone can see their responses.
A good way to do this is by reaching out to Google on Twitter. Tweet at @GoogleMyBiz, and remember to follow them so they can DM you back about your issue.
To speed things up, attach any screenshots of the negative feedback you want to delete you have to your tweet or direct message. Don't forget to add a brief explanation and a link to Google's Small Business department. This gives them a clearer view of the problem and helps them respond faster and more effectively.
You can also contact Google via Live Chat.
Your Google Reputation: Balancing Negative and Bad Reviews
When it comes to managing your business's online presence, especially on Google, the instinct might be to delete or remove negative or bad reviews history. However, this approach can actually harm your business's reputation.
Surprisingly, a study indicates that 57% of consumers are skeptical of businesses that only showcase positive reviews on Google, suspecting these reviews might be fake or that the business is deleting all the negative feedback.
The urge to clear away bad reviews history from your Google Business Profile or Google Maps listing might seem like a good strategy, but it's not always beneficial. Not only does this delete and remove honest customer feedback, but it also impacts the authenticity that Google's algorithms look for when ranking businesses in search results and Maps. This means that by trying to clear or delete every bad review, you could inadvertently be harming your business's visibility and credibility.
In terms of SEO, both negative and bad reviews contribute significantly.
According to a Moz report, reviews, whether good or bad, constitute 15.44% of the factors determining a business's ranking on Google.
When you delete or remove these reviews, you're not just clearing away feedback; you're potentially impacting your business's natural search engine optimization.
Moreover, a business that is quick to delete or remove every piece of bad feedback might be missing out on crucial opportunities for growth. Negative reviews often contain valuable insights into areas where your business can improve. By examining this feedback, rather than rushing to clear it from your Google Maps or business history, you can identify and address underlying issues, enhancing the overall customer experience.
So, while it might be tempting to rapidly delete or remove negative or bad reviews from your Google business listing or Maps, consider the broader implications. Engaging with this feedback, understanding the concerns, and taking constructive actions can lead to a more authentic, trusted, and customer-focused business presence on Google.
Getting More Positive Reviews on Google: Tips and Tricks
There are lots of ways to get more reviews on Google if your business lacks them. Let's check them out:
✔ Ask for More Reviews
The best strategy to rack up more reviews? Just ASK! Make sure you're reaching out to every single customer, not just a few. The perfect time to ask is right after you've wrapped up with a client or during a project when they're feeling good about your work.
Here's how to make it easy for them:
Guide them through the process of leaving a review.
Send them a direct link to your Google Business Profile.
Show off some of your best reviews as examples.
If it fits, leave a review for your client on their Google My Business or LinkedIn as a nice gesture.
While it might seem daunting to ask for reviews, fearing negative feedback or reluctance from customers, it's worth the effort. Remember, a whopping 70% of customers will leave a review if you just ask.
✔ Incorporate a Review Link on Your Site or in Thank-You Emails
Simplify the process for your customers to leave a Google review by incorporating a review link directly on your website or in a thank-you email. This approach reduces their effort, allowing them to easily provide their feedback.
Here's how to create a custom Google review link:
Log into your Google Business Profile.
Choose the business location you're managing.
Click on 'Get more reviews'.
Edit to create a custom short URL.
Share this link with your customers.
Place this link as a pop-up on your website or include it in emails, whether it's a thank-you note or an invoice. The goal is to make it as straightforward as possible for customers to leave a review on Google for your business.
✔ Deliver Outstanding Customer Service
One reliable way to get more Google reviews is by delivering top-notch customer service. Exceptional service can inspire customers to leave a review without even being asked. The way you treat your customers can really turn things around for your business.
Building a strong relationship with your customers, showing appreciation, and offering standout service can make all the difference.
Here are some tips to enhance your customer service:
Offer more than the usual support; tailor your assistance to each customer.
Regularly seek feedback from your customers and act on it.
Find ways to elevate the customer experience.
Train your team to be courteous and understanding.
Ensure it's easy for customers to reach out to you.
When you make your business more approachable and caring, providing personalized and exceptional service, reviews will naturally follow. In this case, you often won't even need to ask for them.
✔ Engage with Your Google Reviews
It's important to respond to the reviews your customers leave. Remember, no business is immune to negative reviews, but how you respond to both positive and negative feedback matters a lot. Showing politeness and appreciation in your responses is key.
Many businesses overlook responding to negative reviews, but doing so is crucial. It demonstrates your commitment to customer satisfaction and how seriously you take their feedback.
When faced with a negative review, try these approaches:
Apologize for their less-than-stellar experience.
Reach out to them personally to understand the issue better.
Ask for specifics about their experience and how you can improve.
Consider offering something to make up for their bad experience.
For positive reviews, always express your gratitude. However, there are occasions when you might need to delete a Google review, especially if it goes against Google's policies.
✔ Celebrate Your Good Reviews
When your business gets positive Google reviews on Maps or anywhere else, make sure to spread the word! Share these glowing reviews on your website and across your social media channels. This not only gives your business some well-deserved spotlight but also encourages other customers to share their experiences.
As for Google, you can always display your positive reviews via Google Reviews widget by Elfsight! Try creating your first widget in the active demo below and see how engagement on your website and the amount of positive feedback grow!
By showcasing your positive Google reviews history, you're not just highlighting the good stuff – you're also inspiring more customers to leave feedback. Since not everyone might check your Google listing right away, promoting these positive reviews on different marketing platforms can help more people notice your presence on Google.
✔ Use Review Generation Tools
Struggling to get more online reviews from your customers? Don't stress. There's an easier solution: review generation tools.
These tools simplify the process, letting you automatically ask your customers for their thoughts. They come with customizable templates that match your brand's voice and style, making it easy to create campaigns for feedback. Just add your customer details once, and the tool will send out review requests and even follow up on them.
It's a hassle-free way to make sure you're getting reviews from all your customers.
✔ Keep Your Google Business Profile Fresh
When customers head over to your Google Business Profile to write a review, you want them to know they're in the right place. Regularly update your profile to make sure it reflects your brand accurately and remove any unnecessary info.
Ensure that your listing includes high-quality images, a detailed description of your business, current operating hours, and recent Posts to share the latest updates about your business. This consistency helps customers confirm they've found the right business and encourages them to leave a review.
FAQ About Deleting Google Reviews
Can I delete a Google review from my business listing or Maps?

While business owners cannot directly delete reviews history from their Google Business listing or maps, you can flag inappropriate reviews for Google to review and potentially remove. It's important to note that Google will only delete reviews that violate its policies.
What types of reviews can be removed from my Google Business Profile?

Feedback that can be removed includes hate speech, personal attacks, irrelevant content, or personal information. Reviews that are clearly spam or fake can also be flagged for removal.
How do I remove a bad review from Google Maps?

To remove a bad review from Google Maps, find the review in question, click on the three vertical dots beside it, and select 'Flag as inappropriate'. Then, follow the prompts to report the review to Google for further action. After that it can be removed any moment.
Can I clear negative feedback from my business's history on Google Maps?

You cannot remove or clear negative feedback from your business's history on Google directly. However, by addressing the customer's concerns and improving your service, future positive reviews can outweigh the negative ones.
What should I do if I receive a bad review on Google Maps?

If you receive a bad review, it's best to respond professionally and empathetically. Address the customer's concerns and offer to resolve the issue. This not only helps with customer relations but also shows other customers that you value feedback, instead of simply asking them to remove it.
How long does it take for Google to delete a review from Maps after it's been flagged?

The time it takes for Google to delete a review can vary. Once a review is flagged, Google reviews the content to determine if it violates their policies. It can take several days to remove negative feedback.
Can customers delete their own reviews from my Google Business Profile?

Yes, customers can delete their own reviews. If you've resolved an issue with a customer, you can politely ask them to update or remove their review.
Is it possible to delete all reviews from a Google Business Profile and Maps?
No, it's not possible to delete all reviews from a Google Business Profile. Google aims to provide an honest and transparent platform for customer feedback, so mass deletion of reviews is not supported.
How do I prevent bad reviews on Google Maps?

Preventing bad reviews involves providing excellent customer service, promptly addressing concerns, and actively seeking feedback from customers. Encouraging satisfied customers to leave positive reviews can also help.
Can a competitor's fake review be removed or cleared from my Google Business or Maps listing?
Yes, if you suspect a review is fake or from a competitor, you can flag it as inappropriate. Google will review it and may remove or clear it if it's found to be in violation of their policies.
Remember, managing your online reputation on Google and Maps involves more than just trying to delete, clear or remove bad reviews. It's about improving your service, responding to customer feedback, and maintaining a positive presence on platforms like Google Maps and your Google Business Profile.
Key Points to Remember About Google Maps Reviews
Google reviews hold significant weight and can greatly influence how your business appears in search results. They can shape your business's narrative and impact potential customers' perceptions. However, it's not always sunshine and rainbows; sometimes you'll encounter less-than-favorable feedback that you may want to remove or clear.
When faced with a negative review, responding professionally is crucial. This shows current and future customers that you value feedback and are committed to improving. However, there are instances when a review may blatantly violate Google's policies. In such cases, you have several tools at your disposal to address these reviews. After using them, you may see negative feedback getting removed or cleared.
It's important to familiarize yourself with situations where it might be appropriate to delete a review from your Google Business Profile. These include bad reviews that are:
Offensive to other customers:
Reviews containing harmful or disrespectful language or content should be flagged for removal to maintain a respectful environment on your review page, which is vital for customer relations.

Illegal:
Any review with illegal content or promoting illegal activities goes against Google's terms and should be promptly removed or cleared.

Fraudulent and unrelated to your business:
Sometimes, you might find reviews unrelated to your business or fraudulent. These reviews mislead potential customers and misrepresent your business. They should be removed.

Clearly fake and intended to harm your business:
Competitors or unhappy individuals might post reviews aimed at damaging your business reputation. Google allows the removal of such malicious content.

Spam:
Reviews filled with promotional content for other businesses or irrelevant links are considered spammy and can obscure genuine customer feedback on your review page.
Actively managing your Google reviews involves not just responding to negative feedback but also understanding when to take action to remove and clear inappropriate content. It's a delicate balance of maintaining an authentic online presence while protecting your brand's reputation.
Your Google Maps listing and the history of reviews also play a significant role. Potential customers often turn to Google Maps to find local businesses, and the reviews they read there can significantly influence their decision-making. Keeping your Maps listing clear of inappropriate reviews helps ensure that potential customers get a fair and accurate representation of your business.
In summary, while it's essential to embrace all feedback, whether good or bad, it's equally important to know when to take action to remove or clear reviews that violate Google's guidelines. By doing so, you safeguard your business's online reputation and ensure that the reviews on your Google Business Profile accurately and fairly represent your customer experiences.