Elevate your Shopify store to new heights by seamlessly integrating custom popups that enhance your online presence and engage your valued customers. With tailored popups expertly embedded, your Shopify website will exude a fresh and captivating appeal, fostering meaningful connections with your audience.
Add Popup to Shopify With Third-Party App
Enhancing your Shopify store with custom popups can greatly influence how customers perceive your business's credibility and contribute to increased conversion rates. These popups serve as social proof, assuring potential buyers that they are making purchases from a reputable and trustworthy establishment.
To achieve this, Elfsight provides the Popup app that seamlessly integrates into your website. This app offers a user-friendly experience with its easy-to-use customization options and ready-made templates for displaying customer testimonials and feedback snippets.
If you seek to bolster customer confidence and engagement, the custom popup app is an option well worth considering. As you add and customize the popups, potential buyers will encounter positive customer experiences, fostering trust and increasing the likelihood of conversions.
What Makes Popup by Elfsight One of The Best Apps for Your Shopify Store
Unlock a world of possibilities with Shopify's custom popup app by Elfsight, designed to elevate your website's engagement and customer interactions. Seamlessly integrated into your Shopify store, this powerful app offers a host of remarkable functionalities, enabling you to create captivating popups that will leave a lasting impression on your visitors. Let's delve into the key features that make Shopify's custom popup app the ultimate choice for your e-commerce website.
| | |
| --- | --- |
| Key Features | Description |
| Intuitive Shopify Integration | Embrace the user-friendly interface of Shopify's custom popup app, allowing both tech-savvy and non-technical users to effortlessly design and configure captivating popups. Crafting engaging popups to captivate visitors is now hassle-free, requiring no coding expertise. |
| Flexible Design Options | Unleash your creativity with Shopify's custom popup app, offering an array of design choices that seamlessly blend with your website's aesthetics. Select from a diverse range of templates, fonts, colors, and animations to create visually stunning popups that align with your brand identity. |
| Precise Audience Targeting | Harness advanced targeting capabilities with Shopify's custom popup app. Effortlessly tailor triggers like exit intent, scroll depth, or time delay to ensure your popups appear at the perfect moment, maximizing conversion opportunities and engaging the right audience. |
| Seamless Shopify Integration | Experience seamless integration with Shopify, the leading e-commerce platform, and elevate your online store's potential. Whether you're using Shopify's native features or exploring the possibilities with custom apps, Shopify's custom popup app seamlessly complements your setup. |
| Insightful Analytics and Reporting | Gain valuable insights into your popup performance with Shopify's custom popup app. Explore comprehensive analytics and reporting features, monitoring critical metrics like impressions, clicks, and conversion rates to optimize your popup campaigns effectively and make data-driven decisions. |
How to Add Custom Popups to Your Shopify Store
Integrating a custom popup app on your Shopify store is a straightforward process that can be accomplished by any internet user with basic skills. Utilizing an online editor with an intuitive interface, you can effortlessly create a plugin that perfectly aligns with your Shopify needs and complements your website's design. To get started, simply follow the step-by-step guide below:
Register for the Elfsight service to access the popup app.
Enter the editor and begin crafting your custom popup.
Design the popup to match your preferences. Save your settings.
Click on "Add to Website" and copy the provided installation script.
Navigate to your Shopify admin dashboard and paste the script into the appropriate section.
By following these simple steps, you can seamlessly embed custom popups on your Shopify store, providing an engaging and interactive experience for your website visitors. Empower your online business with captivating popups, encouraging newsletter sign-ups, offering exclusive discounts with popup codes, and enhancing customer engagement. With this user-friendly approach, you can boost conversions and elevate your Shopify store to new heights. Now let's proceed to the next steps you need to take if you want to enhance your website with awesome popups.
Incorporating Custom Popups to Specific Shopify Pages
Enhancing your Shopify website with custom popups can significantly elevate its appeal and boost customer engagement. You have the flexibility to embed popup feeds on various Shopify pages, such as the start page, product pages, or designated sections of your online store, creating widgets for each separately. Below are simple steps to guide you through the process:
Access your website's visual editor and navigate to the online store section, then click on "Customize."
Integrate the "Custom Content" section into your landing page. (The visual editor usually defaults to the homepage, but you can easily select the desired page from the drop-down menu.)
Within the left-hand menu, access "Sections" and click on "Add new section."
Provide a name for the section, and an editor will appear for further customization.
Embed the custom popup installation script into the editor, and save the changes in your Shopify admin board.
By following these steps, you can seamlessly add custom popups to specific pages on your Shopify website.
Embed Custom Popups into Your Shopify Template

To enhance your Shopify website with captivating popups, follow these simple steps to seamlessly add the custom popup app to your chosen template:
Sign in to your Shopify account and select the shop where you wish to incorporate the popup app.
Navigate to Actions → Edit Code to access the code editor.
Locate the theme.liquid file within the Layout section and open it for editing.
Paste the custom popup app installation script just before the closing tag.
Save your modifications, and your Shopify website will now display the integrated custom popup app in action.
Embed Custom Popups on all Shopify Product Pages
To enhance every product page on your Shopify website with captivating popups, follow these straightforward steps to seamlessly integrate the custom popup app:
Access the Shopify admin and log in to the backend of your Shopify website.
Navigate to the online store section and select the Actions → Edit Code option.
Open the design template associated with your product pages.
In the template, go to Sections → Product Template File. (For Shopify Store 2.0 users, select the main-product.liquid file instead.)
Locate the desired location on the template where you want the custom popup app to appear. Then, paste the app installation script into that location and save the changes.
Congratulations! You've successfully embedded the custom popup app on every product page of your Shopify website.
Embed Custom Popups on Specific Shopify Product Pages
In addition to your Shopify website's main pages, you have the option to integrate captivating popups on each individual product page, enhancing customer engagement and driving conversions.
To achieve this, follow these simple steps:
Log in to the backend of your Shopify website and access the online store section. Select "Actions" and then choose "Edit Code."
Locate the main-product.liquid file within the Sections folder if you are using Shopify 2.0. For older versions of Shopify, the product.liquid file may be used instead.
Create a block container for the app by pasting the provided code in the desired area. Save the changes.
After saving the changes, go to the online store and select "Customize."
From the top dropdown, select the Shopify product pages where you want to add the Elfsight Reviews app script.
Depending on your Shopify store's theme, you can view the product information or the Products Pages folder.
Within the folder, click "Add block" at the bottom and add an Elfsight application block.
Open the Elfsight application block app, choose the desired Shopify product, and add the Reviews installation script to the designated section.
Apply the changes by clicking "Save" in the top right corner of your shop.
If you encounter any challenges during this process, our support experts are available to assist you in integrating your Reviews feed app seamlessly into your Shopify website at no additional cost.
Customize Your Popup to Match Your Needs
In addition to the remarkable advantages mentioned earlier, the Elfsight custom popup app provides unmatched customization capabilities, empowering you to unleash limitless possibilities. With these robust features, you can create a polished and personalized look for user-generated content on your website, all without the need for HTML or CSS expertise. Bring your creative vision to life effortlessly with the help of a user-friendly visual editor. Let's explore the primary settings you can modify to match your preferences:
Example 1: Exclusive Black Friday Deals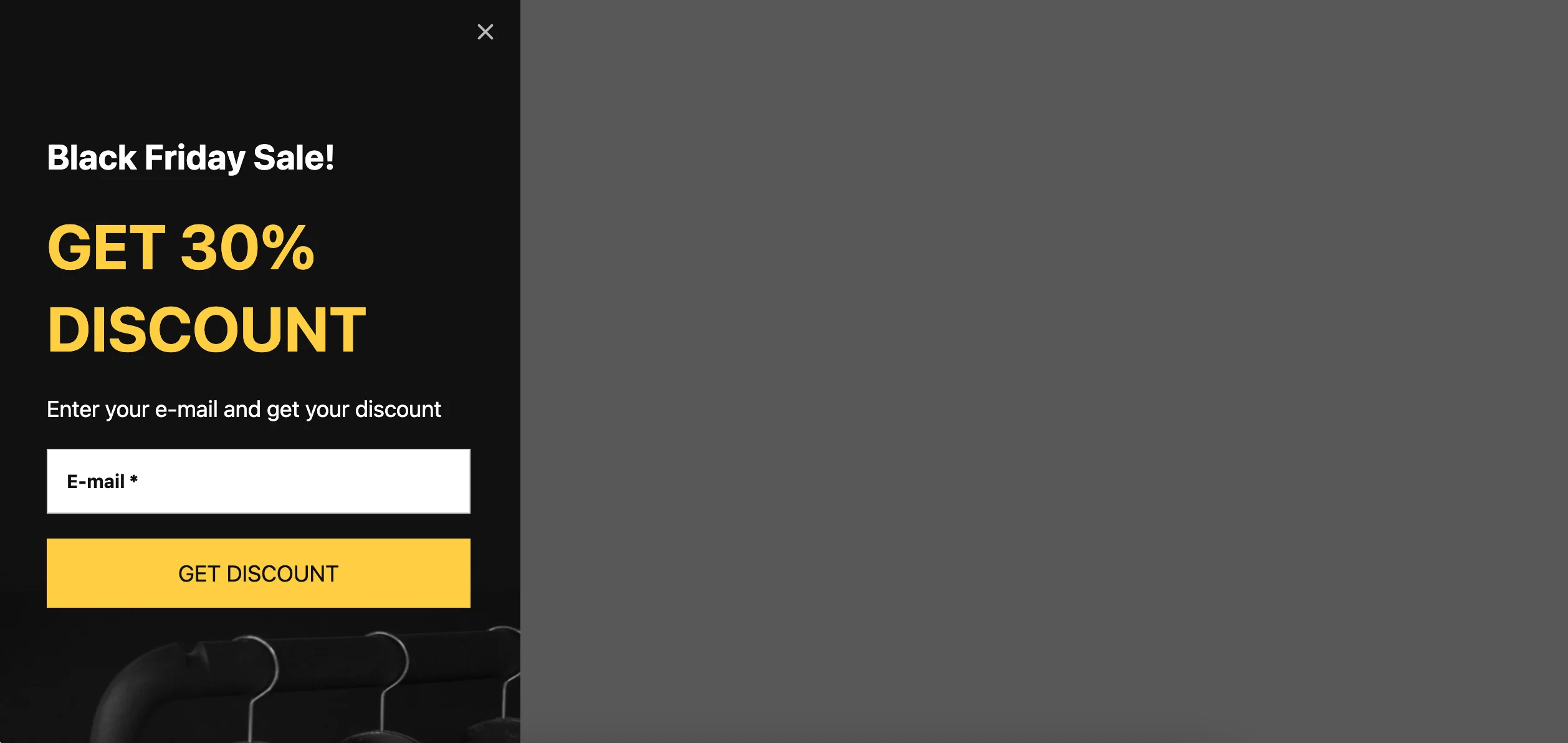 Immerse your customers in the splendor of the world's most renowned and profitable discount day, Black Friday, with an enticing popup that embellishes your website and amplifies the excitement of the sale. This sleek panel glides seamlessly across the screen, adorned in vibrant contrasting colors and oversized text, effortlessly grabbing the attention of all visitors. What's more, it allows you to effortlessly collect email addresses for future contact and engagement, expanding your newsletter subscriber list.
Example 2: Captivating Cyber Monday Offers

Join the Cyber Monday frenzy and boost sales with a subtle yet radiant popup window that gracefully appears in the lower right corner of users' screens. Remind your customers of their last chance to seize incredible deals before Christmas. Incorporate an irresistible discount code and a compelling call-to-action, and witness the flood of orders pouring in during this celebrated online shopping event.
Example 3: Festive Christmas Sale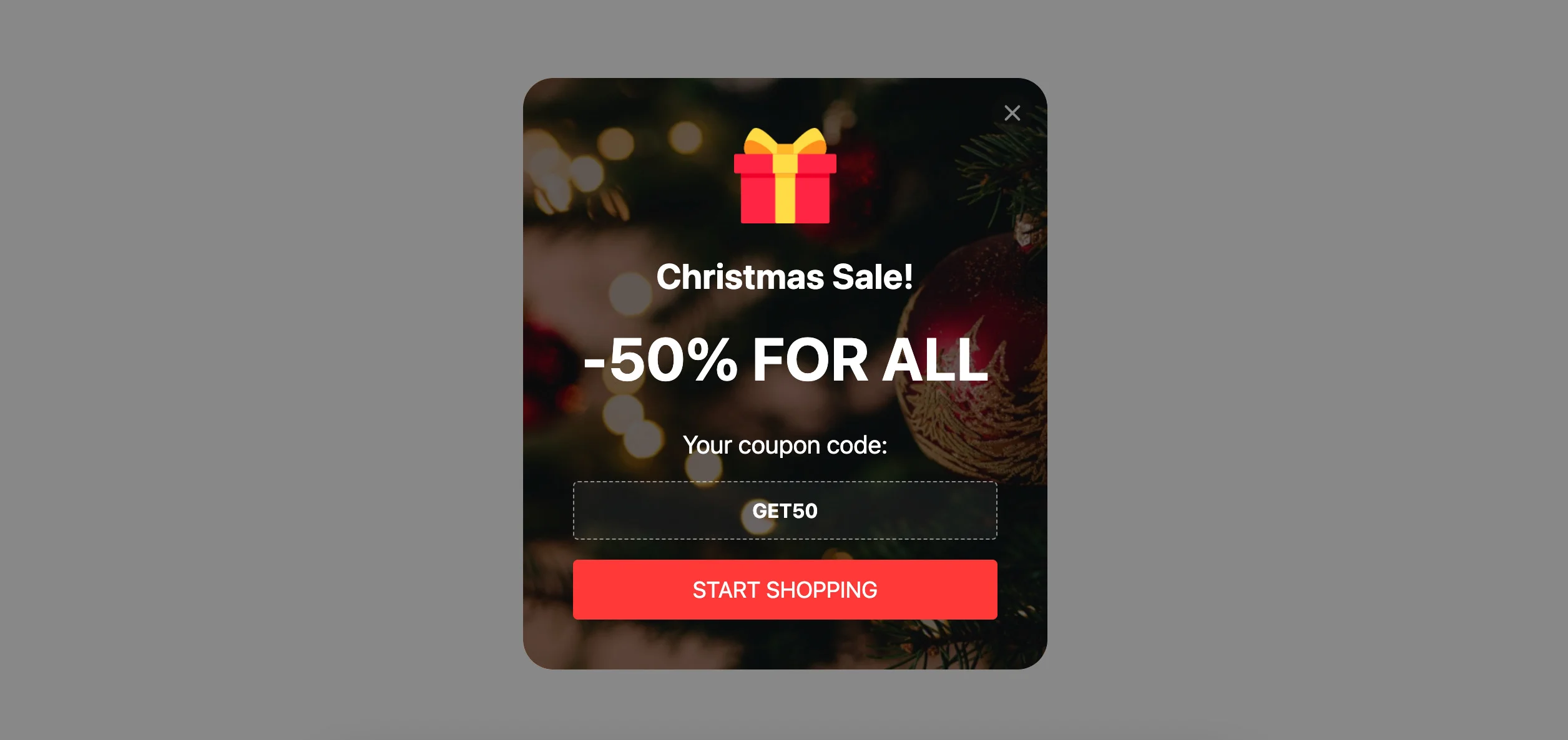 Capture the true essence of the festive season with a Yuletide-themed popup that serves as the ultimate promotion for your seasonal sale. This captivating popup not only showcases your enticing offers but also facilitates easy redemption of discount codes with just a click to copy. The prominent red call-to-action button seamlessly guides users to the dedicated sale page, ensuring a seamless transition from interest to purchase. Moreover, choose from six different popup triggers to ensure its appearance at the perfect moment, maximizing engagement and conversion opportunities.
Example 4: Engaging Exit Intent Popup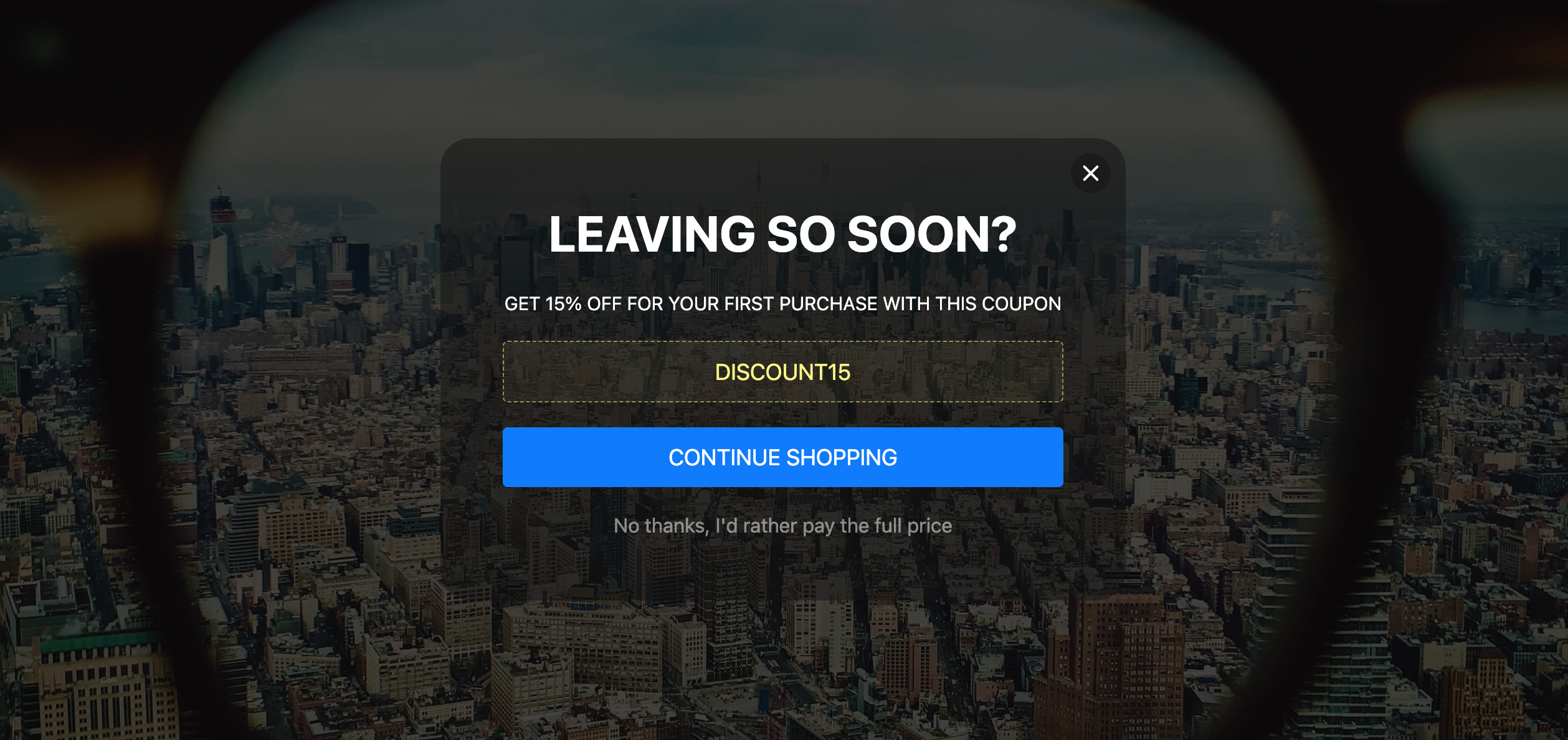 Leave no chance for users to escape with an all-encompassing exit intent popup that captures their undivided attention. This impactful effect is achieved through the widget's responsive size, dynamically filling any available space when set to autosize. Customizable background images add visual appeal, while centrally aligned elements create a harmonious visual experience. As users are about to leave the page, the popup gracefully emerges, compelling them to stay and engage further. Additionally, explore alternative triggers to entice visitors and keep them hooked.
Example 5: Simple Yet Effective Valentine's Day Popup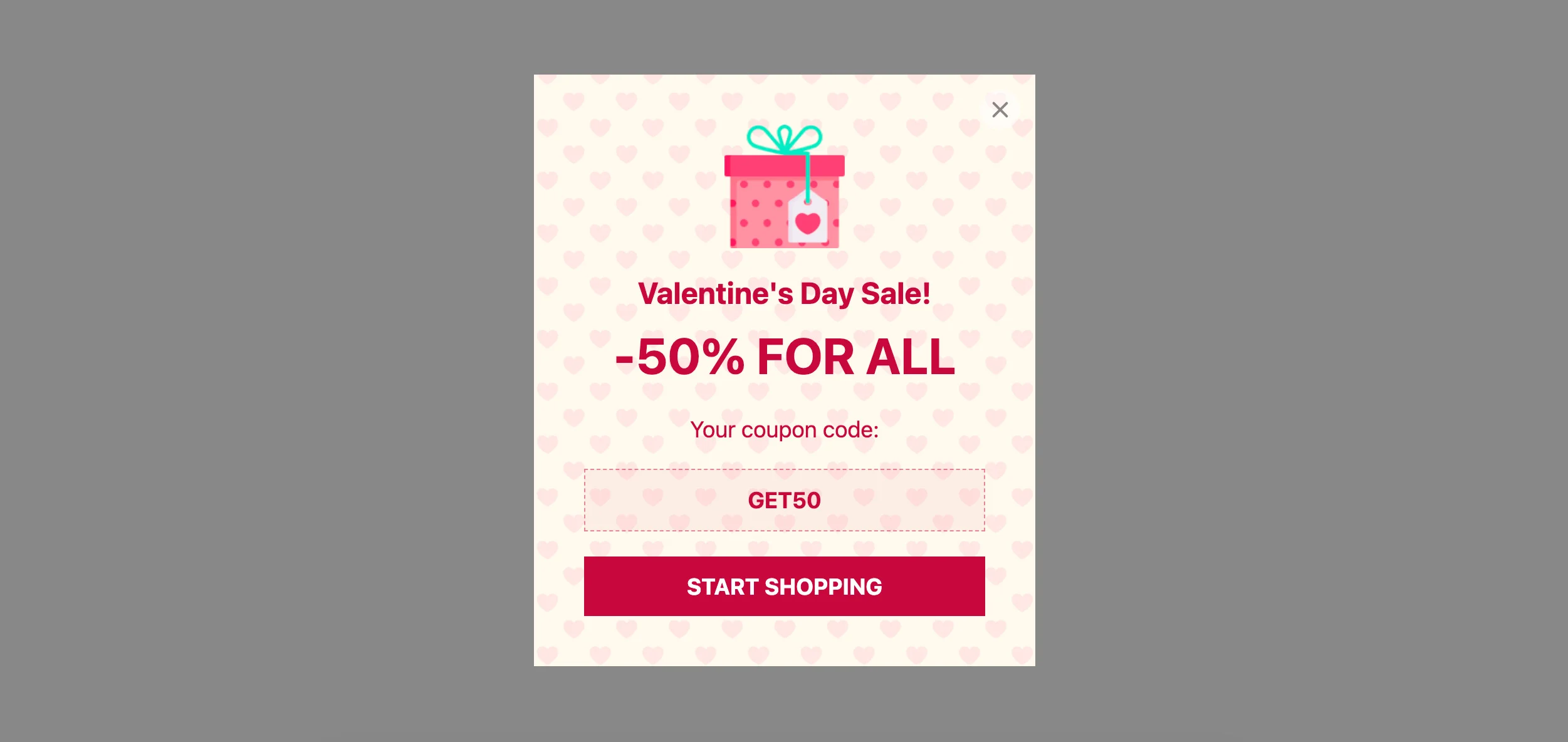 Sometimes, simplicity reigns supreme even in concise messages. Embrace a minimalist design that lets your offering shine. When your customer shows interest, extravagant illustrations and elaborate language may be unnecessary. Instead, succinctly describe your offer, enhance the popup window with subtle details, and voila! Your custom popup stands ready to convert. Remember, piquing curiosity is crucial, and this variant perfectly accomplishes that goal.
Example 6: Gratitude-Filled Thanksgiving Popup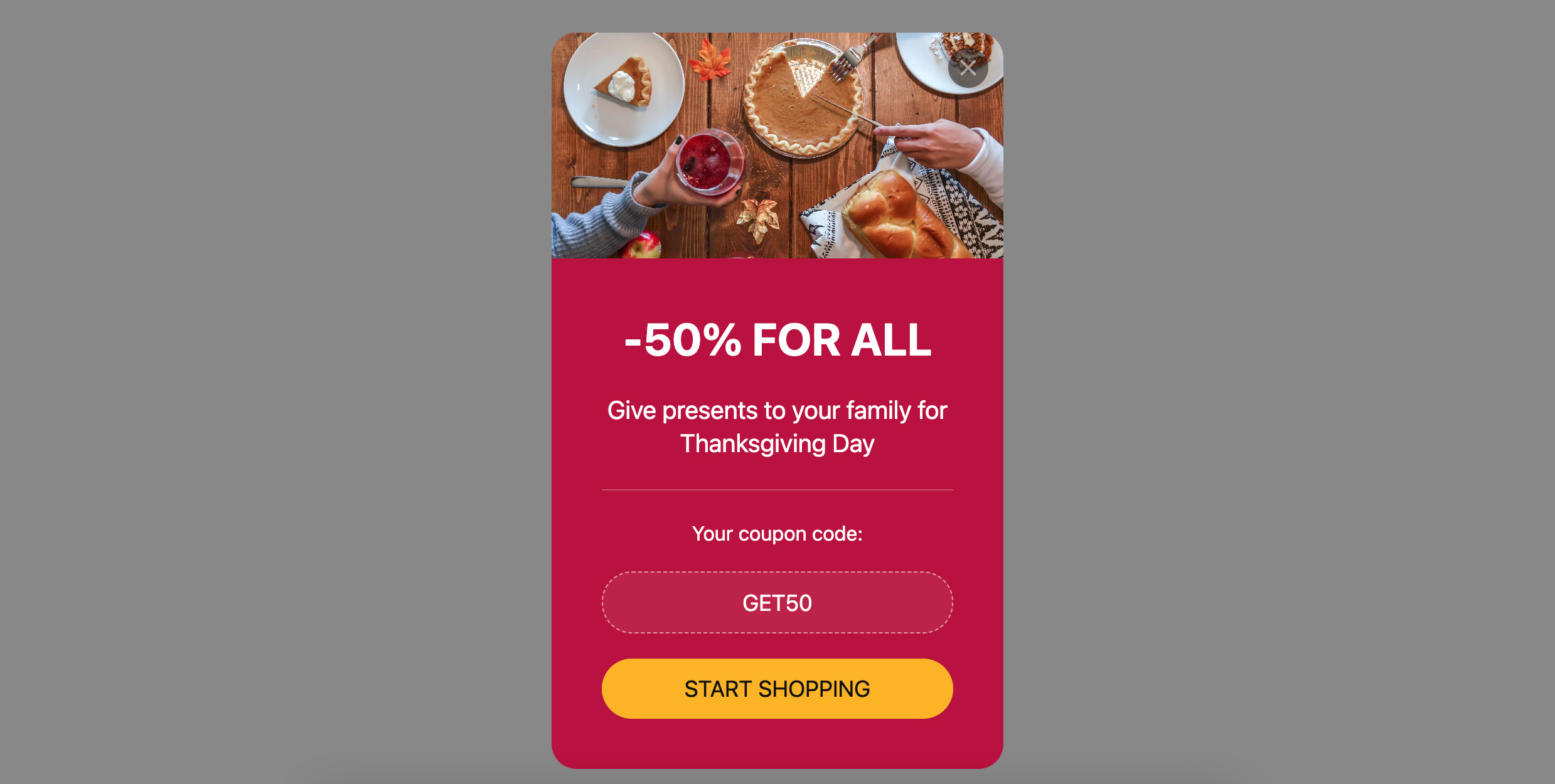 Celebrate the spirit of Thanksgiving by adding a versatile popup box to your Shopify website, seamlessly blending with your overall design. 'Tis the season to shower your customers with gifts and appreciation. Notify your site visitors of ongoing promotions and irresistible discounts using a stylish popup, incorporating recognizable images that evoke the essence of Thanksgiving. Simply integrate the provided installation code into your Shopify website, and let the spirit of gratitude and generosity infuse your online store.
Incorporate custom popups into your Shopify store today to create captivating user experiences and drive conversions with these engaging and visually appealing popup examples. Customize your Elfsight popup widget for Elementor to perfection and elevate your Shopify store's potential.
Conclusion
Integrating custom popups into your Shopify website can provide significant benefits for your business. It offers a powerful way to build a strong community and a loyal customer base, boost trust among your audience, demonstrate authenticity, and ultimately increase sales. The best part is that it doesn't require a substantial investment of time and money, as you can easily automate the process using Elfsight's social aggregation tool for Shopify. Therefore, we highly recommend embedding custom popups on your website to add vibrancy, creativity, and interactivity to your online store.
By incorporating responsive and interactive popups, you can encourage users to spend more time on your page and actively interact with your content. Integrating custom popups presents the perfect opportunity for your brand to generate leads, increase conversions, and enhance brand awareness.
Embrace the power of custom popups on your Shopify website, and watch as your online store becomes more engaging, dynamic, and enticing to your audience. By delivering personalized and captivating experiences, you can foster stronger connections with your customers and drive your e-commerce business towards even greater success. So, go ahead and embed custom popups on your Shopify website to elevate your brand presence and create memorable interactions with your visitors.