Are you in need of an effective and user-friendly popup solution for your Elementor-powered WordPress website? Look no further than the Elfsight Popup plugin! With this exceptional plugin, you can effortlessly create captivating popups and seamlessly integrate them into your Elementor design. Let's explore how you can enhance your website with this free Elementor popup plugin.
Add Elfsight Popup to Elementor for Enhanced Website Engagement
The Elfsight Popup plugin is a versatile tool that empowers you to incorporate captivating popups seamlessly into your Elementor-powered website. With this feature-rich plugin, you can effortlessly create and embed stunning popups to captivate your visitors and boost user engagement. Let's explore how you can enhance your website with this powerful and free Elementor popup plugin.
Integrating the Elfsight Popup plugin with Elementor is a breeze. Just follow these simple steps:
Create your desired popup using the intuitive interface, experimenting with various elements and effects.
Save your popup and generate the code snippet provided by the plugin.
Paste the code into the designated Elementor widget or section of your website.
With Elfsight Popup and Elementor working together, you can create a highly engaging user experience on your website. Capture your visitors' attention with eye-catching popups that deliver important messages, promote special offers, collect leads, or showcase featured content.
Enhance Your Website with Elfsight Popup for Elementor!
If you're seeking a hassle-free method to incorporate a personalized contact form into your WordPress website, look no further than the Elfsight Popup plugin. Designed for seamless integration with Elementor, this powerful tool allows you to create captivating popups that elevate customer engagement to new heights. Say goodbye to complex coding and say hello to an intuitive contact form solution.
Elementor, renowned as a visual editing plugin for WordPress, simplifies the customization process, making it a breeze to edit pages, style CSS, and add and arrange widgets. With this user-friendly environment, you'll quickly master the process of embedding Elfsight Popup into your website. Discover expert insights in the following video tutorial:
Now let's dive deeper into the process of adding a Popup plugin to your Elementor-powered website.
How to Add Popup Plugin to a Specific Page of Elementor Website
Simply follow these steps if you want to add your Elementor Popup to a specific page of your website:
Access Your WordPress Dashboard. Log in to the backend of your WordPress website. Navigate to the Pages section and select the specific page where you want to incorporate the captivating popup.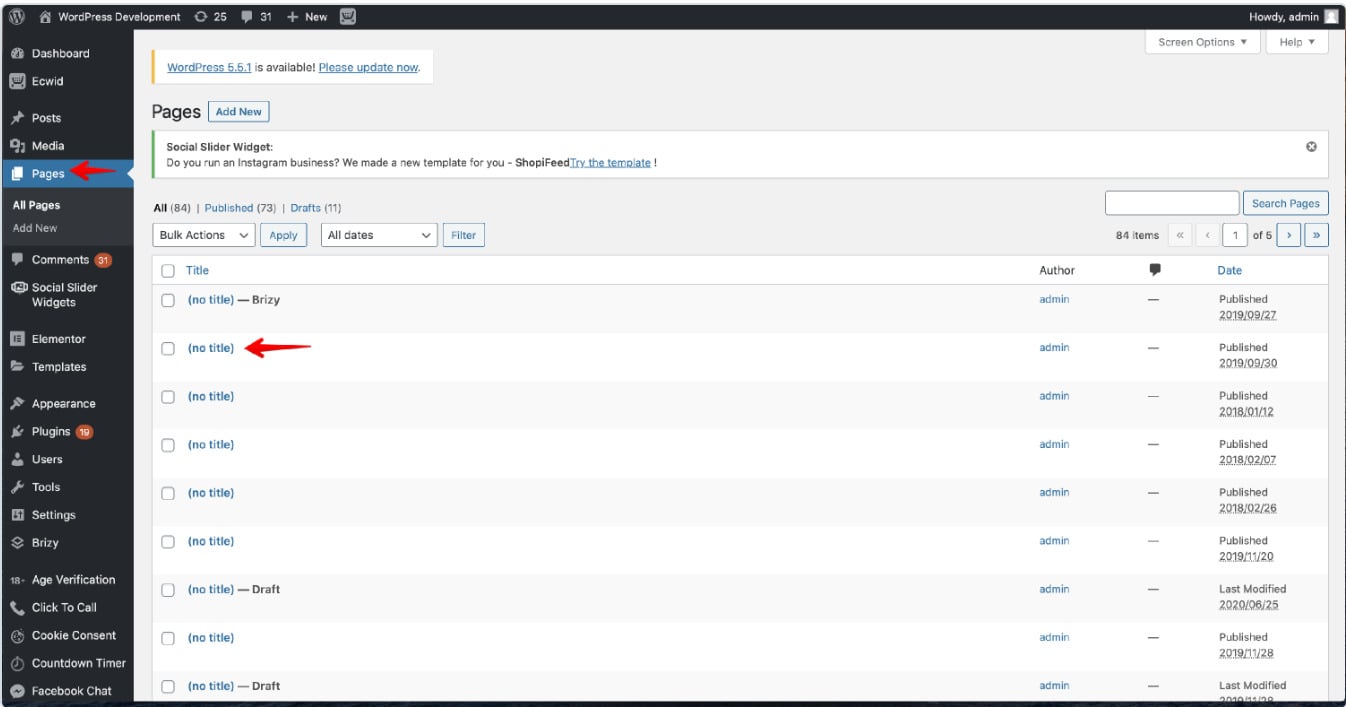 Launch the Elementor Editor. Click on the Edit with Elementor button to unleash the power of the Elementor editor and begin customizing your page.

Insert the Embed Code. Drag and drop the HTML element onto your desired location within the page layout.

Embed the Installation Code. Now, simply paste the installation code into the HTML Code box of the Elementor editor. Once done, click the Update button to save your changes and activate the Elfsight Popup.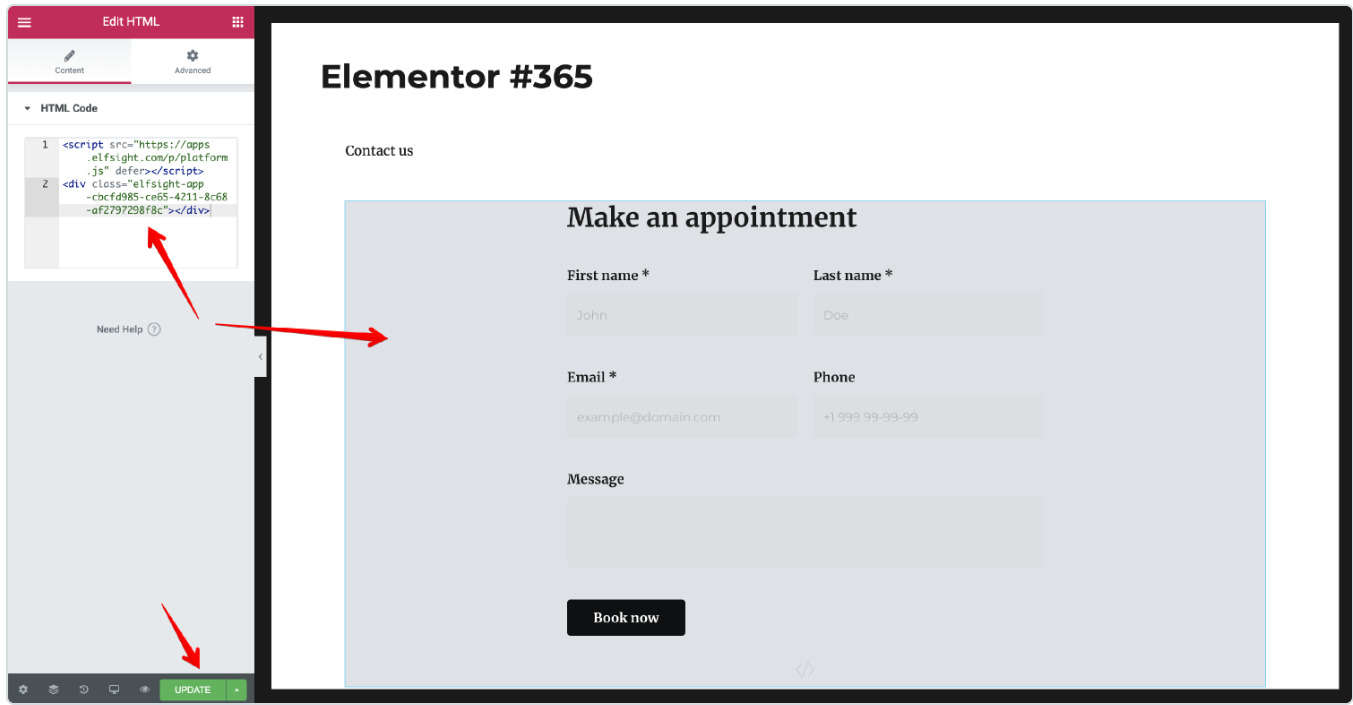 Take advantage of this dynamic combination to create, customize, and embed captivating popups that leave a lasting impression on your visitors. With the easy-to-use interface of Elementor and the powerful features of Elfsight Popup, your website will stand out from the crowd. Upgrade your Elementor experience now and witness the impact of engaging popups on your website's success.
Unleash the Power of Elfsight Popup for Elementor and Elevate Your Website
Experience the incredible possibilities of Elfsight Popup for Elementor as you embark on a journey to enhance your website's engagement. With its seamless integration and remarkable functionalities, this plugin empowers you to create captivating popups that will leave a lasting impression on your visitors. Let's explore the key features that make Elfsight Popup the ultimate choice for your website.
| | |
| --- | --- |
| Key Features | Description |
| Intuitive Interface | Elfsight Popup impresses with its intuitive interface, enabling both technical and non-technical users to effortlessly customize and configure captivating popups. Crafting engaging designs that captivate visitors requires no coding expertise. |
| Versatile Design Choices | Unleash your creativity with Elfsight Popup's vast design options that flawlessly blend with your website's aesthetics. Select from a myriad of templates, fonts, colors, and animations to create visually stunning popups that represent your brand identity. |
| Advanced Targeting Capabilities | Precisely target specific audience segments with ease using Elfsight Popup. Customize triggers like exit intent, scroll depth, or time delay to ensure your popups appear at the perfect moment, maximizing conversion opportunities. |
| Seamless WordPress and Elementor Integration | Experience seamless integration with WordPress and Elementor, two leading platforms for website creation. Whether you build your site with WordPress or harness the flexibility of Elementor, Elfsight Popup seamlessly complements your setup. |
| Comprehensive Analytics and Reporting | Unlock valuable insights into your popup performance with Elfsight's comprehensive analytics and reporting features. Monitor critical metrics like impressions, clicks, and conversion rates to optimize your popup campaigns effectively. |
Customize Your Elfsight Popup Widget for Elementor to Perfection
In addition to the outstanding benefits mentioned earlier, the Elfsight widget offers unparalleled customization capabilities, enabling you to unlock boundless possibilities. With these powerful features, you can ensure a polished and personalized look for user-generated content on your website. The best part? You can achieve all of this without the need for HTML or CSS expertise. Bring your vision to life effortlessly with the help of a user-friendly visual editor. Let's explore the primary settings you can modify to match your preferences:
Example 1: Black Friday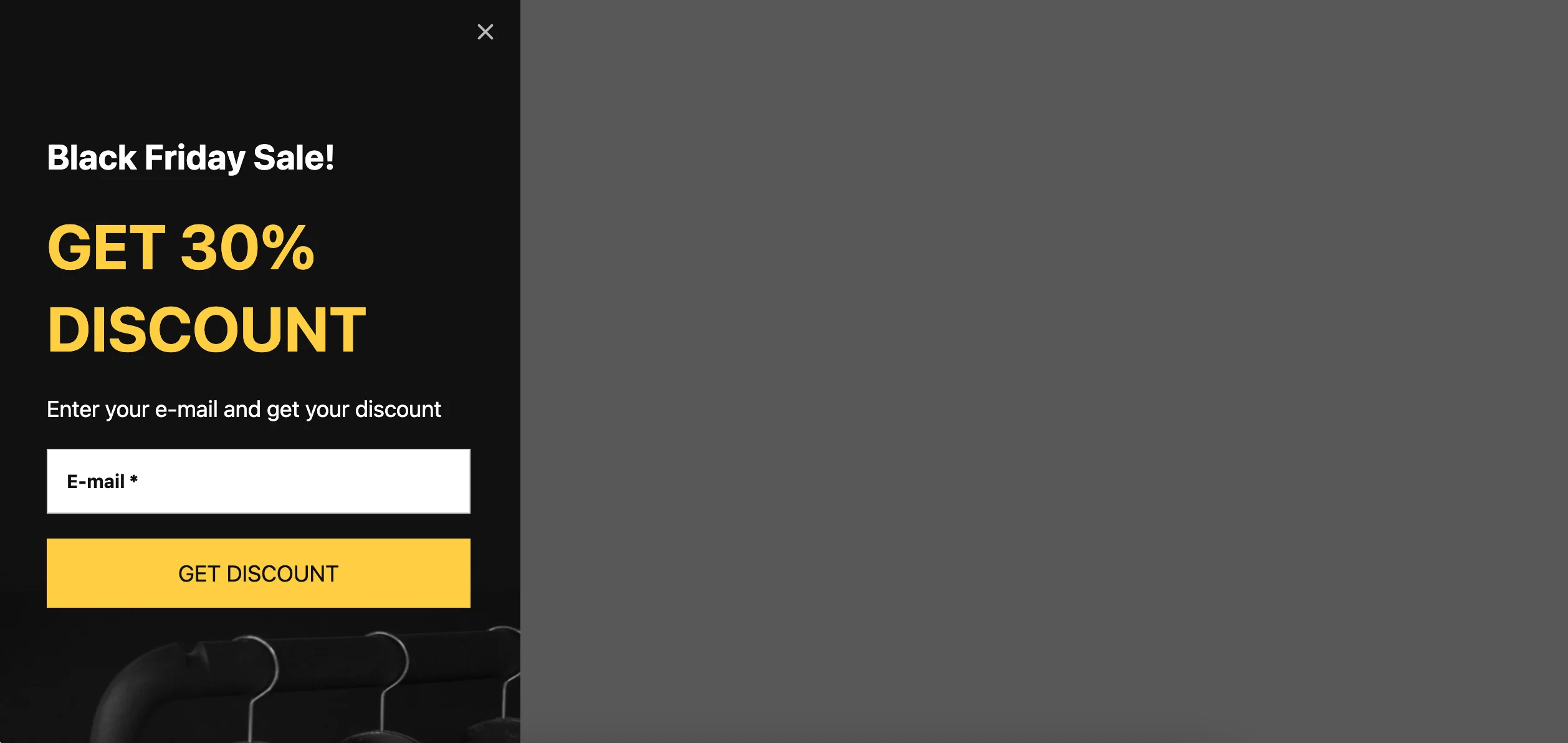 Experience the splendor of the world's most renowned and lucrative discount day with a captivating popup that embellishes your website and amplifies the excitement of the sale. Unveiling itself as a sleek panel gliding seamlessly across the screen, adorned in vibrant contrasting colors and oversized text, it effortlessly grabs the attention of all visitors. What's more, it enables you to effortlessly collect email addresses for future contact and engagement.
Example 2: Cyber Monday

Year after year, the world indulges in over 9 billion dollars of spending during the celebrated Cyber Monday. This exceptional day follows Black Friday, where those who missed out join forces with those who already stocked up. To capitalize on this buying frenzy, leverage a subtle yet radiant popup window that gracefully appears in the lower right corner of users' screens, reminding them of their last chance to seize incredible deals before Christmas. Incorporate an irresistible coupon code and a compelling call-to-action, and witness the flood of orders pouring in!
Example 3: Christmas Sale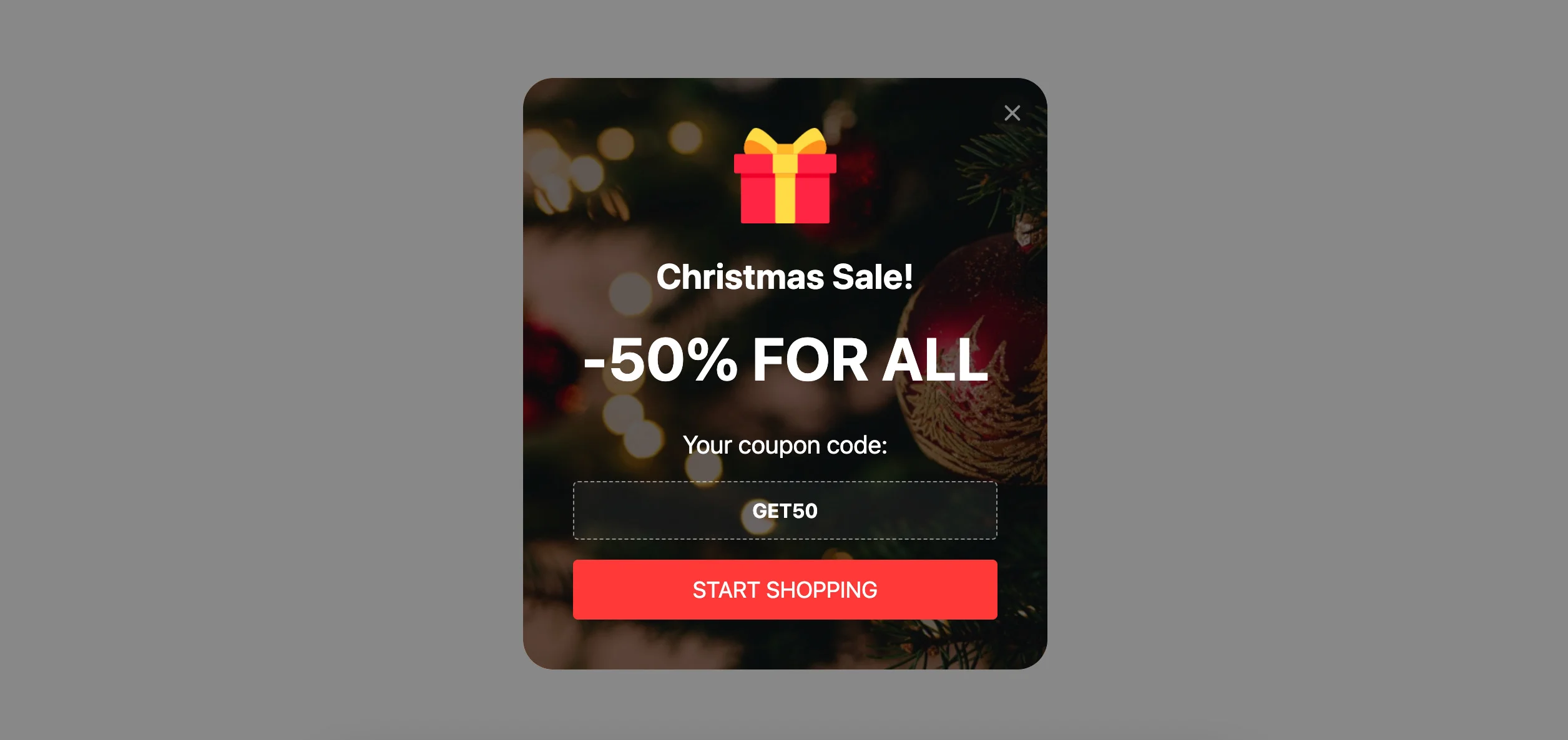 Capture the true essence of the festive season with a Yuletide-themed popup that serves as the ultimate promotion for your seasonal sale. This captivating popup not only showcases your enticing offers but also facilitates easy redemption of discount coupons with just a click to copy. The prominent red call-to-action button seamlessly guides users to the dedicated sale page, ensuring a seamless transition. Moreover, choose from six different popup triggers to ensure its appearance at the perfect moment, maximizing engagement and conversion opportunities.
Example 4: Exit Intent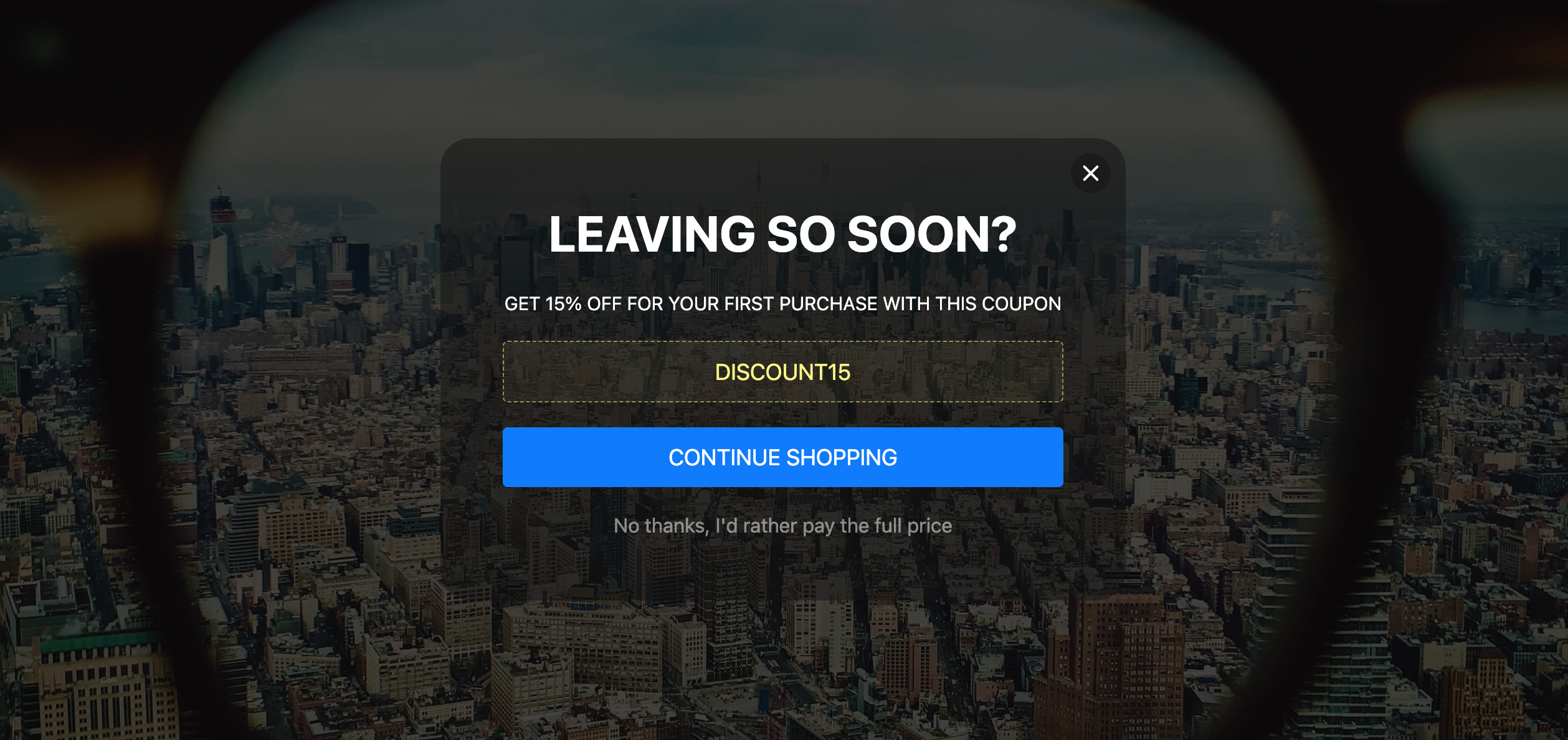 Immerse users in an all-encompassing popup that leaves no escape, capturing their undivided attention. This impactful effect is achieved through the widget's responsive size, dynamically filling any available space when set to autosize. Customizable background images add visual appeal, while centrally aligned elements create a harmonious visual experience. As users are about to leave the page, the popup widget gracefully emerges, compelling them to stay and engage further. Additionally, explore alternative triggers to entice visitors and keep them hooked.
Example 5: Valentine's Day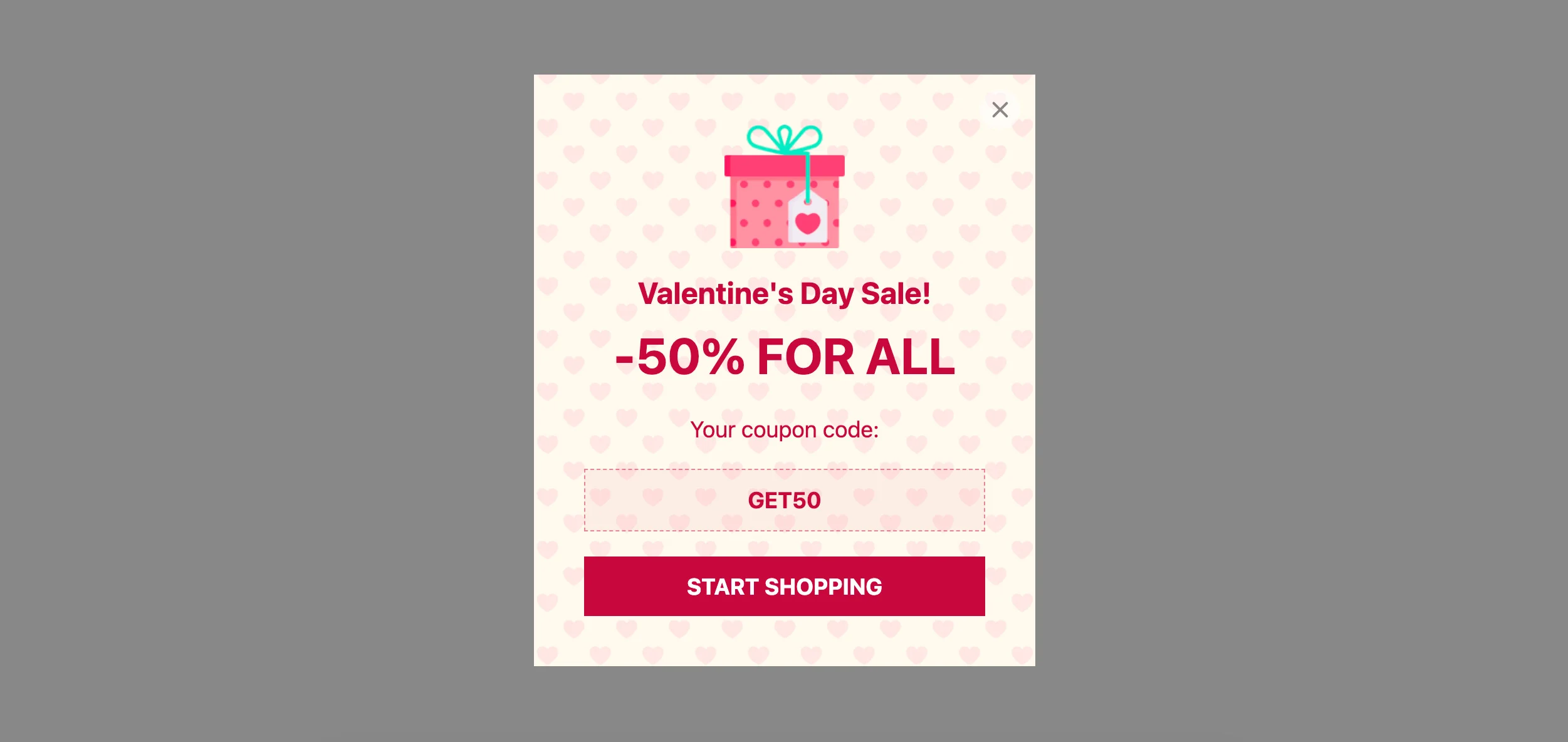 Sometimes, simplicity reigns supreme even in concise messages. Embrace a minimalist design that lets your offering shine. When your client shows interest, extravagant illustrations and elaborate language may be unnecessary. Instead, succinctly describe your offer, enhance the popup window with subtle details, and voila! Your Popup widget stands ready to convert. Remember, piquing curiosity is crucial, and this variant perfectly accomplishes that goal.
Example 6: Thanksgiving Day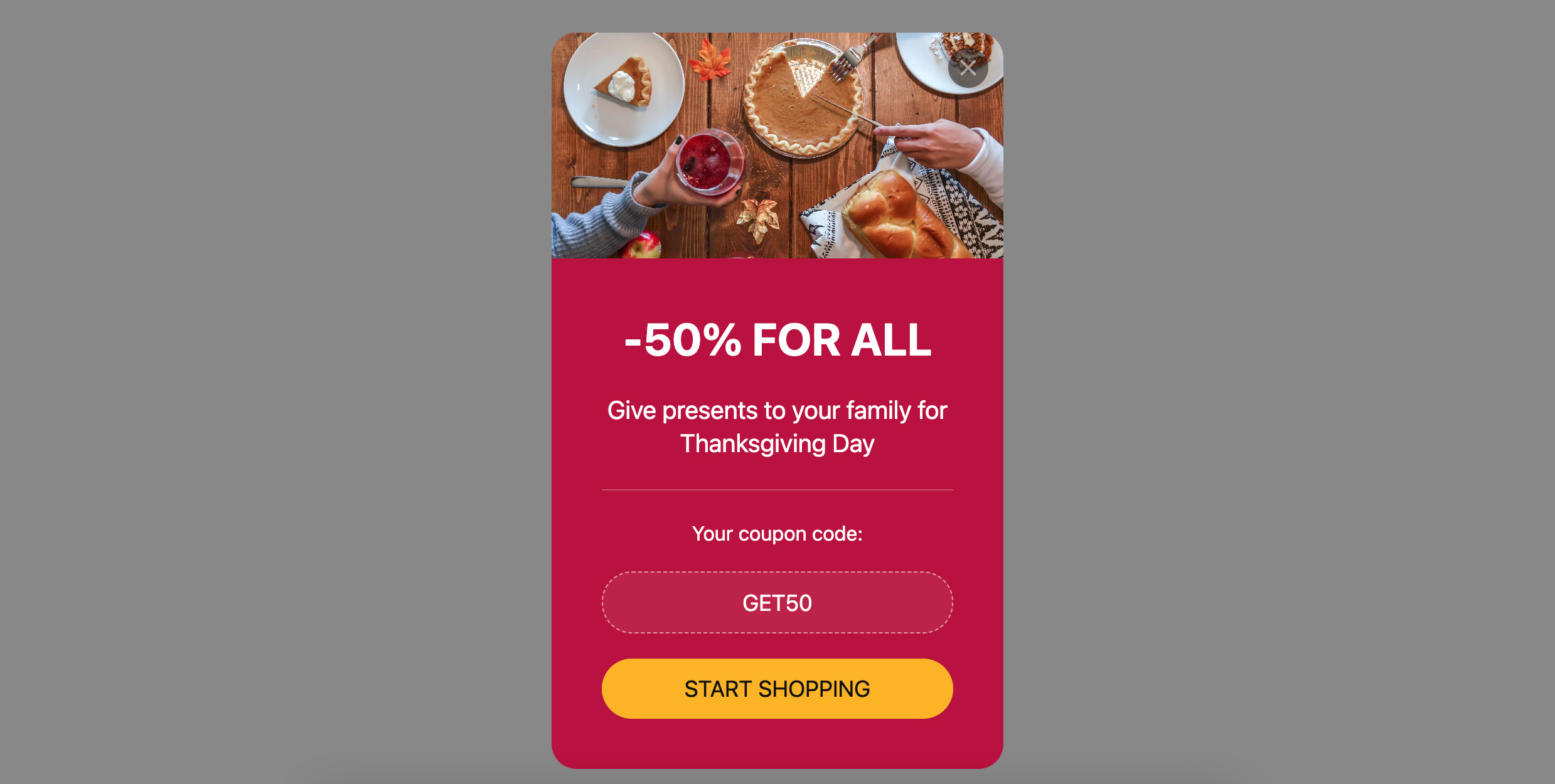 Celebrate the spirit of Thanksgiving by adding a versatile box to your website, seamlessly blending with your overall design. 'Tis the season to shower your customers with gifts. Notify your site visitors of ongoing promotions and irresistible discounts using a stylish popup, incorporating recognizable images that evoke the essence of Thanksgiving. Simply integrate the provided installation code into your HTML, and let the spirit of gratitude and generosity infuse your website.
FAQ
You may have some questions about how to get started, customize your popups, and seamlessly integrate them into your Elementor-powered website. In this FAQ section, we'll address the most common inquiries and provide you with the information you need to create engaging popups that leave a lasting impression on your visitors. Let's dive in!
What is Elfsight Popup Plugin and how does it work?
Elfsight Popup Plugin is a powerful tool that enables you to create visually appealing and engaging popups for your website. It boasts a user-friendly interface, making it easy for both technical and non-technical users to customize and configure captivating popups. With Elfsight Popup, you have access to a wide range of customization options, including templates, fonts, colors, and animations, to match your website's aesthetics seamlessly. The plugin works by providing you with a code snippet that you can conveniently copy and paste into your website's HTML to embed the popups.
Can I use Elfsight Popup Plugin with Elementor?
Yes, Elfsight Popup Plugin seamlessly integrates with Elementor, the popular visual editor plugin for WordPress. This integration allows you to leverage Elementor's intuitive interface to design and customize your popups effortlessly. By using the dedicated Elementor widget provided by Elfsight, you can create stunning popups that perfectly match your website's design, enhancing the overall visual appeal and user experience.
How do I install and activate Elfsight Popup Plugin?
Installing Elfsight Popup Plugin is a straightforward process. Begin by downloading the plugin files from the official Elfsight website. Next, navigate to your WordPress dashboard and go to "Plugins" > "Add New." Click on the "Upload Plugin" button, select the downloaded file, and click "Install Now." Once the installation is complete, activate the plugin, and you're ready to start creating and embedding popups on your website.
Can I customize the design of my popups?
Absolutely! Elfsight Popup Plugin offers an extensive range of customization options, ensuring that your popups perfectly match your website's aesthetics. From choosing different layouts and colors to adding images and customizing text, you have full control over the design of your popups. You can even add animations and effects to make your popups more engaging and eye-catching, capturing the attention of your visitors effectively.
How do I embed my popups into my Elementor-powered website?
Embedding your popups into your Elementor-powered website is a breeze. After designing your popup using Elfsight Popup Plugin, simply copy the provided embed code. Then, open your Elementor editor, drag and drop an HTML element onto your desired location, and paste the embed code into the HTML editor. Save your changes, and your popup will be seamlessly integrated into your Elementor design, ready to captivate your website visitors.
Can I set triggers for my popups?
Yes, Elfsight Popup Plugin allows you to set triggers for your popups, determining when and how they appear to your visitors. You can choose from various trigger options, such as exit intent, scroll depth, or time delay. By setting specific triggers, you can ensure that your popups are displayed at the perfect moment, increasing their impact and conversion potential. Precisely targeting your audience at the right time enhances the overall user experience and improves the effectiveness of your popup campaigns.
Is Elfsight Popup Plugin free?
Elfsight Popup Plugin offers both free and premium versions. The free version provides essential features and customization options to create and embed popups on your website. However, for more advanced functionalities, additional templates, and dedicated support, you can upgrade to a premium plan at affordable prices. The free version is a great starting point to enhance your website with engaging popups, while the premium plan unlocks more possibilities for customization and optimization.